In case you hadn't noticed, we're currently living in the TikTok fashion aesthetic era. In other words, every few months or so, the TikTok community serves up a highly-stylized aesthetic for us all to admire, aspire to, and channel to be in-tune with the times. Some aesthetics you may (or may not—motherhood is a demanding job that doesn't necessarily leave time for TikTok) have heard of include: cabincore, pearlcore, twee fashion, and coastal cowgirl. Last summer, one fashion aesthetic in particular took center stage: Coastal grandmother.
When I first came across the term "coastal grandmother" I was thrown by the name. "Is this a joke?" I remember thinking to myself. But upon a little internet research, I came to realize that it was far from a joke. Rather, it might just be the greatest fashion aesthetic raised up by the TikTok algorithm. At least, in my humble opinion.
Whether you're familiar with the trend or are currently reading this with eyebrows drawn and lips pursed in scrutiny, know this: Coastal Grandmother is the absolute perfect summer fashion aesthetic for moms. I truly believe this. Allow me to explain.
What is Coastal Grandmother?
Before I get ahead of myself, let's do a quick recap of the trend. As previously mentioned, this aesthetic gained its legs on TikTok in the summer of 2022 when TikToker Lex Nicoleta published what would become a viral video explaining the aesthetic (which is not just limited to fashion, I might add). To save you the trouble of digging through TikTok, let me boil it down. In a nutshell, the trend embodies the casual class of affluent coastal living and is commonly associated with Nancy Meyers films (e.g. Something's Gotta Give).
When it comes to fashion, there are a number of pieces that are closely associated with the trend, including: linen pants, breezy button-ups, straw bags and baskets, fisherman sweaters, gold jewelry, and the like. Popular colors include neutral tones and muted blues, greens, and pinks. You'll also see patterns such as seersucker and gingham pop up again and again.
Why Coastal Grandmother is a Trend Made for Moms
Recently, I was considering the upcoming summer months and mentally running through if I had all of the wardrobe pieces I would need for fashionably thriving this summer while also keeping up with my 7-month-old and 2-year-old—no easy feat (but I'm guessing I don't have to tell you). As I was mentally tallying items I have versus items I need to create classic outfits that are as fashionable as they are comfortable, it struck me that the vibe screamed coastal grandma through and through.
As a fashion writer, my thought process didn't stop there. I thought to myself, "Coastal grandma is made for moms. I must tell the mom community ASAP." So let me circle back to my original point: If you're not channeling the coastal grandmother aesthetic this summer, you need to reconsider. Here's why.
First and foremost, this trend is convenient. No need to don a tight mini dress or trip on your heels while chasing your toddler. Instead, styles are practical for everyday life and the aesthetic fully embraces layers (linen button-ups, fisherman cardigans, etc.) which is great when your kids keep you busy from morning until night and various activities require different attire. Or, if you're like me and just buckling them into their carseats leaves you drenched in sweat.
In addition to being convenient and comfortable, the coastal grandma aesthetic is about as classic and timeless as it gets. This means you might already have a handful of trend-approved items in your closet. And those that you do decide to purchase will literally never go out of style. As a mom, I know it can be difficult to keep up with different trends (It's hard enough finding the time to drink a cup of coffee before it goes cold), so this is a major bonus.
Coastal Grandmother Outfit Ideas
If I've captured your attention but you're still not quite sure how to nail the coastal grandmother aesthetic, keep scrolling for 11 outfit ideas that will help you breeze through the summer in comfort and style.
Jean Shorts + Tank + Striped Sweater + Sneakers
Let's start with the basics. If you already have a pair of denim shorts and a white tank top in your closet (And if you don't, I highly recommend purchasing these essentials), style them with a pair of tortoise sunglasses and some classic white sneakers. Drape a striped sweater over your shoulders for a maritime look.
Shop this look:
1. tank top
2. sunglasses
5. jean shorts
6. sneakers
Relaxed Denim + Sweater + Boat Shoes
For a chilly summer day, grab your favorite pair of relaxed denim and style them with a sailor-approved sweater. Quality boat shoes are timeless and will season well with age.
Shop this look:
4. boat shoes
Linen Set + Sandals
Linen is the backbone of the coastal grandma aesthetic and a linen set is the perfect wardrobe staple for summertime activities—from beach days, to barbecues, to sitting poolside watching your kids, and so forth. Enjoy styling your linen set endlessly with different sandals, sweaters, and a trend-approved basket bag.
Shop this look:
1. linen top | similar top
2. floral cardigan | similar cardigan
3. linen pull-on short | similar shorts
5. basket bag
Seersucker Dress + Heels + Pearl Bag
For a look that will take you from the office to happy hour (Or maybe even a date night? Oh, the joys of hiring a babysitter), reach for a breezy seersucker dress and a pair of never-go-out-of-style heels. A beaded pearl handbag lends some extra zhush to the ensemble while saying true to the nautical vibe.
Shop this look:
3. mule heels
Railroad Jeans + Graphic Sweatshirt + Ballet Flats
If you'd like to add a little prep to your look while running errands or calling in from your work-from-home job, throw a white polo or button-up beneath your favorite coast-inspired sweater or sweatshirt. Ballet flats are back with a vengeance and even if they go "out of style" next summer, we all know they never truly will—they're a silhouette that will endure until the end of time.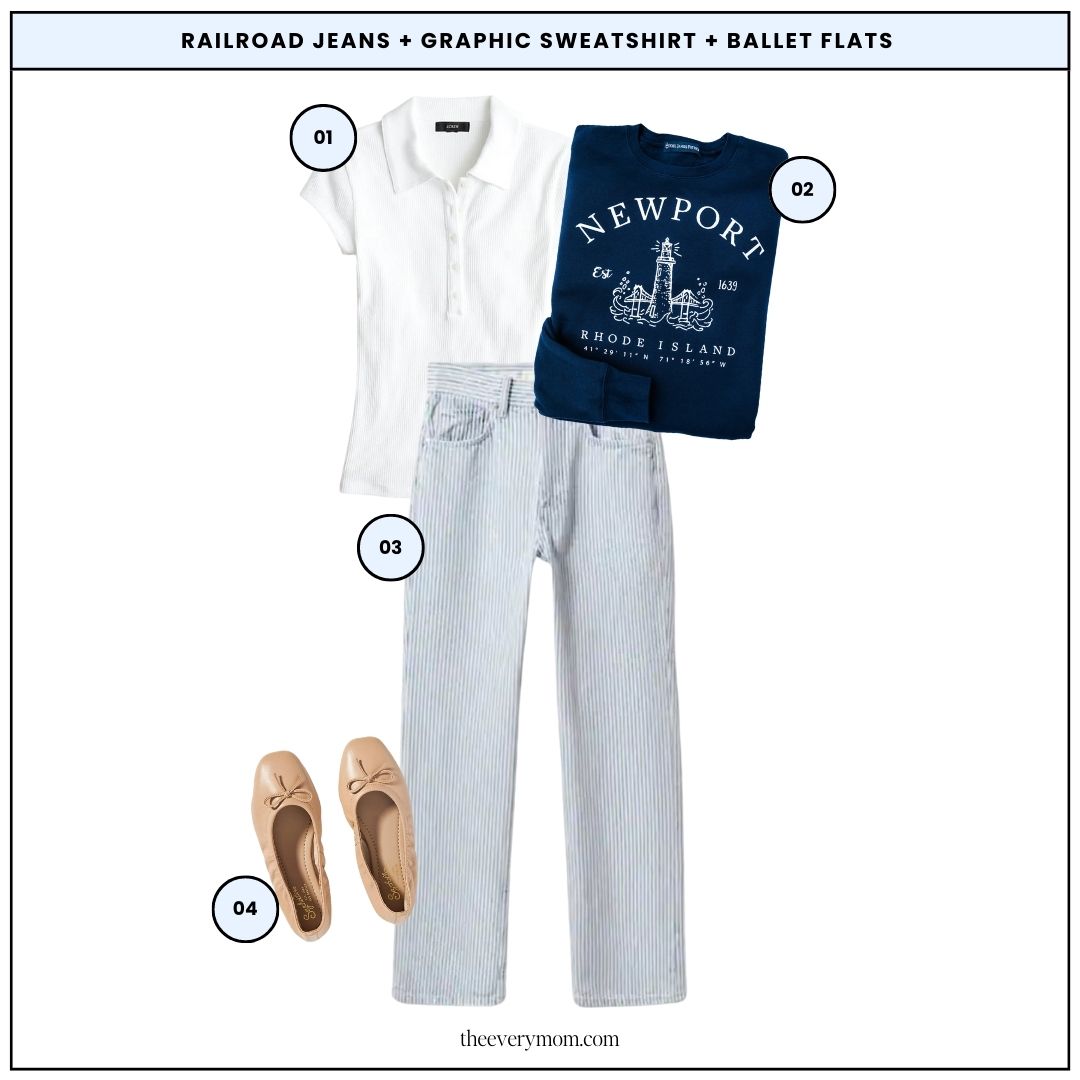 Shop this look:
4. ballet flats
Tailored Shorts + T-shirt + Slide Sandals
If you only add one wardrobe staple to your closet this summer, let it be a pair of tailored shorts. They are flattering, chic, and oh-so-versatile. Pair them with a beachy graphic tee for a look that will keep you looking your casual-cool best on even the hottest of summer days.
Shop this look:
White Jeans + Ruffled Button-Up + Raffia Mules
Nothing screams elevated summer causal more than a pair of white jeans. Pair them with a stunning ruffled blouse and raffia mules for an office-friendly business casual look.
Shop this look:
1. ruffled button-up | similar plus-size blouse
2. pearl drop earrings | similar earrings
3. white jeans
4. raffia mules
Sundress + Strappy Sandals
Is there anything better than a white sundress in the summer? Just thinking about them instantly transports me to the beach for an evening stroll, to the park for a midday picnic, or to the shade of a favorite tree or covered porch to sip lemonade. While you can pair your favorite sundress with a variety of sandals (from slides to wedges), a pair of block heels will elevate the look in an effortless way. A raffia headband completes the 'fit and sufficiently keeps your hair in place as you prep lunches, tie shoes, and complete the many other tasks that keep us parents hustling.
Shop this look:
1. tiered sundress | budget-friendly dress
Bathing Suit + Straw Hat
Take your coastal-grandma self to the beach or pool with a classic suit and a trend-approved bucket hat. While favorite suit styles may vary, I've come to realize that, as a mom, the convenience of a one piece is hard to beat (My baby has an uncanny ability to inadvertently pull my suit down while I'm holding her). A vintage-inspired pair of sunnies completes the look.
Shop this look:
1. one-piece bathing suit | maternity and nursing-friendly suit
2. straw hat
3. sunglasses
Linen Pants + Bodysuit + Raffia Bag
Upon entering motherhood, I quickly realized that much of my life would now be spent bending down and standing back up again. I love how bodysuits stay in place (no matter how many times you bend down to pick up that same toy). Style your favorite bodysuit with a pair of linen pants to coastal-grandma-fy your look and take it up a notch with a pair of comfy block heels.
Shop this look:
1. bodysuit
3. linen pants
Graphic Tee + Maxi Skirt + Clogs
It's no secret coastal grandmas love the farmers market—fresh air and fresh food are calling! Pair a cute graphic tee with a midi or maxi skirt for a put-together, practical look. Don't forget your tote bag—you'll need it for your fresh produce and maybe even a bottle of wine.
Shop this look:
1. graphic tee
2. headband
3. maxi skirt | similar skirt
5. clogs