I'm proud to say I'm pretty open-minded when it comes to fashion; I'll try just about any style or trend. And while my core personal style has essentially remained the same over the years (jeans and a neutral sweater will always be my go-to fashion essentials), various factors in my life have inevitably inspired my style to adapt. Of all those factors, I've found that nothing has influenced my wardrobe more than the age of my children. I've learned that pregnancy, the fourth trimester, and—as I'm now experiencing—toddlerhood all have the ability to influence which items in my closet I reach for most often.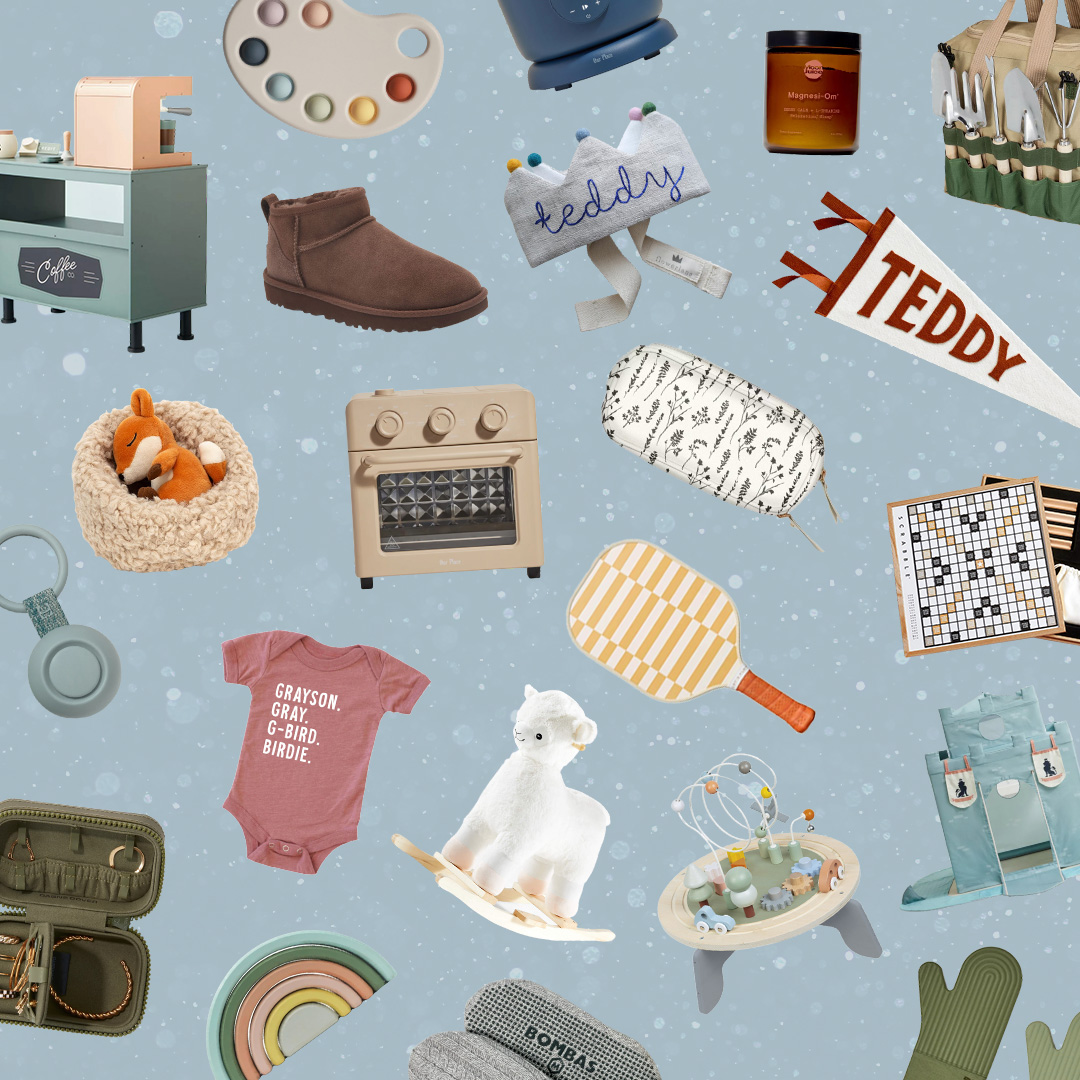 everything you need to ace holiday gifting this year 🎁
I remember that when my son (my oldest child) turned 1, I thought, "Finally! I'm free to wear whatever I want." No longer did I have to worry about being spit up on or accidentally staining all my clothes with iron-fortified infant formula. And while I can technically wear whatever I want, I'm realizing that toddlerhood is dictating which outfits and accessories are the most practical and subsequently the most worn. As much as I would love to try every trend the fashion space serves up, I've learned that for the sake of convenience, it's best not to fight the stages of my life.
My now 2-year-old son is busy and adventurous, and I've learned to embrace and support our active lifestyle with clothing pieces and accessories that are functional without sacrificing style. Here are some fashion essentials I believe to be perfect for toddler moms.
Flat, Sturdy Shoes
If you have a toddler, I don't need to tell you how much of your day is spent running around. Whether you're spending the day at the playground or running errands (How are we out of applesauce pouches again?), practical yet stylish shoes are an absolute essential. I find that flat shoes are both the most practical and the most comfortable for keeping up with my toddler. Some of my personal favorites include boots and loafers, but of course you can't go wrong with a tried-and-true pair of sneakers.
Midi and Maxi Dresses and Skirts
This might sound silly, but I'm truly surprised by how much of my day is spent bending over or crouching. While pants are great, sometimes I just really want to wear a dress or skirt, and I've found that midi- and maxi-length skirts and dresses are practical enough for toddler motherhood to avoid any accidental flashing.
Jumpsuits
Taking care of a toddler is exhausting. I love jumpsuits because, similar to dresses, you don't have to put much thought into planning your outfit. They're an outfit all on their own! If you have a particularly active toddler, jumpsuits are also a tad bit more functional than dresses.
Cardigans
When you have a toddler at home, layering is key. Too many times I've gone to leave the house with my toddler wearing a sweater or heavy top and quickly wished I'd dressed in layers instead. Between those famous meltdowns and physically carrying my child, stress (and sweat) are always looking to make an appearance. Cardigans are one of my favorite layering pieces because they can help you look put together without sacrificing comfort.
Appropriate Outerwear
While parenting styles may differ, there's one philosophy I've noticed almost all toddler parents subscribe to: The more time spent outside, the better. This means being ready for any and all weather conditions with a range of quality outerwear. I live in Central New York, which means we experience four very distinct seasons. Some items I've found to be essential include a rain jacket, a warm winter coat, and resilient boots. A lighter quilted liner jacket is also a versatile piece, perfect for mild winter days or layering during the fall and spring.
Jeans
No one needs a quality pair of jeans more than a toddler parent. I've always loved jeans, but I find I love them even more now that my oldest is fully immersed in toddlerhood. They're timeless, match with everything (Who has time to coordinate outfits?), are appropriate for a number of settings, and are durable enough to keep up with the toddler lifestyle. If you're looking for the perfect pair, I can't emphasize enough how much I love Abercrombie's straight-leg and mom jeans.
Cargo Pants
In addition to jeans, I personally love cargo pants. I've always been partial to the trend, but I find these copiously-pocketed pants to be incredibly convenient now that I have a toddler. Whether he's handing me yet another pinecone on our walk or I need a place to stash an extra snack, I love the spacious pockets these pants boast. On top of that, they're extraordinarily comfortable, which again is perfect for the active lifestyle brought on by toddlerhood.
Accessories That Hold Your Hair Back
As a toddler mom, I'm personally so glad that hair accessories of all varieties are in style. I have long hair and find I'm constantly either pulling it back, tying it up, or holding it together with a clip. Between all the playing, meal prepping, and everything else toddlerhood throws your way, it's convenient to have a hair accessory or two on hand for the sake of practicality.
Activewear
I personally love exercising, and it's a hobby I'm beginning to share with my 2-year-old. Whether you love fitness or not, most toddler parents tend to find themselves living an active lifestyle—so why not embrace the athleisure craze? Have fun shopping beyond basic leggings and sports bras and give athletic dresses or tennis skirts a try.
Basic Tops You Can Mix and Match
Life with a toddler is busy. The easier you can make putting outfits together, the better. Basic tops are great because you can mix and match them with different pants, skirts, or shorts. They're also great for layering with button-down blouses, cardigans, and jackets.
Chic Tote Bags
Even if your toddler is potty trained and you're ready to ditch the diaper bag, you may find that getting out and about with your young child still requires toting around a large assortment of items. Sippy cups, wet wipes, toys, snacks—you never know what you'll need to either keep your little one occupied or fend off a classic toddler meltdown. A chic tote bag that you can throw toddler essentials into (along with a few of your own belongings) can make your life easier all while keeping you stylish.