If you've been reading and following The Everymom since the beginning, you likely recognize our cofounder Danielle Moss (and her adorable daughter Margot!) and know that Danielle has quite the eye for classic and sophisticated interior design. From all of her Windy City apartments to the downtown condo she lived in with her husband, Conor, and now the home in the suburbs she shares with her new family-of-four, we've seen Danielle's design style evolve over time—and have loved being along for the ride.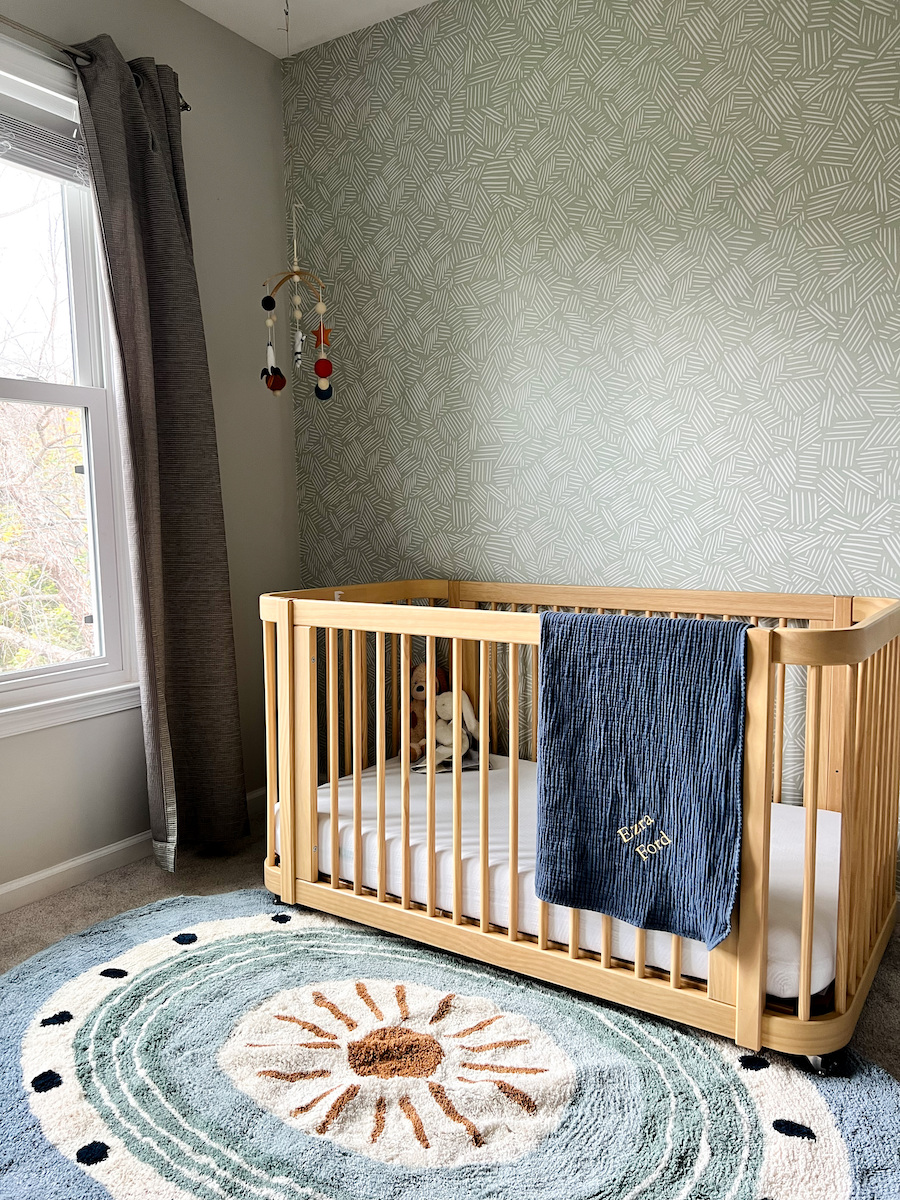 editor-favorite crib brand Nestig just released gorgeous new wallpapers that will easily transform any space 😍
Now that she's a mom to a toddler and recently welcomed her second baby, Kate, Danielle has made kid-friendly adjustments to her chic spaces but certainly hasn't lost her overall light and bright aesthetic. However, there's one thing she never expected to have in her house: a pink nursery. But a gorgeously feminine room is exactly what her eldest daughter Margot got, and frankly, the space is everything.
When you step inside Margot's room, you're first met with the prettiest dusty pink and white statement wallpaper. Add in a classic white crib, an elegant cane daybed, a vintage dresser, and lots of whimsical touches—including the cutest bunny mobile, cuddly stuffed animals, a precious unicorn rocker, and some favorite books—and you've got the makings of the perfect little girl's room.
Keep reading for more on the design inspiration behind Margot's inviting space and to shop all the items in her room. Plus, Danielle gives us an update on transitioning from one to two kids, how her motherhood journey has changed since Margot's recent ALL B Cell Leukemia diagnosis, and all the reasons baby Kate has brought light and joy to her family during this time.
Name: Danielle Moss
Age: 37
Location: Chicago suburbs
Room's Square-Footage: 144
Rent or Own: Own
Years Lived In: 2
Children: Margot, 2, and Kate, 1 month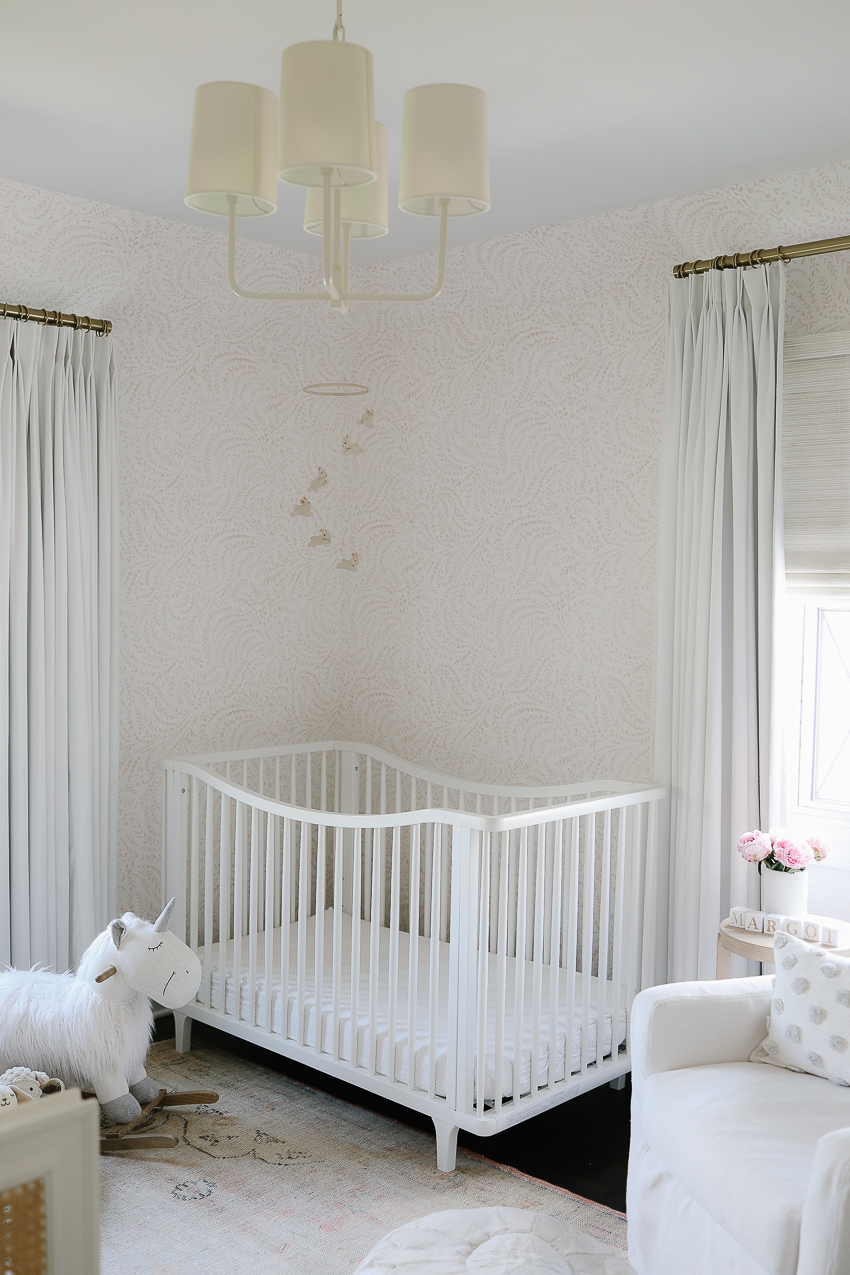 SHOP THE LOOK

To start, tell us about your home!
My husband and I had been married for about a month when we found out we were expecting our first baby. At the time, we were living in a 1920s condo in downtown Chicago, and while we hoped to stay downtown, it was almost impossible to find what we wanted in our price range. Knowing a baby was on the way, the thought of a driveway, basement, and space for our daughter to run around seemed ideal, so we decided to look at a few homes in the suburbs.
Conor is a realtor here in Chicago and has a great eye, so we only looked at a few properties. He found a charming little house built in the 1930s. He got us in to see it before it went on the market, and we made an offer that evening. It's just under 2,000-square-feet and the closets are on the smaller side, but it's cozy and charming and felt like the perfect place to start our family. There are three bedrooms, a fireplace, a large yard, a basement (that includes a playroom and storage), and lots of character. 
We did make a few updates to the 2.5 bathrooms, painted every room, and changed the lighting fixtures throughout. Our basement playroom was a favorite (budget-friendly) project. Adding vinyl floors over the existing wood tile made the room feel more like a family room and less like a basement.
How has your decor style evolved as you've transitioned from living on your own to living with your husband to adding a baby to your family?
My style is traditional meets modern with a hint of my California roots. I love anything that's jute, linen, or white, so you'll see lots of those details throughout my home. White furniture is actually a lot easier to keep clean than one might think, and I'd rather know when there's a stain and take care of it versus hiding it. Our condo was a lot more modern than any of my previous homes, and there were a few things I would have done differently had it been just me, but it was a great space. Conor's dad is an antiques dealer and his mom has flipped a dozen (or so) homes, so he has a great eye for design, and it's been fun working on our house together. He basically handled our bathroom renovations and has brought some great design ideas to the table. 
I don't know that my style has changed that much since meeting Conor, but I made some changes to our home after helping launch Anecdote last year. It didn't make sense for us not to have pieces from our store (we make up two of the store's five founders), and the old layout didn't really work for our growing family. I switched out our large coffee table for a soft, kid-friendly ottoman, replaced two larger chairs with a single chaise (more space to play), and changed our backless barstools for ones that could support a booster seat. This home feels a lot more like me—it's warmer and more traditional.
SHOP THE LOOK

Tell us about Margot's nursery! What inspired the design of this space?
It all started with her vintage rug, and before I knew it, there was pink everywhere. The room was mostly done a year ago, but I could not get past the white walls since they had a cold, blue tint to them, and the shades I had initially purchased were not very functional (they didn't keep light out) and looked sloppy. A little wallpaper and new shades/curtains, and the room finally felt complete. It's a lot more traditional than I ever imagined my daughter's nursery would be, but I'm happy with how it turned out.
The space has both a crib and a daybed—why did you want to include a daybed in the nursery? Do you use it a lot?
I've always loved that daybed and thought it would be great for nights Margot was sick, reading books, and eventually, for her to transition into when she outgrows her crib. We had a very firm outdoor mattress on it until recently, so now that we've switched it out for a cozy mattress, it's something we use all the time. Instead of reading books in her glider, we're able to sit "all together" (her favorite!) before bed. It's also the perfect spot to pile up clean laundry.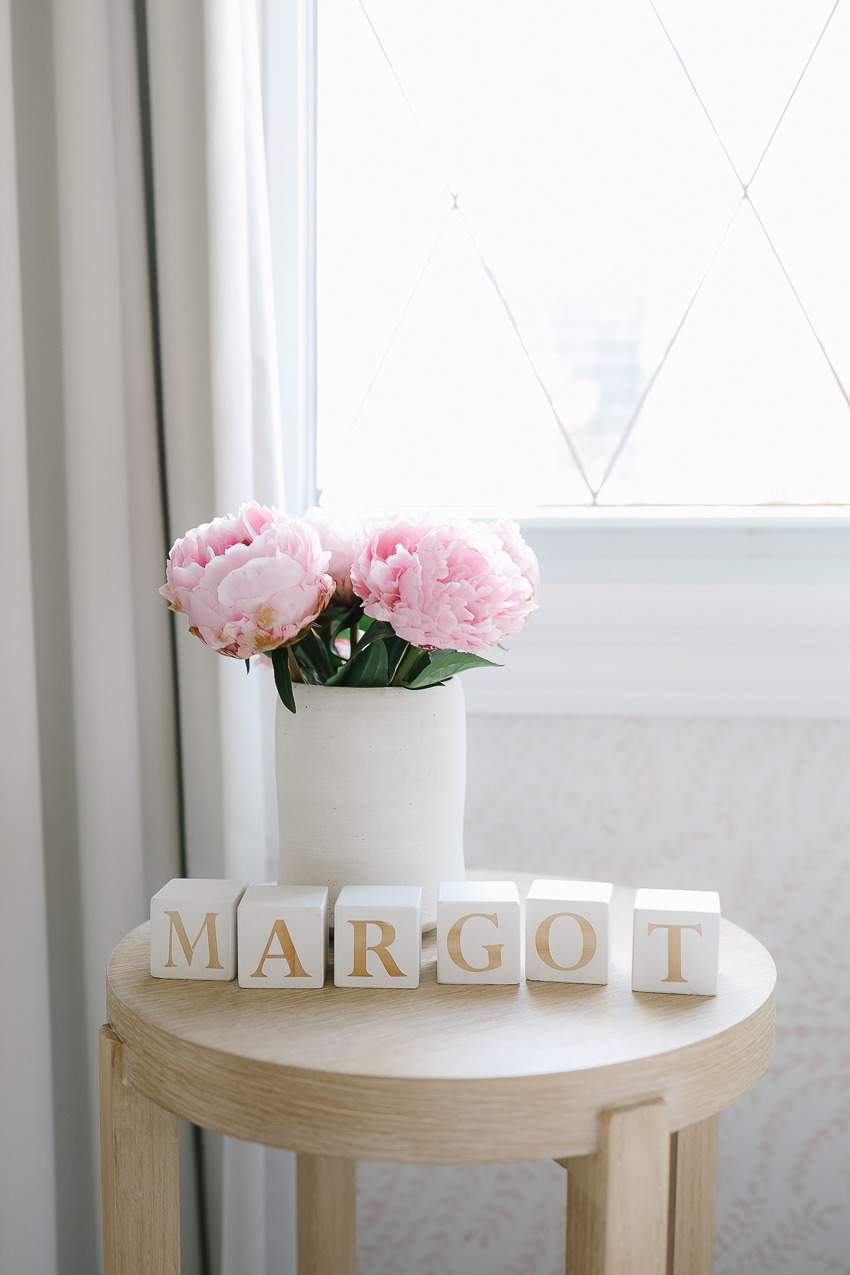 SHOP THE LOOK

The space has the prettiest wallpaper—why did you decide to include wallpaper Margot's room?
I had wallpapered Margot's bathroom, and it's is easily my favorite room in our house. Her nursery needed something, and since we own our home, wallpaper felt like something fun I could justify investing in. I was so torn on whether or not to go pink but couldn't find a really light, simple, neutral pattern that I loved. Had I chosen a more neutral rug, I would have gotten the same wallpaper in blue (it's beautiful), but here we are. Maybe it was my mother's intuition because my daughter loves all things pink.
What is your favorite piece of furniture or decor in Margot's nursery and how did you find it?
Her vintage dresser. I found it antiquing right after I moved from LA to Chicago and love that it's one of a kind. There's so much sentimental value since it's had a place in each of my Chicago apartments, and I did a lot of growing both personally and professionally since moving here. Passing that piece along to my first daughter felt really special.
SHOP THE LOOK

Babies and toddlers come with a lot of stuff! Do you have an organizational system in Margot's space to help contain things at the end of the day?
Yes, they do! Her clean laundry is usually piled on the daybed until I put it away which sometimes takes a few days. I use IKEA bins to organize her drawers, and fortunately, her dresser is large enough to hold diapers, lotion, blankets, sheets, etc. Most of her books are on a shelf in her closet, and we keep a few toys in baskets, but everything else is stored in our living room or basement playroom.
You've probably spent so much time in this space with your adorable little girl—what has been your favorite motherhood memory in Margot's room so far?
I have a lot of feelings these days, so I'm going to share a few favorite moments. 
All the times I held her as a newborn while she slept on me. Margot was a fussy baby, and we had some really hard moments, but when she would finally fall asleep on me, it's like nothing else mattered—pure bliss. Those days are so hard but so sweet, and they come and go so quickly.
Reading Madeline when she was a newborn. There is something so special about reading your favorite childhood book to your baby.
The first time I pulled out the book Be Kind (one of our favorites), and she knew what it was. She excitedly said "Kiiiiiiind," and we read it together. Kindness is something we talk a lot about in our house, so that felt really special. 
Playing and snuggles before bed. She screeches "I looooooove you fluffies!" (AKA her Slumberkins) and hands me each and every single toy we have stored in her baskets telling me they're all for me. It's so sweet. 
Finally, the photoshoot for this nursery tour. It was our last shoot before her diagnosis of ALL B Cell Leukemia in May. We had so much fun together, and she was so smiley and giggly. These photos still feel a little bittersweet, but I'm so glad we have them to look back on. 
SHOP THE LOOK

How do you plan to transform Margot's nursery into a big-girl bedroom as she grows older? How will the design change, if at all?
When she's ready to transition out of her crib, we'll move her to her daybed. I'll remove the crib and make some space for a dollhouse or cozy reading nook. We've also talked about bringing baby sister in there when she's a little older (maybe 1 or 2?), so we'll see.  It's not something I've thought too much about, and we'll have to see what her needs are at the time. I think we'll probably move in the next 4-5 years, so there won't be any decor updates.
How has your view of motherhood changed since becoming a mom?
As someone who doesn't have a relationship with my own mother, I was terrified to go into this role on my own. I always heard other moms say how unconditional and strong this love is, but that's something I never felt growing up. I didn't know what to expect. Fortunately, everything I've ever heard about motherhood is true. It's the hardest thing I've ever done, but the love I feel for my girls is unlike anything I've ever experienced.
Everything changed on May 16 when Margot was diagnosed with ALL B Cell Leukemia. I've never known pain, love, or gratitude like this, and I will never be the same again. My eyes feel so opened to what really matters. I stress a lot less about the little things these days and feel so much joy when Margot is feeling as good as she is right now. We're just over two months into treatment so everything still feels very raw, but if I've learned anything, it's that every good moment is a gift, and nothing matters more than seeing my girls happy and healthy. Family is everything.
You're recently welcomed baby #2! How does your second daughter Kate's nursery differ in style from Margot's space?
Kate's room isn't done, but it won't be wildly different. It's a smaller space and will have touches of blue instead of pink. I've already purchased a wood dresser, white crib, and natural, off-white glider. I think I'll add some picture molding and paint, and keep things pretty simple in there.
SHOP THE LOOK

How can parents create functional spaces throughout the house (i.e. toy bins, a diaper station, a play/sleep area) in their home without adding too much clutter?
I love baskets, bins, and pouches for organizing everything. Some toys are a little less cute than others, but I go for what's going to keep her engaged and just store everything in baskets. I would say to choose pieces that work with your home. There are some really cute play kitchens, tables, and storage baskets to make a space stylish and functional. 
Babies come with a lot of stuff, but it's important to remember that certain things (like a diaper station in your kitchen or sleep area in the living room) are temporary. We use this bassinet and this seat in our living room, and I love how they look in the space. I usually just brought out a portable changing pad if I needed to change Margot downstairs. 
How did you prepare Margot for welcoming a big sister and what was the transition like?
The last six weeks of my pregnancy were focused entirely on Margot's treatment, and if I'm being honest, we weren't ready to welcome a new baby into our family while going through that. There was zero focus on Margot becoming a big sister during that time. 
Before Margot's diagnosis, we talked a little bit about the new baby and about being the best helper and big sister. The focus was more on how kind Margot is and what a great helper she is versus her new role as big sister, which I didn't want to be the focus of her identity. I bought a big sister book, and she helped sort through baby toys and clothes. She's very sweet and kept talking about holding the baby on the couch, so I thought she'd be more excited than she was when Kate arrived. 
I was at the hospital for about 40 hours when I had Kate, and when Margot first saw me, she broke down crying. We hadn't been apart in over 100 days due to the pandemic and spent every waking moment together post-diagnosis, including two weeks in a small hospital room. She sobbed every time Kate cried for the first week or so, and we did our best to validate her feelings, never pushing her to hold the baby or do anything she wasn't ready for. 
Now that we are a month in, Margot is loving her baby sister but still doesn't have any interest in holding her, and that's OK. She smiles at her, talks about what she's doing, and loves helping. Both Conor and I make sure we have special solo time with Margot, and fortunately, this part of treatment hasn't been difficult, so she's feeling great and able to run and play. 
How do you manage the day to day responsibilities that come with both your family and your career? What is your advice for women juggling both?
It is so hard, especially while isolating at home. During "normal" times, Margot spent weekdays with our nanny, and things still didn't feel easy. I always struggled with taking time for myself outside of work hours since I already wasn't with her all day. The house is a lot less organized than I'd like, and the floors are never as clean as they used to be, but spending time with my family or taking a moment for myself will always come first. 
Whether you work inside or outside the home, being a mom is a job that never stops, and it's really hard. Moms are amazing. Single moms are heroes. My advice is to surround yourself with people who will support you and have your back and to find mom friends who will remind you that we are all going through these challenges together.
What advice, if any, do you have for other parents about to make the jump from one to two kids?
I'm not sure how helpful my answer will be given our circumstances, but I'll do my best. Going from one to two kids during a global pandemic is a lot, and nothing can prepare you for the addition of a cancer diagnosis. Now that we've been through what we have, all the little things that would have stressed me out feel easier. We all have our struggles, but for us, our perspective is just so different now. The laundry is endless, and there's zero time to do anything, but we're already in the thick of parenthood, and we know what a gift our babies are. I also don't feel like I'm missing out on anything since we've been isolating, so that's made things easier this time around. 
Know that the hard moments will come, but they'll pass, and one day, you'll miss those sweet newborn days. These days are crazy, but they're precious too. Take time for yourself, even if it's 15 minutes to shower alone or to call a friend. Let yourself feel the loneliness of this pandemic, but stay grounded in gratitude, because even when things are hard, there is so much good.
What is the most rewarding part of being a mom? What are the most challenging aspects of parenthood?
Getting to be there for my girls. Being the one to hold, love, encourage, and protect them. 
There is nothing harder than not being able to take your child's pain or struggles away. The last two months, I've felt broken and helpless. What I wouldn't give to be able to fight this fight for Margot—it's a pain unlike anything I've ever felt. 
Then, there's the day-to-day. It's nonstop whether you're home with your kids full-time, working from home, or working outside the home. Finding time for yourself, your kids, your partner, and the endless laundry, dishes, etc. It never stops.
Danielle Moss is The Everymom…
Favorite family tradition? Margot is still pretty young, but we usually let her snuggle with us in our bed one morning each week (usually a weekend). As she grows up, I can't wait for pizza nights and summer movie nights in our backyard. 
Go-to coffee order? Iced almond milk latte, ideally from Sawada in Chicago's West Loop. 
Dream vacation spot? I'd love to visit the south of France. 
Guilty pleasure TV show? I can't believe I'm typing this because I was so anti housewives shows (and reality TV) for so long, but RHONY is quite entertaining. 
Last home decor item you splurged on? Our sofa!
Favorite date night activity? We have been so bad about date nights, but now that we're at home, on nicer evenings, we'll sit by our fire pit. In a "normal" world, going out to dinner and enjoying a glass of wine or preferably an Aperol spritz (my favorite). 
Go-to everyday outfit? On days I actually get dressed, jeans and a tee.
Funny motherhood moment? Margot loves her Slumberkins. We call them "fluffies." She said "slutty" instead of fluffy until she was maybe 1.5 years old. Margot is super-attached and once screamed "slutty" on repeat at the airport when we took her to Italy last summer. That was fun.
Shop Margot's Nursery
crib, Pottery Barn Kids
pin dot crib sheet, Pehr
bunny mobile, RH Baby & Child
rug, vintage Old New House (gifted)
daybed, Serena & Lily (gifted)
monogrammed linen pillow, Little Willow Vintage
blush pillow cover, Etsy
pom pillow cover, Serena & Lily
quilt and shams, Pottery Barn
animal heads, Fiona Walker England
lidded basket, Serena & Lily
belly basket, Serena & Lily
lamb doll, Cuddle and Kind
stuffed cat, Jellycat
alpaca doll, Blabla Kids
bunny doll, Blabla Kids
unicorn rocker, RH Baby & Child
glider, Serena & Lily
leather pouf, Wayfair
side table, Serena & Lily (gifted)
name blocks, Etsy
ledge bookshelves, Pottery Barn
rabbit doll, Hazel Village
rattan doll crib, Poppie
wallpaper, Serena & Lily (discounted)
dresser, Meg Made
lamp, West Elm
changing pad, Keekaroo
white noise machine, Lectrofan
night light, Hatch
wipes dispenser, Ubbi Baby
provenance window shades in maritime alabaster, Hunter Douglas (gifted)
design studio curtain panels, Hunter Douglas (gifted)
Alice in Wonderland art, Rifle Paper Co. (no longer available, similar one here)
Margot's doll, Götz