The holidays can be intense any year, but this year is on another level. The stress of the pandemic mixed with missing family and friends has made me wonder what the heck we can do to still feel like we are part of the holiday season. This is my husband and I's first holiday season as homeowners, and while I am sad that we can't fill our home with our loved ones, I went down a rabbit hole of fun activities we can do, socially distanced.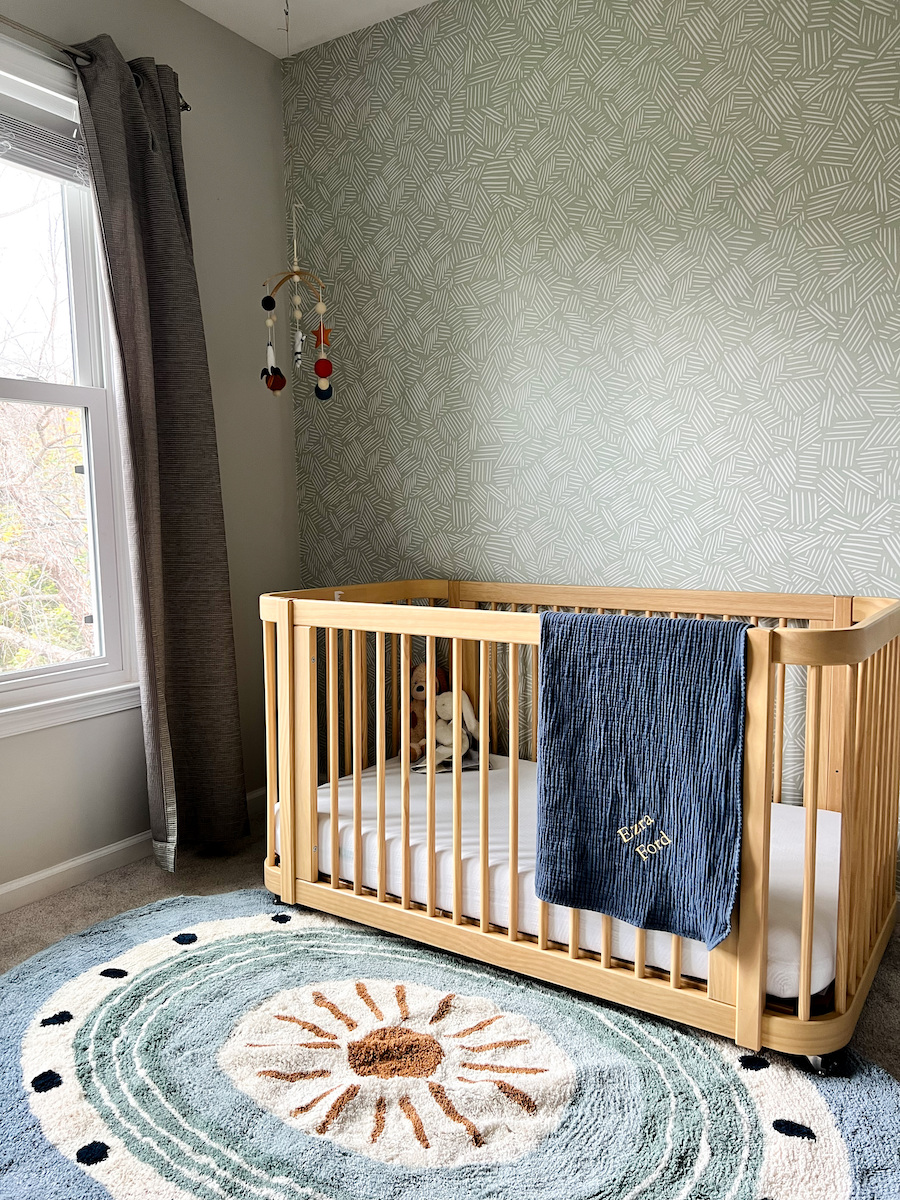 editor-favorite crib brand Nestig just released gorgeous new wallpapers that will easily transform any space 😍
Here are some of my favorites to help get you started this holiday season.
1. Take a Holiday Lights Tour
Here in Chicago (where I live), Lincoln Park Zoo has an incredible event every year where they do a wild (pun intended) light display on every animal enclosure and more. I looked it up, and zoos across the country do something like this! Take a look at your closest zoo and see if they are participating in this way. You can socially distance while still seeing some beautiful displays and feeling part of the community for a night.
Alternatively, take a trip through the neighborhoods around you. Look through neighborhood-specific Facebook Groups or list serves, and find out which blocks have the best lights displays. Pile everyone into the car, turn on the holiday hits, and take a lap around on your own personalized tour. Don't have a car? Bundle everyone up in your best cold-weather gear and bring along some hot drinks and take a stroll through the neighborhood.
2. Reclaim Your Yard
People often think cold weather means you can't hang out outside. That may or may not be true, depending on where you live and what kind of resources you have. If you have access to a yard or an open space where flames are allowed, however, you can get a portable fire pit and have your family or pod bring their bevy of beverages! You can all sit socially distanced, wearing masks, and the kids can make s'mores or eat cookies baked from home. If a fire pit is out of reach this holiday season, you can grab all the best blankets and pile them on while you drink your warm drinks.
3. Have the Great Holiday Cookie Bake-off
Earlier in the year, I was lucky enough to be included in a few different recipe exchanges. Thinking about (and eating!) new recipes and creating family favorites made isolation a little easier.
Since social gathering guidelines are so limited, you can create your own virtual cookie exchange instead! Get a few of your friends on an email chain and have each family sending another family (or two!) a set of favorite holiday cookies. If you have the resources to bake and send them in the mail, feel free! If that's a stretch, create an email exchange for recipes instead. Then you and your family can pick and choose your favorites and bake up a storm and share your finished products. One of my favorites is the Ritz cracker cookie that doesn't need baking.
4. Reimagine Singing the Holiday Favorites
Because singing is one of the primary ways to spread coronavirus, door-to-door caroling or holiday pageants are out this year. But if you're anything like me, singing holiday favorites gets me in the spirit, so I started doing some digging and found some information on how to do Karaoke online with other people. And there are a few other options out there! This way you can get your jingle fix while still keeping everyone safe.
5. Skate Around Town
I spent winters growing up in the Midwest at outdoor ice rinks. I have the fondest memories of my mom packing creamy soups in a thermos and taking me out to the pond. We would take a break when my cheeks got too red from the cold to warm me back up with some hot soup.
If you're from a cold-weather climate, throw some soup into a thermos and get out on those outdoor ice rinks. The rinks will likely have protocols in place for skating with reservations to keep populations down, so plan early and enjoy some outdoor family fun.
6. Watch Holiday Movies with Your Friends
This one might be more appropriate for a ladies night with your friends since it involves browsers and typing. Sadly, my husband does not appreciate the holiday movie cycle nearly as much as my girlfriends do. Since we can't do our usual cookie baking and movie watching marathon this year, we have been hopping onto Tele-Party to continue indulging our shared love of cheesy romantic holiday movies.
After tucking the kids into bed, pull out your favorite holiday treat (so you don't have to share!), pour yourself your favorite holiday beverage (mine's bourbon and hot cider), and hop online to "hang out" with your friends. Being the massive extrovert that I am, I was concerned it would feel weird, but surprisingly, it itched the social scratch for me more than I ever would have thought. And it now includes more than just Netflix. Bring on the holiday cheese!
8. Take Time to Look Back at the Year's Highlights
Instead of doing a holiday newsletter or a card, my in-laws do a Year in Pictures. I've always loved this since we live so far away from them, it makes it feel like we got to be with them for certain fun or important moments.
Sit down with your family and pick out pictures that have meaning for each of you and make a collage together. You can even create and share a collage online! Even though this year has been difficult, there have still been milestones, happy moments, and things to celebrate. Give yourself chance to look back at all the growth you've had as a family!
9. When in Doubt, Decorate!
When the house is dressed up, it feels like I'm dressed up! No matter what mood I'm in when I wake up, when I walk out to see the tree lights twinkling in the morning, I cheer right up. In fact, one of our family's biggest arguments is when we're supposed to take everything down.
This year, if you feel the itch to start early, go for it! Every year, I let myself buy one little new thing to make the year feel different and mark it somehow. If getting new decor is out of reach this holiday season, take a look around the house. Spend a day with paper crafts and your children and see what treasures you can build together. Who knows, you may start a new family tradition!
The holiday season November through January is usually my favorite time of year. It's always an opportunity to reflect on the year and spend time with those closest to us. There's a magical feeling in the air. We all know that this year has caused us to adapt in ways we never thought possible. But as a reminder, safety does not have to mean you can't celebrate.
We'd love to hear from you about what ways you and your family are celebrating in safe and socially distanced ways! Share on Instagram or in the comments below.