Hi! I'm Beth, The Everymom's copy editor. While I don't have children, I read about them every single day. I might not understand what breastfeeding feels like, but I sure know this nipple cream is the best on the market. I don't really know what it's like to run around town shopping with two kids on your arm, but I empathize and understand as best as a 23-year-old single person with zero responsibilities but herself can understand.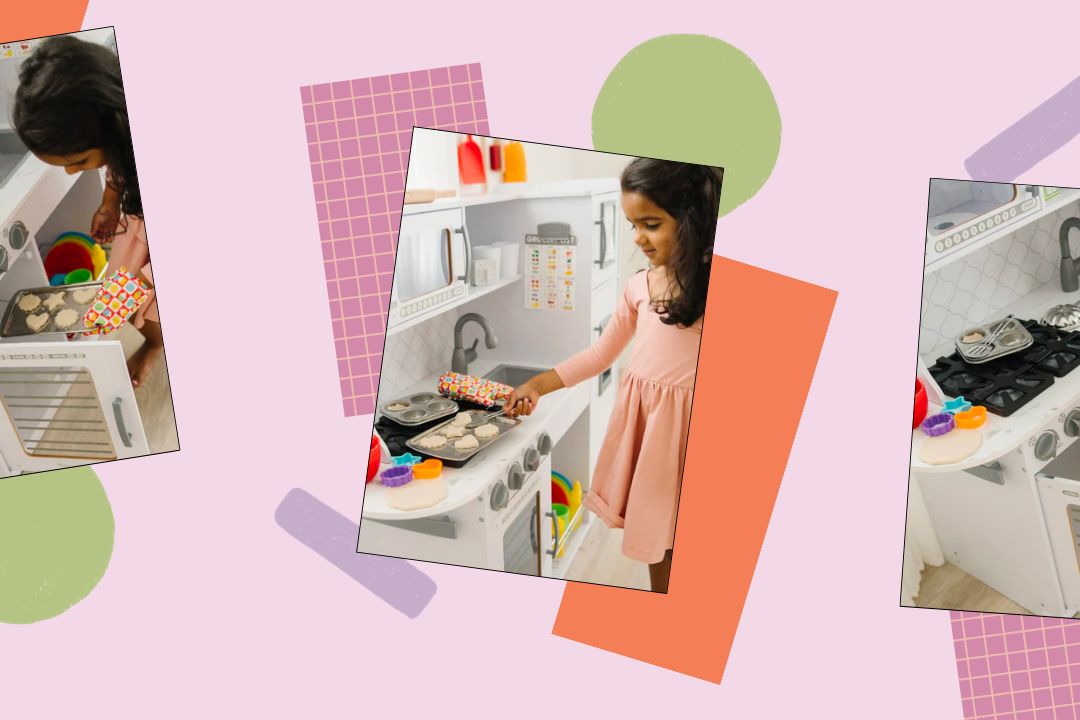 Now, you're probably wondering, "OK, if you can't help me be a mother, what in the world can you help me with, Beth Gillette?" Well, while my expertise might not be motherhood, I do have some knowledge in one area I've learned moms love as much as me: the holidays. I'm a total Christmas elf, complete with a holiday baking apron, a full-size Christmas tree in my tiny studio apartment, and a Christmas playlist filled with the classics (and a few Justin Bieber bops, of course). 
I love all the classic Christmas movies, but there's an area of the Christmas film realm that I haven't necessarily tapped into yet: Hallmark Christmas movies. There are so many people who love them, and while I'm not necessarily into the whole cheesy-romance movie thing, I'm at a point where I'll take anything to give me a little extra Christmas cheer. 
I decided to go head-first in this project. I'm so graciously blessed with my parents' cable log-in, so I set up shop on the Hallmark Channel live TV site for a solid week, watching as many Christmas movies as my schedule would allow. (We work from home twice a week, so I got in a lot of movie time on those days!) Here are the ones I loved the most, along with a few I'm excited to watch in the coming month. Be prepared for lots of love, Christmas decor out the wazoo, and a surprising amount of familiar faces. 
Switched for Christmas
I started my Hallmark journey on a good note with a classic Hallmark face: Candace Cameron Bure. CCB (I'm about to talk about her a lot, so I had to come up with an acronym) is my favorite Hallmark star because she finds a way to make these cheesy, expected storylines seem fun and less awkward to watch. This story gives us two of her, as she plays identical twins who switch lives to plan each other's holiday parties at work. Along the way, they find love (no surprise there) and reconnect as sisters. This was probably my favorite of all the movies I watched — what can I say, I love a good twin-switch plot. 
A Bride for Christmas
After a few failed engagements, Jessie, played by Arielle Kebel, decides she wants to wait before getting into another serious relationship. On the other hand, Aiden makes a bet that he can get a woman to marry him before Christmas. It's a little How to Lose A Guy in 10 Days but with a Christmas twist. 
Christmas at the Palace
I thought this was about to be a really cheap knockoff of The Christmas Prince (which I love), but it had a few twists that made it different. The main characters are famous ice skaters visiting the palace for a huge Christmas-themed skating show, and of course, one of them falls in love with the king. It's sweet, and a royal-themed Christmas can rarely do wrong in my book. 
12 Gifts of Christmas
As I said, I'm a big gift-giver, so I loved this film because I resonated with the main character (you know, aside from all the love stuff — AKA why I write for TEG and not here!). Anna is a master gift-giver; she knows what to get everyone. So, when she meets a businessman (who I must add is cute AF) who has no idea what to get anyone on his list, she steps in to give him a few pointers — 12 to be exact. This movie had a slightly different plot than the others (they all really seem to blend together), and I loved the theme of the story. 
A Shoe Addict's Christmas
The classic case of a Christmas hater (AKA a Grinch), this film centers around Noelle (played by CCB) as she gets locked inside a department store on Christmas Eve, meets her "guardian angel," and must deal with her past, present, and future. As I said, I liked pretty much every CCB film I watched. She really has a handle on making these movies the perfect amount of corny. 
Finding Santa
I watched another Jodie Sweetin Hallmark movie, and I wasn't in love with it. But I gave this one a try, and I enjoyed it so much more! Grace is excited to take over her town's Christmas parade (I'm finding that Hallmark LOVES Christmas parades) until Santa breaks his arm and she has to find a replacement. It's a fun premise. I also thought the love interest was hot as all heck, so that might have influenced my decision to put it on this list. 
The movies I'm excited to see . . . 
A Christmas Duet
I saw the preview for this a few times while I was bingeing, and I'm excited to watch it next week! A musical duo who used to make Christmas music together finds each other again and decide to perform again… I'll be honest, the trailer is a little ambiguous, but I'm intrigued enough to know I'll be tuning in to watch. 
Christmas at Dollywood
This movie is so exciting that Hallmark didn't even feel like they had to release a trailer! Starring the one and only Dolly Parton, this movie is bound to be amazing, and TBH, I don't even know what it's about. Christmas at Dollywood? It doesn't get any better than that.
Mingle All the Way
Once I read the description of this movie, I knew I had to watch it. Again, this is where my TEG-over-TEM knowledge comes in, but basically, this movie is dating app Christmas, and I'm all for it. The main character develops a dating app to help find dates for things without the commitment and time of dating. The investor tells her she has to make a profile to test it before he'll invest. She'll probably decide she's in love with him, but I'll watch nonetheless.
What should I watch next? Tell us your favorite Hallmark Christmas movies in the comments!