As someone who grew up with a combined seven syllable name, I can appreciate a parent's need to simplify. Going the short route with your baby's name also comes with an added perk, as it eliminates the risk of nicknames you're not terribly fond of, (think Liz for Elizabeth, or Ted for Theodore).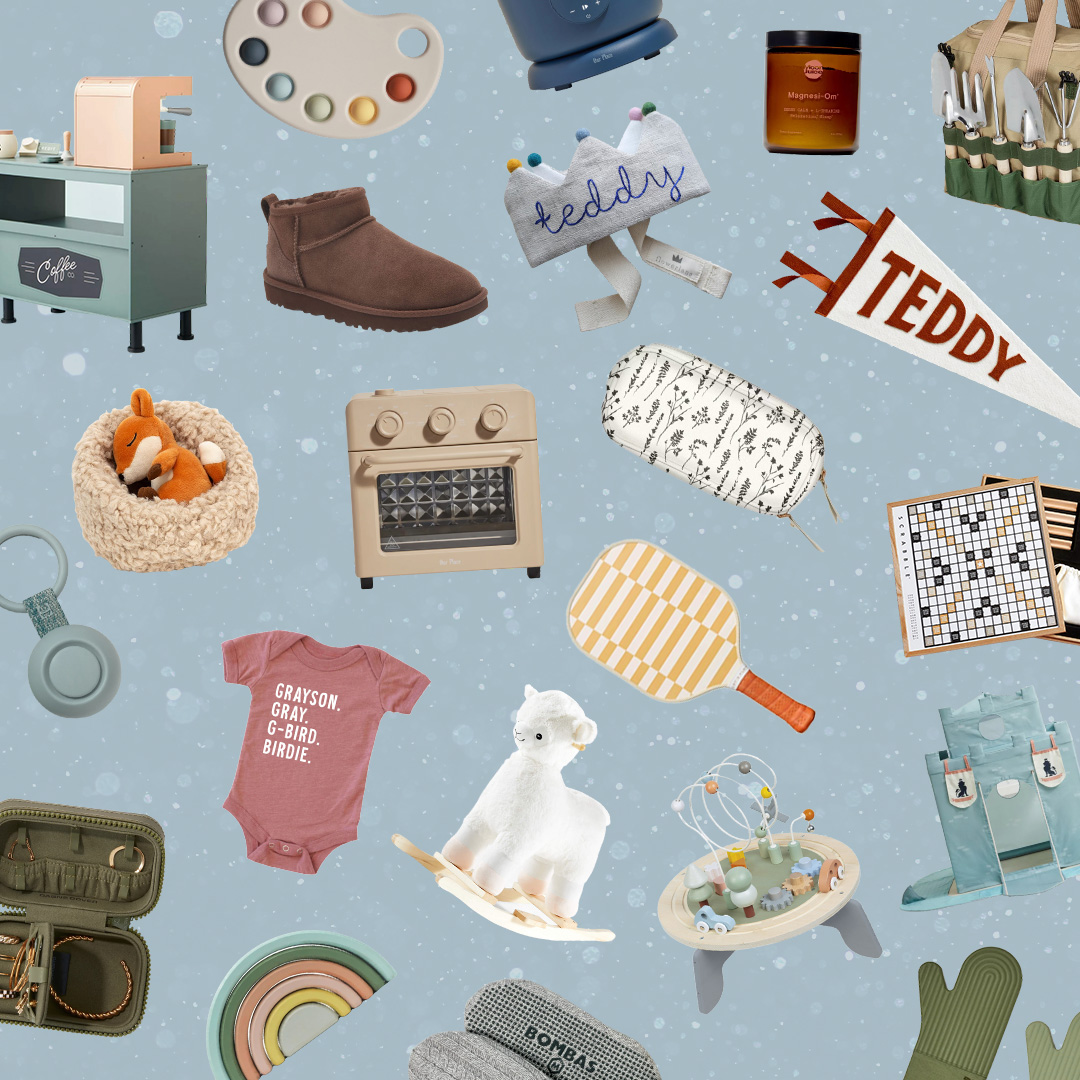 everything you need to ace holiday gifting this year 🎁
Whether you're looking for a baby naming option that balances well with a longer last name—or a short name simply sits well with you, rest assured that there are countless one and two syllable names that are perfect picks for any newborn baby.
Below, we share 20 of the sweetest short baby names around.
Short Names for Baby Girls
Clare
Origin: Latin
Notes: Also spelled "Claire," this timeless name means clear and bright. For a similar vibe with an extra syllable, try out Clara instead.
Elle
Origin: French
Notes: From Elle Fanning to Elle Woods, there are memorable namesakes aplenty for this popular pick. Though if a name with deep meaning is important to you, you may want to look elsewhere. Nameberry shares that Elle simply means "she."
Faye
Origin: French
Notes: Meaning "fairy" or "elf," this enchanting name lends a hint of magic to the baby-naming process. Alternative spellings include "Fay" or, for a more on-the-nose rendition, "Fae."
Joy
Origin: English
Notes: A perfect fit for any newborn, this sweet and classic name captures the true measure of our beloved babies, by which I mean boundless happiness, of course.
Kai
Origin: Hawaiian, Japanese
Notes: Pronounced "kye," this gender-neutral favorite has a host of meanings depending on its origin. Nameberry shares that in Hawaiian, the name means "sea" or "ocean," while in Japanese, it simply means "forgiveness."
Maeve
Origin: Irish
Notes: With a namesake like a mythological Celtic queen, this traditional Irish name makes a stately and noble choice for any newborn baby girl. Its meaning, Nameberry shares, is "she who intoxicates."
Marin
Origin: Latin
Notes: For a sophisticated take on a name like Marina, try knocking off a syllable to land at Marin. Meaning "from the sea," this name choice delivers a dose of undeniable and stylish beauty.
Mila
Origin: Slavic, Russian
Notes: Actress Mila Kunis may have popularized this beautiful name here in the U.S., but it continues to slowly and steadily gain momentum as a choice for new parents. While it's lovely on its own, Mila may also be a nickname for Camilla or Camille.
Sage
Origin: Latin
Notes: A classic herbal name if ever there was one, Sage also calls to mind the characteristics of wisdom and intellect—a perfect naming choice for a newborn with an old soul.
Suni
Origin: Varied
Notes: Suni has roots all around the world, most notably in Native American and Hmong cultures. This memorable name is sure to skyrocket in the coming years, propelled into the public eye by gold medal Olympic gymnast Suni Lee. It is a potential nickname for names like Sunisa and Sunita.
Short Baby Names for Boys
Ale
Origin: Spanish
Notes: Often a nickname for the Spanish classic Alejandro, Ale makes an adorable pick on its own as well. Nameberry notes its meaning as "defending man," giving this name choice an honorable and noble feel.
Ari
Origin: Hebrew
Notes: Meaning "lion of God," according to Nameberry, Ari manages to pack in a world of charm into just two syllables. For a fictional namesake, Ari is one of the tracksuit-ed sons in Wes Anderson's "The Royal Tenenbaums."
Arlo
Origin: English, Irish, Spanish, German
Notes: Among baby-naming experts, there seems to be no consensus on where the name Arlo originated. Perhaps an Anglo-Saxon moniker that calls to mind lush green fields, Arlo may also simply be a shortened version of the name Carlo. Though with a name this cute, does it really matter?
Blair
Origin: Scottish
Notes: Originating as a surname, or family name, Blair has become a short and sweet moniker that's perfectly suited for both girls and boys alike. For a name with an effortlessly cool vibe, you just can't go wrong with this one.
Finn
Origin: Irish
Notes: A potential nickname for traditional picks like Finnegan and Finneas, Finn is a strong contender for a standalone name as well.
Graham
Origin: Scottish
Notes: Nameberry notes that this name offers two pronunciations, "GRAY-um" across the pond and "gram," here in the U.S. In either case, the name is a sweet and sophisticated choice for any new baby boy.
Obe
Origin: African
Notes: For a brand new bundle of joy, there may be no more fitting a name. This African classic simply means "heart." Alternative spellings include Obi.
Shai
Origin: Hebrew
Notes: Pronounced "shy," this Hebrew name is one that may be used for both boys and girls. It means "gift," which we think embodies a new baby pretty well. Similar names include Shea and Shiloh.
Theo
Origin: Greek
Notes: A diminutive of the popular Theodore, Theo is a more grown-up and refined option than the adorably sweet Teddy. Meaning "gift of God," this option makes for a strong given name as well.
Zain
Origin: Arabic, African
Notes: Popular spellings of this name, which Nameberry shares means "beauty, grace," include Zane and Zayne. While more popular for boys, Zain is a name choice that makes good sense for little ones of all genders.