I'm a Disney nerd. I love the movies, I love the parks, and I even went to an info-session about becoming a Disney Cast Member in college (although, I didn't tell my friends about it at the time). I've been lucky enough to visit Disney World as a kid, teen, adult, and now, as a mom.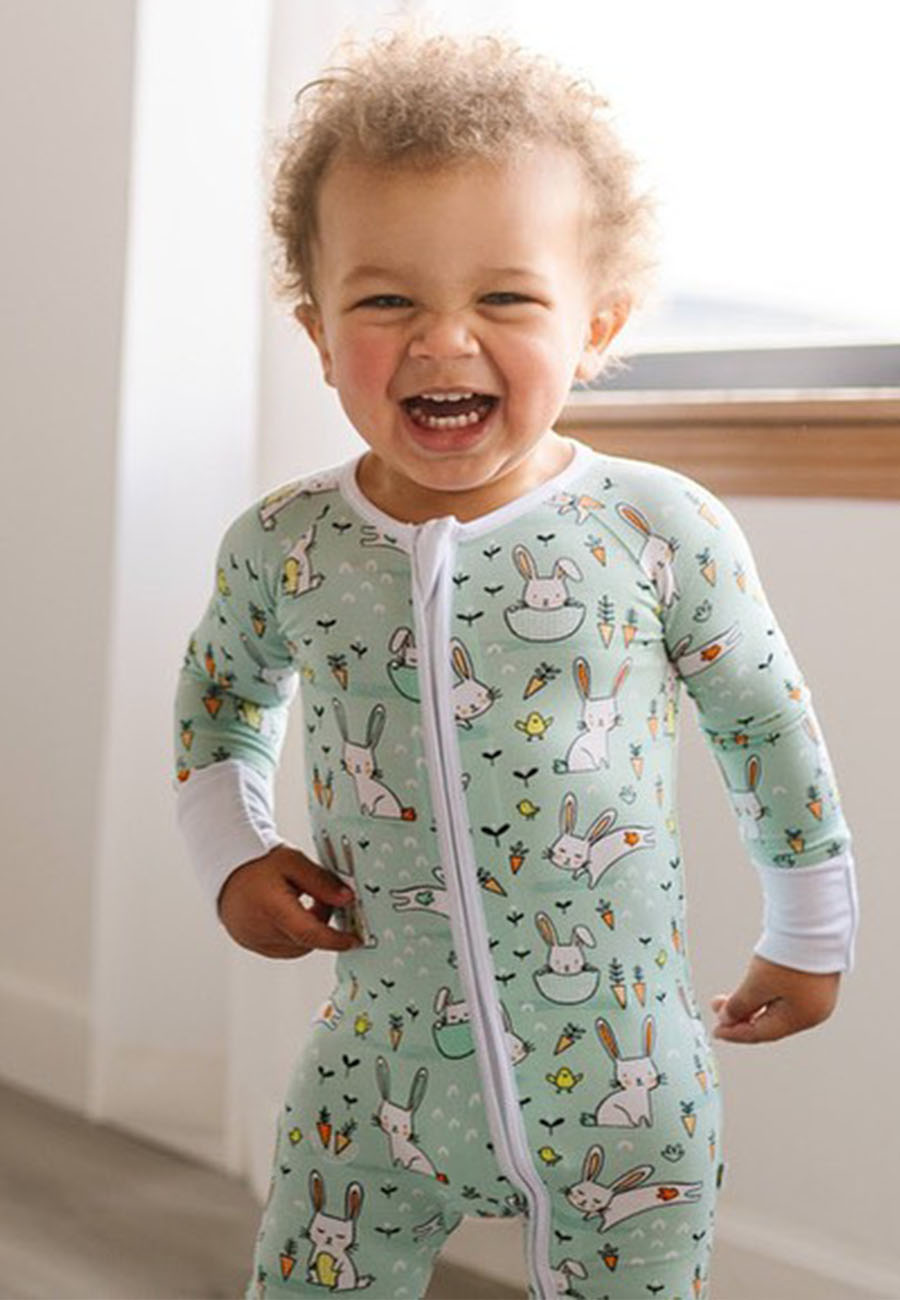 Our Favorite Easter and Spring Pajamas for Babies, Toddlers & Kids
To put together this list of hacks for planning a family trip to Disney, I also enlisted the help of some other seasoned Disney fanatics, sourced the Disney Parks website, and gleaned tips from the many, many Disney planning blogs on the world wide web. I wanted to answer some of the common questions families might have when planning to spend the money to give their kids the most magical trip of all.
What's the best age to take my child to Disney World?
This question pops up in online mom groups all the time, and there's no right answer. Since I'm a Disney fan, I say any age has its perks, but if you want a real answer, here it goes. If you have more than one child and are deciding when to take your family to Disney World for the first time, I think the best age is when your oldest is 5 or 6.
They will have memories of the trip, are tall enough to ride most of the rides, and the Disney magic seems extra magical. Additionally, you won't feel as bad if you pull them out of school to avoid peak travel times (and cost). If you have a younger child, they may not remember much from the trip, but they'll be in the pictures, their tickets are free (if they're under 3), and will be part of your memories of the trip. Plus, they'll still likely love the characters and many other attractions at the parks.
A few other considerations:
Tickets for children under 3 are free.
Many rides don't have a height limit, but if your child is over 40 inches, they'll be able to go on most of the rides. My 4-year-old just makes the cut.
Even if your child meets the height requirement, you'll want to consider the fear factor of certain rides and know that many attractions are in the dark.
Disney offers Rider Switch, so if you or your partner are excited to see an attraction that may not be a fit for your kids, you can swap kids and each ride solo.
The Magic Kingdom has the most attractions for young kids, but each park offers attractions for all ages.
When is the best time of the year to visit Disney World?
The best time is hard to pinpoint, but the best time to not go to Disney World, especially for your first trip, is during a school break. Holiday break and spring break are considered "peak times" where your trip will be more expensive and the parks will be more crowded. Disney often offers hotel and ticket discount packages during off-peak times, which can save you money as well.
How far in advance should I plan my Disney trip?
You'll want to book your Disney trip a minimum of two months in advance. Hotel reservations book up quickly, so the more time you can give yourself, the better.
If you're staying on the Disney property (more on that in a moment), you'll be able to book your FastPass+ selections (three passes per day that help you hop the line for attractions of your choice) 60 days in advance. Disneyland allows you to book Advanced Dining Reservations 60 days in advance, but Disney World allows guests staying on-property to book dining 180 days in advance.
If you have an attraction you really want to see, set your alarm for the morning you are first able to book FastPass+ selections because passes for big rides go fast, so booking early is key! Do this for dining reservations too. For example, character breakfasts fill up quickly and can be a great way to knock out meeting some of your children's favorites Disney characters.
A few tips for FastPass+ selections:
Know that after you use your three FastPass+ selections, you're able to book a fourth FastPass+ from the Disney mobile app or via kiosks inside the parks. It's better to book your selections earlier in the day.
But not too early. If you're able to arrive at the park right when it opens, you can usually squeeze in a popular attraction before the park fills up and the lines get longer.
Should I stay on the Disney property or in nearby accommodations?
Staying on Disney property has a lot of perks. Not only are you closer to the attractions, but you're able to book that aforementioned FastPass+ and dining reservations earlier than those guests not staying on Disney property. Additionally, parks offer "Extra Magic Hours" on certain days where guests staying on property are able to enter the park earlier or stay later, making for a less crowded, more magical park experience. Be sure to check this detail before purchasing tickets.
Disney offers hotels at varying price points and many accommodations offer condo-like rooms with kitchens, which can be convenient for families with younger kids. Additionally, each hotel is themed, so they stand out as special and should enhance your Disney experience.
Additional benefits include:
Free rides to and from the Orlando Airport with free luggage delivery on a private motorcoach, Disney's Magical Express.
Convenient rides on the Disney bus and monorail on-property transportation system means you don't need to rent a car if you don't want to.
Of course, you can still have a magical vacation staying off the Disney property, but if you're going for the "Disney experience," I personally think the extra cost of a Disney hotel is worth the cost for the convenience and the experience.
Should I buy Disney park tickets in advance?
Absolutely. And definitely opt for the "Magic Bands" for everyone in your family. Not only are they convenient and link your FastPass+ selections, Advanced Dining Reservations, photos, and often work as hotel keys, but they can also be used to contact you if your child gets separated from you at the park.
Additionally, although more expensive, the Park Hopper ticket option offers more flexibility if you want to visit more than one park in a day. One park could be inexplicably more crowded or the ride at the top of your list could be unexpectedly shut down, and the Park Hopper allows you to switch parks and maximize your day.
If you're opting for one park, and one park only, The Magic Kingdom has the most attractions for young children.
Should I bring a stroller?
You will be walking a lot, so a stroller is nice to have. Disney is very accessible, with stroller parking for every ride and a stroller can double as a nap spot. If you don't want to bring your own stroller, services will deliver a high-quality stroller right to your hotel—which is less expensive than renting inside the theme park. Opt for a stroller that reclines and has plenty of shade.
Can I easily nurse my baby in Disney World?
Each park has a Baby Care Center with rocking chairs for nursing and extra essentials for purchase (at normal prices) in case you're dealing with an unexpected blow-out or running out of wipes. Indoor rides and shows, as well as indoor restaurants, can double as air-conditioned nursing spots. And each park offers plenty of shaded benches.
What else would you like to know about planning a trip to Disney World or Disneyland? Tell us in the comments!