If the thought of bringing a baby to Disney World puts you into an instant panic, know you're not alone. When you're dealing with a baby who thrives on a routine, the idea of bringing them anywhere is scary, so the idea of going to such a massive resort can be terrifying.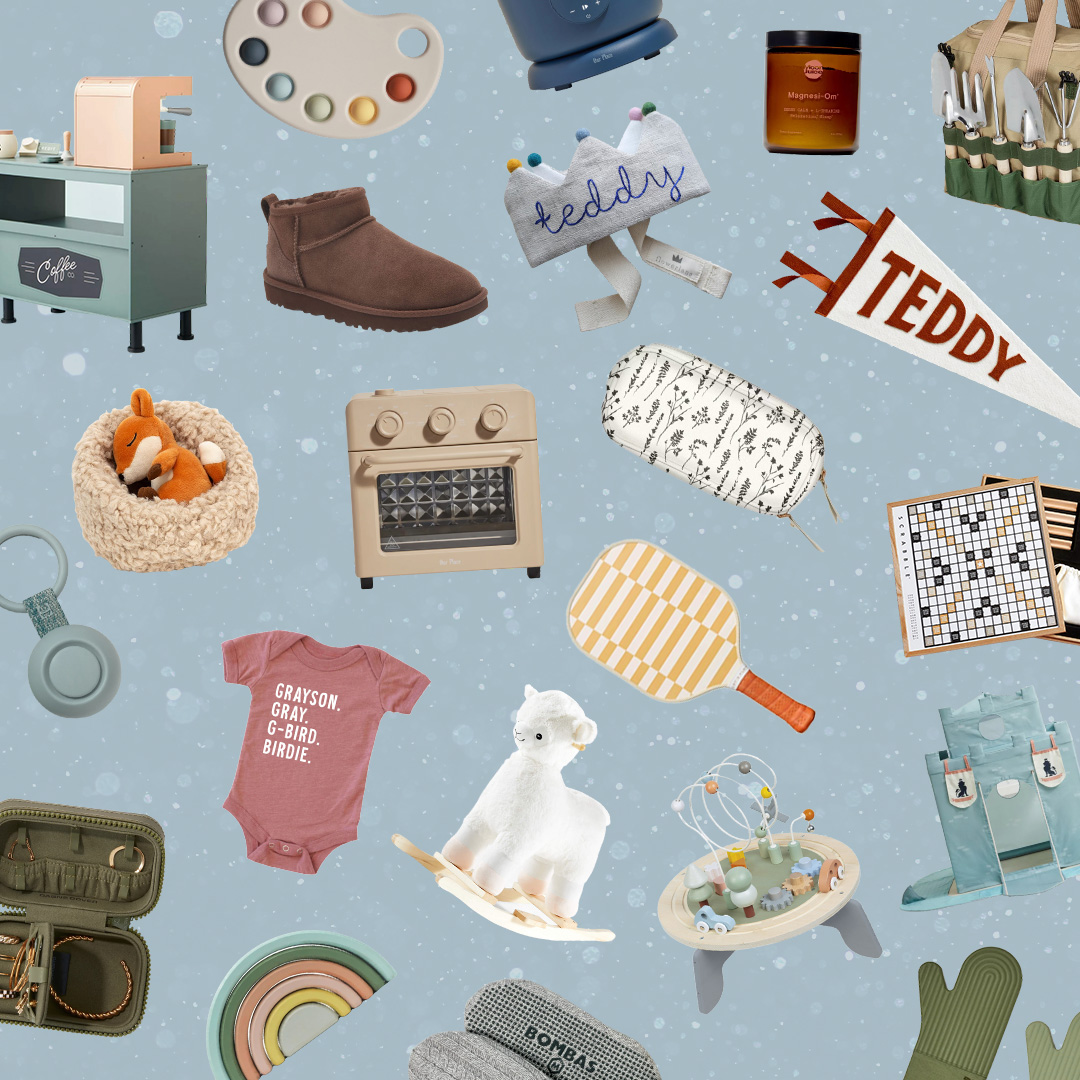 everything you need to ace holiday gifting this year 🎁
However, there is a reason so many families choose to bring their kids to Disney World. The parks, hotels, and general resort at large are all incredibly accommodating to kids of all ages, whether you're bringing just the baby or the baby and older kids. With a little bit of extra planning, you can make the experience as smooth as possible. In this guide, we'll be covering everything you need to know before bringing a baby to Disney World, from ticket and stroller requirements to Baby Care Centers in the parks.
Disney World Tickets for Guests Under Age 3
All Disney World guests under the age of three do not require a ticket to enter a Disney World park. That means that infants and toddlers can enjoy the parks for free, a major reason that many families choose to bring their little ones early to enjoy the Most Magical Place on Earth.
Additionally, guests under the age of three aren't required to get a Park Pass reservation. A Park Pass reservation became a requirement for all guests aged three and up starting in 2020. Essentially, the reservation "reserves" your spot at a certain park–and is a requirement to get in, along with your ticket. While kids under three don't need a reservation, all accompanying adults and kids over the age of three will need one.
Disney World Dining for Guests Under Three
Similarly, guests under three are able to dine for free at certain Disney World restaurants. For example, at a buffet or family-style meal, children under the age of three can have as many plates of food as they like for no extra charge.
At a table service restaurant where you are ordering specific dishes off of a menu, guests under three can plate share with anyone at the table for no extra charge. However, if you would like to order them their own plate, you will be charged extra.
While most meals for kids under three will not cost extra, at restaurants requiring a reservation, you will want to make sure to include them when inputting the number of guests. The only restaurant on property that has age limitations and would not allow children under three is Victoria and Albert's at Disney's Grand Floridian Resort and Spa.
At quick service restaurants where you order as counter service, you are welcome to share your food with kids under three, but they will not provide any complimentary meal–you would need to order off of the menu for any additional food they would like.
Stroller Requirements
Disney World is absolutely massive, so you will want to make sure to bring a stroller with you to avoid carrying around a very tired child all day long. You have some options when it comes to strollers.
You can rent a stroller at the Disney World theme parks or Disney Springs if you would prefer not to bring your own. It's important to note that if you choose this option, you will need to return the stroller once you're done in the theme park—you will not be able to bring it back to the hotel with you. If you are renting from Disney Springs, you will also need to pay a $100 credit card deposit. You can choose from:
Single Stroller (recommended for children 50 lbs. or less)

Daily: $15/day
Multi-Day (length of stay): $13/day
Double Stroller (recommended for children 100 lbs. or less)

Daily: $31/day
$27 (length of stay): $27/day
You also have the option to rent from a 3rd party stroller company. Companies such as Kingdom Strollers, Magic Strollers, and Orlando Stroller Rentals allow you to rent the stroller of your choice and will deliver it straight to your hotel or even the Orlando Airport. When you're done, they will pick it up—it's that simple! This is a great option if you are looking to use a stroller brand that you're used to, but don't want the hassle of traveling with your own stroller. You simply reserve your stroller ahead of time for the dates you need it and the company will take care of the rest.
If you prefer to bring your own stroller, you can do that as well! Disney does have a few important requirements to consider, so make sure you measure your stroller before bringing it to the parks.
Stroller must not be larger than 31 inches wide by 52" long
Stroller wagons are not permitted
If you do have a stroller with you, you will also want to plan ahead if you are going to be dining at a table-service restaurant. Many of these sit-down restaurants have a no-stroller policy so that they can keep the aisles clear for guests and servers. Instead, the Cast Members will offer a high chair for your child to use.
Most Disney World transportation will also be able to accommodate strollers that are the right size requirement. This includes buses, the Monorail, and boats. The Disney Skyliner can also accommodate strollers but note that they will need to fit within the 30″ wide cabin without obstructing the doors. During busier hours, you will also likely need to fold your stroller on the buses and Monorail.
Baby Care Centers
Ask anyone who has been to Disney World with a baby, and they will tell you that you must make use of the Baby Care Centers. Baby Care Centers are fully staffed facilities that feature helpful amenities for parents with infants and toddlers.
With a location in each of the four theme parks, these helpful spots feature a nursing room with rocking chairs, changing tables, and restroom facilities, a feeding area with highchairs, a kitchen with a microwave and sink, and a room with a television, table, and seating. Additionally, they have on-site shops featuring formula, baby food, juice, diapers, wipes, sunscreen, clothing, and over-the-counter medications you can purchase.
These spots are incredibly helpful for kids of all ages, but especially for younger kids that may need a space to cool off and relax for a moment. Aside from the items you can purchase in the shop, the services here are complementary, with the Baby Care Centers open during regular park hours.
Babies and Disney World Rides
There are a surprising amount of rides at Disney World that kids under three will be able to go on! Babies can go on any ride without a height requirement, with the youngest babies able to sit on their parents' lap throughout the ride, or in a worn carrier.
It is worth noting that just because a baby can go on a ride may not mean they may not get scared. For example, younger ones may not love rides like the Haunted Mansion in Magic Kingdom, which features lots of darkness and spookier elements. You'll want to research the rides prior to visiting to know which rides you may want to avoid for your specific child.
Rides Without A Height Requirement:
Magic Kingdom
Astro Orbiter
Buzz Lightyear's Space Ranger Spin
Carousel of Progress
Country Bear Jamboree
Dumbo the Flying Elephant
Enchanted Tales with Belle
Enchanted Tiki Room
The Hall of Presidents
Haunted Mansion
"it's a small world"
Jungle Cruise
Liberty Square Riverboat
Mad Tea Party
The Magic Carpets of Aladdin
The Many Adventures of Winnie the Pooh
Mickey's PhilharMagic
Monsters, Inc. Laugh Floor
Peter Pan's Flight
Pirates of the Caribbean
Prince Charming Regal Carrousel
Swiss Family Treehouse
Tomorrowland Transit Authority – PeopleMover
Tom Sawyer Island
Under the Sea: Adventures of the Little Mermaid
Walt Disney World Railroad
EPCOT
The American Adventure
Awesome Planet
Beauty and the Beast Sing-Along
Canada Far and Wide
Disney & Pixar Short Film Festival
Frozen Ever After
Gran Fiesta Tour
Impressions de France
Journey Into Imagination with Figment
Living with the Land
Remy's Ratatouille Adventure
The Seas With Nemo and Friends
Spaceship Earth
Turtle Talk With Crush
Disney's Hollywood Studios
Beauty & the Beast–Live on Stage
Disney Junior Play and Dance!
Frozen Sing-Along
Indiana Jones Epic Stunt Spectacular
Lightning McQueen's Racing Academy
Mickey & Minnie's Runaway Railway
Muppet*Vision 3D
Toy Story Mania
Vacation Fun
Disney's Animal Kingdom
Affection Section
Animation Experience
The Boneyard
Conservation Station
Discovery Island Trails
Festival of the Lion King
Finding Nemo: The Big Blue…and Beyond!
Gorilla Falls Exploration Trail
It's Tough to be a Bug!
Kilimanjaro Safaris
Maharajah Jungle Trek
Na'vi River Journey
TriceraTop Spin
Wildlife Express Train
If you or someone in your party wants to go on a ride that your baby cannot, you still can with the Rider Switch system. With Rider Switch, an adult can wait with a baby, or any other non-rider, while the rest of the party goes on the attraction.
Once they are done, the adult that just rode can switch with the one who had stayed back with the baby so that they can now go on the ride. Rider Switch is available at select attractions at all the Disney World theme parks. To use it, you'll first want to check with a Cast Member at the front of the ride. The guests riding first will get in line while the guests not riding yet will be led to a designated area. After riding the attraction, the parties will be able to switch.
Rides Offering Rider Switch:
Magic Kingdom
The Barnstormer
Big Thunder Mountain Railroad
Seven Dwarfs Mine Train
Space Mountain
Tomorrowland Indy Speedway
EPCOT
Frozen Ever After
Guardians of the Galaxy: Cosmic Rewind (NOTE: You will still be required to be in the Virtual Queue boarding group or have a purchased Lightning Lane to ride)
Mission: SPACE
Soarin'
Test Track
Disney's Hollywood Studios
Alien Swirling Saucers
Millennium Falcon: Smugglers Run
Rock 'n' Roller Coaster Starring Aerosmith
Slinky Dog Dash
Star Tours – The Adventures Continue
Twilight Zone Tower of Terror
Disney's Animal Kingdom
Avatar Flight of Passage
DINOSAUR
Expedition Everest – Legend of the Forbidden Mountain
Kali River Rapids
Na'vi River Journey
Crib Accommodations at Disney World Hotels
Staying at a Disney World hotel? Complimentary cribs are available for guests at any Disney World hotel. You can request a crib when you make your reservation or when you arrive at the hotel. Most of the cribs offered are standard-sized Pack 'n Play playards, but some larger cribs may also be available if you need one.
General Tips for Bringing a Baby to Disney World
Planning ahead and knowing what is and isn't available is going to make your trip to Disney World with a baby so much smoother. While in the parks, services like the Baby Care Centers and Rider Switch are going to make your time so much more enjoyable. These are a few of the top tips to keep in mind for planning a Disney World trip with a baby.
Research in advance:
Researching the rides ahead of time is going to save a lot of time and stress in the parks. You know your baby best, so if you think they won't react well to things like heights, a ride like Peter Pan's Flight may not be the best idea. You can find a ride-through for just about any of these rides on YouTube, so if you really aren't sure you can take a peek online so you know what to expect in advance.
Plan for naptime:
Planning for your baby's schedule in the parks is also key. While there's really no way to not throw them slightly off schedule, planning in advance for things like naps or breaks throughout the day can help to avoid any meltdowns.
Pack the essentials:
While Baby Care Centers are an incredible tool in the parks, you will still want to make sure to pack the essentials. Avoid having to pay extra by bringing your own diapers, wipes, baby food, and extra clothes. Things like sunscreen and a small, portable fan are also incredibly helpful–no matter what time of year it is, Florida can get hot, so you want to make sure to plan for the weather.
Plan for lots of walking:
Bringing a stroller and/or baby carrier with you is absolutely essential. Disney World is massive, and you will be walking a ton, so don't make things harder for yourself by being forced to carry your baby the entire time.
Manage expectations:
This may be the biggest piece of advice of all. Disney World is expensive, and it can be incredibly easy to feel like you need to do everything in order to get your money's worth. While easier said than done, it's important to manage your expectations, especially when bringing a baby. Don't put too much pressure on yourself, but instead enjoy whatever you do get done in the day. Just remember that years from now you'll be looking back at those smiling pictures with joy, and won't be concerned about the fact that you didn't get on every ride you planned too.
With a little extra planning and research, bringing a baby to Disney World can be a truly memorable and magical experience for the whole family. Make sure to take note of all the requirements and resources in advance to help you have the most stress-free vacation possible with your little one. And most of all, have fun!