If it's one thing Emily Hertz knows and loves, it's style. Born and raised in NYC – hence her lifestyle blog name, Born on Fifth – Emily took her sleek New York style down to Atlanta, where she, along with her husband, Michael, and two-year-old daughter, Eloise, built a home that's perfectly Southern hospitality and big-city modern. The jump from senior brand manager at Spanx to full-time blogger has taught her much about herself and given her a new perspective on motherhood. Read on for her surprising inspiration for Elle's nursery, how she discovered a new passion while blogging, and how she and Michael keep their relationship close through parenthood.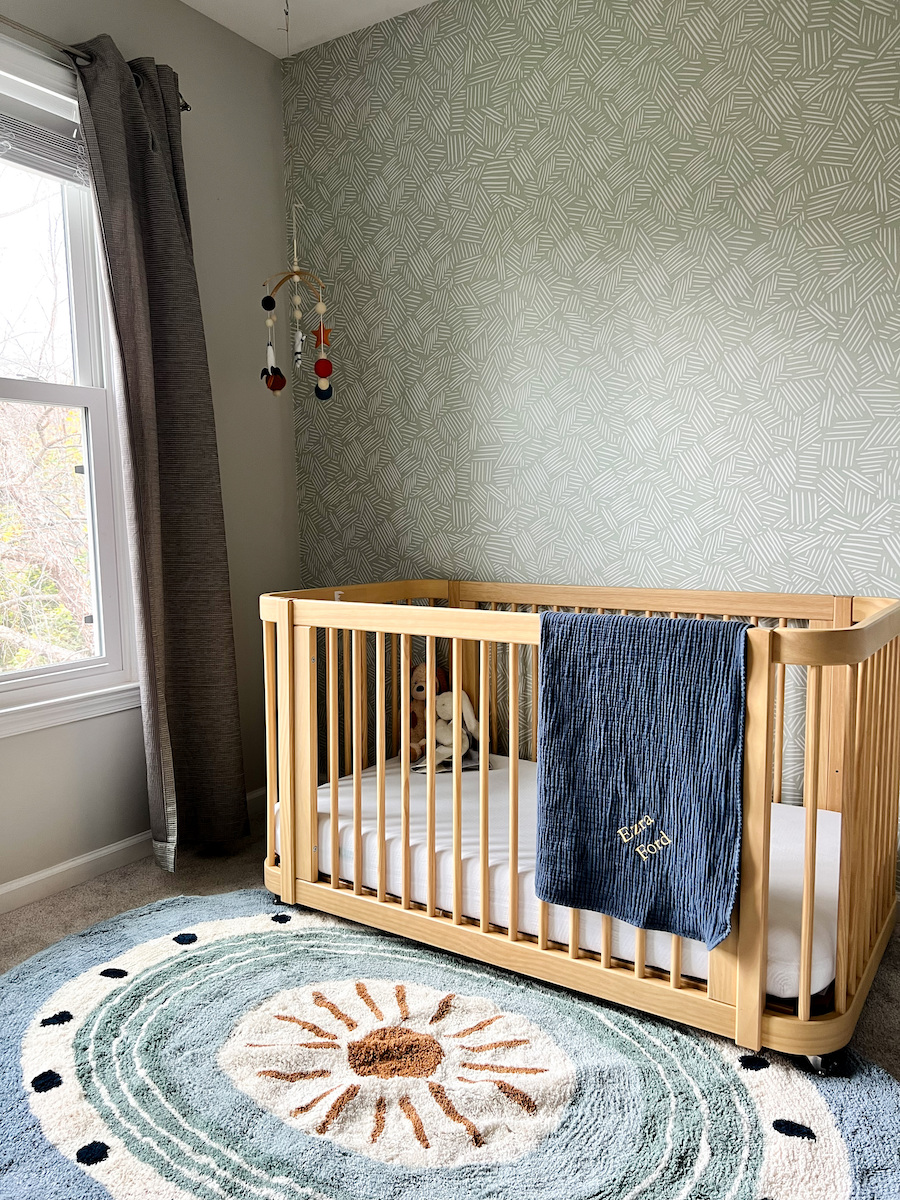 editor-favorite crib brand Nestig just released gorgeous new wallpapers that will easily transform any space 😍
Name: Emily Hertz
Age: 31
Current Title/Company: Founder, Born on Fifth
Rent or Own: Own
City/State: Atlanta, Georgia
Children: Eloise, 2
After nearly a decade-long career in corporate marketing, you tapped into your entrepreneurial side and created Born on Fifth, a fashion and lifestyle blog. What inspired you to start blogging and why did you decide to pursue it?
Honestly, having a baby totally changed me. My priorities shifted, and I not only wanted to be more flexible with my time, I wanted to do something on my own that, hopefully, will make my daughter proud.  
What's the key to building an online following, and what tips do you have for women who are thinking of starting their own blog?
I'm still learning day by day! It's taken me over a year to finally feel like I've found my footing, as others said it would. When I started planning the blog (prior to leaving my job at Spanx), I hadn't thrown a single party (I didn't have the time!) and now party styling is a huge part of my content.
My advice is to find what you're truly passionate about (even if it takes time) and be consistent, which is something that I still struggle with but am getting better about! For me, going from a super structured schedule to having to hold myself accountable was harder than anticipated.
Why did you and your husband, Michael, choose your home in Atlanta? What aspects of a home were you originally looking for, and how is your current home different than you imagined?
We actually found this home on a walk. We lived in the neighborhood over and happened upon it. I remember saying to Michael that if a house like this ever came available, we should try and get it. It was the first and only house we really looked at (which has pros and cons). The neighborhood is great for kids, and the house was built in 2008, so is fairly new, all things considered.
While decorating your home, were there any rooms that presented difficult design quirks? If so, how did you overcome them?
When we moved in, we decided to tackle things room by room. Because the home was a fairly new build, it wasn't really quirky in that sense, but we did have some empty rooms for the first couple years. They weren't literally empty but they were filled with odds and ends – furniture from my prior apartment and hand-me-downs from our parents. Patience. It took a lot of patience!
How do you keep your home as tidy as possible while raising Elle, and how are you encouraging her to help clean up?
It's funny. I'm on an organization kick at the moment. It happens every couple of years and it's honestly overdue as we've been drowning in clutter as babies and toddlers come with SO much stuff. I think I overdid it the first go round because as a new parent, I wasn't sure what I would need. We always have pretty baskets around to sort of stash the toys. That worked better when she was a baby and didn't bring things from room to room.
Now that she's old enough to help tidy we sing the "clean up, clean up" song, and we always try to straighten up when we're done playing.
When it comes to controlling the spread of kid products, is every room a space for Elle to play in or are there designated areas for her?
It's evolved. When she was a little baby, we had a corner of our family room (right next to the kitchen) that had a basket full of toys. Now that she's older, we really keep everything in her playroom (or try to).
What's your approach to creating a space that fits your design style while still keeping in mind your family?
My philosophy is if kids are raised around breakables, they'll learn not to break them (or that's the hope). We have a lot of blue and white porcelain, and as of now, I'm the only one who's ever broken a piece. 
How do you maintain your white and light-colored furniture with a growing child and what tips do you have for parents who are facing a similar situation?
Only feed your kids white food. 😉 I'm only (sort of) kidding! When we have parties where there will be lots of little fingers, I do try to keep the food neutral in color. I also recommend treating your fabrics so that they are stain resistant. They do make amazing outdoor fabrics that can easily be used inside and are so simple to clean.
Where are your favorite places to shop for home decor?
I love One Kings Lane, Everything But the House, Scott Antique Market, Serena and Lily, Restoration Hardware. Wayfair is probably my favorite under-the-radar site for all things home!
How did you create a nursery for Elle that reflects her personality while still being practical in keeping her belongings organized?
I tried to keep it feminine and simple as I knew that I'd want to really go all out for her big girl room, once I knew more about her personality. I loved Rach Parcell's nursery for baby Isla. When I was planning Elle's nursery, I was working full time at Spanx, so I honestly was totally influenced by Rach's style. While I didn't mirror all of the pieces in her nursery, it was a lovely guideline to have in mind.
What do you believe are the most important considerations when designing a nursery?
We spent a lot of time in our glider and loved having an ottoman that moved along with the chair. There were a few oddly placed windows in Elle's nursery, so I couldn't have the changing table I initially wanted (which would have had more drawer space). We updated her closet with the Elfa system as a result!
Another tip that I wish I had thought of before leaving for the hospital – unpack the diapers and creams and changing pads on your changing table. It makes a world of difference when you get home in the newborn fog.
Childcare is never easy. What is your current childcare situation, and how does it work for you?
We have a nanny that we love. She is truly one of the most compassionate and genuine human beings I've ever known. It is truly life-changing when you find a caregiver that loves their job with all their heart, and we are so lucky that Melissa is in our lives.
How has raising a child affected your marriage, and how do you and your husband divide parenting roles?
I think it's made us closer. Michael is such a hands-on dad, and Elle is obsessed with him. Watching them together is the sweetest. It's also forced us to dedicate time to each other. We strive for one date night a week.
Our roles have evolved as Elle has gotten older, as has our routine. Michael is definitely the one who makes Elle laugh. And she knows if she wants ice cream (even if she hasn't eaten dinner), I'm her girl.  
Although taking care of Elle is a large focus in your life, how do you make time for your own self-care and what does it consist of?
Working out is my top priority after Elle and Michael. It keeps me sane. Of course, the health benefits are there, but I do it mostly for the mental clarity it affords me. Every once in a while, I'll go for a massage or facial, but honestly, as long as I can make time to work out, I'm happy.
When it comes to motherhood, what are you most confident in? What are you insecure about?
I'm a trust your gut kind of person (having learned from the best, Sara Blakely, founder of Spanx), and as a result, am always unsure of the milestones we're supposed to be hitting. I'm also not one to really read the books (we used a postpartum Doula who guided me through the newborn stage), so when the other moms were asking if Elle was doing this or that, I would try not to crumble from insecurity. I don't think anyone meant anything by it, but it's such a hormonal time that you take everything a little more personally.
Emily Hertz is The Everymom…
Favorite motherhood moment? The first time Elle said, "I love you, mama."
The home essential you can't live without? Amazon Prime. 
Easiest meal to cook? Roasted chicken.
Best mom-related advice you've been given? Erika Bearman said to "keep wearing heels."
Most embarrassing mom moment? Going to Elle's pre-school to pick up her orientation packet (because we missed the meeting) with my workout pants on inside out.