Trader Joe's aficionados look forward to this season all year long. The store smells strongly of cinnamon spice, and the floor is brimming with so much pumpkin and squash that you're not quite sure which varietals are decorative and which are merely for decor.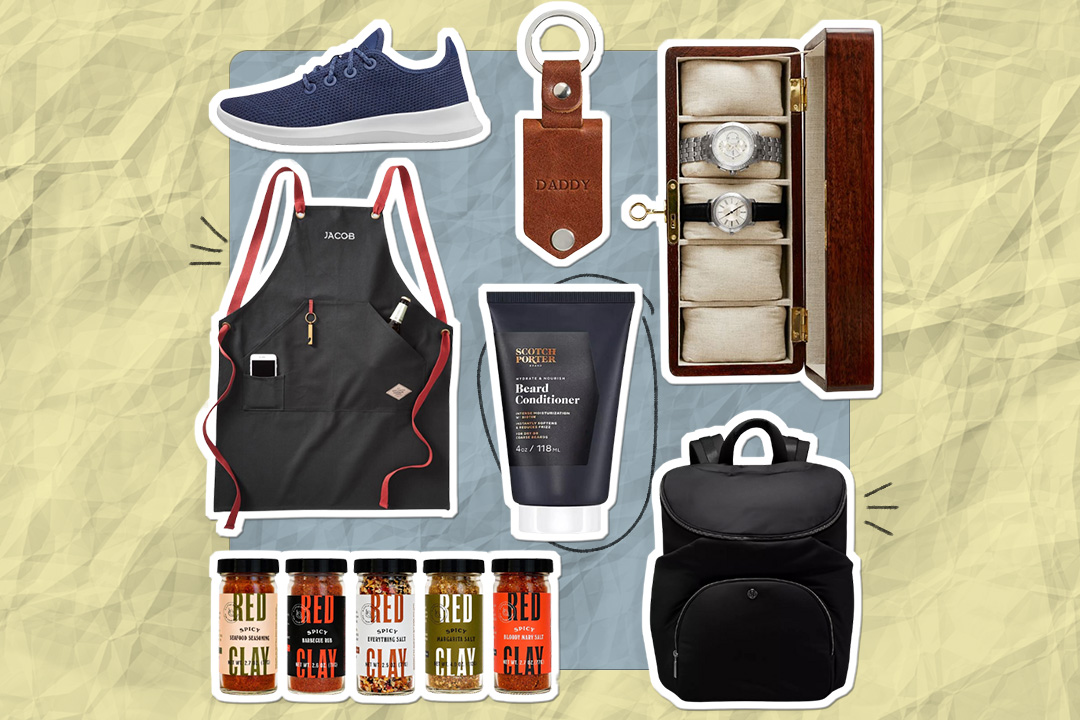 june 18 is coming up fast — have you started shopping yet? 😎
There are the products you know will return from past seasons because of their popularity (Pumpkin Joe Joe's, I'm looking at you), but there's also an eagerness to see what new genius ideas will grace the perfectly stocked shelves, basically begging you to take them home.
The list of seasonal fall products at Trader Joe's can be truly overwhelming, so we've selected some of the best to show you where to focus your efforts and your taste buds this autumn. Check out our favorites below!
Cooking & Baking
Fall Zucchette Pasta
Pumpkin is great, but I somewhat prefer the milder flavor of butternut squash when it comes to savory dishes. This is at least the second year Trader Joe's has carried this pasta and something I made almost weekly last fall. The pasta is a great bite-size, cooking up to the perfect al dente. Pair it with the Autumnal Harvest pasta sauce (it's almost definitely on display within your store) or a basic butter and cheese sauce for the most amazing dinner. Looking to blow some minds? Fall Zucchette pumpkin mac and cheese.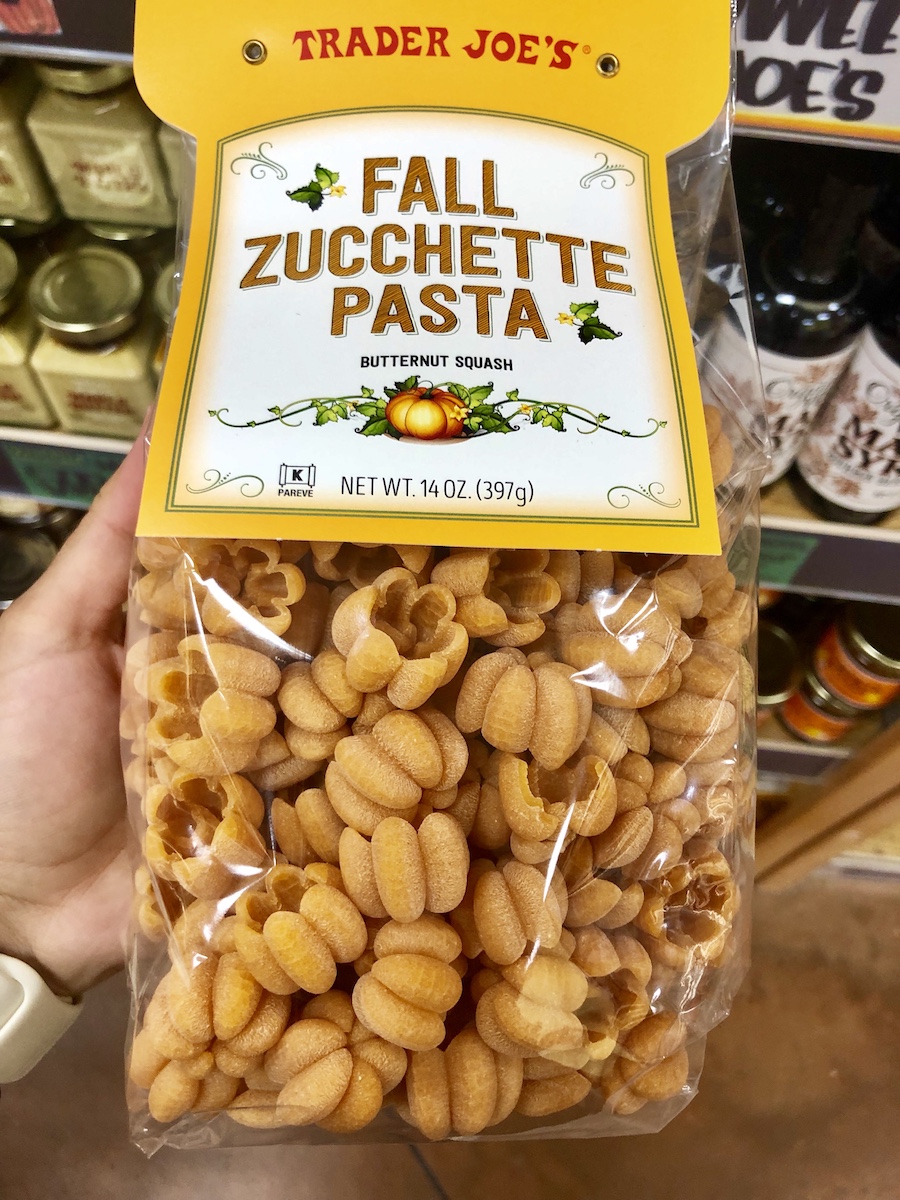 Autumnal Harvest Creamy Pasta Sauce
Take any favorite noodle (or use the Zucchette pasta), and turn any pasta night into a fall-themed dinner with this sauce. Made with both pumpkin and butternut squash, it's a perfect balance of hearty and creamy all in one jar.

Pumpkin Pancake and Waffle Mix
Buy it, make it, love it. This mix comes together with the addition of milk and eggs like most pancake mixes and is delicious. Pro-tip: thank you, Trader Joe's, for coming out with an equally delicious gluten-free option of this fall must-have. 
Honey Roasted Pumpkin Ravioli
If you're looking to whip up a satisfying fall supper in less than 10 minutes, look no further. While the ravioli boils, brown some butter and chop some sage for the best simple sauce. Don't forget a sprinkle of parmesan cheese to top it off. 
Spicy Pumpkin Curry Simmer Sauce
This is a newer TJ's fall item, and I was intrigued because I am also brand new to cooking with curry and having an already-made sauce makes the process a little easier. Not sure what to do with it? Remix this 1-Pot Pumpkin Curry recipe from Minimalist Baker and start at step #6!

Gluten-Free Pumpkin Bread & Muffin Baking Mix
If you love pumpkin and cream cheese together, grab this baking mix. You can make pumpkin cream cheese muffins, pumpkin bars with a cream cheese frosting, or the traditional pumpkin roll. If you don't need your bread and muffin mix to be gluten-free, TJ's also has a traditional mix.
Pumpkin Chocolate Chunk Oatmeal Cookie Mix
I haven't tried baking with my son quite yet, but this might be a fun time to start. If nothing else, he'd be a great taste-tester. Plus, the fact this only requires butter, egg, and water makes it super easy and quick to whip up. What a great treat to enjoy after the pumpkin patch or while you're watching your favorite family Halloween movie!
Gluten-Free Pumpkin Pancake Mix
Pumpkin pancakes—need I say more? I have been trying to branch out with my toddler breakfast ideas, and I'm going to give this one a go. While you could make these pancakes the traditional large size, I think it'd be fun to try them as silver dollar pancakes and top each with a little icing rather than syrup. Or if you're omitting syrup for kids, a little pumpkin butter would be great!
Frozen Items
Maple Ginger Cookie Swirl Ice Cream
Yes, Trader Joe's pumpkin ice cream is a classic, but I couldn't resist giving this new fall flavor a go. Ginger cookie dough bits are the highlight flavor, as is the thick, creamy, and perfectly sweet maple base. All you really need here is a spoon. 
Pumpkin Waffles
There's not much to say here. It's basic toaster waffles majorly upgraded with tons of flavor for those mornings where you just don't have time to start from scratch. For a gourmet upgrade, top these bad boys with some sautéed apples and a nice drizzle of maple syrup. 
Mashed Sweet Potatoes
As I was shopping, I overheard a TJ's employee say these mashed sweet potatoes were flying off the shelf. Maybe people really love mashed sweet potatoes, but people could also be stocking up for their Thanksgiving menu. I'm hosting my first Thanksgiving, and having options like this that are quick and taste great will definitely come in handy!
Pumpkin Cheesecake
I would love to think I'd buy this ahead of time to stock up for Thanksgiving, but I know myself too well. Having a pumpkin cheesecake sitting around would be too tempting for me, so I decided to skip it this shopping trip, but I hope it's still in stores when I need to plan my Thanksgiving menu.
Spreads, Salsas & Soups
Pumpkin Cream Cheese
This basically tastes like pumpkin cheesecake that's appropriate for consuming before 9 a.m., so I'm all about it. Enjoy it on a cinnamon raisin bagel or your favorite whole-wheat toast with a sprinkle of cinnamon on top for good measure. 
Pumpkin Butter
I'm not a huge jam or jelly lover, but pumpkin butter is so much more. It's the best topping for a piece of toast in the morning. Mix a tablespoon into your oatmeal or overnight oats. Like to bake? Pumpkin butter sandwich cookies are where it's at. 
Autumnal Harvest Soup
Looking for an easy-to-pack lunch? This tomato-based soup gets an upgrade with the addition of pumpkin and butternut squash. Grab some seasonal crackers for a great desk lunch, or if you're eating at home, pairing this with a grilled cheese is a must. 
Apple Cider Fruit Spread
This apple cider fruit spread intrigued me because, normally, Trader Joe's fall products are pumpkin focused. I am a huge fan of apple cider, so I think I'm going to really love this spread. While you could use it on bread products too, this would be a fun addition to a charcuterie board if you're getting fancy.

Organic Maple Butter
Just another great addition to the sweet spreadable butters you can use this fall.

Fall Harvest Salsa
When I picked this up, I had two great meal ideas: a solid snack option for my toddler with hidden veggies (score!) and a great topping for a pumpkin chili recipe, like this one from Pinch of Yum. This could also be great on the aforementioned charcuterie board and paired with the Fall Leaf Tortilla Chips below.

Pepita Salsa
Another name for pepitas is pumpkin seeds—yes, another pumpkin item for you to try! Substitute this fall seasonal option anywhere you'd use your usual salsas. Maybe as a snack with tortilla chips, on tacos, or even in zesty scrambled eggs.

Snacks & Treats
Pumpkin Joe-Joe's
There's no way I could put together a list of the best Trader Joe's seasonal products and leave these off the list. I love these cookies unconditionally, with pumpkin flavoring in both the cookie and the cream filling. Need I say more? Pro-tip: If you love the idea of celebrating the season but don't love pumpkin flavoring, the Halloween Joe-Joe's are an upgraded cookie design with the classic Joe-Joe's (chocolate and vanilla) flavor.
Pumpkin Rolls
Just imagine waking up to the smell of these baking in the oven! Whether you're headed out apple-picking or just want a fun breakfast treat to enjoy with the family, these are going to be favorite. If you're wanting to go full pumpkin spice, this is a great place to start.
Petite Pumpkin Spice Cookies
Well, this is where I show my true colors and admit that I have, admittedly, eaten an entire box of these in one weekend. I've always been a fan of the cookies with icing on them like the pink frosted animal cookies from my childhood. These are even better because they're pumpkin spice flavored. You've been warned: these are delicious—and addicting.

Maple Sea Salt Kettle Corn
I'm a sucker for midday snacks, and I'm excited to add this kettle corn to the mix. I'm not normally a huge kettle corn fan, but the mix of maple and sea salt sounds delicious. It will be a good option when I'm reaching for that 3 p.m. sweet and salty treat.

Harvest Spice Trek Mix
This trail mix takes all the flavors of fall and packs it into a perfect snack solution. With cinnamon, ginger, nutmeg, and allspice, this combo of nuts and dried fruit is great for eating by the handful or on top of your favorite yogurt. Pro-tip: skip the Trader Joe's pumpkin yogurt. Even my pumpkin-loving taste buds could not get on board with the weird flavors going on here. 
Pumpkin Tortilla Chips
Snack away on these light as air and super crispy chips with the perfect balance of salty and sweet. Dip away in your favorite salsa or my personal favorite, Trader Joe's rich and creamy black bean dip. 
Pumpkin Bagels
I'm not a huge bagel lover, but these are enough to get me on the bagel bandwagon for the months of October and November. Keep it classic for breakfast with some cream cheese or cinnamon sugar, but better yet, make your next turkey sandwich on one of these (don't forget some crispy apple slices!). 
Apple Cider Cookies
With just the right amount of apple flavor, these light and crispy cookies are a great snack, even for the kids. With a cup of apple cider (or spiked!), these are an awesome sweet treat for your next tailgate. Want to take them to the next level? Make a mini ice cream sandwich cookie with the Maple Swirl Ice Cream mentioned above. You can thank me later. 
Fall Leaf Corn Tortilla Chips
These were probably my favorite find. As I'm packing my son's lunches now for daycare, I'm always looking for foods that are fun for him and can maybe even offer him a learning moment (like another favorite TJ's snack, Cinnamon Schoolbook Cookies).

Other Favorites
Pumpkin Spice Almond Beverage
Swap out your plain old almond milk for this seasonal upgrade. This dairy-free beverage makes the perfect coffee creamer (basically a healthier pumpkin spice latte you can whip up at home). It can also be enjoyed in smoothies or on its own over ice. 
Vanilla Pumpkin Scented Candle
If you're like me, then it's not really fall until you've got a few autumnal candles filling every room in your house with what can best be described as the smell of warm and cozy. Stock up on a few of this candle (you can basically buy 10 of them for the cost of some higher-end candles) because they smell that good.