I remember my first Starbucks experience vividly. I was overwhelmed with choices, deathly afraid of caffeine, and obsessively asking my middle school friends what I should order. When I sipped my Frappuccino from that green straw for the first time, I was instantly hooked, and I've never looked back.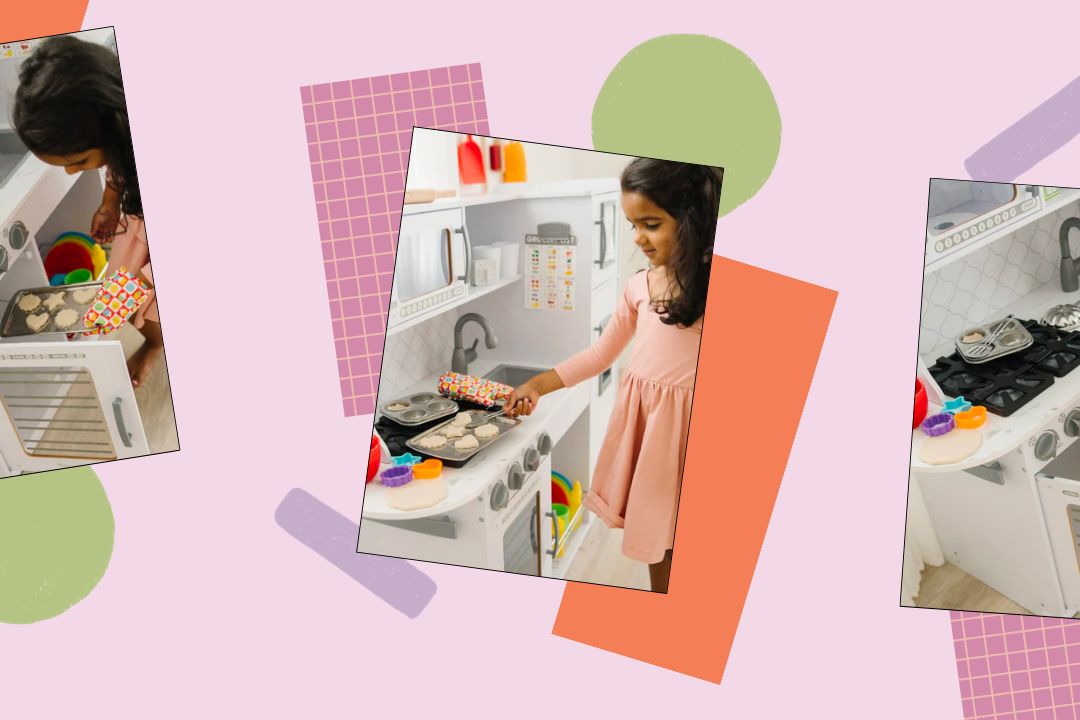 Whether it's with friends, while tagging along as you pick up your morning latte, or grabbing a drink during a Target run, your kids will end up at a Starbucks at some point. And, for when that moment comes, did you know you can order kids drinks at Starbucks?
Below, we're sharing the 15 best drinks for kids at Starbucks, so they can love the coffee run as much as you do.
The Best Starbucks Drinks for Kids
1. Steamed Vanilla Milk, or Vanilla Steamer
The Vanilla Steamer is a classic choice for kids at any coffee shop, and Starbucks is no exception. Just ask for a steamed milk with one to two pumps of vanilla syrup, and you're bound to have a sweetly satisfied little one. Starbucks can make steamers with other flavors of syrup, like caramel, too, but the vanilla option is our personal favorite. You can even swap out the 2% milk for coconut, oat, or almond milk.
2. Blended Strawberry Lemonade
This drink is practically summer time in a cup. Starbucks offers a flavorful Blended Strawberry Lemonade made with their classic caffeine-free lemonade, strawberry puree, and blended ice for a slushee type of drink any little one will love. It's zesty, sweet, sour, and the perfect treat to cure a sweet tooth.
3. Caramel Apple Spice
The Caramel Apple Spice drink from Starbucks dominated my late elementary and early middle school years. I have very fond memories of taking my $5 into the Starbucks by my school on a chilly day, asking for a Grande Caramel Apple Spice, and feeling extremely grown up while doing so. This magical drink is concocted with steamed apple juice, cinnamon syrup, whipped cream, and a drizzle of caramel. It's basically a caramel apple in a beverage—in other words, it is perfect.
4. Iced Brown Sugar Oat Milk
The Iced Brown Shaken Espresso has recently become a Starbucks cult favorite, but did you know your little one can now hop on the bandwagon with a caffeine-free version? For children who enjoy maple and brown sugar oatmeal, this drink made with oat milk is a top-rated choice. It consists of decaf blonde espresso, steamed milk with some added brown sugar syrup, and a bit of cinnamon to really take it to the next level. It's like a tasty bowl of oatmeal on the go in beverage form!
5. Strawberry Créme Frappuccino
What kid isn't a fan of a frozen strawberry drink? Sure, the Strawberry Créme Frappuccino may effectively be ice cream, but it sure is a convenient option for a strawberry lover with a sweet tooth. This Frappuccino includes blended strawberry puree, ice, and milk with whipped cream on top. This will be a huge hit on a hot summer day after a trip to the pool or the park.
6. Pumpkin Spice Créme
This is a PSA: loving fall isn't just for adults. From pumpkin patches to corn mazes and cozy sweaters, little ones love getting in the fall spirit just as much as we do. However, they sadly have to miss out on one crucial part of the autumnal experience, this of course being the PSL. Luckily, the Pumpkin Spice Créme fixes this conundrum. Made of 2% milk, four pumps of pumpkin sauce, pumpkin spice topping and whipped cream, this is effectively the autumn coffee version of a virgin piña colada.
7. Double Chocolaty Chip Créme Frappuccino
Ah, the chocolate Frappuccino. The fuel of many late nights as a 16-year-old trying to keep up with my chemistry homework—or, alternatively, a perfect non-caffeinated option for your little one. Créme Frappuccinos are made without caffeine, and this version is made of whole milk, three Frappuccino chips, three pumps of mocha sauce, ice, whipped cream, and a mocha drizzle. Yes, it's a sugar-filled treat, so it's definitely not one to consume near bedtime.
8. Babyccino
For the littlest of little ones, the Babyccino is the best option on the Starbucks menu. Although this drink is not officially on the menu, it's easy to order. Just ask for a short size of steamed milk with extra foam. The tiny drink will be an amazing pick-me-up for an eager toddler who wants to get in on the action at the Starbucks drive-through window.
9. Strawberry Cheesecake Frappuccino
If you're really looking to get your kid a treat at Starbucks, look no further than this TikTok creation. Ask for a Strawberry Créme Frappuccino with two scoops of vanilla powder, three pumps of white mocha, and two pumps of cinnamon dolce syrup, and get a sweet drink that tastes exactly like a cheesecake. This is the perfect order after a tough day at school or celebrating a big game or recital.
10. Hot Chocolate
The tried-and-true decaf coffee shop classic: hot chocolate. It's pretty much impossible to go wrong with this hot drinks favorite. On cold days, this is the perfect treat for your little ones on the way home from school or on a snowy weekend morning. Starbucks' hot chocolates are made of steamed 2% milk with two pumps of mocha sauce, whipped cream, and a drizzle of mocha on top. The kids versions are eight ounces, so there is no need to worry about the chocolate making anyone bounce off the walls. Order a classic one or a white hot chocolate for something special!
11. Orange Mango Smoothie
Although Starbucks may not be your first thought when on the hunt for smoothies, the orange mango smoothie is fantastic for kids looking for a cold, sweet drink. This option is made of a blended banana, two scoops of protein powder, a splash of 2% milk, and orange mango puree. Since the puree is the only flavoring ingredient, this drink is on the healthier side of the Starbucks smoothie options, making it a favorite for parents and kiddos alike.
12. Vanilla Bean Frappuccino
This is a classic Starbucks staple that any kid will love. Keep it simple with the Vanilla Bean Frappuccino, a kid-friendly beverage consisting of vanilla bean, milk, vanilla syrup, and ice with some whipped cream added to the top of it for an extra sweet touch. The steamed vanilla milk combination makes this a tasty, flavorful beverage that's just as good (maybe even better) than a vanilla milkshake.
13. Horizon Boxed Chocolate Milks
Sometimes, sticking to the simple things that you can just grab right off the shelf is exactly what you need. Starbucks has sold the creamy, delicious Horizon Boxed Chocolate Milks for as long as we can remember. This is the perfect option for a pickier little one, especially if you have multiple kids who want to get something but want everyone to be satisfied regardless of their preferences. And c'mon, what kid doesn't love chocolate milk?
14. Purple Drink
We've all heard about the famous pink drink, but now its the purple drink's time to shine. This violet beverage contains passion iced tea with soy milk (or any milk of your choice), blackberries, blueberries, and some vanilla syrup. It's super refreshing and flavorful, contains some nutritious ingredients like the herbal iced tea and berries , and is yet another kid-friendly option perfect for a hot summer's day.
15. Chai Créme Frappuccino
Has your kid has expressed interest in trying coffee? It happens to the best of us. And it's a part of growing up. Ease them into the experience (the first time I tried coffee was a nearly transcendent experience, which was probably not for the best in the long term) by letting them test out one of the most delicious creme Frappuccinos, the Chai Créme Frappuccino. Compared to a latte's 150 mg of caffeine, this drink has 40 mg (less than the 55 mg in a can of Mountain Dew), so it's a great way to introduce your older kid to coffee without jumping in headfirst.