Something about the Fourth of July has always felt so special to me. It's truly the pinnacle of summer: backyard barbecues, pool days, fireworks, and time well spent with loved ones. Aside from actually celebrating the holiday, there's another fun aspect that I always start thinking about way too early for my own good, and that's the Fourth of July outfits.
I love to get dressed up in a festive outfit for the occasion while also incorporating a little bit of red, white, and blue and true "Americana" vibes. As early summer ticks by, I always find myself keeping an eye out for items that would be Fourth of July-appropriate as I'm online shopping.
I've kept them at the back of my mind, and now I'm sharing them with all of you. I put together a few fun and festive outfits to wear for whatever you might be up to this Fourth of July weekend, whether that's a backyard party, a fireworks show, or just a laidback hang with your family.
Keep scrolling for seven cute and easy Fourth of July outfits for moms:
1. Graphic T-shirt + denim shorts + sandals
Shop this look:
2. sunglasses
3. denim shorts
5. sandals
2. Bikini + striped cover-up dress + flip flops
Shop this look:
1. bikini top | bikini bottoms
4. flip flops
3. White linen set + American flag sweater
Shop this look:
1. linen top
2. linen shorts
3. American flag sweater | budget-friendly sweater
4. striped bag
4. Striped midi dress + raffia platform sandals
Shop this look:
1. midi dress
2. pearl hoops
5. Ruffled blouse + white overalls + red accessories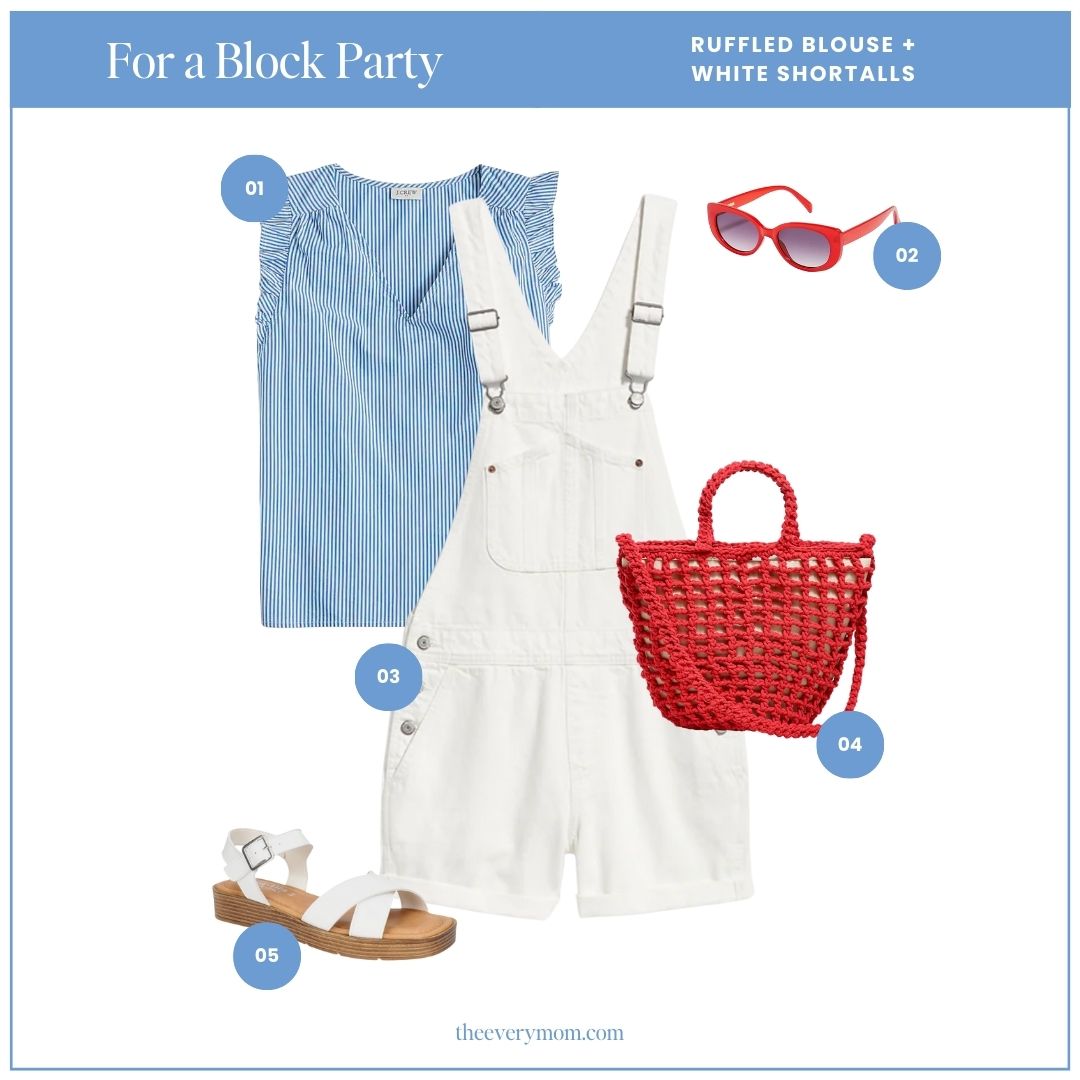 Shop this look:
5. sandals
6. One-piece swimsuit + pull-on shorts
Shop this look:
1. swimsuit
2. sunglasses
3. tote bag
7. Striped button-down + white denim shorts
Shop this look:
2. star hoops
3. tote bag