When the holiday season rolls around yet again, decorating for this festive time can feel overwhelming when your Christmas decor isn't necessarily a reflection of your home's everyday look. So, why not invest in holiday pieces that perfectly complement your abode's aesthetic instead? That's exactly what mom-of-four Cecilia Moyer did in her gorgeously modern Iowa home. From mini flocked bottlebrush trees and decorative wooden houses to monochrome holiday throw pillows and cheeky letterboards, Cecilia's chic minimalist style was completely elevated with the addition of her Christmas decor.
Keep reading to find Cecilia's favorite stores to shop for holiday items, learn which piece of Christmas decor she thinks is always worth the splurge, and check out the awesome DIY projects she's incorporated into her home this season!
Name: Cecilia Moyer
Age: 36
Location: Van Meter, IA
Home's Square Footage: 3,250
Children: Dylan, 14, Hendrix, 9, Lennon, 7, and Mariah, 6
When do you typically start decorating for the holidays?
Usually, I decorate after Thanksgiving, but with our new house and Christmas being my favorite holiday, I started after Halloween this year!
SHOP THE LOOK

How would you say your holiday decor differs from your home's everyday decor?
I definitely added greenery, bottlebrush trees, and mini trees anywhere that I could. It still goes beautifully with my everyday decor since my home consists of black, white, and wood tones.  
Where do you typically shop for holiday decor?
Target, Hobby Lobby, Walmart, and World Market.
Do you typically buy new holiday decor or use the same year after year?
I try not to buy new if I don't have to during the holiday season. The reason is that I usually purchase all sorts of holiday decor after Christmas when it goes on clearance. Then, when it's time to drag out all the holiday decor the following year, it's like opening presents!
SHOP THE LOOK

Where do you spend versus save with your holiday decor?
I try to save as much as I can, but I think it's always worth spending money on a great artificial Christmas tree that you can use for years. I also think it's worth purchasing a pre-lit tree for the convenience! Plus, the difference in price determines how full a tree is and how well it's flocked.
How do you keep your holiday home decor kid-friendly?
Thankfully, my kids are old enough that they don't mess with the decor!
Do you ever make DIY holiday decorations? If so, what? 
Yes, I do! DIY projects help make your home unique from someone's home. It's also a great way to create budget-friendly decor. In my master bathroom, I put a "tree" up using tape. I also made candle holders using glass bottles with greenery inside them. In the dining area, I cut stems and attached them on the shiplap wall to add some texture and greenery. And I used greenery pipe cleaners and mini command strip hooks to spell out "Cheers" on the fireplace.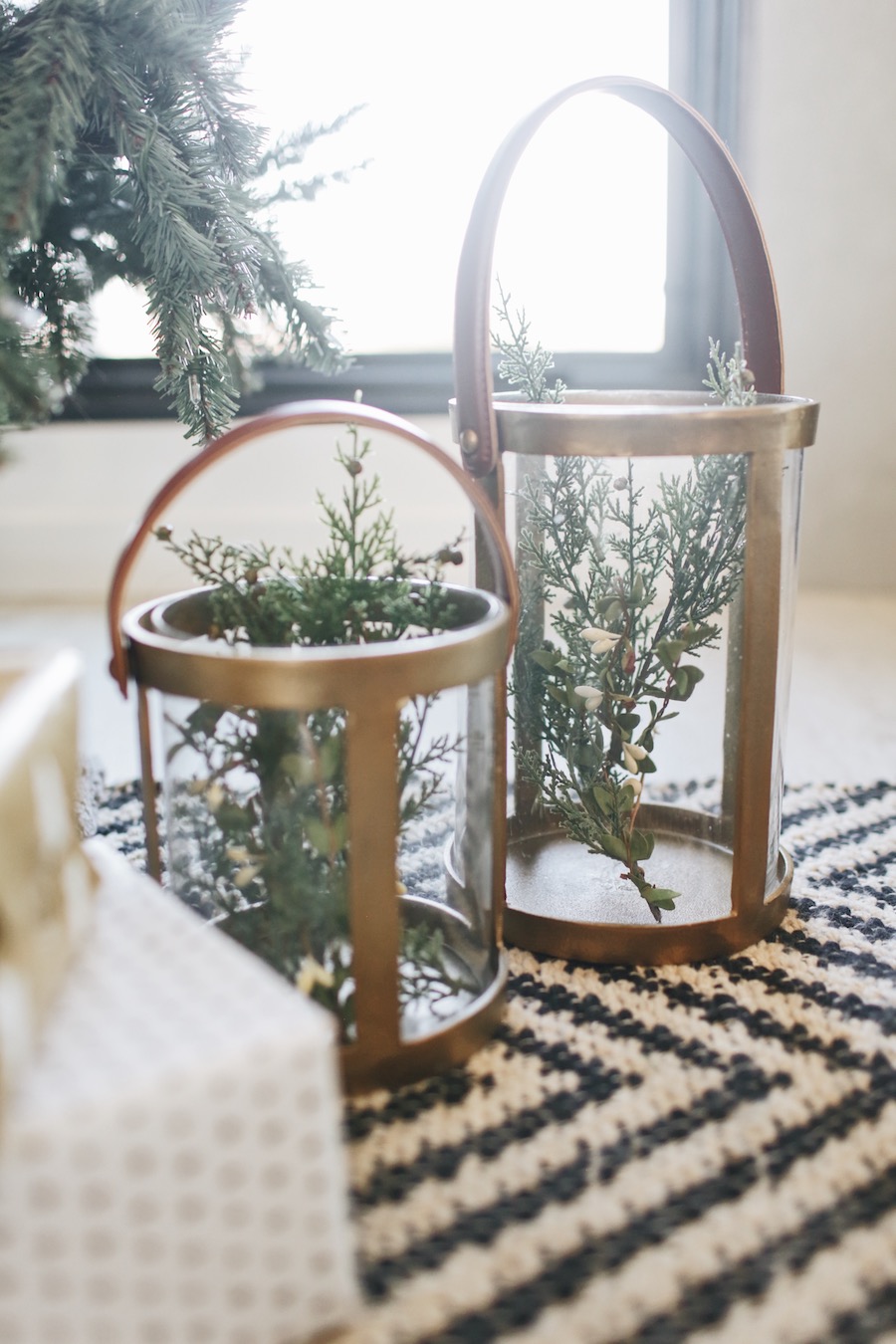 SHOP THE LOOK

Where do you find holiday decor inspiration?
Clothing and home decor stores! They always have cool ideas that most don't ever incorporate in their homes. I also love browsing through Pinterest and Instagram. I love seeing something and putting my own twist to it!
What is your favorite piece of holiday decor in your home?
I would say it would have to be the greenery on the shiplap wall. I love my black shiplap wall, but I felt like something was missing. I finally feel like the look is complete. That holiday decor is something so simple that makes a statement. Plus, I love when a DIY project ends up exactly how I envisioned it!
Tell us about your holiday decorating process.
Decorating for the holidays can be very overwhelming. I drew up sketches of what my vision was for specific areas of the house. This helps me figure out if I'm missing any items to create the look. I try to decorate one area at a time so I don't have too many projects going on at once. Then once it's done, I can cross it off my list and move on to a different area of the house.
SHOP THE LOOK

Do you and your family have any decorating traditions?
Every year after Thanksgiving, we go to a tree farm and pick out a tree. With four kids, this can take a while… ha! It's so cute seeing each kid helping cut the tree down. Then, we head home to decorate the tree with Christmas music playing in the background. (With busy weekends and out of town trips this year, we have an artificial tree up in the living room until we pick out a real tree this weekend. We can't wait!)
What holiday traditions have you started for your family?
We've started incorporating a countdown to Christmas after having kids. Each day, we get to do something together as a family, whether it's watching a Christmas movie and having a slumber party in the living room, baking cookies, decorating gingerbread houses, ordering pizza and driving through the Jolly Holiday Lights, writing letters to Santa, visiting Santa, etc.
SHOP THE LOOK

What does Christmas morning look like in your home?
Christmas morning always ends up with kids waking up way earlier than usual. The first thing they do is look if Santa ate the cookies on the plate they left out. Then, they run to our room and make us get out of bed so they can open their presents. After opening presents, the kids play with their new toys for about an hour and then everyone gets ready to head to Grandma's house for a big Christmas dinner.
What is your favorite thing about the holiday season?
Being together and creating so many memories with my husband and kids.  
Cecilia Moyer is The Everymom…
Favorite Christmas movie? I don't have a favorite, but I sure love Hallmark Christmas movies!
Favorite Christmas song? Mariah Carey's "All I Want for Christmas Is You!" I also love NSYNC's "Merry Christmas, Happy Holidays."
Hot cocoa or eggnog? Hot cocoa! Everyone in my family seems to like eggnog except me.
What's on your holiday wishlist? A Roomba robot vacuum cleaner, a different colored J.Crew coat than I already own (when I love something, I want all the colors… ha!), and an appointment to get a one-hour massage (this is on my wishlist every year).
When do you start listening to Christmas music? When I start decorating for Christmas!
Go-to holiday drink at Starbucks? Toasted White Chocolate Mocha
What's the best gift you've ever received? I can't really pinpoint one that would be the best. Each gift I receive for the year is always something I want/need at the moment in time.
Oddest thing on one of your kid's wishlist this year? I think it's odd how my 6-year-old and 7-year-old think they're each going to get brand new iPhones. That's going to be on their wishlist for a long time… ha!
Biggest holiday mom fail? There have been a few times we've forgotten to move the Elf on the Shelf. Thankfully, we always seem to come up with a great response on why it didn't move!