While giving gifts to your loved ones is a cherished, and often exciting, tradition around the holidays, it's important to remember to treat yourself sometimes, too! Whether your personal gift is listening to your favorite music in the car for once, making your favorite meal just because you want to, or taking the time to pamper yourself with a new manicure, it's safe to say you've earned that right.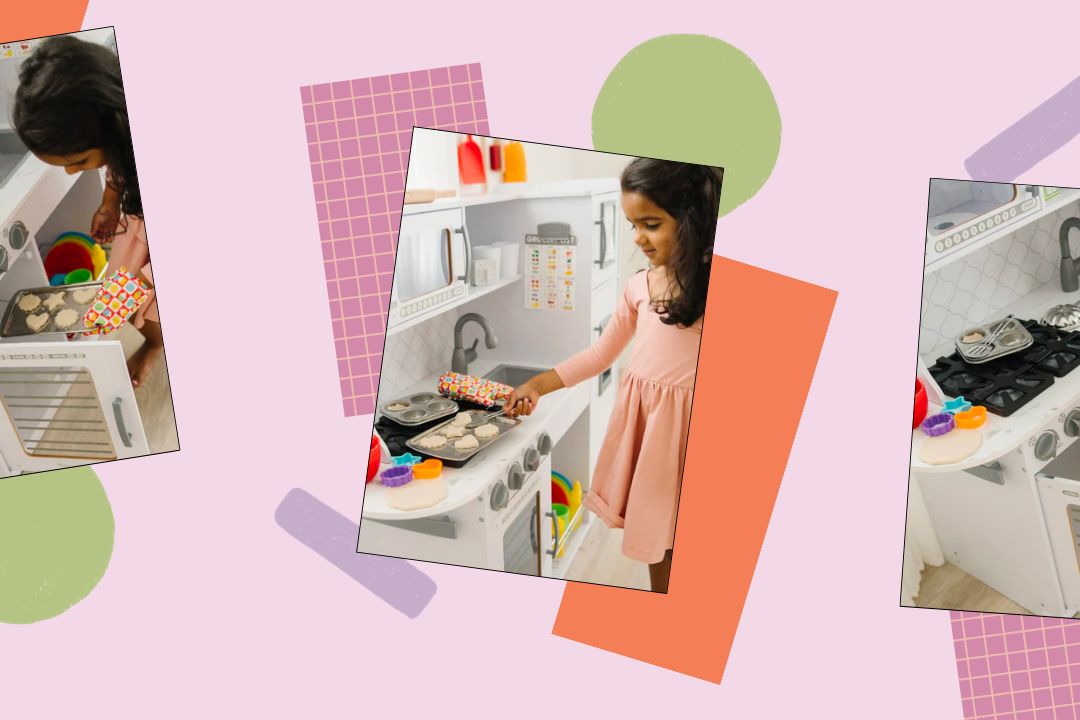 I don't know about you, but every time I have my nails done I feel just a little bit more put-together, and an extra confidence boost never hurt anybody. There are so many fun nail trends this season, and if having a fresh manicure makes you feel fierce, we encourage you to book that appointment or throw on a holiday movie to keep your littles distracted while you take some much-needed "me" time to do your nails at home. From subtle designs to bold holiday colors, we know something will catch your eye and spark some holiday joy.
If you need some inspiration on what to ask for at the salon or what to try for at home, look no further. Here we've compiled a list of the best festive and on-trend manicures to consider for the holidays.
Subtle But Festive
We're seeing subtle festive designs all over social media this season. Everyone is loving fun details paired with either a barely-noticeable neutral or one solid color—including us. In a time of year when we all tend to go overboard on things (gifts, food, etc.), this is a nice reminder that sometimes less is more.
Tiny Trees
We can't get enough of this incredibly subtle and easy-to-achieve Christmas tree design. If you want simple, we've got you covered.
Candy Without the Cane
Add a touch of peppermint to your red holiday nails by adding candy cane details to one finger.
North Pole Tip
French tips are always a good idea, but if you want to make them extra festive, make the tips red and gold for the holidays.
Get the Look:
Amazon | OPI
The perfect base coat for your subtle nails. From here, add all the simple but festive design elements you want.
The GelBottle Inc
This red is exactly what you need to draw out the festive element of your manicure.
Amazon
Use these gel liner polishes to create the more intricate designs on your nails, like the adorable trees above.
Winter Hues & Blues
If you want your manicure to encapsulate the whole winter season and not just the holidays, fear not. We've got the inspiration you need for a perfect winter-inspired manicure.
Snow Day
The weather outside is (or soon will be) frightful, but your manicure doesn't have to be! Embrace the winter flakes by capturing them on your nails this season.
Bejeweled
If Taylor Swift's Midnights was on repeat in your household (or you wanted it to be but Baby Shark won the battle), show your appreciation by "bejeweling" your nails this holiday season.
Sparkle Season
We love a holiday manicure that's also perfect for NYE. With these nails, your fingers will sparkle as much as the celebratory confetti.
Get the Look:
Solid Seasonals
You truly can't go wrong with a solid-colored manicure (less is more, remember?). These colors are seasonally appropriate without being cheesy and will stand out to anyone who sees them. The best part? They're easy to achieve at home when you don't have time to head to a nail salon.
Coral Red
We know red nails for the holidays are nothing groundbreaking, but this bright coral red by Essie feels oh so right.
Christmas Tree Green
It just makes sense this time of year to opt for a Christmas tree green. We know this polish will be admired even by the Grinches in your life.
Deep Burgundy
For nails the color of your favorite red wine, grab a deep burgundy shade before popping the cork.
Get the Look:
Target | Essie
This non-traditional red is a perfect way to be festive and fun without being too predictable.
Ulta Beauty | Essie
Just like a Christmas tree, everyone will adore you with this nail polish on (but get out quick if they start placing boxes around your feet).
Amazon | OPI
Red wine is the beverage of the season. Pay homage to your favorite bottle by using it as inspiration for your manicure.
Nail Stickers
A great way to take your plain manicure to the next level is by adding festive nail stickers. We love these because they're user-friendly and add a fun element to your manicure that would be next to impossible to achieve otherwise.
Etsy | Piece Fabric
It's officially sweater weather! You can bring a cozy factor to your manicure with these adorable sticker strips.
Olive & June
This sticker pack from Olive & June has all your Christmas favorites in one! Start with any of the solid colors listed above, add some festive stickers, and you've got yourself an Instagram-worthy manicure.
Target | Olive & June
Or if you want a whole festive nail set, grab this cute gift item complete with sparkles and stickers.
Press-On Nails
What we love about nail stickers, we also love about press-on nails. Let's face it, we don't always have hours to spend at a nail salon or even to sit in stillness waiting for our nails to dry at home (though that sure does sound nice). That's doesn't mean we should have to give up having perfectly polished nails! Press-on nails are great because, even though they don't usually last as long as an actual manicure, they are easy and incredibly quick to apply, making them a great option to turn to when you're in a pinch.
Amazon | KISS
For a gorgeous, intricate manicure you otherwise probably wouldn't be able to achieve on your own, try these super festive Nutcracker-themed press-on nails.
Olive & June
If you want to go the more subtle route, try this fun sparkly set from Olive & June for a dazzling holiday manicure.
Dazzle Dry Nail Kit
If you haven't been introduced to Dazzle Dry by your mom friends, consider this your introduction. These DIY salon-quality nail kits will make any of these holiday trends achievable and look as if they were professionally done. With hundreds of colors to choose from—that include a prep primer, base coat, top coat, and revival serum—you'll be amazed how long these at-home manis last!
Dazzle Dry
Classic. Subtle. Effortless. Everything we could wish for this holiday season.
Dazzle Dry
The only thing that could make a Christmas tree-green manicure better is making it shiny.