When award-winning interior designer Ginger Curtis' son, Asher, wanted a new room that fit his style, the gears in her head immediately started turning. Ginger was able to completely transform a small unused nook at the top of their house to adhere to Asher's love for adventure and all things Indiana Jones. From curating the perfect pieces that fit his new big-kid room to completely redoing the space, Ginger created a room for Asher that is all about exploring and going on adventurous voyages.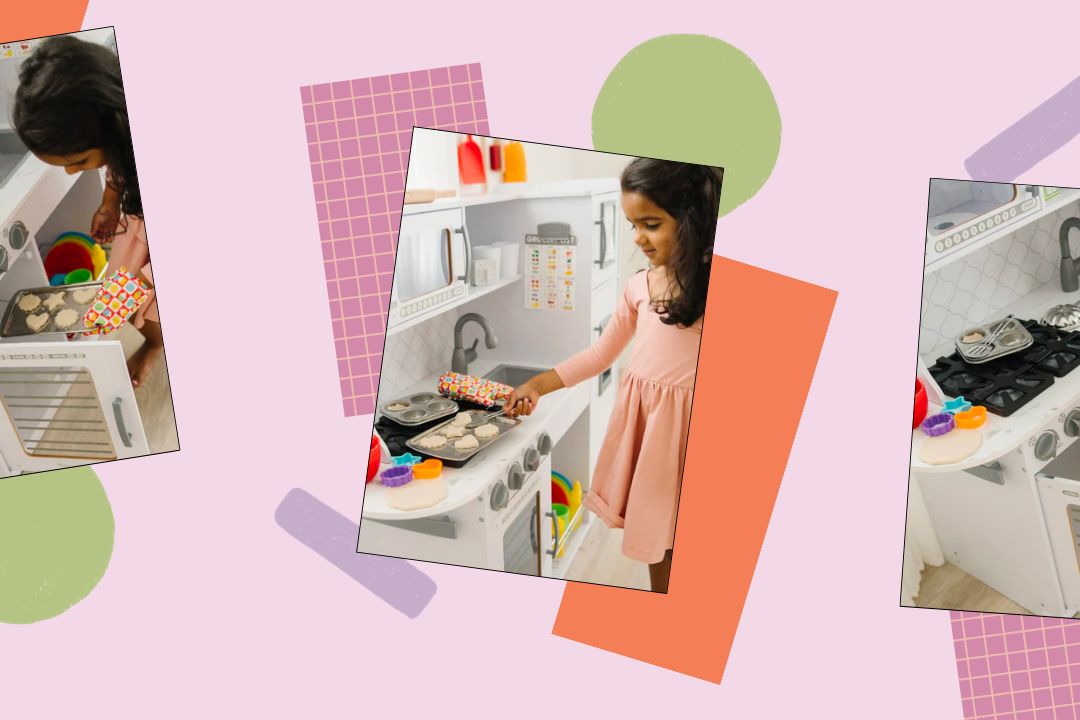 Read on to find out where she finds her inspiration from and how she incorporated her professional life into her personal life.
Name: Ginger Curtis, Urbanology Designs
Location: Dallas/Fort Worth
Rent/Own: Own
Room's Square Footage: 80 square feet
Child: Asher, age 9
Before we get into Asher's awesome bedroom, tell us a little bit about you and your family.
My husband Eric and I live in Fort Worth, Texas with four of our five children (one is stationed overseas) in a 1901 home. We are slowly renovating each space to make it more our own. I am an interior designer and owner of Urbanology Designs which creates organic, modern spaces across Dallas Fort Worth.
As an interior designer, how do you incorporate your professional skills into your own home? Does the process for a project done for your home differ from how you approach client projects?
It all starts with inspiration and overall vision, this is exactly what we do for our clients. It's truly one of the most important aspects of a successful project. I will spend countless hours poring over ideas, concepts, and inspiration until I feel not only satisfied but excited to start putting everything into motion.
Did you always want to use this nook space in your home as a bedroom? What gave you the idea to do that?
With four children living in our three-bedroom house, space was getting a little tight. We discovered we could convert an unused space at the top of the stairs into a sleeping nook for our youngest son, Asher.
Before:
After:
How did you manage to put so much of Asher's personality in a smaller space?
We weaved in some of his interests—dinosaurs and Indiana Jones—without making it overly kitschy or themed. We focused on one piece of visual drama—the canvas fort/safari tent that closes off the room. We also used vintage pieces to give it a more personalized feel. We utilized existing built-in shelves to house clothes and toys in the small space. The bed is also on wheels to make room for playing or having friends over.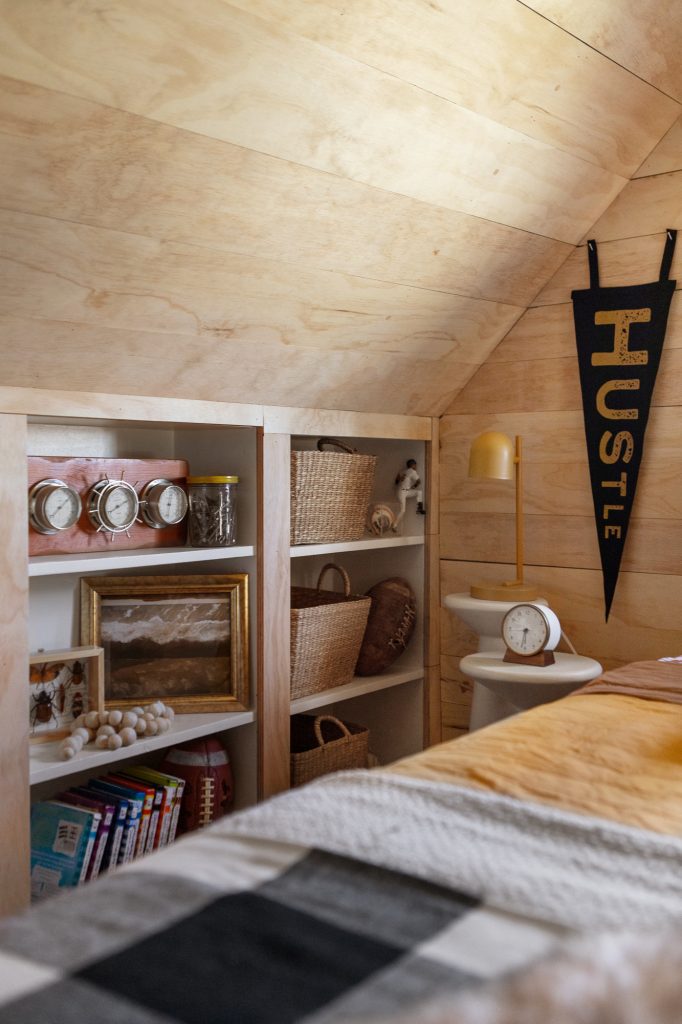 The wooden planks on the walls and ceiling totally bring the room to life. What inspired that design choice?
I stuck to one material for all the surfaces because I wanted to keep things uncluttered. I didn't want a heavily striped pattern or something that would have overwhelmed this tiny room. Maple's light but neutral color feels very organic yet still cozy.
The stained-glass window is so beautiful, what made you keep it during the remodel of the room?
It's original to the home which was built in 1901, it's quite special.
Does anything in the room have any special meaning to you or Asher?
My grandfather's hat (similar to one from Indiana Jones) hangs on the wall.
What advice would you give to parents when their child wants to redo their room to fit their age or style?
If they insist on a particular theme, try searching eBay and Etsy for vintage wall art. A throwback Batman poster will satisfy your kid's wants but make it look a little more grown-up.
Shop the Look
Ginger Curtis is The Everymom…
What movie/show is always on in your house? Indiana Jones
Coffee or tea? Tea
Last book you read? Wooden by John Wooden
Go-to Karaoke song? The one that doesn't require me to sing!
Most memorable mom moment? When my adopted son called me "mom" for the first time.
I never leave Target without… 15 things I didn't plan on buying!