When Jen Prod and her husband first toured their 100-year-old, center hall colonial home, they were met with moldy carpet, peeling wallpaper, and rotten doors. But behind the Minneapolis house's dated and crumbling interior, design expert Jen saw good bones and major potential to create the perfect space for their growing family.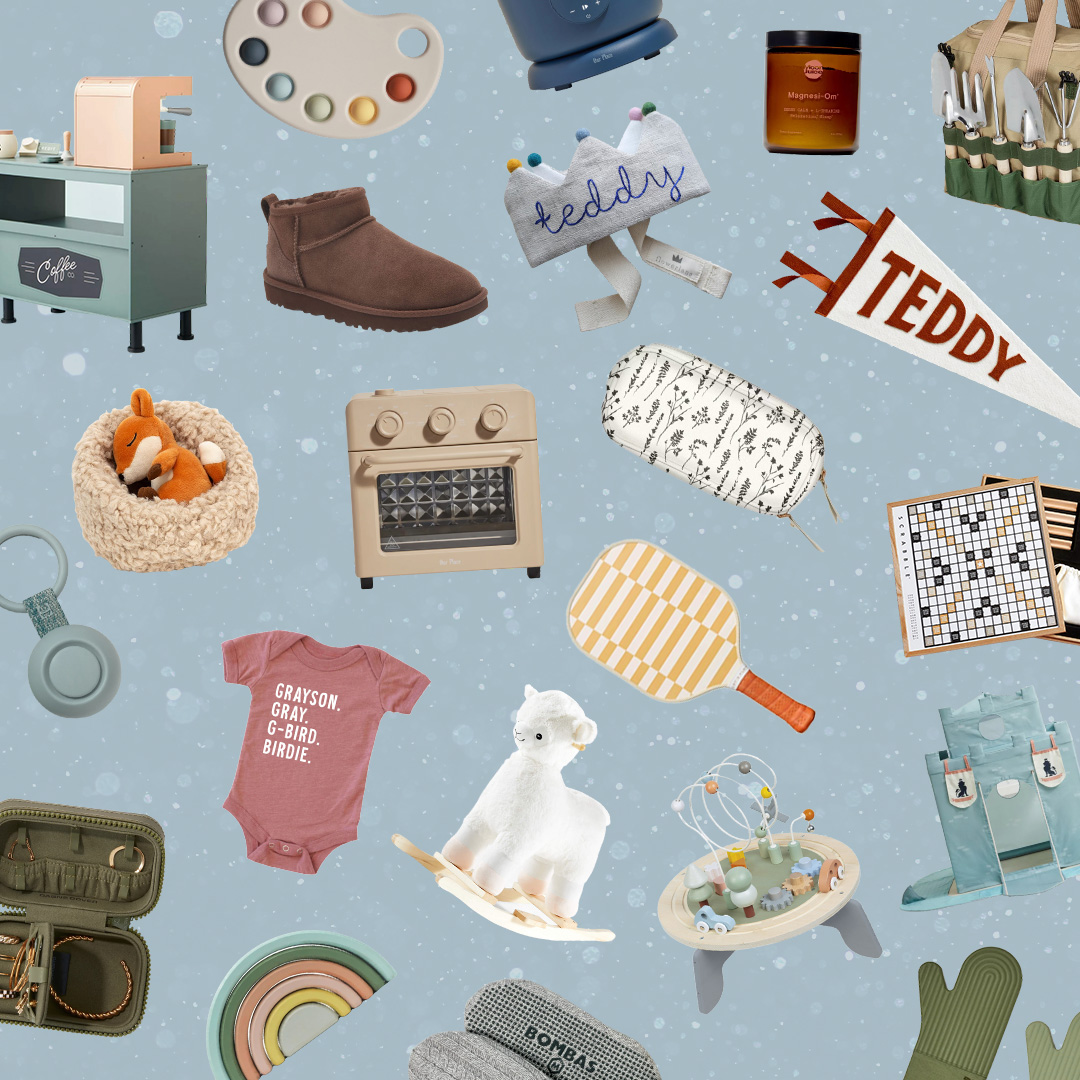 everything you need to ace holiday gifting this year 🎁
After two kids and a four-year renovation, Jen's abode is the epitome of lovely with clean white paint, colorfully-warm touches, an extensive collection of vintage artwork, and just enough modern touches to bring the 1922-built property into the 21st century.
Keep reading to learn more about the Prod family home's extensive renovation and design updates, see how Jen decorated her master bedroom around an antique claw-foot bathtub located right in the center of the room, and find out why a Scrabble board is Jen's favorite piece of decor!
Name: Jen Prod, Interior Stylist
Age: 33
Location: Minneapolis, MN
Home's Square Footage: 4,000
Rent or Own: Own
Years Lived In: 4
Children: Max, 4, and Rosie, 2
Tell us a bit about yourself, your family, and your beautiful home!
This is the kinda conversation that I like plopping on the couch for, but we can get to it right here! I'm a girl with a love for family, furniture, and bringing people together in beautiful spaces to discuss the big, the small, and if we're all lucky, the hold-it-together funny.
I went to school for art history, and I fell in a head-over-heels kinda way for how design elements like scale and balance and color work together to make art forms that pop and please. But how to make this interest into a career? I didn't solve that tricky question until I started having littles and, more specifically, nursing them 9 to 5 in the homes of the other mamas I was raising babies with.
Pregnancy didn't come easily for me: my first pregnancy ended with a partial molar miscarriage at 11 weeks, and I was in bed, clutching a loaf of bread and a puke bucket, for most of my pregnancy with my now 4-year-old, Max. I'd prayed and waited for that little boy, and I decided to stay home with him once he was born.
SHOP THE LOOK

The two of us made a quick routine of Monday through Friday play-dates with other mamas and babies, and every so often, one of these other moms would muse about her house. "Does this wallpaper remind you of my Grandma Gladys?" or "Do you think this Craigslist-found sofa needs to return to Craigslist?" I got out my sketchbook, drew a few designs, and discovered that I truly loved helping people to create the home of their dreams.
We moved into our current home on Max's 1st birthday. That day, I remember Max picking up a piece of crumbling tile from the entryway and trying to eat it. Not exactly cake (!), but mom and dad had found a 100-year-old home that, despite the advice of their realtor and the worries of their home inspector, they wanted to build a life inside.
I'd like to say we spent the next year fixing that home up and had it ready for when our daughter, Rosie, came home from the hospital. But no, that's far from true, and also an unrealistic timeline for two people teaching themselves how to renovate by reading blogs and watching YouTube channels. Rosie was born after we'd been in the home for one year, and the renovation continued (during naptime and after the kids went to bed) for another three years.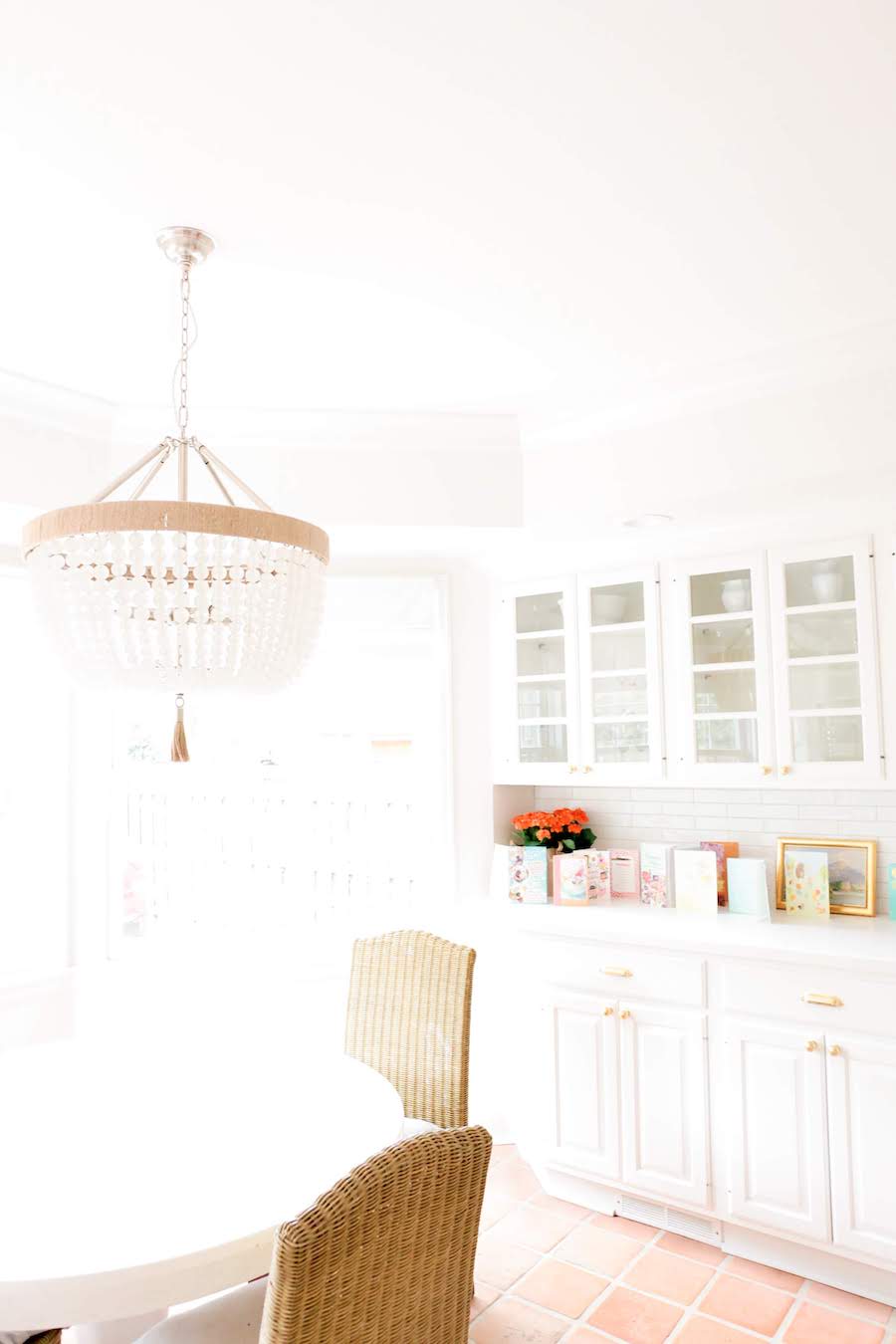 SHOP THE LOOK

What drew you and your family to this property in particular?
Our house went on the market with photos that made it look dated but livable, and so the moldy carpet, peeling wallpaper, and rotten doors were the "in-person" surprise that buyers weren't expecting. I remember crown molding dangling off the ceiling and tiles missing from the bathroom floor. Our realtor walked us around and then said he wouldn't let us buy a house with so many rotten windows. Onward!
But you know, right there, our realtor sold me the house without even meaning to. All those rotten windows were letting golden light dance across the original 100-year-old floors. There's a room at the top of the stairs that was designed around a window – it's a small resting nook before you reach the second floor — and it welcomes and scatters that warm light throughout the house. Can you imagine? A room designed simply so that a window can fill a home with warmth. It was exactly what a girl living in Minneapolis needed to keep cozy during the winter months.
My husband, Jon, and I didn't speak during the tour – I think we were both a bit shocked – but I couldn't get the house out of my heart for the next few days. I told him that I thought we should go for it, and he sent an offer the next day.
SHOP THE LOOK

Your home was built in 1922! Tell us about renovating your house.
We popped a bottle of champagne and cleaned our fireplace the first night that we were in our house. Two shiny glasses filled with bubbles, two mouths covered with gas masks, and four hands working with the heaviest concentration of TSP we could find. We cleaned back what felt (and truly maybe was) fifty years of soot, and eventually found names engraved on the bricks. A similar thing happened when we cleaned out the storage room and found coatracks labeled for a family of six.  There is history here — you can sense that a lot of people have loved this home before us – and I wanted to use that history as a base for our renovation.
We renovated one room of the house at a time, working as quickly as our schedule and savings allowed, and aimed for each room to feel preserved yet updated. I kept the antique terracotta floors in the kitchen but cleaned the overall look of the room by swapping the blue backsplash for a white subway tile. The brick fireplace and formal paneling remained in the living room, but we picked transitional furniture to make the space feel cozy and welcoming. It was a balancing act deciding which features to keep and which to modernize, but blending the two styles helped us create a home that feels more timeless than period-specific.
The renovation took longer than the HGTV promise of six to eight weeks, but that just felt like real life to me. We worked slowly while also building a family, working toward career goals, and prioritizing time with friends. Our renovation timeline felt more balanced than "drop-the-curtain" shocking.
SHOP THE LOOK

What was the inspiration behind the renovation of your home?
The house filled me with a sense of belonging that felt strong and good and, honestly, lacking in my life for the past 10 years. My parents lost my childhood home during the 2009 crash, and I'd been searching for something to give me that same "you belong here" feeling ever since. I'd lived in Phoenix, New Orleans, Milan, Puerto Vallarta, Chicago, and Eau Claire (a town in Wisconsin), but nothing said "stop and stay" quite like the Minneapolis home that had sat so long on the market that it might have been napping.
I wanted a sense of belonging, of people coming together and maybe forgetting to leave, to fill the house. From a design standpoint, I aimed for cozy yet surprising spaces throughout the home. A resting nook overlooking a hallway decorated with vintage art and a modern chandelier? Check. A playroom filled with toys for all ages and made adult-friendly with modern wallpaper? Done. With each design choice, I tried to create a feeling of warmth rather than perfect a particular look or style.
What was the biggest challenge you faced in renovating the space?
I had Pinterest boards of inspirational rooms and a pretty clear idea of what I wanted for our home. In my head, I could see the family sprawled across the floor and the kids playing Stratego on the coffee table. Small problem: I quickly learned that a lot of my plans weren't going to highlight any of the things that drew me to the historic home we'd just purchased.
I sketched various designs and ran through ideas, but I ultimately made design choices to feature the architecture and character of our 1922 home. When it came to picking paint, for example, I choose colors that highlighted the heavy crown molding and tall window frames. The choices were mine, of course, but I prioritized the historical integrity of the house over trends I saw (and even loved!) happening in the design world.
Time presented another challenge when renovating a home with two tiny toddlers underfoot. Our little ones wanted to help and to play, and so incorporating them into the process became important for us. Max's room originally had very dark – a navy almost black – walls, so we primed the room before painting. Once it was a bright white canvas, we let him use different paint colors to paint the walls like a coloring book. We primed and painted over his creation a couple of days later, but it was a fun day letting our little man run around his room yielding a paintbrush.
SHOP THE LOOK

How would you describe your design style?
In two words: collected and warm. For me, a home isn't complete when the rug and sofa complement the artwork just so, but when friends return time and again because the space holds favorite memories and promises comfort.  I think homeowners create this feeling by filling their homes with items that tell the unique story of the people who live there.
Multiple cross-country moves from one tiny apartment to the next deterred me from hanging art on the walls for years, but it didn't stop me from purchasing art to store under my bed.  When we bought our house, I probably had 20 different works of art – ranging in both scale and design – and I knew that artwork was going to be a significant design feature inside my home. At long last, my art would come out from under the bed and make it up onto the walls. I used neutral furnishings to tone down the drama from the art and mixed vintage and contemporary pieces to make the rooms feel simultaneously historic and modern.
Most homes that I design don't look very similar to my own, and I see that as a good thing because a home should reflect the people who live there – that's what gives it that good warm stuff that I'm always talking about and getting after.
How would you say, if at all, your design style changed once you became a mom?
A lot more Scotchguard! It's the miracle product that saves upholstery, rugs, and pillows from chocolate milk and Sharpie markers. Aside from that, I've come to see furniture knicks and stains as memories made rather than as defects to be repaired.
SHOP THE LOOK

Did your historic home come with any special design quirks that were difficult to renovate or design around? If so, tell us about them.
If you consider a claw-foot bathtub plunked down into the middle of a bedroom as a design quirk, well, yes. I'm a girl who loves a bath before breakfast and another after dinner, and so this, umm, feature, didn't shock me the way it did the realtor or other early visitors to our home. Most of the older homes we'd seen didn't have the space for a tub, so taking an extra room and plopping an antique claw-foot into the center made good sense to me! No tub in your bathroom? Drop it into a bedroom! Problem solved!
The design challenge, then, was to make this beautiful claw-foot tub look like it actually belonged in the room. My idea? Create a vintage-style dressing room with long drapes, gold mirrors, and a makeup table where the bath was just another element of getting ready. A stretch? Maybe, but it's now one of my favorite rooms in the house.
Which room in your home is your favorite? Why?
"Have you considered an open floor plan?" "How will you see the kids play while you cook dinner?" These are a few of the many questions that well-wishers and friends asked when I told them we were considering buying a center hall colonial. As the name suggests, there's a staircase in the main hallway of our home that divides the house into distinct spaces rather than allowing for more general gathering areas. 
If you're thinking that I'm talking more about a general layout than a specific room, well, you're right, and that's because the way the rooms flow one into the next – the way you feel as though you're moving from one mood and environment to another throughout the day – is more special to me than any of the particular rooms inside the house.
I love cooking dinner in the kitchen and being fully present with my kids as they help prepare the meal or, more often I suppose, color at the table while they wait.  After dinner, we disperse about the house, and I love the spontaneity of moving about into new places while remaining in the same home.
SHOP THE LOOK

Where are your favorite places to shop for furniture and/or home decor items?
My neighbors' homes! Joking, but not joking! A neighbor had an estate sale the week we moved into our house, and my finds that day inspired a love for antiquing that's still strong. I enjoy mixing vintage pieces with more modern items (found at stores like Interior Define, Maiden Home, and Ballard), and I scoop smaller decor objects from HomeGoods and/or Target.
Do you have a favorite home decor piece in your house?
I have a Scrabble board on the coffee table in front of the fireplace, and it reminds me of late nights playing the game when I was young. My mom taught me and my sister how to play when we were in middle school, and the three of us now enjoy the kind of competitive games that no one else wants to join because 1. we're too serious about the score, 2. we take forever and always thinking about the perfect word to play, and 3. we score big by using all the two-letter words that only Scrabble nerds know. My husband purchased the game for me as a Christmas gift from our kids, so that doubles the good memories attached to the board.
SHOP THE LOOK

What do you love most about being a mom to your two kids?
My favorite motherhood moments are the everyday ones, when the kids are making up songs about their family and then singing them around the house, or dressing as pirates and princesses for a game of hide-and-seek. It's the kids breaking into giggle fits while playing "No More Monkeys Jumping on the Bed" and then making a fort on the same spot to read books with a flashlight. These aren't big moments or things we necessarily plan for, but they are the laughter-filled times that fill me up and make me honored to be their mother.
Jennifer Prod is The Everymom…
Last Netflix show you binged? The Office
Beauty product you can't live without? The Truth Serum helped clear up the melasma that I got during my pregnancy with Rosie.
Dream vacation spot? Cape Town
Favorite way to wind down after a long day? Biking the Minneapolis lakes with my family.
Your camera roll is full of… Max and Rosie sledding behind our house on NYE.
Go-to coffee order? London Fog with almond milk
Favorite family tradition? Exploring pizza farms in the summer
If you could have lunch with any woman, who would it be and why? My mom.  She's lives in Virginia, but I'm always wishing I could have her a little closer.