When you step inside Liz Rishel's stunning Florida home, you're immediately met with the perfect combination of bold colors and patterns mixed with modern furniture and calming neutrals. From the entryway's accent wall adorned with sweet family photos and a sophisticated dining room perfect for dinner parties to a fun-yet-functional playroom and the coolest DIY'd kids bedroom, every inch of the Rishels' abode feels ultra chic and totally comfortable. Seriously, just wait until you see the pics!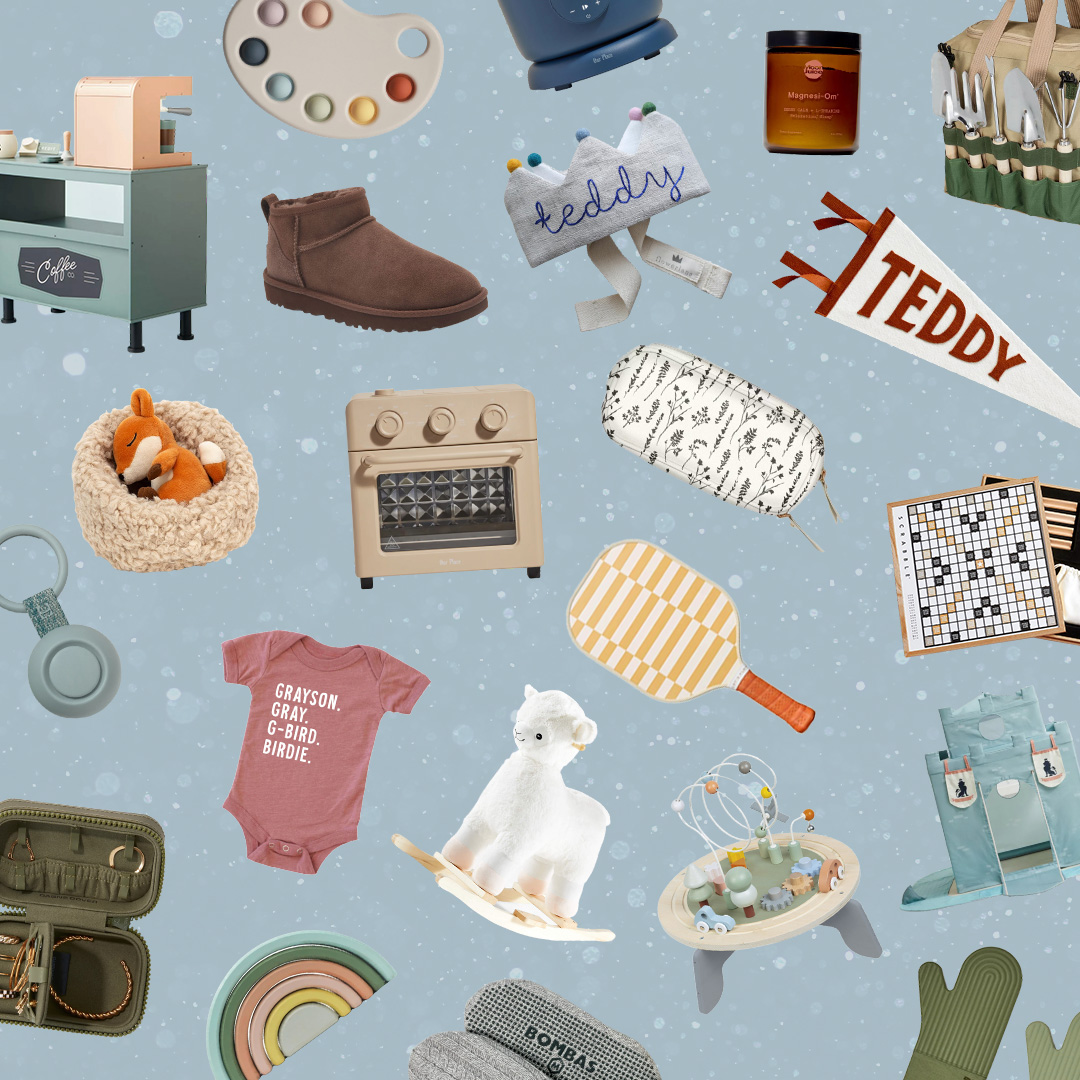 everything you need to ace holiday gifting this year 🎁
Keep reading to find out how Liz knew this Sunshine State fixer upper house was "the one" for her family, get the details on how she DIY'd a modern geometric accent wall in her toddler son's bedroom, and learn why using baskets everywhere is this mama's best interior design and parenting hack. 
Name: Liz Rishel
Age: 32
Location: Orlando, FL
Home's Square Footage: 2,634
Years Lived In: 2.5 years
Rent or Own: Own
Children: Oliver, 3
Before we get into chatting about your beautiful home, tell us a little bit about yourself and your family!
I grew up on the coast of South Carolina in my hometown of North Myrtle Beach. Fast forward and I now live in Orlando, Florida with my husband and 3-year-old son. It was quite an adventure getting here. We moved five different times within our first three years of marriage across various states until we finally settled in Florida. All because we wanted to find the perfect location for us. In more recent years, I resigned from teaching to pursue my passion and take on my business full time: teaching others how to renovate and decorate their homes.
You'll quickly learn that I'm very passionate about encouraging and inspiring others to try DIY projects that leave them feeling empowered when turning a house into a home. My husband, Ryan, works outside of the home as a civil engineer but tackles our home renovation projects with me on the weekends. My toddler, Oliver, is my little sidekick where I get him involved as much as possible with whatever we're working on in our home.
SHOP THE LOOK

You're lucky enough to live in warm and sunny Florida! What's it like living there?
We love it and can't believe we call Florida home! Although we miss having the four seasons, we also love having beautiful weather year round. We moved to Florida from Nashville, Tennessee after realizing snow and being so land-locked wasn't for us. We applied for jobs all over Florida and two weeks later moved to Orlando. That was seven years ago and knew right away Florida was home. We're still not used to wearing shorts and sandals on Christmas Day. And we also take advantage of being only an hour to two hours away from the East and West Coast beaches. And of course, we're all three the biggest kids with Disney World in our backyard. 
Tell us about the process of finding your home. How did you know this house was "the one" for your family?
After having a nightmare of an experience with our first home, we approached finding our second home very differently. The first thing we did was interview a few real estate agents to find the one that had our best interests at heart and one that we can trust. We were also strategic with viewing homes by keeping a few things in mind: fixer upper without too much demo, location, needs/wants, and any red flags (i.e. roof damage, foundation cracks, signs of water damage), etc. You'd be surprised what you start noticing when you know what to look for. 
We found the perfect fixer upper which was also only the fourth home we looked at. We knew this home was "the one" the second we pulled into the driveway. The established trees and the spacious yard checked off a must-have on our list. When we stepped through the front door, it was confirmed it was the home for us. The 12-foot ceilings checked my husband's #1 must-have item off his list. For me, it was semi-open floor plan/layout and the spacious outdoor patio space that's accessible from all the bedrooms and main living areas. 
SHOP THE LOOK

What were the most important things on your "must-have" list while looking for homes? Did you end up having to sacrifice any items on your list when you chose your house?
There were two things we wouldn't budge on: taller ceilings and a large yard with plenty of distance between our home and our neighbor's home. We quickly learned this with our previous home having low ceilings and a being a little too close to our neighbors. 
The one thing we sacrificed (that I still talk about to this day) is giving up a large front porch. For some reason, you don't see them as often in our part of Florida, and it's the South Carolina girl in me that would love one. There's something about rocking or swinging on a front porch early in the morning or in the evening as the sun is setting. I'm still trying to figure out how we can add one to this home. 
How would you describe your overall interior design style?
Our interior design style is in a constant process of evolving. Our previous home was farmhouse, and we're transitioning from that to a more modern look. So, you're going to see a few different styles in our home as we make that transition. But that's also the beauty in creating a home you love. It doesn't have to be one particular style. It can be whatever brings you joy and creates a home you love. 
SHOP THE LOOK

Do you think that style changed when you became a parent? Why or why not?
Yes, in a way. We decorate with more intention while keeping functionality and beauty in mind. Of course, we did this before, but now my focus is on creating a home that becomes a part of my son's childhood and as he grows. One that he can run around in, create memories, and love just as much as we do. I have such fond memories of my childhood home. It was well lived in and looking back it brings me so much joy realizing how much pride my mom took in turning it into a home. I appreciated it then and appreciate it even more now. 
What are some of your favorite places to shop for furniture and home decor?
I tend to shop at a variety of places depending on my needs and budget. Some of my top places are HomeGoods, Target, Article, local small shops, West Elm, and IKEA. I also frequent thrift shops for that perfect piece of furniture to flip for our home. 
SHOP THE LOOK

We love the bold, unique design touches you have in your home. Do you have a favorite room? Why do you love it?
It's so hard to choose a favorite design in our home when we love them all. But if we had to pick one, it would probably be my toddler's bedroom with his modern geometric accent wall painted in a beautiful shade of green. It was a very simple DIY project that had a huge impact on the space and also allowed us to easily transition from a baby to a toddler bedroom. 
Do you have a favorite piece of furniture or home decor in your house? If so, tell us about them!
Currently, it's our guest bathroom vanity. Our first time participating in the One Room Challenge (where bloggers and influencers flip a space in six weeks), we decided to tackle our guest bathroom. We were down to the last two weeks without a vanity because we couldn't find one we liked or the ones we did like went outside of our budget. Within a week, we were able to build our own vanity and find a local business to fit a custom countertop. The countertop was installed the day before the photoshoot of the space to wrap up the challenge. We still can't believe we pulled it off. 
SHOP THE LOOK

How has living in the Sunshine State influenced the design of your home?
With amazing weather year-round, we spend as much time as possible outside, especially during the fall and winter. We enjoy working in our yard just as much as we enjoy working on the interior of our home. Because of that, we have this desire to have as much natural light pour into our home as much as possible, which has also inspired us to design crisp and bright spaces in our home with those bold pops of color. We're even considering a few skylights in parts of our home that don't receive a lot of natural light to bring more of the outside in. 
Your home's outdoor space is stunning. Tell us about that design process.
This space piggybacks off of the previous question with us wanting to spend time outside as much as possible. Because of that, we wanted to design our outdoor space as an extension of our home and view it as our outdoor living room. We eat lunch out there, gather with friends and family, take an afternoon nap, read, and just sit to enjoy each other's company. 
Knowing how we wanted to use the outdoor patio inspired us to create two seating areas. They flow together with a small open area between the two. Days that it rains, which is daily during the summer, Oliver has a space to still go outside and play. We went with creams and natural wood tones for the design to allow the greenery of the landscaping to become the focus point and beautiful backdrop. It truly is an extension of our home.
SHOP THE LOOK

What inspired your love for DIY projects? And what has been your favorite project to date?
Our love for DIY projects began with our first home. We were beyond excited to decorate our home and renovate parts of it. We moved in with just our master bedroom furnished. So as you can imagine, we quickly realized how expensive furniture can be and hiring someone to help with renovations. Neither was possible with our budget at the time. We started watching YouTube tutorials and reading DIY blogs to learn how to build furniture and tackle renovation projects on our own. We haven't stopped since. 
My favorite DIY project to date was building our trash can storage and AC unit cover. It was a design Ryan and I created together to build a totally custom piece. It has design aspects from him (the black and natural wood colors) and some from me (the thin slats and flower garden). It was truly a labor of love building it in the Florida heat but was so worth it. It created massive curb appeal, turned out better than what we imagined, and it got the trash out of our garage. 
What DIY or home project are you most looking forward to in 2020?
2020 is the year that we'll finally be getting rid of the white tile flooring throughout the majority of our home. Our home was built in 1994, and this is the original tile. I can't even begin to tell you how excited I am about this. It's going to completely transform our home and no more scrubbing grout twice a year. 
SHOP THE LOOK

What was the biggest challenge in designing and decorating your home and how did you handle it?
The biggest challenge has been working around the white tile throughout the main living areas in our home. I've had to pivot a lot with certain color schemes I've wanted to use. For example, when we moved in, I wanted white cabinetry in the kitchen. Knowing that white cabinets meeting a white tile floor would be too stark, I decided to paint the bottom cabinetry blue and the top white. We also have to be conscious about adding warm elements in our designs so that a space doesn't become too cool. And honestly, thinking about this makes me realize that's probably where my love for bold pops of color came from as well. 
You have the cutest bedroom and playroom for your son! Do you have any advice for other moms who want to create a beautiful yet functional space for their children?
Oliver's bedroom and playroom were both such a joy to design! When creating a beautiful yet functional space for kids, take a step back and think about their needs and any storage solutions the room will need. Then, think about how you can design that part of the room. For example, Oliver loves to spend time in his playroom with independent play. I needed a way that he could easily get his manipulatives and toys out while also storing them in a beautiful way. That's when I decided to go with a shelving unit that will display the baskets that hold his toys. Toys that he plays with often are at the bottom and the toys that aren't played with as often (but he still loves) go higher up. He can easily grab what he needs and knows to ask for help otherwise. It's functional yet pleasing to the eye. 
SHOP THE LOOK

You've lived in your house for over two years now. What has been your favorite memory as a family in your home?
Honestly, it's doing the DIY projects together as a family. Everywhere we look in our home, we have memories of the projects we've completed. It's really cool to be able to do that and makes it that much more of a home. We get Oliver involved as much as possible, and he loves it. It's those little moments that have become our favorite. 
Liz Rishel is The Everymom…
Favorite date night activity? Grabbing a fresh chocolate chip cookie on Main Street at Magic Kingdom and enjoying the night around the park without an agenda.  
Go-to coffee order? Vanilla bean with a splash of cream and an extra shot of espresso. 
App you can't live without? Cozi! It keeps us on the same page and organized as a family. 
Best mom hack? Baskets can be your best friend and save your sanity as a mom. Baskets for toys for easy cleanup and to easily take to Grandma's house, basket in the car with car activities, basket for dirty clothes, basket for shoes by the front door, basket in the bathroom with bathtub toys, etc. And it's easy to teach toddlers where things go and to clean up with this hack. 
The last book I read was… Manage Your Day-to-Day by Jocelyn K. Glei
Dream vacation spot? Ireland 
I wish I knew how to… Hip-hop dance 
Biggest mom fail? When Oliver was 1, we took him on his first flight to see family in Maryland. Within the first 20 minutes on the flight home, we quickly discovered Oliver had one of his worst blowouts. Ryan thought I grabbed his extra clothes. I thought Ryan grabbed them. We didn't have them. Luckily, we had extra diapers, wipes, and a blanket to wrap around him. We failed for not bringing extra clothes on the plane but somehow successfully cleaned up a 1-year-old in an airplane bathroom that's already small for an average-sized adult. And you better believe, even to this day, I don't leave the house without an extra set of clothes for him.