A few months ago, I was going about my usual evening routine, picking up the mess that is our living room at the end of every day. I tidied up the throw pillows and endless books scattered about and tried to collect the never-ending tiny dinosaur figurines that seem to multiply by the hour.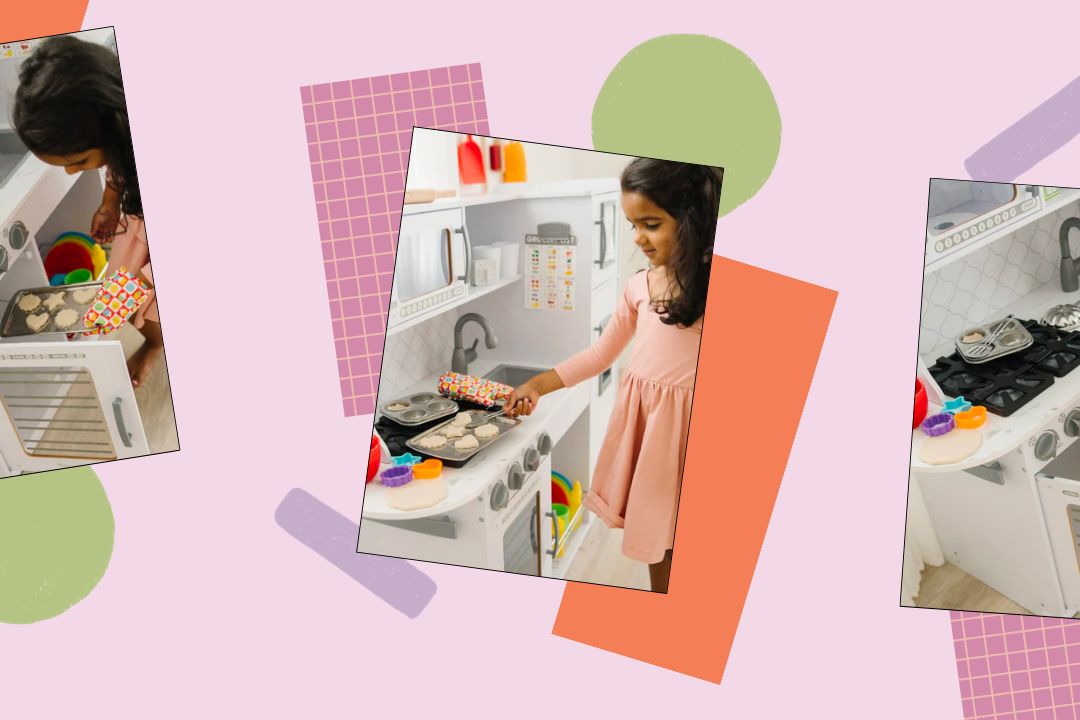 My to-do list nagged the back of my mind. I knew there was still much more to be done: the kitchen was full of dirty dishes, crumbs, and dog hair. My older son's homeschool preschool curriculum needed to be prepped for the following day. And there were the non-essential items on my to-do list that continually get put off, week after week.
No matter what I did, the house (and my life) always felt like a mess, far from those images of tranquil perfection that fill my social media feeds. I'd soaked up all those images showing what a perfect home and perfect mother should look like, and I often found myself subconsciously striving to replicate them. Sure, many of the items on my endless to-do list are what you would consider must-dos: the family needs to eat, and the kiddos need to be bathed. But the level of importance I was putting on the other little things—during a pandemic—was chipping away at my mental health.
I got to a point where it wasn't about the mess of throw pillows on the floor. Instead, it was the stress those pillows represented; the need and desire for control, for order and accomplishment, for a sense of perfection. For little ones to listen, for careers to climb, and for homes to sparkle.
I got to a point where it wasn't about the mess of throw pillows on the floor. Instead, it was the stress those pillows represented: the need and desire for control, for order and accomplishment, for a sense of perfection.
I know many others have experienced far worse than my level of stress this past year. I sit here today having not dealt with COVID in my immediate family. I'm living in a house that still stands, not burnt down from any of the numerous fires that ravaged my home state of California and elsewhere. I haven't feared for my safety based on the color of my skin.
I sit here today feeling extremely blessed and lucky to be able to take this opportunity to learn and grow. It wasn't an overnight change, but as I've slowly started to let go of control, I've found myself a whole lot happier. Here are the mindset shifts I made to help me let go of control this year.
Finding your priorities above all else
There is no denying it; if there was ever a year where we've learned what really matters, it's 2020. 
My husband and I chose to start our family far from our loved ones, which taught us a lot in general. And with the year we've had, those lessons have just become clearer and stronger than ever. I can now say what I want for our future a lot more confidently than I could a year ago. My husband and I have had many discussions about how we see our family growing in the future and where we want it to happen.
The year has made it undoubtedly easier to look at your daily life and hone in on where you want to spend your energy and time. I want to spend it on finding happiness and contentment and yes, sometimes that's in a tidy home, but more often than not, it's about allowing myself to make a mess with glitter and glue with my boys, or diving into a good book in bed at the end of the day to recharge.
When in doubt, perspective and gratitude
We had been dealing with COVID for several months when the California wildfires started, serving us a solid double whammy. We found ourselves not only stuck at home but stuck inside due to the incredibly poor air quality. We stayed inside for over a month, unable to be outside without health implications. Ash covered our deck and car. The nonstop smoke surrounding our home was beyond eerie; it scared me in a way I've never experienced before.
But yet, I had my home. I was able to safely stay inside. My children have endless toys to play with, we have access to movies, and more. We are healthy, and we can be happy. We have iPhones and could FaceTime our loved ones anytime we want. It might have been chaos, but it was safe chaos. A quick scan through the news was all it took to remind me that it could be so much worse.
So, we stayed inside, we prayed for the fires to be contained, and we vowed to never take fresh air for granted again.
You do you
Just as priorities and perspective taught me to focus on what really matters and be grateful, my phone's apps have been a solid reminder that just because someone else is doing something doesn't mean I have to. Social media is a small, often deceptive, glimpse into other people's lives. And just because someone else wants to beautifully showcase a portion of their life or a corner of their home, it doesn't mean I have to.
My husband constantly reminds me that life is all about choices; this has become a mantra of sorts around our home. And the perfect reminder to make the choices that matter to us, that matter to our family. To spend our time and energy on what brings us the most joy. So, I'm reminding myself to think beyond the images contained in those little squares. 
One day at a time
This shift in my mindset wasn't overnight. It took time, it took daily practice, daily reminders, daily growth. It wasn't even outright intentional at first, but as I look back now, I see how I slowly but surely learned this over the past several months of difficulties and stresses. And as I struggled with so many emotions and thoughts this past year, I gave myself patience in "figuring it all out." 
Seek out the joy, seek out the laughter
I'm on a mission: to take that energy from trying to control it all and endless worry, and put it towards finding any and all joy instead. I'm seeking it out and running wild with it. Laughter is always better than laundry. And while laundry undoubtedly needs to be done, folding it after bedtime is well worth an afternoon of Taylor Swift dance parties.
Because what has really, truly brought me the biggest smiles this year is making joy with my family. It's been my husband and I throwing our hands in the air as the two boys go nuts, reminding ourselves that these are the days we'll miss and reminiscence in years to come.
---
This year has been far from easy. But I'll take it as a primer in letting go and learning we really don't have control over all that much. I still strive for tidy, don't get me wrong. This year hasn't been a cure-all for all my tendencies. But I'm able to sit back and see it all a bit clearer.
I've always, of course, known that keeping your perspective and priorities in check are important, but it was the experience of going through nonstop stress and the fear of the unknown this year that made me feel their weight in a new way. It was the daily reminders, the daily effort to find the sparks of positivity, the responsibility to push back the darkness and find the light—if not for me, then for my two beautiful boys who are too little to grasp what has really happened this year. 
I refuse to waste the learning opportunity of 2020. I'm grabbing this lesson in letting go and holding onto it tight, refusing to let its power and strength go to waste, be lost, or forgotten in months, and years, to come.
I'm also even re-thinking my ideal clean house. The magical, messiness of it all is beautiful; the fort of throw pillows on the floor, the mismatched outfit my toddler picked out, the Taylor Swift dance party. I'm lucky to have those moments as 2020 memories too.