As the newly crisp fall air hit my face during a morning walk, I realized this would be the first holiday season without my father. He passed away in September after a difficult battle with cancer. Every last holiday I had with him was filled with the fear of losing one of the most important people in my life. Finding the holiday cheer after he passed has been one of the most difficult things I have had to do. In fact, I thought it was going to be impossible until I saw holiday joy start to pop up in my two little boys' eyes, especially at the prospect of snow and Santa.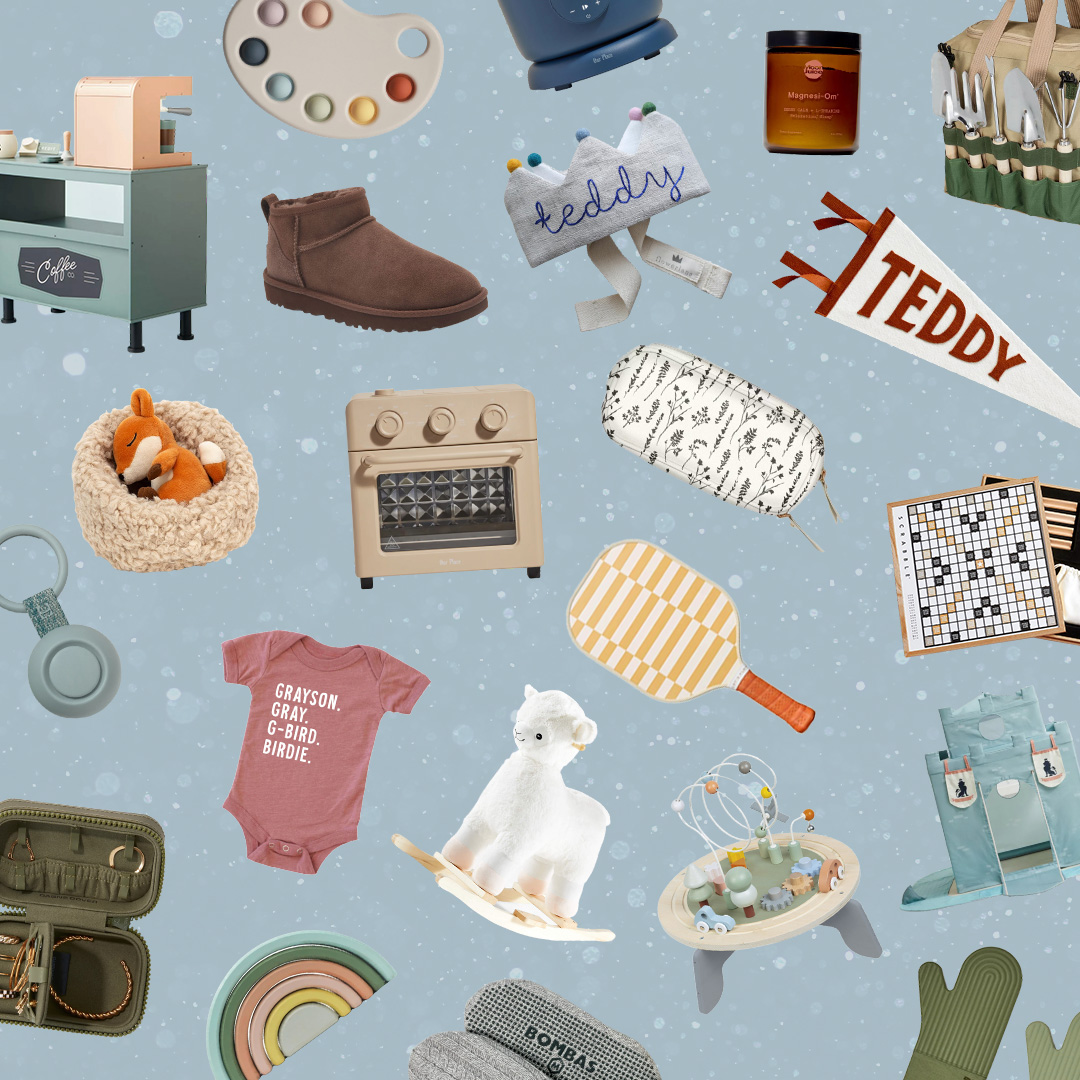 everything you need to ace holiday gifting this year 🎁
Recently, a package arrived carrying two matching snowsuits with dinosaur spikes and monster horns. The snowsuits were purchased on sale during one insomnia-driven night as I tried to distract myself from the tears that threatened to spill from my tired eyes. I had forgotten all about the purchases until a kind delivery man knocked on our door, and as my kids raced for the window to watch him go back to his truck, I realized we could find joy in the small winter moments and traditions.
I thought finding joy in the holidays after losing my dad was going to be impossible until I saw holiday joy start to pop up in my two little boys' eyes.
This may be the first holiday season without my father, but I have learned it can be very special, by finding the joy in things that I may have overlooked before his death. In the hustle and bustle to make everything perfect for the large pre-pandemic celebrations, my multicultural family was known for, I often waited to shop until the last minute. This year, I have started picking more thoughtful things up here and there and appreciating any moments with family and friends.
In fact, during a time of grief and loneliness from COVID isolations, I have noticed that the small traditions passed down from my parents have a special sort of beauty I often didn't have time to appreciate before my loss. As I'm navigating my first holiday season without my father, here are a few ways I'm still finding joy.
1. 

Decorating Early

I typically like to spread out celebrating Thanksgiving and Christmas to try and savor each holiday and the individual traditions of each. This year, Christmas decorations at my house and my mom's were hauled out as soon as we saw the first few snowflakes fell.

My kids may ask if Santa is coming every day, but the joy in the air is worth it. If you celebrate any holidays during the winter months, I highly recommend putting out your holiday decorations sooner rather than later.
2. Creating a New Tradition
After getting married, my husband and I created a new tradition of watching the Harry Potter movies and the Die Hard series every holiday season (yes, Die Hard is a Christmas movie in my family). Well, this year we're going to start Advent calendars to bring a little cheer every day as we countdown to Christmas. Having something to look forward to each day that will bring joy to the whole family makes each day a little easier without my dad.
3. Cooking a Recipe That Sparks Joy
My father was an amazing Italian chef, so food has always had a special place in my life. For the past few years, I started creating spins on our traditional meals, and this Thanksgiving I made sure to make a recipe that brought up memories of my dad laughing and drinking my Nonno's homemade Italian wine.
The first time I made my bacon-wrapped turkey, my dad looked offended, but after tasting it, he asked for it each year afterward. So as I buttered, seasoned, and braided bacon around our holiday turkey this year, I couldn't help but smile as I pictured that first time.
4. Going Through Old Pictures and Hanging Up Favorites
Before my father passed, we made sure to have a photoshoot of the family. I have found such comfort and joy in looking at the smiling pictures of my dad. I had my favorites printed on as magnets and gifted a few special shots to my mother to remind her my dad was still with us. My two boys (3 and 4 years old) love seeing the pictures of us all together, and it makes me feel less worried that my dad is going to be forgotten.
This simple act of taking the time to go through pictures the old-fashioned way brings a nostalgic sort of joy to the holidays for my family.
5. Creating a Holiday Playlist
Music can soothe the soul and bring cheer within any household with the right playlist. At my therapist's suggestion, I've curated happier playlists filled with pop hits I love to sing-along to. 
6. Starting a New Hobby
Being a busy working mom, I typically don't have time to lay back and work on my hobby of choice. I tend to be a perfectionist and can't relax when stressed. But during this holiday season, I've taken up doing puzzles a few times a week. The frustration at a particularly difficult puzzle is no match for the victory I feel when I complete one with the help of my family. Having something as simple as a puzzle helps me forget my grief for a few hours and find enjoyment in the simple things.