I love a decked-out table Christmas dinner, but it takes a lot of planning and work during a season already filled to the brim. But this year, I have a special set of hands to help. My son may not be able to do anything and everything when it comes to household chores just yet, but there are still plenty of ways he can help his mama out. As he gets older and more competent, he's become quite the wonderful assistant and at 2.5 years old, he's at a great age to really get in on the action.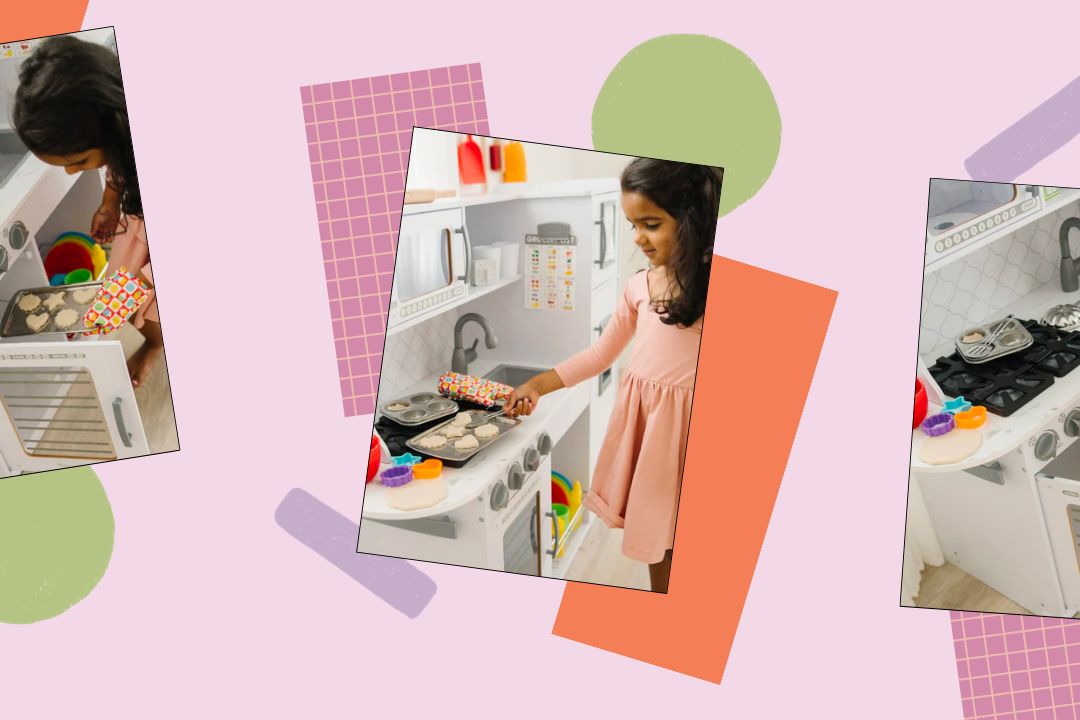 My little guy is obsessed with "helping Mama" lately, and I'm using that to my advantage—especially during these crazy weeks of cleaning, baking, wrapping, and never-ending prepping. I'm excited that not only will my holiday table be a bit easier to execute this year, but it'll have an extra special touch to boot. Whether you're safely hosting a bigger gathering over the holidays or are simply celebrating with your immediate family, we could all use some added magic this season.
There are a bunch of fun ways to get your toddler involved with decorating the table, and each one is not only easy but guaranteed to provide some fun holiday memories in the making, which just might be my favorite part of all.
1. Clean plates
Before we get started decorating, let's properly prep the table with the help of your toddler. Let them wipe down the table and chairs and dust off any serving ware that hasn't been used recently. This sets the scene for the fun to come. It's a great afternoon activity that's both productive and time-consuming (win-win when it comes to toddlers). Keep in mind, it's a good idea to do this with toddlers who are already at least a little accustomed to basic acts of cleaning—AKA don't try this for the first time with your little guy on Christmas Eve. You may have more mess than success.
Need a fun and helpful gift idea for your kiddo? This Melissa & Doug cleaning kit is perfect and adorable. Santa just may be bringing this to our little guy this year, and I can't wait to see him set this up and take care of his cleaning whenever he feels like it.
2. Bring the outdoors in
One of the simplest—and chicest—ways to decorate your holiday table is with naturally sourced items, so head outdoors with your little one and get gathering. Feel free to use everything Mother Nature provides, from pinecones and evergreen branches to acorns and leaves. Basically, anything your kiddo collects that captures their attention works for this. It all may seem like mismatched mayhem, but I promise you, it'll look picture perfect on your festive table.
Their gathering goodies don't need to be limited to just the table either; au naturale decor is one of the easiest, cheapest, and prettiest ways to decorate your whole home for the season. I love acorns and greenery on the mantle, pinecones in a big bowl on the table, and even my son's colorful leaf collection in a basket on the bookcase (my motto is if it makes the little ones that happy, embrace it).
3. Create custom place cards
Place cards add a bit of order to a beautiful but busy table, so get your toddler in on the action of assigning seats for your small gathering. Let's make it as easy as possible: cut out the cards (or purchase some pre-cut ones) and write the names of your dinner guests (even if it's just your family!), and then let your toddler go to town with crayons and stickers. Each card will not only be custom made but extra unique to boot. Mom may get a dash of Moana, little brother may get a little Paw Patrol, and everyone gets a little laugh and a special memento to commemorate the holiday.
4. Make garland
Garland is a simple and easy way to deck out your table and a perfect toddler-approved craft. From simple paper chain garlands to stringing beads or macaroni, the options are endless, but the final look—and the amount of time your toddler will be busy working on this project—is awe-inspiring.
For paper chain garlands, just cut strips of colorful paper and let your little one glue stick them together, each one around the next. Or feel free to paint some macaroni (or buy the multi-colored kind) and string them one by one. No matter what design you go with, it's guaranteed to add pizazz to the table and, even better, serve double duty by decorating the tree as well.
5. Let them set
The table is decked, place cards are complete; now it's time to set the table with all the dining essentials. And lucky you, you have a little elf to help. Little ones love to be in charge of duties and letting them help you set the table, from dishes to napkins, gives them a wonderful boost of confidence that'll extend way beyond the afternoon together.
It may need a bit of adjusting, so sure, you can tweak the set up while they're napping, but for now, let them set the special holiday table and smile with pride.
This article was originally published at an earlier date and has been updated for timeliness.