There's being "on trend" and then there's being a mom. Of course, you can be a trendy mom—I do firmly believe that's possible. BUT it's a little bit more difficult than being on-trend pre-kiddos. Moms will know there are a few common factors contributing to this challenge. Budget (kids are expensive), lack of time to keep up with the fashion world's latest and greatest, feeling uncomfortable rocking all styles in postpartum bodies (sad, but unfortunately still true for many women), and—last but certainly not least—the inability to incorporate trendy items into OOTDs due to convenience (or lack thereof). Let's just say the mini skirts and dresses in my closet don't get a whole lot of use these days.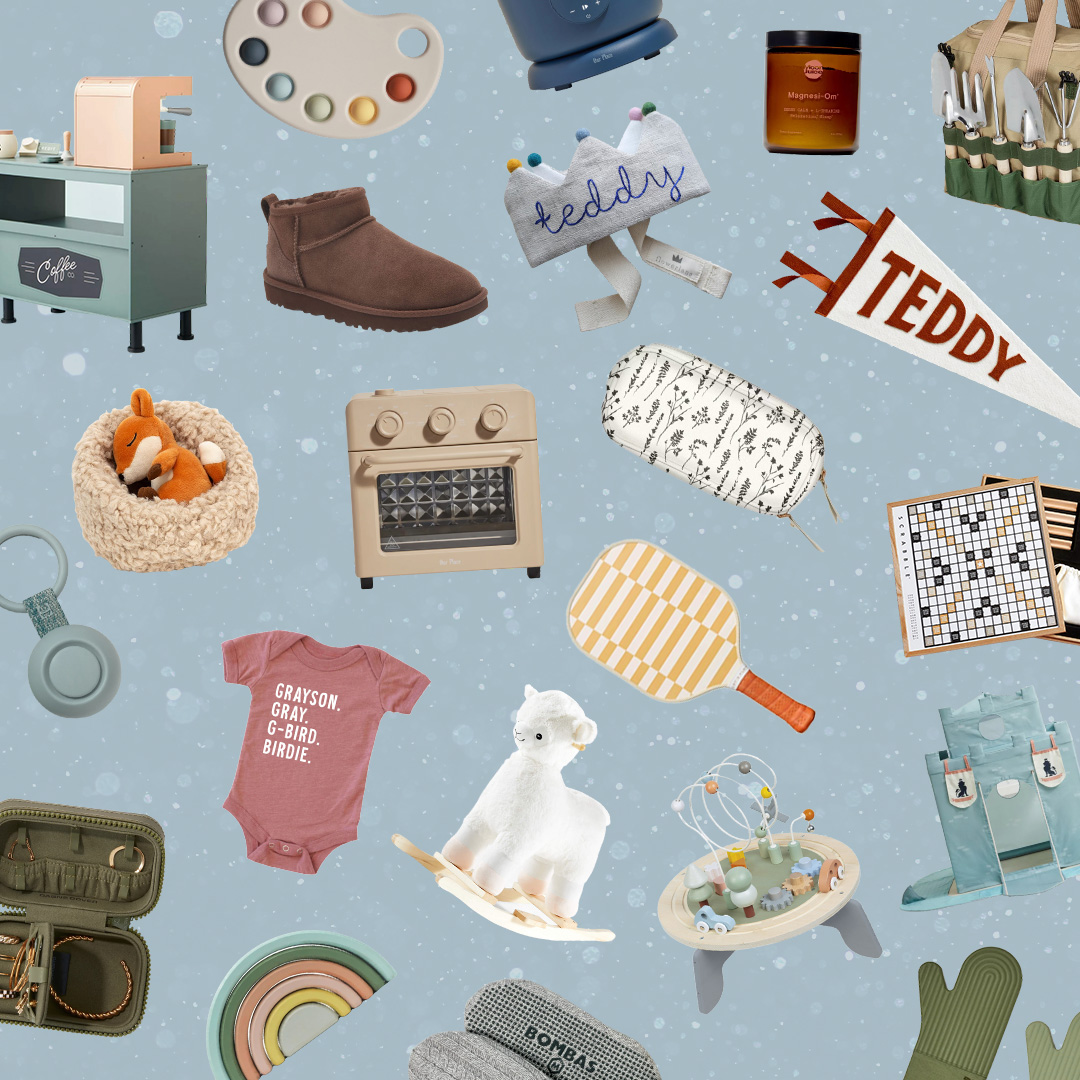 everything you need to ace holiday gifting this year 🎁
Once in a while though, a trendy wardrobe item comes along that is practically made for moms. As a self-described fashionable mom (remember friends, we get to manifest our own truths), I live for these nirvana moments. One summer-to-fall transition staple that was basically designed with moms in mind? Tennis skirts. Let me explain.
Why a Tennis Skirt Is a Perfect Piece for Moms
This summer I tried my hand at tenniscore and—fellow moms—I'm not looking back. While I've always been personally drawn to preppy fashion, I'd never thought to don a tennis skirt (athleisure has never really been my thing). I now know I've been missing out and am especially excited that I hopped on board during the summer months, knowing that this outfit staple is about to be the key to styling fashionable, mom-approved summer-to-fall transition looks. Here's why I believe every mom needs at least one tennis skirt in her closet.
They're Practical
All the pregnancy books failed to mention that half of motherhood is spent either bending down, squatting, or immediately standing back up upon the instant of sitting down. Did I say half? Let's kick that up to 75 percent. Activewear in general is great for momming—why not reach for a pair of shorts that's been spiced up with an adorable skirt? A tennis skirt can easily see you through all of the bending, running, jumping, climbing, and playground olympics your children throw your way.
They're Comfortable
Considering they're athletic wear, it probably goes without saying that tennis skirts are ultra comfortable. But if you've never tried the trend, take my word for it: they really, really are. I honestly find myself reaching for my favorite tennis skirt just as often (if not more so) than my favorite pair of jean shorts these days.
They're Versatile
Tennis skirts can be styled any number of ways—which is part of what makes them such a great transition piece between summer and fall. From tanks, tees, and sandals in the summer, to sweatshirts, sweaters, and loafers in the fall, they're a closet staple that can be paired with all of your other wardrobe pieces, elevating your look without sacrificing comfort.
The Best Tennis Skirts to Buy Now
6 Different Ways to Style a Tennis Skirt
If you're on board with adding a tennis skirt into your end-of-summer-early-fall rotation, but aren't quite sure how to style this wardrobe piece, here are some ideas to get you started.
With a sweatshirt and baseball cap
Your favorite cozy sweatshirt is the perfect outfit staple for rocking the tenniscore aesthetic during the summer-to-fall transition. A baseball cap adds to the sporty-chic vibe while also covering up the food your child may or may not have smushed into your strands during your last meal together. Layer a basic tee or tank beneath your sweatshirt to prepare for the unpredictable temperature shifts that many of us tend to experience in the late summer and early fall.
As a matching set with sneakers
During the awkward weather between seasons, the easier an outfit is, the better. A matching set is a great option because it requires little to no thought at all—simply throw it on, add some sneakers and your favorite accessories, and you can run out the door.
With a cozy sweater
As the calendar starts flipping into the autumnal months, grab a simple skort (always a fall favorite) and pair it with a cozy sweater. Finish the look with another trendy item practically made for moms: UGG boots.
With a belt bag and sneakers
Is it just me or is it low-key amazing how trendy convenient wardrobe pieces have become? Belt bags and sneakers are perfect examples. Recreate this trendy—but practical—look for all of your end-of-summer and beginning-of-fall activities. I can practically smell the apple orchard already.
With a collared shirt and loafers
One of my personal favorite ways to style a tennis skirt is with a collared shirt and loafers. It's both preppy and relaxed, and aesthetically appropriate for both summer and fall. A neutral-colored sweatshirt that can easily be put on or taken off (depending on the weather or depending on how much your children have you running around) goes with a variety of skirts and shoes.
With a turtleneck and leather bag
If you want to feel a little more put-together, pair your favorite tennis skirt with a turtleneck, which instantly makes your look more posh. A leather bag elevates the look and doubles as an ultra-convenient accessory choice: perfect for storing snacks, wet wipes, and all the other essentials of motherhood. Don this outfit while working from home, running errands, or lunching with friends.