A while back, my husband and I were out to dinner with friends when one of them brought up the idea of going out to drinks afterward. Suddenly, thoughts of getting into an Uber, racing home, and getting out of my tight jeans and into my soft Tempurpedic-topped bed were all I could think about.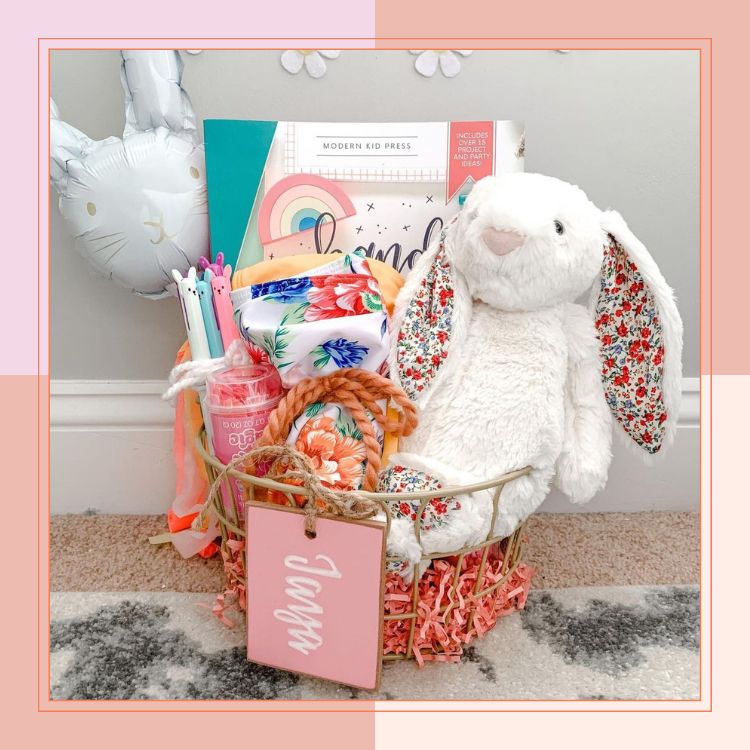 everything you need to get ready for the Easter Bunny's visit on April 9th! 🐰
"Guys, that sounds great, but I don't think I have the stamina for drinks after dinner. I'm so tired!"
"It's only 9pm," my friend replied, who was completely puzzled by my statement.
She's married with no children, but her schedule is just as grueling as any mom's. Where was her endless energy for prolonging the evening coming from? I presumed she woke up that morning on her own accord and not to a child bouncing on top of her at 5:30am to plead for her to wipe his butt. I set aside my extreme desire to go home and joined my friends at the bustling bar down the street. I didn't make it past 9:45pm.
The next morning, I felt like I had missed out on connecting with my friends and making new memories. I'm always too tired to venture out past my kid's bedtime. I love to make plans, but when the time actually comes to implement them, I secretly wish they'd be canceled so I can curl up in bed and read (okay, watch tv). And when they aren't canceled, I take the lead and use the "my kid is sick" excuse. And really, my kids come down with some type of sickness every other week, so I'm not really lying. But I digress.
I'm left asking myself constantly: why am I always so tired?
I assume it's a mystery that mothers worldwide have sought to answer since the beginning of time. But over the years, I've learned a thing or two that have helped me immensely with my energy and stamina throughout the day.
1. Make sleep a priority
During my first pregnancy, an acquaintance of mine – who was a mom of four – looked tiredly in my eyes and uttered, "welcome to motherhood, you'll never sleep again." I took her comments with a grain of salt and I prepared myself for "new mom" exhaustion. But "new mom" exhaustion has lent way to "seasoned mom" exhaustion.
Whether your child is a newborn, toddler, or big kid, there are countless reasons that may prevent you from getting a good night's sleep: feeding, night terrors, potty accidents, colds/fevers. This is all par for the course, so curb your desire to stay up late, scroll through Twitter and Instagram, and catch up on your guilty pleasure TV show. Go to bed at a reasonable hour and nix all late night activities that won't enhance your productivity (or sanity) for the following day.
2. Eat Right
Sometimes I think I'm so French. After reading French Kids Eat Everything by Karen Le Billon, I swore that I would make meals for the family, not customized for the kids, and my children would eat what my husband and I ate. Long story short, I found myself cutting crust of bread, making buttered noodles, and picking the "yucky green stuff" off my kid's plates. Imperceptibly, my meals became my kid's meals, or leftovers rather. Here's the thing: half-eaten waffles and bananas do not constitute a healthy breakfast for a busy mom.
To benefit myself and my family, I took back the kitchen and began preparing healthy meals. I started meal planning so I wouldn't get the urge to order takeout all the time. I cut out mindless snacking and have become mindful of everything I serve myself and my family. Eating a balanced diet has proved beneficial for the entire family and I can even sense a change of mood – for the better – for everyone, including myself.
3. Go easy on the caffeine
Motherhood and caffeine are like Parisians and red lips – they go hand in hand. Cutting back on caffeine goes against all of my natural instincts, but over time, and because of the insistence of my doctor, I went from 4-5 cups of coffee a day to 1-2 cups a day.
In my old habit, that first cup of coffee in the morning makes me feel like anything is possible, but when the caffeine wears off I was left in such a slump. Cutting back on caffeine and making sure I stick exclusively to water after 3pm has made a difference in my energy. It wasn't easy, and it didn't happen overnight, but eventually, my body learned to thrive with less caffeine.
4. Wake up early and workout
I used to despise this advice when given to me by energetic moms in neatly put together athletic wear. And while I don't recommend this for moms who have newborns or babies who haven't found their sleeping rhythm yet (the first year is rough and you need to take it easy), I do find myself agreeing with this advice. I've tried working out after the kids went to sleep, but to be honest, there were dishes to be done and clothes to be folded and I was just too exhausted to work out.
So one day, against my better judgment, I set my alarm for 5:30am and painfully got out of bed to workout. The house was quiet. I could hear my thoughts. The 20-minute workout was rough! (Okay, it was 10 minutes). But after it was done, I felt great. I was able to drink my coffee, write in my journal, and get my mind ready for the day. Once my kids were awake, I was ready to make them a healthy breakfast instead of the cereal and milk that is common on school days.
This feeling of accomplishment stayed with me the entire day, and I loved it. I try my best to work out every day in the mornings – not to lose weight, but for the energy. Plus, I find that it makes me calmer and more even-keeled – which is a bonus for my husband and kids!
5. Ask for help
This is one of the most important pieces of advice I can give ALL moms to fight fatigue because fatigue is not just about being physically tired – it's also about being mentally tired and your ability to cope with stress. We all know the saying "it takes a village to raise a child" but how many of us ask for help when we need it?
My grandmother raised five children, but she also lived next door to her mother and sister. Her family was a huge part of her success as a mom. Some of us have large families we can count on, and some of us don't. Whatever your situation, find your tribe, find a reliable babysitter, find multiple people who you can count on who can take the reins from you so you can be alone with yourself to recharge.
It's okay to step away so you can come back fully revived and energized for your family.
When to see a doctor
Sometimes your tiredness is more than just "mom fatigue." 10 years ago (pre-kids), I was diagnosed with chronic anemia. I was constantly dizzy, out of breath, and blacking out for short periods of time. My diet and workout regimens were not helping to increase my energy levels. I have a low red cell blood count and my body does not absorb iron very well, if at all. Taking pills or eating a diet rich in protein doesn't help, so when my levels drop, I have to see my hematologist for an IV infusion. Over the years, I've learned to distinguish between "mom fatigue" and "anemia fatigue."
There are different kinds of fatigue.
If you've tried all of the above and suspect that your fatigue is caused by an underlying issue such as anemia, thyroid, or adrenal problems, please contact your doctor.
How do you fight mom fatigue? What tips and tricks have worked for you?