The start of this new school year dealt parents a nearly impossible hand. With virus cases still climbing across the country, many of us have been forced to juggle, not just our careers and kids, but also daily schooling for our little ones. Enter the extreme exhaustion.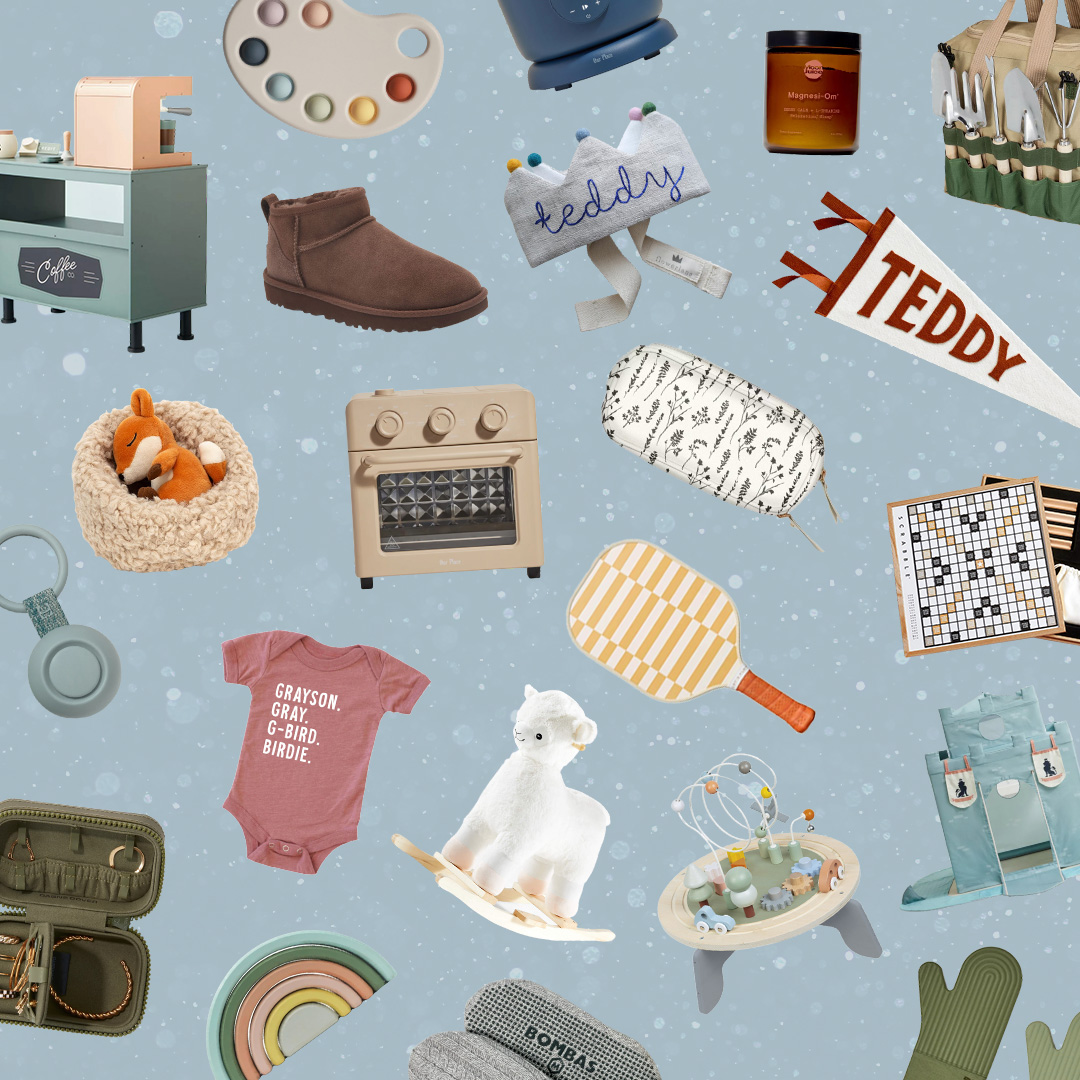 everything you need to ace holiday gifting this year 🎁
Because none of us are Super Woman (no matter how hard we wish for it), we wanted to ask: how is everybody doing these days? We checked in with seven moms, all spearheading varying levels of at-home learning, to see how they're getting by each day. Read on for their real-life takes on our current situation—and the words of wisdom they have to share with fellow moms.
Full-Time Remote
"It's a one-week-at-a-time kind of thing," said Julia W. in Illinois. "We're doing it, and it's going well in a lot of ways, but that doesn't mean it's easy or that it always feels good for the girls. They are heroes in this too, overcoming what they're going through to not be with their friends when the social piece is such a big part of their development at 6 and 9 years old."
Words of Wisdom: "I'm trying to give my girls all I've got when I can: extra hugs, reading, and game time together. And even this can be a loftier goal than it would seem when we have far less time and space to replenish as parents! At that point, I try and remember kindness. I try to be kind to myself for doing my best. From there, I can be kinder to my kids and my partner—and it helps."
Remote and In-person
Jackie R., a mom of three in Illinois, said that sending her twins off to full-day, in-person preschool was critical to making life during this time work. Meanwhile, her first-grader takes remote classes without the distraction of her rambunctious brothers. To make E-learning work, Jackie dedicated a study space for her child, complete with supplies dedicated for school only. She also set up daily playdates with a neighbor so that her daughter still has a dose of socialization with someone her family trusts.
Words of Wisdom: "I feel like it was very freeing to hear the teachers say that we, as parents, are not supposed to be helping our kids throughout the day. The teachers get a real assessment of the kids if we don't help with schoolwork."
Learning Pod
In Michigan, Lauren H. and her husband converted an area above their garage into a schoolroom for their first-grade son. They kept him enrolled in their district's public school but chose to hire a private teacher to guide him and six peers through the virtual learning program. Without childcare options or flexibility in her work as a litigator for a Fortune 200 company, Lauren was forced out of her career temporarily (she hopes). Setting up a learning pod at home allowed her to ensure her son progressed in school while also covering childcare for her toddler and infant.
Words of Wisdom: "I loved working and a lot of my identity was wrapped up in my career. Leaving it so abruptly and managing the impact of the pandemic on my family was intense." For now, Lauren remains focused on the present, taking care of her little ones and hoping that one day, when "school and daycare are back to 'normal,'" she'll be welcomed back into the workforce. One day at a time, right?
Full-Time Remote
For Jessica H. in Maryland, the flexibility of her job as a psychologist is key to navigating remote learning with her fourth-grader. She works while her son works, and they make a point to spend lunch and recess time together. "This means I have appointments on the weekend, early in the morning, and at night. It's less than ideal, but it works for us," she said.
Words of Wisdom: "Focus on what's important. Right now, mental health and your own sanity are important. Try to take time for yourself, even if it's just 10 minutes outside. And find your village where you feel comfortable. We all need support now. Asking for help is a sign of strength and trust."
Flexible Remote
Maggie G. in Illinois was pleasantly surprised by the hands-off approach her child's school decided to take this year. She reported that her second-grade son has a list of work to complete each week with minimal check-ins on Zoom. "It's working well for us because his teacher has been flexible and has communicated well. She regularly asks for our input and has made changes so that the program works, based on our needs," Maggie said. She shared that her son works at his own pace, which really suits their family's needs.
Words of Wisdom: "Be flexible and patient and have open communication with the school. Remember this is unprecedented and everyone from your child's teacher to school administration is trying the best they can given the circumstances."
Remote 3 Days/Week
Anny S. in Illinois has her daughter enrolled in a remote program three days each week. During those times, her 4-year-old logs onto Zoom for 30 minutes with a small group of kids ranging in age from 3 to 5. "On one hand, I love it because it's such a low-key experience. There's zero pressure," Anny said. "But on the other hand, it's breaking my heart because my child is so social and is only interacting with others through a screen in 30-minute stretches throughout the week."
Words of Wisdom: "Sit by your router. Be patient and expect that there will be issues with technology. Learn to adapt and be flexible because remote school is certainly not like the classroom. It helps to remember that this too shall pass."
Remote-Turned-Home-Schooling
"We have really struggled with remote learning. We were able to make it work in the spring, but when we saw the fall plan for our school, it was really clear to us that we would not be able to sustain the schedule," said Carrie H. in Illinois. She worries that, without the right structure or engagement, her son, who struggles with ADHD, will get lost and fall behind. "I certainly think the school is doing the best it can, but it is not working for us," she said.
"We'll be beginning home-schooling next week, and I have no doubt that it will also be difficult, but at least I will have the option to shift my children's learning to fit my work schedule, and I will be able to work toward a more engaging and fun learning experience than what my kids were getting through remote learning," said Carrie.
Words of Wisdom: "I have read many articles about how devastating this period will be on a generation of kids. It made me depressed until I decided that I want to reject this idea. My kids don't have to be lost in the chaos of what is happening, and I wanted to find a way to give them a positive experience through all of this rather than a miserable one. I hope that my kids will be able to look back on this time as a bonding experience for our family and a year in which they got to spend their school year going on outdoor adventures with their parents."