For many women, having a baby changes everything. And if you're a working mom, starting a family comes with its own set of unique challenges from navigating maternity leave and returning to the workplace to figuring out (and paying for) childcare and adjusting to a new normal of juggling a 9 to 5 job with the many ups and downs of parenthood.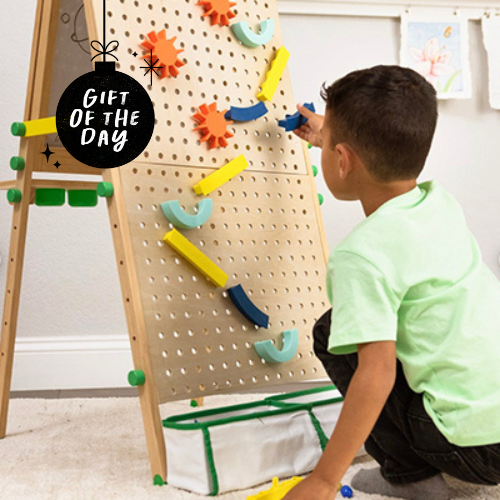 Art, fine motor skills, and fun all mixed into one great gift! Kids will learn engineering with the marble run but also get creative with the art easel mode.
Since every woman's motherhood journey looks different, we asked 15 working mamas how becoming a parent changed their careers — this is what they shared.
Meg Hall, 33 — Senior Director, Digital Marketing at LEGO
"I've always been very passionate about my career, and that didn't change for me after having [my daughter], Nell. It almost made me more thankful that I felt so confident in knowing that I love what I do because I didn't have this ominous cloud hanging over my head of returning to a job [after maternity leave] that I wasn't energized by. My career isn't just a job to me, it's part of my life. On the other hand, motherhood has helped me come to terms with it not being my life, but I'm very fortunate to have that passion. Being a mom and experiencing postpartum depression has definitely changed my perspective and shaped the way that I give my teammates trust and support outside of work if they need time or grace in their responsibilities."

Ashley Ortiz, 37 — Creative Director at Antique Taco
"Having kids and having three restaurants has taught me if I don't delegate, I'm going to miss moments with my children and that's not something I want to do. It's taught me to trust other people and focus on training people and let them have their own creativity and hand in things."

Genevieve Custer Weeks, 37 — Founder & CEO of Tutu School
"Motherhood has led me to embrace more messiness in life – both literally and metaphorically. I also think it's helped me live more in the moment than I've ever found possible before. Pre-kids, it was so easy for me to always be focused on next vs. now, but children have a way of demanding that you meet them in the present."

Hitha Palepu, 35 — Entrepreneur, Investor & Author
"Motherhood has made me so laser-focused on what matters to me. If I'm going to spend time away from my children, it should be worth it. I am lucky to love both my work and my family life. I couldn't do either of them justice if I only picked one. I'm grateful for that, but it really got me thinking, "What are the things that only I can do, and what are the things that I can allow my team or hire a new person to allow us to grow as a company?" Learning how to fire myself and get out of my own way and only do what matters for both myself and the company is something that motherhood has taught me. You have a much clearer vision of what matters versus what doesn't."

Onyi Azih, 31 — Physician Assistant & Blogger
"[Now that I'm a mom], I'm able to relate more to my patients and understand their responsibilities and why their focus may not always be on their health. It's so much responsibility when you have other people's lives in your hands! Overall, my industry still expects you to show up for work even [if] your kid is sick — you can't just leave your patients hanging. It's really hard. My industry hasn't been that understanding of me having a family, and that's why I [chose to switch to working part-time as a physician assistant] and focus on my blog instead."

Sophie Elgort, 33 — Photographer & Director
"When I first went back to work when [my daughter] Stella was 3 months old, we shot a two-day campaign, and at the end of the day, others on set were like, 'Sorry that was such a crazy day.' I just remember thinking, 'You must be out of your mind. That was not crazy. It's crazy being a stay-at-home mom!' I have a lot of friends who are stay-at-home moms who have chosen that path… Raising a little person is the most challenging but rewarding thing you can do."

Stephanie Nadi Olson, 35 — Founder & CEO of We Are Rosie
"There's just something [about being a mom] that allows you to clearly be able to cut through the bullsh-t. You know how to triage any given situation like no other. So, I can look at a day where it is impossible to get everything done and I immediately know where to focus my energy and what pieces of that day are worth my time and effort and are going to give me the most return whether it be time with my family, getting a work project done, or spending time with my husband."

Allison Evans, 33 — Cofounder of Branch Basics
"[My company] had been my only baby for years, and overnight, [my first daughter] became my No. 1 priority… I had to step back from work a lot, and I will never step back in the way I was before children. I am so grateful to be able to work from home, breastfeed on demand, and do most of my work on my own schedule. But there is always a tension between Branch Basics and babies, and I honestly haven't found that sweet spot of managing it well. It's important to me to keep my girls home as much as possible, but I am also so passionate about my work and the [company's' mission. So, how do I handle it? Not perfectly, but we working moms are all just doing the best we can every day, right!?"

Rachael Hardy, 35 — Creative Director
"[Being a single working mom] is challenging, but I create space for me. Self-care is a form of discipline. Whether I wake up early to exercise, pray, read a devotional, or leave my office early to have my nails done before school pick-up. Sometimes, we get home, and I get [my daughter], Parker, settled after school and tell her I'm taking five minutes to sit still in my room. She'll color quietly while I do so. I find the moments for me. I also block my calendar, my clients know when I'm offline. Even if it's two hours a day, then I check in after bedtime."

Mimi Raleigh, 39 – Army Sports Medicine Doctor
"I'm definitely more focused on being as efficient as I can at work so I can leave to get my child and be home. Whereas before kids, I would stay, work very late, and do extra tasks, not because I had to but because I didn't rush to be home. Now, I don't think that I'm any less productive, I'm just more focused on getting it done."

Melissa Ben-Ishay, 35 — President & CPO of Baked by Melissa
"I've never had to share my role at work, but when you become a parent, you share that job, and it takes compromise, patience, listening, understanding, and you have to be willing to make mistakes. That's challenging. I just had lunch with my best friend, and she just had a baby about a month ago. I was like, 'Thank God you're a mom now, now you see!' It's hard. It's awesome, but it's hard."

Joy Cho, 39 — Founder & Creative Director of Oh Joy!
"I'm more efficient [now that I'm a parent]. I used to spend so much time on things that I didn't need to. Now I have less time, so I have to be more efficient. Also, scheduling — scheduling is so important. I schedule blocks of time to get things done, because it's so easy to forget or to push things off.  If something is important to you, even things like getting a workout in or doing something nice for myself, schedule that in!

Jordi Lippe-McGraw, 33 — Freelance Journalist
"I really love what I do, so I was eager to get back into the scene full-time [after maternity leave], take meetings, write more, and hopefully travel more. I was excited about being me, not just me as a mom, for at least a few days of the week, and focus on things that make me happy as an individual. My career now is definitely different from how I operated before baby — I was able to write a lot more and do a lot more in a day prior to [my son] Wilder. It's taken me months and months to figure out a reasonable schedule that really works for me."

Kyla Fox, 38 — Founder, CEO, & Clinical Therapist at The Kyla Fox Centre
"Motherhood has impacted me so profoundly — I couldn't possibly articulate all the ways that I have evolved and changed. Nothing about me is really the same. I guess I can say that I'm more deeply grateful, patient, open-minded, more exhausted, more overwhelmed, more empathic, less of a perfectionistic, more worried (no, terrified!), more kind, more present. [At work], I am more affected by the parents that come into the Centre for their kids — I feel so deeply for what it means for them that their child is suffering."

Lauren Grant, 36 — Experience Architect
"[Motherhood is] challenging, exhausting, and rewarding — all of the above. It's forced me to redevelop my priorities in a way that puts [my son] first. Thankfully, I have a group of understanding clients who understand the demands of motherhood and are flexible with me during this transition. I'm still figuring it out, but that's the fun part!"