When blogger Kimberly Lapides of eat/sleep/wear and her husband got married in 2015, they couldn't wait to start a family. But like many couples, fertility struggles took them down a path of loss and heartbreak. Ultimately, joy prevailed after they brought home son Otis in 2018 and new baby Duke—their last embryo through IVF—in 2021. Lapides shared how designing Duke's coastal-inspired neutral nursery, with the help of friend, fellow toddler mom, and interior designer Anne Sage, led to healing.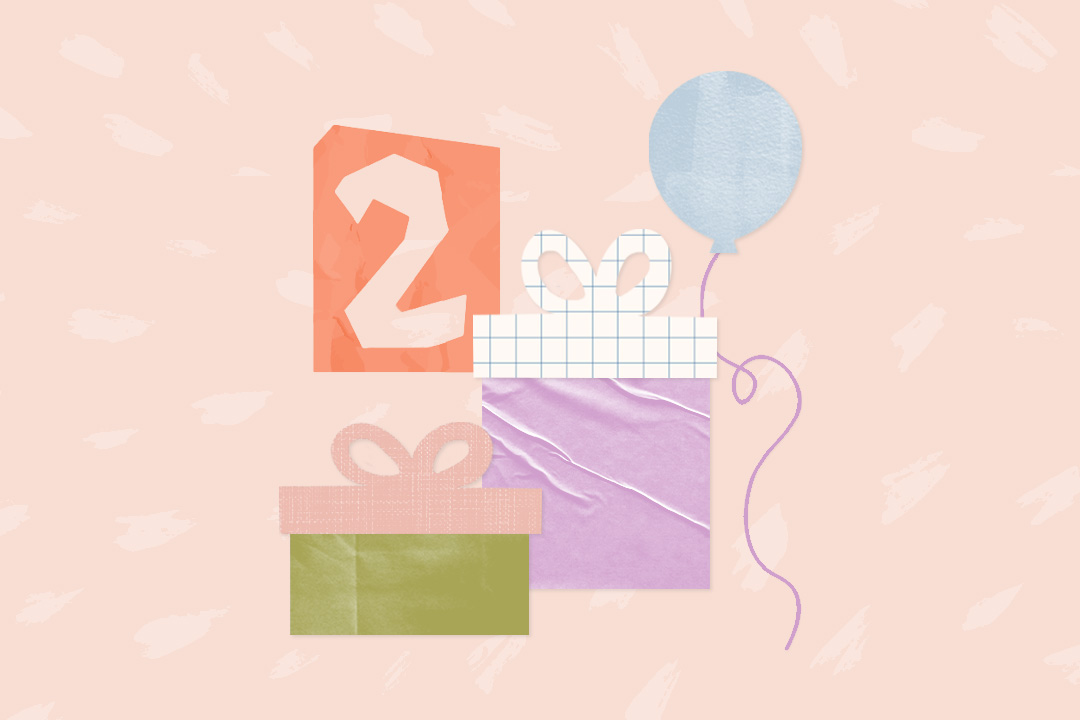 a LO in your life will love these! 🎁
Read on to see what inspired the nursery, how the space came together, and what Lapides wants all families going through fertility struggles to know.
Name: Kimberly Lapides
Children: Otis, 3, and Duke, 4 months
Designer and Photographer: Anne Sage
Before we get into your special nursery design, could you share a little bit about you and your family?
I'm a mom of two boys and have been sharing my personal journey in the blogging world since 2010 (almost 11 years). I started in the fashion space and quickly shifted to sharing more lifestyle content after getting married in 2015. My husband and I both dreamed about starting our family immediately, but we soon found out that our road to parenthood was not going to be a straight line or anything like we envisioned. Little did we know we were about to embark on one of the most challenging experiences to date. We struggled with infertility and it completely took over our lives.
I quickly learned how isolating infertility could be and decided to open up and share my experience with my audience on my blog here. In my first post, I opened up about the process and it became one of the most important things I could ever use my platform to share. It helped me connect with other women and families dealing with infertility and let others know they are not alone in this process.
After countless fertility medications, several rounds of IUI, three rounds of IVF egg retrieval, and one failed embryo transfer, I was blessed with my first son Otis after three years of trying to get pregnant. Fast forward to 2020, we were ready to work on growing our family with my remaining three embryos. After one failed embryo transfer cycle due to COVID-19 lockdowns and two failed embryo transfers, I got pregnant with our last and final embryo, who is our second rainbow baby born this past July 2021: Duke. For me, the word family isn't just a word. It's a feeling. It's something I fought for for years. Family is my biggest joy in the world and it's become the sweetest part of me that I can share with others.
You were thinking about this room for a long time. What was it like to finally see it come together?
After fertility treatments, being able to actually work on a space for our rainbow baby is something you just never take for granted. The room used to be an office space for my husband, and when we finally started to dream up a new idea, I think that became another marker that wow, this was really happening and our family was going to grow.
When you experience such constant loss and heartbreak, it never really feels real until you meet the baby. You are holding your breath and just waiting for the other shoe to drop. Being able to work on the design of this space made the pregnancy feel real, the baby feel real, and my dreams feel real. It was a really special project to share with [my interior designer] Anne.
Being able to work on the design of this space made the pregnancy feel real, the baby feel real, and my dreams feel real.
When the room was done, I cried tears of joy. The fact that things were ready for our soon-to-be baby was so shockingly beautiful—such a special moment seeing it all come together.
Tell us a little bit about the nursery design process.
I love light and bright spaces, so for me, neutrals are king in my house. I want each room to have its own unique feel, but it's so important for each room to feel part of a whole and for the design of one room to flow with the rest of the house.
Designer Anne Sage and I met at a blogging event years ago when we sat across from each other at a dinner. I remember being such a fan of her designs that I basically decided we needed to be best friends. We kept in touch and the rest is history. I have worked with her on my primary bedroom, my living and dining room, and Otis' nursery. I love her eye for spaces and I love her personally. She has this unique ability to create such warmth in her elegant modern design flows. I could not envision working with anyone else on the spaces that we grow in with our family.
Anne has worked with me on every room in my home to make sure that things flow together. Another element is making a home that feels elevated in design but still cozy and livable with young kids. So we always look for unique storage solutions and keep those things in mind when designing each space. Anne really pushes me to consider new ideas and really get the textural elements of a space right. I love that she is a perfectionist (like me!) and makes sure to hit our functional notes in our spaces. She is also the mom to a toddler, so she really gets it.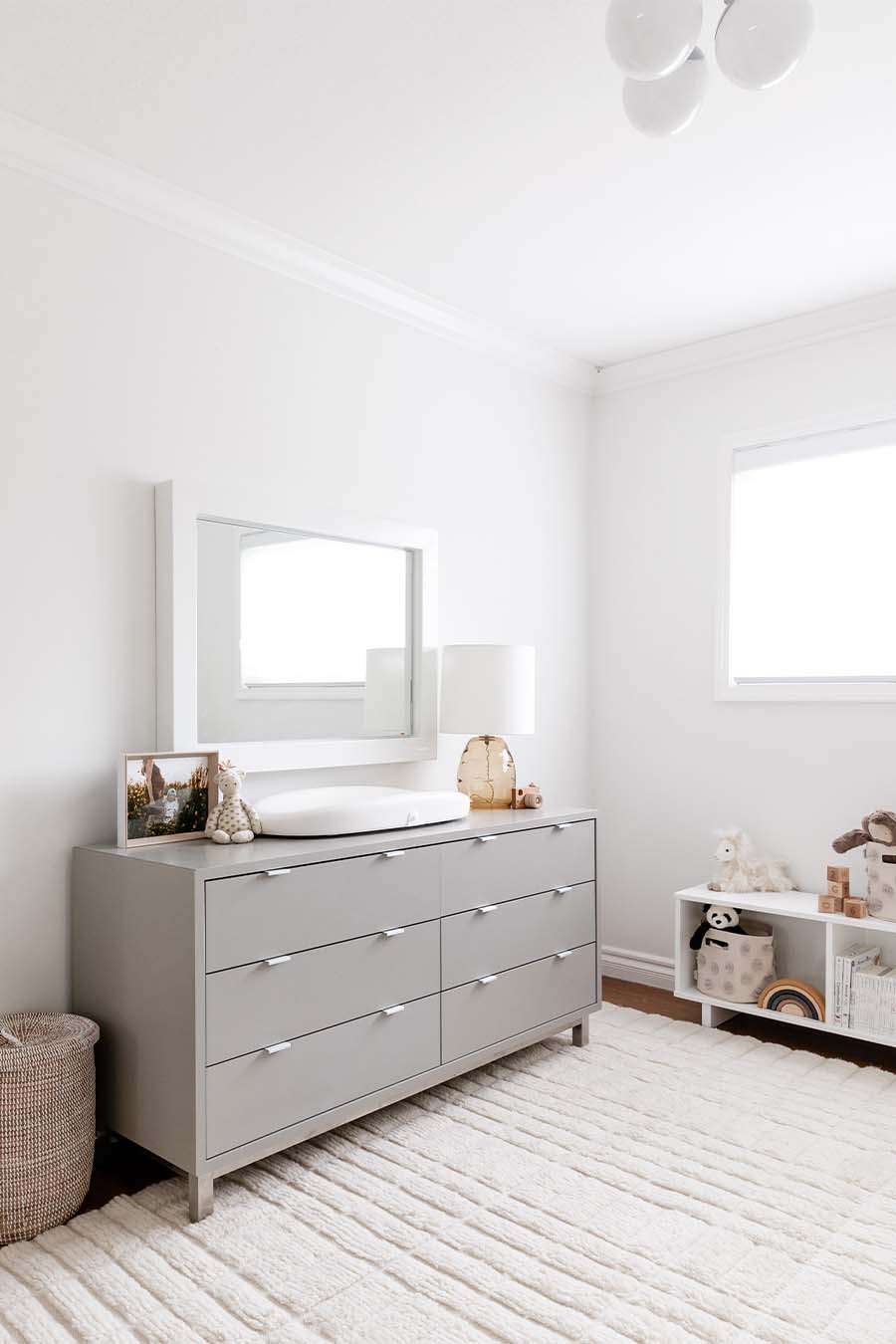 You put together a beautiful nursery for your oldest son Otis. How was the process of designing a nursery different the second time around?
The second time was a much faster process. Also since Anne and I have a great working relationship, we know each other well and she knows what I like and don't like. I think since she also has her own little one now, she is very in tune with the needs of a kids space and can bring her unique touches to a space as a parent now.
We actually put the design together rather quickly this time around! I think the hardest piece was the rug, which I feel is always a struggle for me. We pretty much saw this one from the Citizenry and fell in love. I was a little concerned it would be too much of a pattern, but this is a case when I know to trust Anne, and wow. What an epic design choice.
What steps did you take to make sure that Duke's nursery fit in with the overall design of the rest of your home?
The base of the nursery was neutral tones but to have a slightly different color palette than Otis' nursery. The most important thing for me was for my kids' rooms to feel elevated in design like the rest of our home but still feel whimsical. Otis' nursery felt like a retreat for me and I wanted Duke's to have that same type of vibe to it, and Anne delivered.
Duke's room has some beachy influences—do you find that your design style is influenced by location?
Yes and no. Our old home was located in Huntington Beach, about a five minute drive from the ocean. I have loved the beach and spent a lot of time there both as a child and as an adult and just feel at home there. I am currently living with our in-laws in a beach town, oddly enough, so we transitioned from one beach to another and will always be able to enjoy a little slice of that salty air and sandy feet life. That being said, I feel the beachy influences won't leave me as I transition into a new home. I love the ease and feel of coastal design and know that Anne does as well, no matter my location.
I always create a Pinterest board with inspiration that I share with Anne. The nursery photos I saved were all neutral color palettes and had a bit of coastal beach touches when it came to artwork and decor.
Where is your favorite place to shop for home decor?
Because of the pandemic, I did a lot of online shopping. Etsy is always a great spot to buy artisan goods from some smaller independent shops. The Citizenry is a favorite for their artisan finds and rich textural items. I also am such a fan of the quality and design of Room & Board pieces and knew I wanted them to be the base and anchor of the room.
Minted always has great art pieces in different framable options to fill our spaces as well. For in-person shopping, I always love a trip to Target or HomeGoods! Before we worked to design the nursery, I had purchased some odds and ends online, like little wooden toys, that I was able to use throughout the room and that I collected while I was pregnant.
In terms of functionality, what was one piece you knew you needed to incorporate into the nursery in order to make it work for you and your family?
A nursing chair! I still to this day use the chair in Otis' room to snuggle and read books with him now that he is older, so I knew we needed to incorporate a chair into Duke's room.
You just moved across the country! How do you plan to transition Otis and Duke's spaces in your new home?
We just bought our dream home in Pennsylvania, but all our furniture is currently in storage while we're living with my in-laws. I knew it was possible we'd move, but what I love about the design of both the kids' rooms is that I can easily set their items up in a new room and make it work without having to start from scratch. They both have the bones there and if we need to work to add in some additional pieces to fill in some space, that will be a breeze.
My old home had pretty small bedrooms for the kids, so I assume if anything, we will need to fill a little more space in our new home. Something pretty crazy is that Anne and I both made big moves out of our homes, so she is very family with the process of having to shift and adjust. I can't wait to hear her thoughts on how we can make the most of our spaces and carry our design from one coast to the other. As for Otis' room specifically, we will be transitioning him to a new big boy bed, so it will be a great opportunity to upgrade his room. Anne is already excited about reinventing his space for his "big boy room."
Get the Look
What is your favorite parenting memory in Duke's nursery thus far?
My favorite memory was the day after we came home from the hospital with Duke. We were prepping to get ready for our first outing as a family of four for Duke's first visit to the pediatrician. With a new baby in the house, we wanted to do everything to involve Otis and make him feel extra loved as we transitioned into life with a new little brother. We asked Otis if he wanted to help us change Duke's diaper and he said yes. So we all marched to his room, and Otis stood on a stepstool watching us change the diaper and handing us a wipe. I remember standing in front of that mirror and smiling. Seeing us all together in the most ordinary moment is something I will always remember.
What is one message you would give to women going through the process of fertility treatments?
You are not alone. Before going through treatments and even starting down this road, I had this vague understanding of infertility and IVF. IVF seems like this instant Band-Aid to apply, but really, my process was nothing like that.
I think every family going through fertility treatments has their own wildly unique journey and path. Not one story is identical to the other. The hardest thing for me the first cycle (which failed) was keeping my hope alive. And in all honesty, I had plenty of moments along the way where hope seemed like a distant word that I had forgotten the meaning of. But hope is something I clung to in my darkest moments. It is what got me through some of our toughest times.
Kim Lapides is The Everymom…
Cheese or chocolate? Trick question—both!
Coffee or tea?  Coffee—latte, please and thank you.
Last show you binged? Ted Lasso
Favorite celebrity mom? Kristen Bell
You never leave home without… Sunglasses! This blue-eyed girl needs that sun protection. And in fact, I never leave home without SPF on my face.
Next on your travel list? Disney World. Not sure when, but I am dying to take the kids!
Best piece of design advice you've received? Less is more. I feel like this goes back to my college graphic design days. Less is always more.
Most funny motherhood moment so far? I remember when we had just brought Otis home from the hospital. It was day two at home and really in that first-time-parents zone. We went to give Otis a bath in our bathroom sink, and while Blake was holding him with no diaper, all of a sudden, Otis started pooping all over the floor and Blake's hands. That moment could have gone either way, but you know what we did? We laughed. We looked at each other and started to hysterically laugh as we took care of the situation. I think it says a lot about how we move through each new transition. Honestly, each new bit of parenting is exciting and sometimes shocking, but it's so important to be able to just go with the flow. Parenting is such a gift, and even in those tough moments, it's something we never take for granted.