Newborns are so tiny, but it's truly shocking how much gear they accumulate. As much as I went into new mom life with the intention to only register for and invest in necessities, I ended up going a bit overboard, and my house was quickly taken over by baby gear. Considering my daughter was just a sweet little 8 lb. babe, it was confusing how seemingly overnight her items were taking up every corner of our house.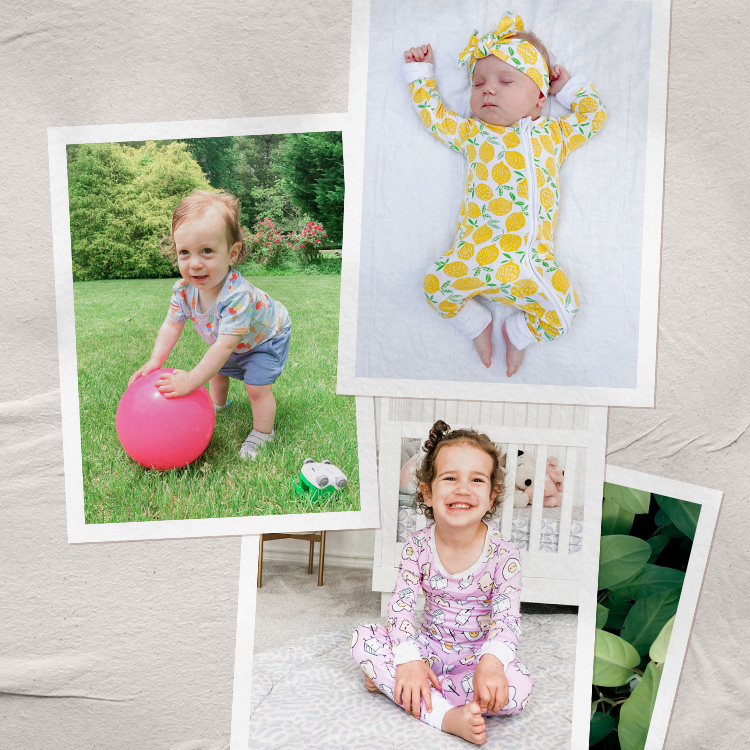 it's more than just their cute PJs... get ready to add to cart! 😍
While I'm thankful we had a lot of options to try, now that I'm out of the newborn stage I can more clearly see what items were actual necessities versus the excess gear I didn't truly need. Soon, our family will be welcoming our second baby and are also in the middle of a cross-country move. As I sifted through all of the newborn gear stored away, I specifically set aside my must-have items to have handy for baby #2, while the rest was donated or passed on to another family.
If you're working on your registry or are making your shopping list in preparation for life with a newborn, here are five must-have items I love and continue to recommend, plus a new item that's now an instant favorite!
Figuring out how to play with a newborn was one (of the many) confusing parts of new mom life. In the first few months, newborns really don't do much; they basically eat, sleep, and cry. Even if it seems like they can't do much, it's recommended parents play with them, do tummy time, and start supporting their fine motor, sensory, cognitive, and gross motor development.
So, how exactly do you do that with a tiny baby? Thankfully with the right gear, it's easy to have engaging play, even with a newborn! The new aden + anais™ baby bonding playmat is the perfect item to help develop these skills with its 30+ developmental benefits, featuring fun imagery and unique textures to explore. This new playmat—launched just in time for the holidays and a perfect gift for new moms!—is large enough to allow room for baby and parent, is soft and welcoming for even the most resistant tummy-timers, is reversible, and features removable plush toys and a sun mirror for interactive play.
Even my toddler is a fan of this playmat, and who doesn't love a product that lasts beyond the newborn months? My toddler loves playing around with all the toys and pointing out the different animals, and I'm really excited to have it for when our second baby arrives next spring. A mat with the right accessories is super helpful in navigating early newborn play and the baby bonding playmat makes it a fun experience for both parent and baby (and even toddler!).
2. A Versatile Swaddle Your Baby Loves (and You Know How to Use!)
Like many other new parents, my husband and I took a two-hour class to learn how to care for a newborn. In class, we practiced swaddling a baby doll. It was easy! We were ready! Then our squirmy real-life baby arrived and the doll swaddling technique went out the window. Cue the panic online shopping to buy every type of swaddle on the market.
Eventually, we found some our daughter loved and we could easily maneuver. It's different for everyone and there is a wide variety of swaddle types to try. We got a lot of use out of the aden + anais Cotton Muslin Swaddles (plus, they are a great item to have in your diaper bag). Find a swaddle that works for you and doesn't require a frustrating 30-minute trial-and-error swaddling session at 3am.
3. A Cozy Wrap
Newborn snuggles are the best, and as the mom of a now 16-month old, I can attest they do in fact not last. When you're in the thick of newborn life, it seems like your little one is going to fall asleep on your chest and snuggle you forever. These moments are fleeting. And something that helps you enjoy those snuggles and also gives you the freedom to do things (like eat), is a baby wrap, like the Solly Baby Wrap (here's a more budget-friendly option we recommend, too!). These are especially great if your baby doesn't like to be put down. The style of wrap is said to calm babies, reduce crying, and increase bonding.
4. A Safe Spot to Put Baby Down
Even though I fully encourage moms to snuggle their babies as much as possible, sometimes you do need to put them down. It's important to have a safe spot for your baby at-the-ready. We used the Snuggle Me Organic Infant Lounger (we also love this option for $44!), and my daughter was super comfortable in there for (supervised) naps or just hanging out. These are not safe for unsupervised sleep, so make sure you keep a close watch on baby when they are in these types of loungers.
5. A Comfy Glider
I received mixed messages about whether a glider was necessary. Some fellow moms told me the couch or chairs we already had would be sufficient, while others said they basically lived in their gliders for the first few months of motherhood. I decided to get a glider and am so glad I did. I spent hours each day in my glider, rocking my daughter, nursing her, letting her nap on me, and so on. It was far more comfortable than our couch, and I know our glider will be used for years to come for storytime and pre-bedtime (and early morning) cuddles. There are so many glider styles to choose from. We have the Babyletto Toco glider which I chose for its smaller footprint and reasonable price.
This post was in partnership with aden + anais™ but all of the opinions within are those of The Everymom editorial board.