Remember all those things you promised yourself/your mother/your future child you would never do as a mom? Jennifer Young is probably doing all of them – and her two, sweet kids are growing up just great. Back in her home state of Mississippi, Jennifer and her husband are working hard at both their jobs and their family, and she's no stranger to the frustration and sometimes self-doubt of trying to make both flourish.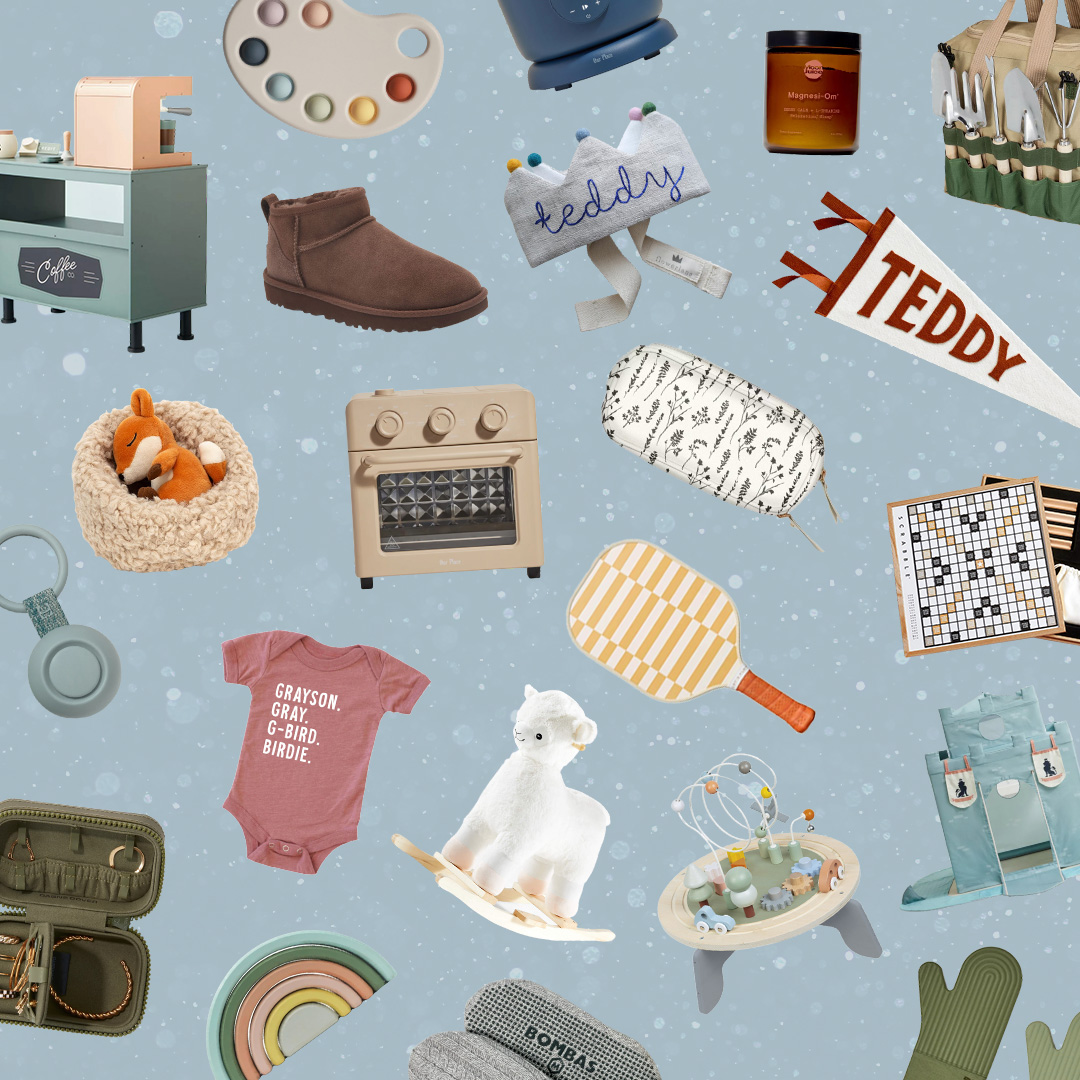 everything you need to ace holiday gifting this year 🎁
But her missteps make for great advice for the rest of us, so read on for how she's balancing her career as an attorney, what it's liking adding a new little one to the family, and the gorgeous and growth-friendly nursery she put together for little Colette.
Name: Jennifer Young
Age: 33
Current Title: Attorney
Square Footage: Nursery, 144 sq. ft
Rent or Own: Own
City/State: Ocean Springs, MS
Children: Griffin, 3, and Colette, 6 months
What was your first home together like and how did you decorate it?
We moved to New Orleans together in 2007. We had started dating in high school, believe it or not, and had dated all through college, but that was our first home together. We rented the bottom half of an old home. It was Uptown, within walking distance of St. Charles Avenue, Magazine Street, Audubon Park, and Tulane University, where I was attending law school. It was about 1,000 square feet, with original hardwood floors, multiple fireplaces, and soaring high ceilings. It was also not necessarily in the best condition, as is typical of old New Orleans homes, but it was in a safe neighborhood and (barely) within our budget. We had no money and decorated it with hand-me-down furniture and a few very inexpensive items we bought, such as lamps, an area rug, and wall décor. I would be embarrassed to show you pictures of the "decorating," but we lived there for the three years I was in law school and made the best of it.
You moved from New Orleans back to your hometown in Mississippi five years ago. What impacted your decision to move back?
After I graduated from law school, we stayed in New Orleans for a couple of years. We love the city and visit often, but there were several issues that factored into our decision to move home to Mississippi. The cost of living is very high in New Orleans and the salaries are lower than what you would find in other similar cities. We were surprised to discover we could make the same salaries on the Mississippi Gulf Coast, which is a much more affordable area, allowing us to have a higher standard of living.
We also now live within a 20-minute drive of a lot of our family, including all of our parents, which has been tremendously valuable now that we have children. I know that moving back to your hometown is not for everyone, but I can't begin to tell you how helpful our "village" is. And, we love Mississippi – the people are the most hospitable you could ever hope to meet. Our town, Ocean Springs, is an artsy beachside community with quaint downtown shops, restaurants, and bars. We really love it here.
What was your biggest inspiration when designing Colette's nursery? How did you turn your vision into reality?
I wanted her room to be feminine but not all pink. I also wanted it to grow with her. I scoured Pinterest and Project Nursery site's gallery and had a hard time, initially, finding inspiration. Once I found a photo of the wallpaper, I knew I had to have it.
Anytime I saw a photo of something I liked about a particular room – such as the wallpaper, light fixture, and canopy area – I saved it, and then hunted down the items to make it a reality.

How did you create a functional, yet stylish, space for your baby's room?
Be mindful of the layout of your particular space. I knew I would be spending a lot of time in her room reading her books, playing on the floor, rocking her to sleep, changing diapers, and getting her dressed.
 Obviously, a changing table is pretty important, but I didn't want to buy a piece of furniture for a limited purpose. So, instead of buying a changing table, I bought a tall dresser from Ikea, replaced the drawer knobs, and put a changing pad on top. Her diapers and outfits are all organized (thanks to Ikea drawer inserts) and easily accessible, but when she gets older, it will still make a great dresser and won't need to be replaced.
The rocker was originally in my son's nursery but works just as well in her room. When buying bigger items like that, consider buying them in neutral tones that you'll be able to use for years in each child's room. Next to her rocker is a basket for blankets and burp cloths, so that they're within arm's reach while I'm feeding or rocking her. And I love the affordable shelves from Ikea that showcase her books.
Where do you get your home decor inspiration? And where do you like to shop for home decor?
I mostly get inspiration on Pinterest and Instagram but also from home décor catalogs. I love a bargain and like to shop on Etsy and at Target, Marshall's, Homegoods, TJ Maxx, and Hobby Lobby. I like that you never know exactly what you'll find but can almost always create the look you're hoping to achieve for a fraction of the cost.  
How do you think you'll adjust Colette's room as she continues to grow?
I really tried to create a space that would grow with her. I anticipate that when she outgrows her crib, the only change we'll make is to swap the crib for a toddler or twin size bed. I hope she'll love the room as she gets old enough to express a preference, but I'm sure the items on her dresser and shelves will evolve as she grows.
With children around, it's easy for their stuff to overtake a home. Do you have a system for tidying up your home to control the spread of kid stuff?
Oh boy! Before I had children, it was really important to me that our home maintain some semblance of its former self. Now that I'm almost four years into motherhood, I have, um, relaxed a bit, if you will. The tidying up issue evolves as quickly as they do.
With Colette, she's not playing with many toys yet, but we all know there are so many items that can make the business of caring for tiny babies a little more convenient, even if it's not always the most aesthetically pleasing. There's the bassinet, the swing, the rock-n-play, the play mat, etc.  
They all take up a lot of space and, aside from the bassinet, they do not fit in with the décor of our home. But, now that my son's a little older, I'm keenly aware that these items' presence in our home will be but a blip in the story of our lives. So, I try not to worry so much about it. She'll outgrow those eyesores in no time!
My son's toys, on the other hand, (and her toys before we know it) are a different story. And, to be honest, I really struggle to maintain a tidy home with kids. At the same time, my son enjoys his toys so much more when they are organized. Having a basket or container for each type of toy is what works the best – one for legos, one for wooden blocks, one for magnetic blocks, one for transformer figures, one for Paw Patrol toys, etc.  When everything has its designated home, it makes tidying up a lot easier.
How do you manage the day to day responsibilities that come with both your family and your career? What is your advice for women juggling both?
By prioritizing and compromising. And giving myself grace. And by choosing the right partner. My family and career are both important to me. Most of the time the two coexist quite well, but sometimes the career obligations require more for the short term (if there's a deadline, for example) and sometimes the family obligations do (if one of my children is sick, for example).
I try to keep everything in perspective if I'm having a challenging day by reminding myself it's temporary. "This too shall pass" is my mantra. When things are crazy, some things that aren't at the top of the priority list just aren't going to get done. And that's okay. I compromise on those things. And then I don't beat myself up over it.
Also, I married well. My husband is a very hands-on dad, perfectly capable of pitching in and helping with what's important, our kids, even if he's terrible (or pretends he's terrible) at loading the dishwasher.

How has your career changed since you've had kids?
I wouldn't say my career has changed at all since having kids. My daily schedule has changed and I've become more efficient. I rarely leave the office for lunch, choosing instead to eat at my desk and get my work done so that I can get home to spend time with my family. But the type and quantity of work I'm doing haven't changed.
How has your view of motherhood changed since becoming a mom?
Whoa! Motherhood has been incredibly humbling. It's not that I thought it would be easy, but I did naively think it would be easier than it is. It's taken becoming a mother for me to truly appreciate other mothers. I am ashamed to remember some of the thoughts I had about motherhood before I was a mother. For example: "My kids will never …" I can only laugh at that version of myself now (bless her heart!). Sometimes it seems like my kids officially do EVERYTHING they would NEVER do!  I mean, sometimes I have to laugh. Or I might actually cry. Kidding (sort of).
In all seriousness, becoming a mother has made me so incredibly appreciative and inspired by other mothers. When I see a mom in the grocery store having a hard time with her toddler, I smile at her and think, "I know, sister!  These tiny toddlers are TOUGH." I know that her entire day doesn't look like that. I know that I'm only seeing a very small slice of her day. I also know that when I see the perfect happy picture of a mom and her well-behaved child on Instagram, I'm only seeing a tiny slice of their beautiful and messy lives as well.
I also had this notion that I would have more control over how my children would turn out. I've always been fascinated by the question of nature versus nurture. And I guess, before having kids, I would have leaned towards nurturing having more to do with how a child turns out.  (Let me clarify that I'm obviously talking about children who have all of their needs met.) Now, I'm not so sure. My son is almost four years old and I'm telling y'all, he just is who he is. He makes me question everything I once assumed about nurturing having more to do than nature. By nature, he is so funny and strong-willed and curious and not shy at all (which is nothing like me).  And now that I'm watching our 4-month-old daughter's personality begin to bloom, she's so different than he was.
As a family with two working parents, what are your best tips for making space in your busy lives for both career and family time?
Put your phones down when you get home when you can. I'm as guilty as anyone of mindlessly scrolling through my newsfeed at the end of the day, mostly as a way to decompress. When I put my phone on the charger in the other room and don't look at it until after the kids are asleep, the time we spend together is much more meaningful. My son behaves better, as well. I think it's hard for us to admit sometimes that we're distracted and that we don't have to be.

What's the most rewarding and challenging part of being a parent?
The most rewarding part is the intense love that I couldn't fathom before having children. I knew I would love my kids, but I didn't have any concept of what that would feel like and how heavy it would be. Watching them grow and develop into themselves is an amazing gift.
The most challenging part? This toddler stage is so tough. Age 3 is no joke! Insert the "you just wait" eye rolls from parents of teenagers. I am fully aware that it doesn't really get easier and that the challenges just evolve.
When it comes to being a mom: what are you most insecure about and what are you most confident about?
I worry all the time about whether I'm a doing a good job as a mom. I worry that I'm not patient enough, or crafty enough, or present enough. I worry that the time is going by way too quickly and I can't grab onto it long enough to get my bearings sometimes. And as soon as I feel like I've got something semi-figured out, they go and change on me. But, I am absolutely confident that my kids are so loved and, more importantly, that they know they are so loved.
If you could only pick one, what has been your favorite memory from motherhood so far?
Gosh, that's a hard question. I would have to say watching my son meet his sister. I prayed throughout my second pregnancy that he would adjust well to having a sibling, that it wouldn't rock his world too much, that he wouldn't resent her, that he wouldn't feel less cared for, etc. You name it, and I likely worried about it. I didn't worry at all that I wouldn't have enough love in my heart for both of them. I just worried that, at 3 years old, he might not understand that. I also desperately hoped that he would lovingly accept her into our little family that had, for three years, been entirely consumed with and obsessed over him.
And he did. It's been beautiful to watch him. He walked into the hospital room and proudly declared that she had red hair just like him, just like he knew she would. He truly adores her. Now that she's becoming more interactive and smiling at us, it's becoming evident that she adores him as well. She doesn't take her eyes off of him and lights up when he gets in her face and squeezes her a little too tightly.
That's not to say the transition from one child to two has been all rainbows and unicorns. As anyone who visited us to meet the newest addition in the first few weeks would tell you, he was crazy protective of her at first – as in, no one could hold her unless we distracted him somehow or, he would scream, "Give me my baby!" It might sound cute and funny. I can assure you it was not. But, at least he hasn't asked to send her back. Yet!
Tell us your morning routine
.
Generally, I wake up and bring Colette into bed to nurse her. This is one of my favorite parts of the day. When it's time to get out of bed, I carry her into the kitchen and make my latte with the Nespresso machine (best gift my husband's ever gotten me, hands down). I gather the clean pump parts from the dishwasher and head to the bathroom to start getting dressed. I put her on her play mat and then wash my face and put in my contacts. I sit right next to her and hook up to the breast pump for 15-20 minutes. While pumping, I drink coffee, apply my makeup and "talk" with her. She's so happy in the mornings, so she babbles and smiles and makes me want to crawl back in bed and kiss her cheeks all day.
My aunt, who watches her at our house while I'm at work, generally arrives around this time.  So she takes the baby while I throw on my clothes, put away the breastmilk, grab my lunch (leftovers from the night before), make my oatmeal, and pack everything for the day (breast pump, pump parts, breakfast, lunch, etc.). Right now it's summer and my son has been sleeping in, so he might still be sleeping when I leave. If he's awake, I give him a million kisses and turn on a show for him that he'll watch while he wakes up and while my aunt gets his breakfast ready. When it's not summer and he has preschool, I wake him up, get him dressed, drop him off, and then drive to work.
After typing all of that out, it's no wonder I'm always late.
Jennifer Young is The Everymom…
Favorite family tradition?
Trips to Disney. Can't wait for Colette's first trip.
Easy go-to family meal to prepare?
Tacos. All the tacos.
Your dream vacation?
I don't have just one dream vacation. We love to travel, and I pretty much just dream up different vacations, all of them equally enticing. My son has been asking about the Eiffel Tower and Paris. He watches this show on Netflix about Ladybug and Cat Noir, which is set in Paris. And he sees the framed picture in our room of me and his dad in front of the Eiffel Tower. I look forward to both of them being older and taking them to Paris.
I also want to take a trip to either Napa or Sonoma with just my husband and leave the kids with the grandparents. We haven't gone on a trip alone since having kids, and I think it'd be good for us.
Last home item you splurged on?  
Colette's wallpaper.
Guilty pleasure?
Wine. And sweets, particularly chocolate.
Most embarrassing mom moment?  
While visiting my husband's grandparents in Florida, we went to breakfast with my husband's grandfather, a no-nonsense kind of guy. Because I didn't get my son out of his car seat (and because at that time my son was temporarily convinced I was the only person qualified for that task on planet Earth), we walked into the restaurant with an unhappy toddler. My husband and I were trying to calm and distract him, but if you've dealt with a strong-willed 3-year-old whose world has just been turned upside down because someone other than Mommy did something that only Mommy can do, you can imagine what we were dealing with.
I had already taken him outside and brought him back in once I thought we were in the clear. But he started at it again and his great-grandfather chimed in and said, "You better be quiet!" to which my son responded with all of the resolve he could muster: "No, you be quiet!"  It was awful. Horrifying. Grandpa is tough as nails and I don't think any of the grandchildren or great-grandchildren have ever been so defiant with him. I waited for Grandpa to jump across the table, but a wry smile spread across his face instead. We apologized and made yet another trip to the restaurant parking lot before hurriedly choking down our pancakes. And picking up the tab. Fortunately, the rest of our visit was very nice. But that was one of the most horrifying moments I've experienced as a mom.