With spring fully underway and temperatures warming up, it might also be time for a little wardrobe refresh. This is especially relevant if you're a nursing mom and need outfit options that easily allow for breastfeeding on-the-go.
While we're currently spending most of our time at home, it can help your overall mood and energy levels to get dressed and get outside when you can. We're also staying hopeful that, at some point this season, we'll be able to resume some social activities and wear all our favorite dressed-up outfits again.
Shopping for nursing-friendly items can, at first, seem a bit restrictive. However, you don't need to stick to the maternity section—you just need the right combination of pieces and a little extra thought to ensure an outfit is conducive to breastfeeding.
When shopping for nursing-friendly outfits, think layers. Pair a nursing tank top with a flowy blouse, button-down top, or a loose sweater. You'll comfortably be able to unbutton or lift up your top layer while still staying covered thanks to the nursing tank. Scarves are also a handy layer to add to any outfit. With a strategic combination of items, you can make many regular clothing pieces work.
We also love high-waisted jeans, shorts, or leggings as part of a nursing-friendly look. If you're lifting your top up for baby, it is another simple way to stay covered and comfortable.
Today, we're sharing five outfits that will keep you feeling stylish, while also easily allowing for a mid-activity breastfeeding session.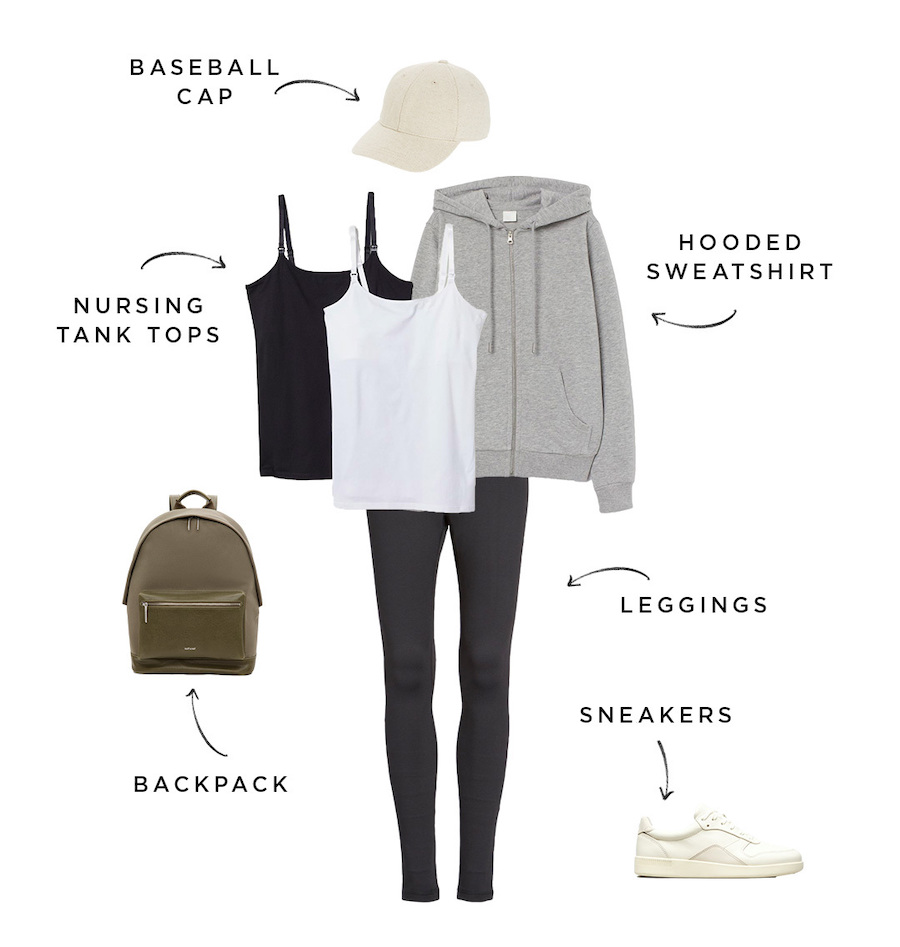 sweatshirt / tank / leggings / sneakers / hat / backpack
tie-front top / tank / jeans / loafers / earrings / sunglasses / tote
cardigan / tank / jeans / leather mules / sunglasses / backpack
dress /jacket / sandals / headband / sunglasses / tote
blazer / tank / shorts / sandals / backpack / earrings / sunglasses