As moms, it's inevitable that we do what seems like an unending amount of research—whether it's baby products or gear, childcare options, food, extracurricular activities, books, or simple home products, we are unified in our efforts to find the best feasible options for our families and ourselves.
Shop The Everymom x Kohl's 2021 Mother's Day Gift Guide!
But let's face it, it's exhausting. What we need most is an honest review from another mom that tells you whether or not a certain product is worth the investment and if it really works. Personal recommendations are always best, and that's what we're here to provide.
In this series, each month, the Everymom Editors are sharing their empties—that is, the products that they have used and finished. You'll get their unfiltered thoughts on what the product is, whether or not it works, and if they would repurchase it.
We hope these empties help you ease some of that research load and provide you with helpful options for your own families. And if there are things you absolutely love and recommend, we'd love to hear about them! Enjoy our team's October empties below. 
Burt's Bees Baby
I know that this toothpaste says "baby" while my son is almost 20 months, but it actually was one of the first toothpastes we've tried that he didn't frown at. I'm sure tasting toothpaste and brushing your teeth is probably a weird experience for a baby/toddler altogether, but nonetheless we like this one! I'll buy this again and would recommend to mom friends, but I'll also probably try a few other brands just to test them out.
Eucerin
If you've read any of my Editor Empties entries before, then you know we've been struggling to find the best skincare solution for my son's eczema. Eucerin has been a trusted brand for a long time for people that have eczema so we decided to give it a go. While it hasn't taken the eczema away (which I don't think it claims to do anyway) it does seem to soothe his skin and keep him from scratching so much. Unless instructed otherwise by my son's dermatologist or pediatrician, this lotion will always stay as part of his skincare regimen.
C.O. Bigelow
It barely hit October 1st before my hands started cracking from the dry Midwest air. Yes, indeed, winter is coming and with all the extra hand sanitizing and washing, my hands have already sprung bleeding cuts out of nowhere. So, I knew it was time to get out my winter season heavy-hitter: C.O. Bigelow Chapped Hands Remedy No.1012. I've tried so many hand lotions, but this one tends to do the double job of healing the cracks on my fingers and knuckles and preventing future problems. You don't need a lot for each application, and the unscented fragrance and texture reminds me a bit of using bacitracin or neosporin (it's hard-working ingredient is actually glycerin). So, it's not what you'd call a luxurious lotion experience, but rather a non-greasy and soothing one. Definitely buying again.
Odacite
I am always on a quest to find a truly moisturizing clean beauty product that is soothing, nourishing, and has a beautiful scent. Sometimes I'm willing to spend far more than I should in this pursuit—and that sadly was the case with this cream from Odacite. While lovely, this product didn't wow me enough to justify the high price tag. It didn't break me out, which is a definite plus, but it also felt no different from other more affordable moisturizers I've tried. I wanted to believe in its "time release" claim, but, after weeks of use, I'm pretty sure it's just a gimmick.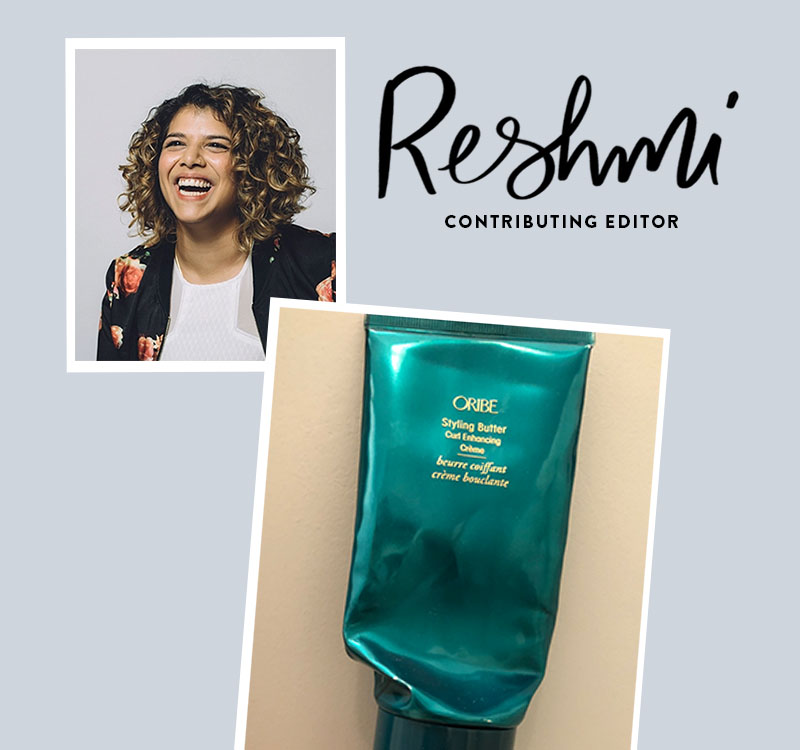 Oribe
I tried out a new hairdresser this year which came with a new set of beauty products. In an attempt to be more environmentally friendly (which is a huge part of this new salon that I love!), my stylist gave me a sample of this product to use as a test. I've been using it for the better part of two months, putting some in my hair right after I wash it, then throwing my hair into a plop, and letting it dry. It has left my hair so soft! Since I stopped using gel to keep my curls strong, I've been on the search for something that helps keep my curls healthy but also maintains the actual curl structure. This doesn't lead to stiff day-long curls, but the softness and health of my hair is incomparable. I just use a hairspray at the end to lock the style in place, and then it can last up to three days! It's a little more expensive than the products I usually use, but when I weigh out how long I can make a tube last, it feels worth it.
The Honey Pot
I've been wanting to switch to organic tampons for a while now and decided to grab these during a recent Target run to give them a try. These are made with organic cotton, are compostable and sustainable, and (most importantly, in my opinion) don't contain the pesticides, chemicals, chlorine, dyes, dixons or synthetic materials that many other tampons include. I typically wear super tampons, so I bought the same size in this brand and (hopefully this isn't TMI!) they were a lot bigger than my usual brand and felt uncomfortable at times. So, if you try a box, I'd recommend starting out with the regular size and seeing how those work. I'm buying those next!
Billie
OK, I will admit that I was first drawn to this Billie body lotion purely because I loved the brand's colorful packaging (it's silly, but it brought me joy!) but I'm happy to report that I actually really loved this product. I started applying this lotion—made with shea butter, grapeseed oil, and chamomile—right after I got out of the shower, and it did a great job of replenishing my skin and keeping my body feeling moisturized all day long. Plus, it smells so lovely and is light enough that it's not overly gloppy (that's a word, right?) while applying. I'll be buying another bottle because I'm eager to see how it helps my skin during the long, dry winter months.
Beautycounter
I bought this in an attempt to repair my troubled postpartum skin. I was experiencing some acne and bumpy skin, so I went in for the entire set. I did see really good results and felt like it helped to clear up my skin issues. I also really liked that it was a complete set, so I knew the products would work together and was provided with information about the proper order to use them in. I've only tried a few products from Beautycounter but like their mission for cleaner skincare and appreciate that they are all pregnancy and nursing safe. Even though I liked the set, I wouldn't buy it again because I felt like it helped my skin but I have other needs beyond what this set provides (and it's a pretty big set). I will definitely try other products from Beautycounter though, likely ones that include anti-aging properties.
Mario Badescu
It's that strange in-between time in the Midwest, where sundress weather suddenly morphs into the season of boots-and-sweaters. My skin never knows exactly how to react during this time, so I leaned heavily into this soothing facial spray. I misted it on every night after washing my face before layering with moisturizer. The subtle, herby smell eased me into my nighttime routine so well and refreshed my otherwise-lackluster complexion. I'll for sure purchase this again but may try the rosewater scent instead for something new and a little more romantic.
Aveeno
Our daughter has always had sensitive skin, especially when she was a baby. From the beginning we made a ritual of giving her a "massage" every night, and even now, at 4 years old, she expects her nightly spa treatment. (We crack up every time she wiggles her toes for a foot massage!) This lotion has been a go-to: gentle, good-for-the-skin, and light in fragrance. And bonus—it's very affordable, especially if you go through multiple bottles a month like we do! We've already replaced this bottle with multiple backups. With the temperatures dropping, our little will need her lotion more than ever.
Sesame Street
Who doesn't want a bright purple bath? In our household, no bath is complete without at least a couple of these drops thrown in—along with a mountain of bubbles, of course. Bonus: if your little is old enough, it's a fun practice to talk about color mixing (e.g. "What color does red and blue make?"). They don't stain the tub and turn a daily necessity into a special event. The mix of big and small drops also makes it fun to experiment with all the different shades you can make! These bath drops also add the brightest colors out of all the ones we've tried. If you're going to color your bath, you might as well go full unicorn saturation! Note: these exact tabs are sold out everywhere, so we linked a similar product that also has great reviews.
LANEIGE
This is hands-down one of my favorite beauty products! It's meant to be used as an overnight mask, but I use it all day long and my lips have never been more hydrated. I love how glossy, thick, and moisturizing it is all at the same time. I bought this container last winter, so a little definitely goes a long way with this product. Definitely buying again!
Summer Fridays
I've been using this Instagram-famous mask for a couple of years now, and I'm always satisfied with how hydrated and plump it makes my skin. I only use it a couple of times a week, usually after I do other facial treatments to help soothe any irritation. I'll probably end up using it more now that we are entering the colder months. With that being said, I think it is on the pricier side, and you can probably find a more affordable option that gives you the same results.
Mario Badescu
You can always find this Drying Lotion in my arsenal of beauty products. I like to keep it handy for whenever my acne wants to start acting up. Just take a Q tip to apply a dab of product on to your blemish at night, and when you wake up, it should be significantly smaller and less (for lack of a better term) juicer. I've recommended this to all of my friends! Buying another bottle for sure.
Sephora
If you only buy one thing for your hair this winter, let it be this. I swear by this to combat static hair. You can spray it directly onto wet or dry hair or into your hands and then pat onto your hair. I do the latter on dry hair when it is staticy, and it resolves the problem so fast. I don't generally like hair oils because they feel heavy and can look greasy. I LOVE that this is an oil spray, so it doesn't weigh me down like others. Already bought another—it's pricey, but one bottle lasted 6+ months.
Sephora
Technically, this is not quite empty yet, but getting very close. I rarely dry my hair in the summer, and now that we're spending so much time at home, I rarely dry it at all anymore. I have some natural wave (not curl), and I've been using this wave spray for a few years to help amplify and perfect it when I don't blow dry. The smell alone is reason to love this wave spray. Will 100% buy again!