As a teen, I babysat for a few families with twins. I loved it. I remember it meant double the cuteness and double the fun. In fact, I imagined having twins myself when I became a mother someday. SMH now that I've actually had a child because, wow, twin moms, you are amazing.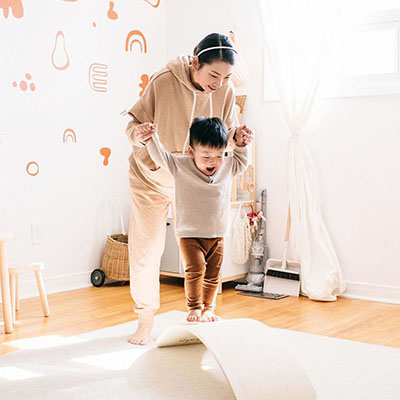 Shop Our Most-Used Items From Amazon for Toddlers!
If your kid is turning 2, get ready for hilarious conversations, much more involved play, and lots of sweet, sloppy kid hugs and kisses. As for what you'll need? Leave that to us.
This way to shop —>
You get double the love and double the snuggles, but any mom knows that behind those adorable twin photos on Instagram are double the feedings, double the diaper changes, and double the sleepless nights. We salute you.
For this list, we're going to keep the focus on the double the cuteness with these adorable twin nursery ideas. With rooms ranging from colorful to calm and featuring bold designs and boho accents, these twin nurseries almost have me rethinking that double-the-babies dream from my childhood — almost.
Sophisticated Neutrals
SHOP THE LOOK
Light & Bright
SHOP THE LOOK
Bold Design
SHOP THE LOOK