Congratulations, mama! You have made it to the one year mark with your little one, and that is something to celebrate. While I mostly enjoyed the newborn months, once my son turned 1, I started to enjoy motherhood even more. His personality started to shine, seeing him walk was fun to experience, and little by little he was becoming more independent.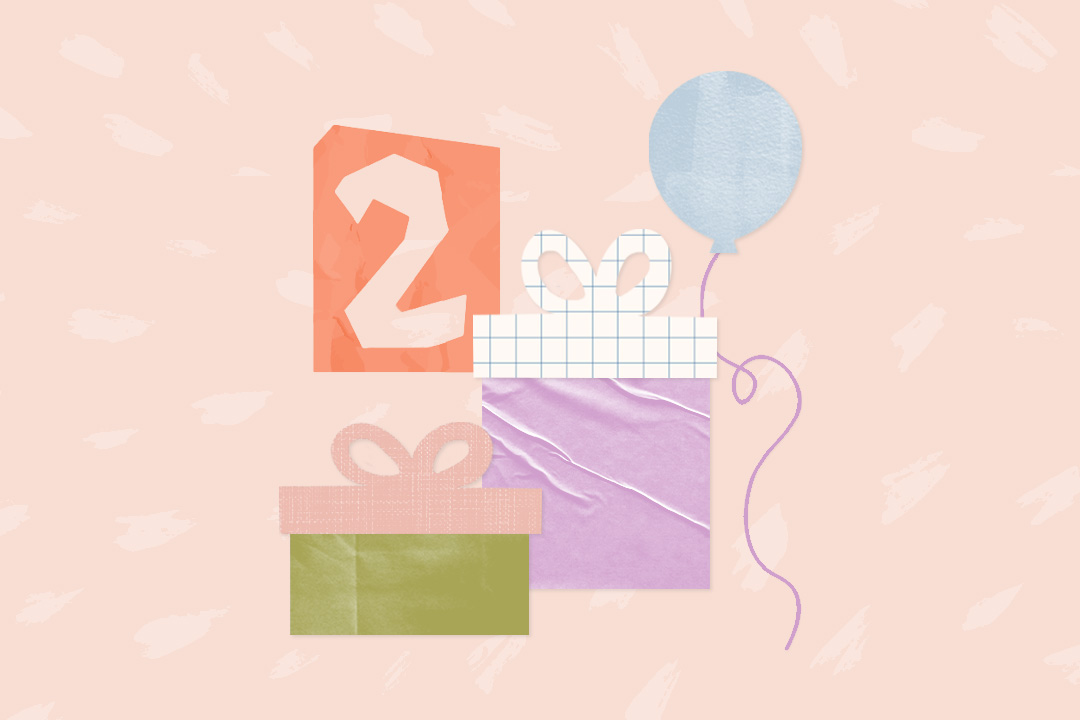 a LO in your life will love these! 🎁
Now that the newborn days are behind you, you might be considering updating some of your baby products to align with your kiddos age. Making sure your little one has age-appropriate toys, books, and eating tools is important as they start to learn and explore the world around them a bit more.
Not sure where to start? Don't worry, we've rounded up five of our favorite products for 1-year-olds.
1. Manhattan Toy Company Toys
When it comes to buying toys for my son, I must choose wisely. There are so many options out there, and while he may have fun with them, I want to make sure there is a developmental and learning aspect to them as well. That's why I'm loving the toys we have from Manhattan Toy Company. Each toy is designed appropriately for his developmental stage and has several learning aspects within that one product.
Right now, my son is loving the Magnetic Wood Stacker Rocket, My Pal Clover, and the Playful Pony.
Almost every day, our son goes over to the Magnetic Wood Stacker Rocket and starts trying to figure out how it works. Each circle is magnetic and clamps together, but they can stack in any order that you want. He loves building the rocket and then knocking it over so that all the pieces fall to the floor. I like to watch him play with this because you can almost see what is going on in his brain as he's learning new skills—like how to stack and the cause and effect process that happens when something falls.
Ever since we got My Pal Clover, our son has been curious about all the activities within it. He has plenty of toys that he can push, but this one he has to pull around behind him, and that's a skill he hasn't explored much. When I first brought it out for him and placed the rope in his hand, he wasn't quite sure what to do with it. After demonstrating a few times that he needs to pull it, he's been having fun taking a few steps and seeing that Clover is still riding right behind him!
The Playful Pony is packed full of fun activities to play with. My son has the chance to push, pull, spin, work through a peg maze, identify colors, letters, and so much more. While I love and encourage independent play, I enjoy pulling this pony out and getting on the floor with him while he plays with it. Seeing him contemplate how to manipulate the play pieces or figure out how a maze works is so fun to experience with him.
2. Britax Convertible Car Seat
If you started your parenting journey with an infant car seat, you might be noticing that your toddler is slowly starting to outgrow it. This was the case with our little one, and our pediatrician recommended that we upgrade to a convertible car seat because they offer more room. She was right, and we can tell that our son is much more comfortable in his new seat than his old one.
We love the Britax car seat because it was super easy to install, fits great in my smaller car, and will last us for a few years. It will eventually go front-facing once he reaches the rear-facing limit. Knowing that we already have everything we need for that transition is great.
3. Dr. Brown's Sippy Cup
When you decide to wean your toddler off of bottles and switch to a sippy cup for milk, this cup can really help. The Dr. Brown's sippy cup continues to be a fan favorite in our house. Does your toddler like to shake their cup all-around or carry it upside while walking around? We've all been there, and thankfully, this cup is truly leak-free, keeping the milk in the cup rather than on your floors or walls.
Plus, this cup comes with removable handles so your toddler can choose what's more comfortable for them. A quick heads-up though: when reassembling the parts after cleaning, make sure everything is tightly secure or else the milk won't flow as effortlessly.
4. Hanging Growth Chart
I am a sucker for keepsakes that my children can pass down to their children in the future. I've always loved the movies that have shown the little markings on the wall to show how tall their kids were over the years. When our son turned 1, I wanted something similar that went along with his decor but that we could also keep for years to come especially if we ever decided to move.
This hanging ruler is perfect for just that. You can hang it right on the wall, and if your child changes rooms or you move altogether, you can roll it up and take it with you. I also love that this comes in a classic black and white color and a more colorful version so that you can choose which one will best fit the style of the room.
5. Toddler Dinner Plates
Now that you're in the toddler phase, you're likely experimenting with more solid foods these days. One of the fun parts of this stage is seeing your kiddos interact with plates, cups, bowls, and utensils. I loved watching this with my son because it just represented how he was getting older and, again, becoming more independent.
Our cofounder Alaina loves these plates and says that her son has a lot of fun picking out the color plate he wants to use. Having him choose his plate allows him to have some involvement in mealtime and turns it into a fun activity for him too!
This post was in partnership with Manhattan Toy Company but all of the opinions within are those of The Everymom editorial board.