Years ago, after the shock and exhaustion of newborn-hood had worn away, I remember wrestling with a persistent worry: why was I still so tired all the time? With my little one sleeping through the night, what excuse did I have for all of this yawning? As I've learned in the years since, the mental toll of motherhood is akin to lugging a giant barbell through your days, which is to say, the worrying, scheduling, and non-stop shuffling is exhausting in itself.
While I am no proponent of normalizing exhaustion in any form, the solution here seems two-fold: step one means uncovering the secrets of feeling better, faster; while step two means surviving until you do so. For tried and true strategies for parenting without a speck of energy—whether you're sick or just dead-tired—I went right to the source: parents who have been there. Below, they share the methods that have carried them through the most fatigued moments of their lives.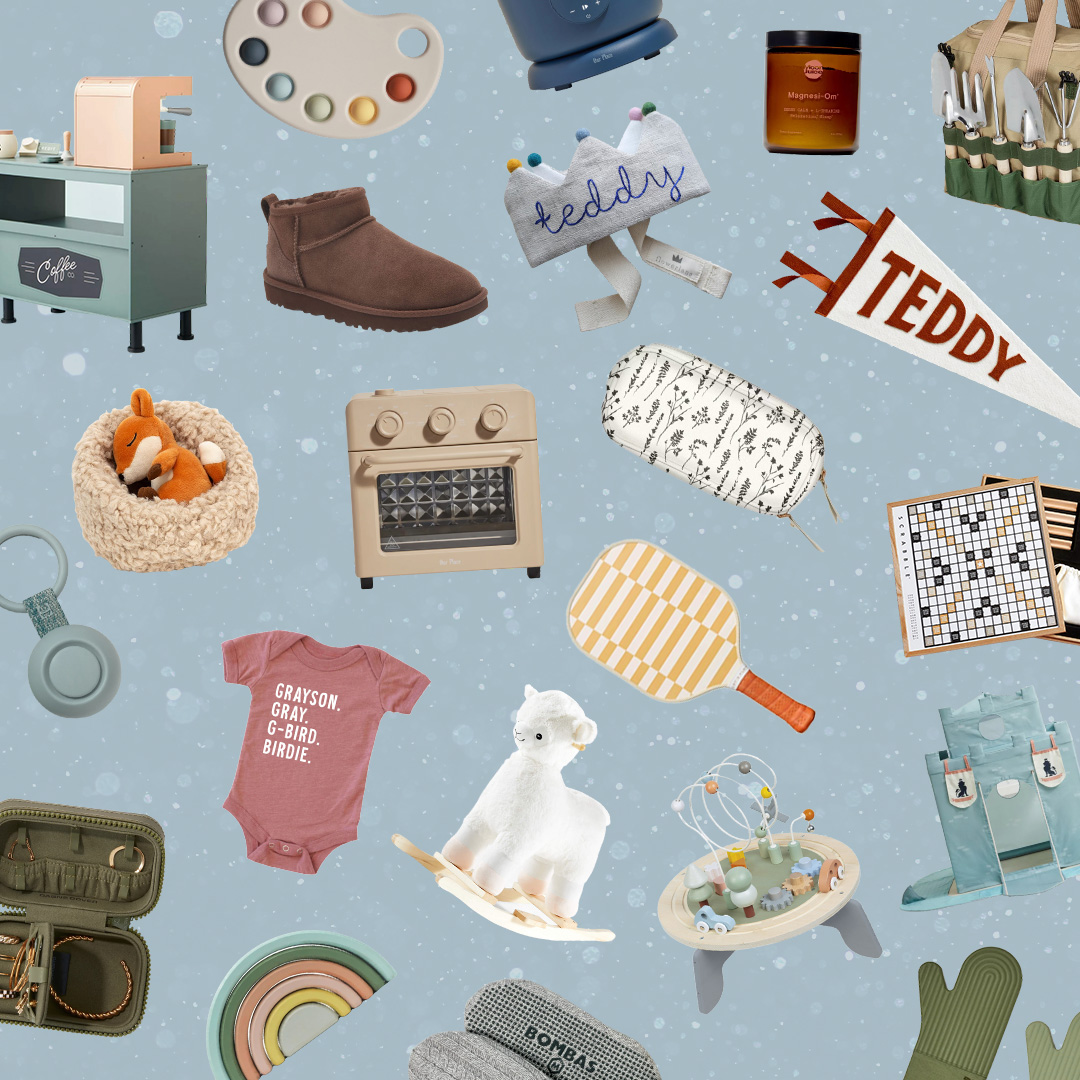 everything you need to ace holiday gifting this year 🎁
1. The Great Outdoors
For a parent move that does double-duty, offer yourself a moment to rest while tiring out your kids—Kate O. in Washington, D.C. shared this bit of wisdom. She packs up her two young children and brings them outdoors to a wide-open space where she can sit down while watching them run free. "I can watch them run around and they will be safer from their wild chase terrors around the house," she said.
2. Toy Car Wash
Jenny S., a mom of two in Michigan, shared an ingenious idea for keeping toddlers busy and engaged. Pull up a stool to the bathroom sink, or fill up a small container with soapy water, and encourage your child to give each of their toy cars, (or any plastic toy really), a bath. There's something about water and bubbles that fascinates little ones—and the more you can engage their curiosity, the less you have to chase them from room to room.
3. Doctor's Office
When I just want to shut my eyes and keep my toddler from spiraling into mischief, I invite her to give me a check-up. I can lay down on the couch and she can use her toy doctor's kit to examine me. Truth be told, this usually ends in me getting hit in the head, but I'll take it for a few minutes of peace and calm.
4. Art Box
When Samantha R. in Illinois needed a moment to herself, she would stick her toddler in a giant cardboard box beside her, (lid off, of course). Filling the box with art supplies and snacks, she'd get a sigh of relief when her daughter would get lost creating to her heart's content.
5. Role Reversal
Thao T., a mom in Ohio and The Everymom's former executive editor, offered this dose of brilliance: switch roles with your kiddo. Our little ones thrive on pretend play, so what better way to get in a little rest and spark their imaginations than by inviting them to be the parent for a change? "I get to lay down and listen to lullabies and sometimes eat pretend snacks. It's sweet and tender and restful!" said Thao.
6. Salon
For some serious relaxation, Katie B., a mom of two in Illinois, invites her kids to brush and do her hair. Sure, it may be painful at times, but it is a small price to pay for sitting down and closing your eyes, without worrying about what your kids will get into.
7. Chef
Nothing appeals to small children quite like helping out around the house. When Sabrina B., a mom in Michigan, needs a moment to herself, she invites her young daughter to get busy in the kitchen. "If your kitchen floor is already a mess, give them a mixing bowl of baking soda and some spoons and ask them to make dinner," she said.
8. Sensory Bins
Parents from all over wrote in to share the toddler-taming magic of sensory bins. Joe H., a dad in Illinois, offered a simple equation: dish detergent + water + lots of small containers. Emily D. in Michigan suggested filling a small tub with dried rice or sand and adding in scoops and toy trucks. And when all else fails, play dough and rolling pins can be the key to engaging even the wildest little one.
Read More: Everything You Need to Make DIY Sensory Bins for Toddlers
9. Bathtime
As Michelle H. in Illinois said, when she needs her kids to stay in one spot, "just add water!" The bathtub can be a perfect spot for not only cleaning up sticky hands and faces, but also for engaging kids in imaginative play. A pile of bath toys and bubbles can keep any little one's curiosity soaring long enough for mom or dad to catch their breath. For extra fun, Vanessa A. in Illinois suggested adding in bath paints or markers.
10. Movie Day
When all else fails, there is nothing wrong with an occasional movie day or Daniel Tiger marathon. Make it something special by pulling out a tent, filling it with comfy pillows and stuffed animals, and of course, adding snacks.
Read More: 18 Movies That Celebrate Diversity to Watch as a Family
11. Scavenger Hunt
When Maggie G. in Illinois couldn't muster the energy to chase her kids, she sent them on a hunt through the backyard. "Bring me a bird's feather," she would instruct, sending her kids scrambling through the grass to search for any item she called to mind. She reported that, not only were her children super engaged in this process, but the excitement and constant scurrying wore them out as well.
12. Obstacle Course
What better way to coax kids into working off excess energy than by inviting them to crawl, climb, and jump their way through a homemade obstacle course? Pull out couch cushions, chairs, and pillows to make a safe space for kids to navigate. Bonus points for laying in the middle of the course and forcing kids to move around you, too. For an outside version, find a comfy place to sit and dole out orders for your kids to follow, e.g., "Run around the swings, touch the flower pot, and go down the slide."