While the first year of your child's life is filled with exciting moments—first smiles, first belly laughs, maybe even their first steps—parents have so much to look forward to in their little one's second year, too. Once they're mobile, children begin exploring the world for the first time on their own and constantly learn new skills—like problem-solving—along the way.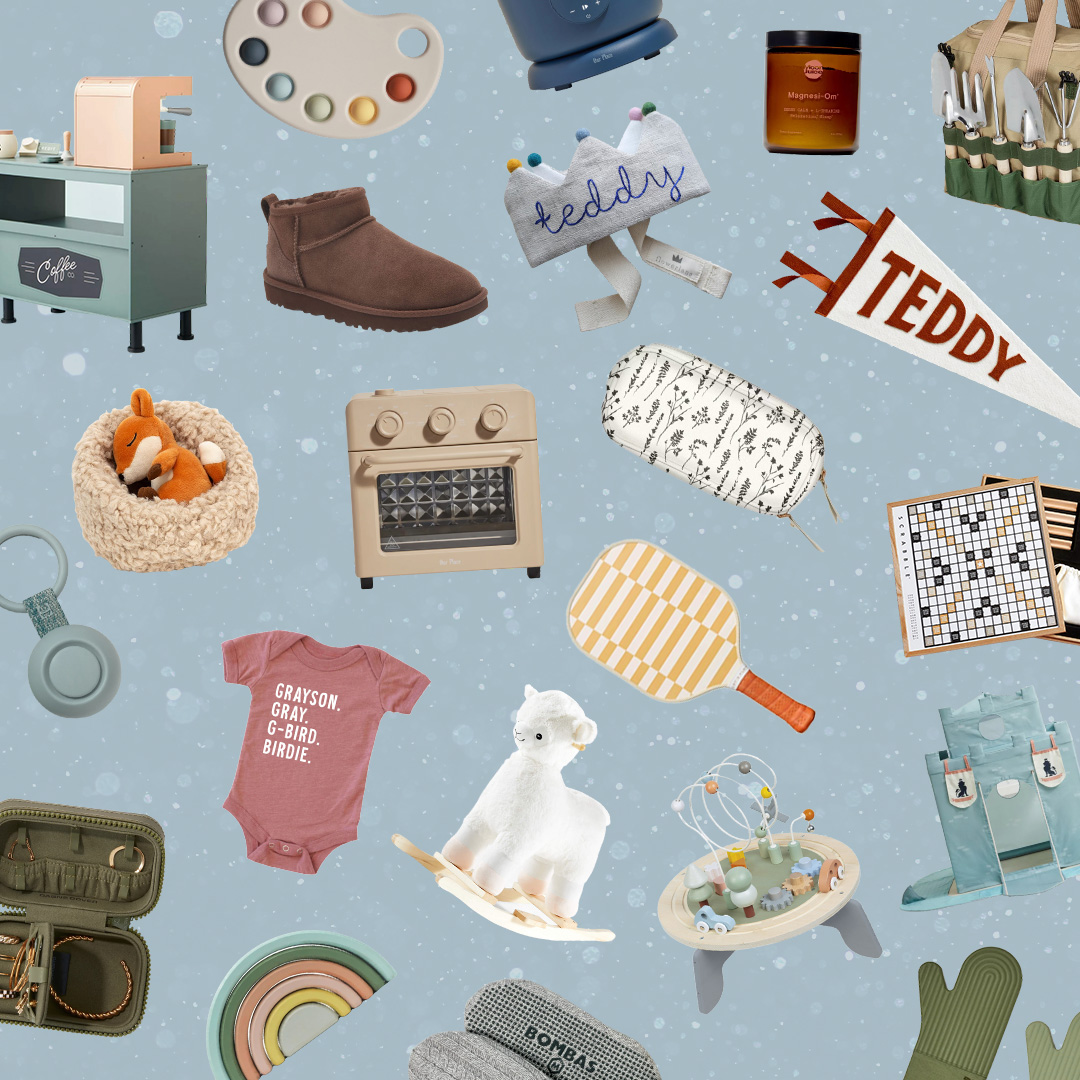 everything you need to ace holiday gifting this year 🎁
According to the American Academy of Pediatrics, cognitive development during a child's second year includes newfound problem-solving skills like;
Finding objects even when hidden under two or three covers
Beginning to sort by shapes and colors
Beginning to make-believe play
Parents and caregivers can help reinforce these skills through play. But if you're not a preschool teacher or a child development specialist, it can be hard to know how, exactly, to encourage problem-solving play. The good news is that it doesn't have to be hard or require Pinterest-level creativity. Here, we're sharing five easy activities parents and caregivers can do to support toddler problem solving skills through play.
1. Do Puzzles Together
Even as toddlers, the most primitive puzzles are a great way to model problem-solving. Watching your child work through how the pieces fit into the space is a great way to practice those skills as well as supporting fine motor development.
Playtime Tip:
Resist the urge to step in or challenge how your child is trying to make the pieces fit. Giving verbal hints and allowing them to do it themselves also gives them independence and helps develop their confidence.
2. Creative Hide-and-Seek
Instead of hiding yourself or your child, try taking a favorite toy and hiding it underneath a blanket or bucket. Having your child point to guess where the item is hiding also provides a great opportunity for parent/child play.
Playtime Tip:
Hiding multiple items throughout the house allows for extended play and can be intensified into a scavenger hunt as they get older and more experienced with the game.
3. Stacking
Combining unconventional items provides a unique opportunity for intro to building skills. How tall can your tower be before it falls? What shapes can balance together? Don't be afraid to mix and match toys and even use pieces together for more creative fun.
Playtime Tip:
Using a block, a ball, and a soft toy when stacking allows the child to start to see cause and effect. It is great to have multiple-size items that are large enough for them to succeed at the task to keep their interest and build their confidence.
4. Matching
Creating basic matching activities with a variety of toys and household items is a great way to begin to build those problem-solving skills. Using basic themes such as colors, animals, shapes, and categories is a great double hitter for both problem-solving and language skills.
Playtime Tip:
Colors are a great place to start. Grab 3-4 different items in two colors. Start simple and build the skills. Eventually expanding to animal categories, vehicle types, and food groups is a great way to engage your child based on their interests.
5. Toy Escape Room
Does your kid love cars, stuffed animals, or dolls? Create an escape scenario for your kids favorite imaginary play theme. Walk them through how to get their toy out of the situation. Creating zoos, tucking in dolls, or creating traffic jams are great play prompts.
Playtime Tip:
Set the stage of the problem. For example, if using cars, model a road block or traffic jam for your child first and then let them try. Add in verbal single word prompts to add an additional speech opportunity to the game. Simple phrases such as "crash," "ouch," and "stuck" are great to add to games like this.