As the ice is finally melting here in Chicago, we're dreaming of all the warm weather things — days and weeks at the lake included. That's why we love Marta Malviya's Michigan beach home — it's charming, beautiful, and perfect for making memories with the whole family. A 1920s renovation project, Marta and her husband, Raj, are almost done with their dream "Beach Cabin" and are learning how to incorporate their innate design style with the cabin-vibe they can't avoid in such a dreamy location. We sat down with Marta to hear about what they have left to do on the home, what her favorite activities to do at the lake are, and how she's incorporating her kid's personalities into their rooms.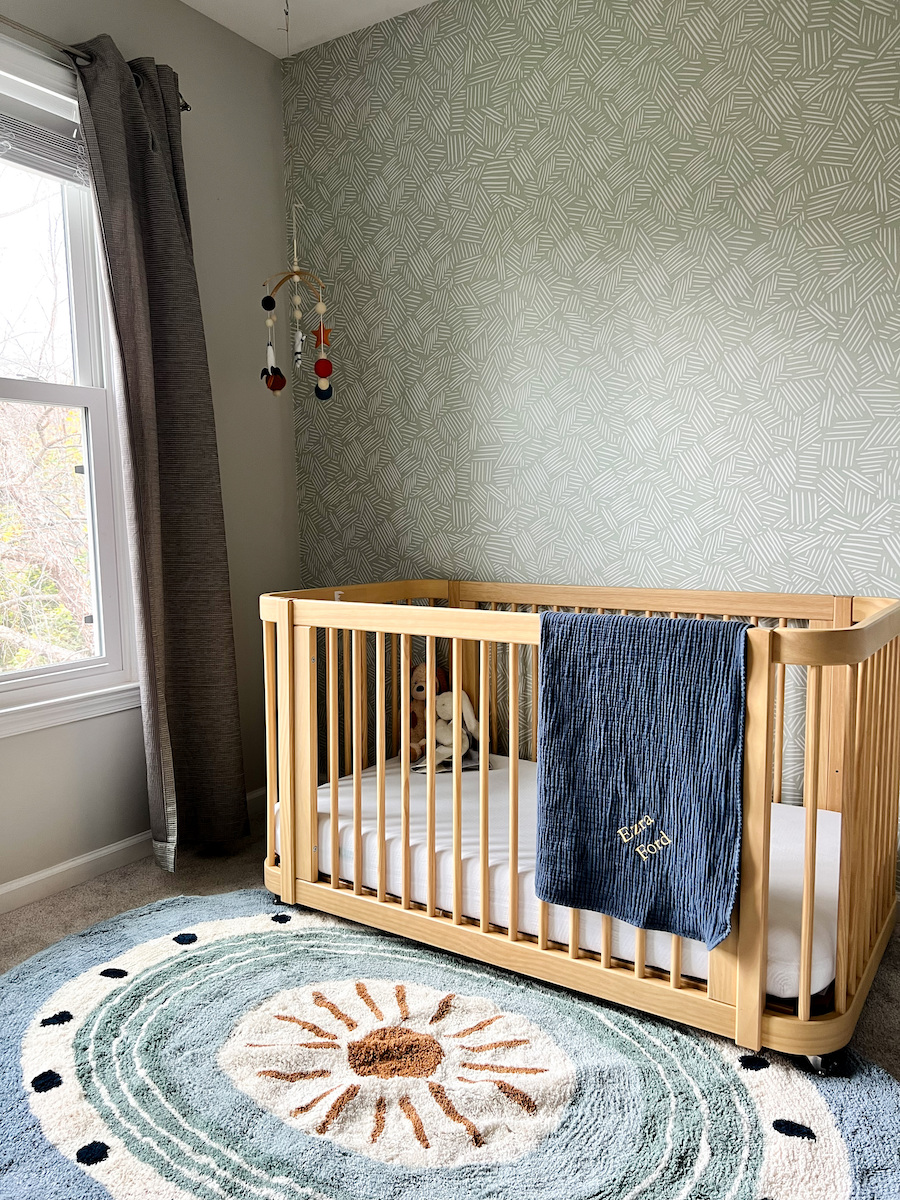 editor-favorite crib brand Nestig just released gorgeous new wallpapers that will easily transform any space 😍
Name: Marta Malviya       
Age: 39
Location: Holland, Michigan
Sq.Ft.: 1,430 interior sq. ft.
Rent/Own?: We own it (and rent it out for a very limited number of weeks each summer).
Children: Two — a 6-year-old and 8-year-old
What was your first job and how did you land it?
My first job was when I was in high school. I taught tennis in the summers! I think I just applied or mentioned that I'd be interested. I grew up in a small town.
My first grown-up job was as a school psychologist in Holland, Michigan. I drove back to Michigan from Chicago (where I'd been living) and applied for a part-time position. Raj and I had both just finished grad school, were engaged, and decided that wherever we found jobs (Chicago or West Michigan) would be where we would live. I'm so happy we ended up back in West Michigan! 
You and your husband, Raj, renovated this cabin yourselves! How did you do that with your children in mind?
Well, we didn't renovate it entirely ourselves. We had help from the professionals for sure! But, we did get in there where we could and spent a good chunk of time making improvements ourselves. I'd definitely say we are more the idea people who can also paint and do small DIY decor projects.
We added some safety measures (our contractor added a gate at the top of the sleeper attic staircase), decorated different spaces for them to play in, and didn't purchase anything too valuable! We tried to get the kids involved in a few small projects to teach them responsibility, to allow them to feel ownership of some of the renovations, and so they could learn how things work.
What's been the most intensive project so far?
The kitchen was by far the most intensive project, which is sort of baffling because it is such a small space. Our contractor and Raj ripped almost everything out except for the walls. A lot of appliances and cupboards were donated to a local charity. Our floors were sanded and stained a weathered gray. Next, our contractor repaired a large section of the wall to make it flush and added trim. He also added a door to the pantry. Our woodworker created all of the cabinetry, as well as the beautiful countertops and open shelving. I chose the cabinet color and painted the cabinetry, which felt like it took quite a bit of time and layers, layers, layers.
How would you describe your design style? Does this cottage design deviate from the design of your primary home?
I definitely lean toward coastal. Our primary home is more traditional, but is a Connecticut Fieldstone built in the early 1920s, so I took that as permission to incorporate some coastal elements when we moved in six years ago. Obviously, the cottage was a great place to add coastal design as well! The kitchen, sleeper attic, and guest bedroom all have that lakeside feel. Our cottage is high in the trees and is a short five-minute walk to the beach, so it also feels very cabin-like, which I didn't originally lean toward. I started to call the cottage a Beach Cabin on the blog, and I actually think that describes the cottage perfectly. The wood walls in the living room definitely have a more cabin vibe. I'm still getting the hang of the "cabin" part of decorating, but I do love the warmth that it allows through the deep greens and grays; I also feel that I can add some more modern elements to the "cabin" part of the Beach Cabin through the fireplace design and the lower level.
How do you find inspiration for your interior designs?
We love to visit well-designed restaurants and hotels when traveling! The atmosphere is the most important factor in where we choose to eat and stay. I also love it when friends and family send me pictures of their accommodations or trendy restaurants when they're traveling. Other than that, I love to look through home stores, and Raj and I have started enjoying visiting local antique stores together, and sometimes the kids even come along – they're great at finding treasures. Raj has been into vintage finds and vinyls lately, so we will be integrating those into the cottage this spring as well. Magazines and all of the online sources are always inspiring!
Your cottage is from the early 1900s – were there any elements you wanted to preserve from that time?
This was our third early-1900s home — I think that we enjoy the character that these early homes provide. Even though the houses are all quite different, they all feel special in some way. In all of our houses, we have left the smaller rooms intact and used lighter colors and textures to make them feel larger (or at least airier.) We actually like some separation, not through closed doors, but through walls with large entryways, places to sneak away to read a book, a room to listen to music, etc. The cottage is also the perfect place for hide-and-seek with all of its nooks and crannies. While our fridge is more reminiscent of the 1950s, it seems to add all of the charm of an early 1900s cottage, and again we kept the kitchen small in true cottage fashion. The windows provide a lot of character and I never want to change them.
Before
After
When you were designing your kids' rooms, how did you incorporate their personalities or interests? Are they sharing rooms right now?
The kids love a place that they can jump and play and not worry too much — they basically just want to have fun and be active all the time. The sleeper attic is the space that they share when we are at the cottage. There was a space to the right of the stairs that was difficult to figure out because there is a huge pipe going from the floor to the ceiling in the middle of it. I remembered that when we had moved into our first house, the owners had cleverly made a similar pipe in the basement into a palm tree. The more I thought about the space, the more I thought it would be incredibly fun for the kids to have a sailboat to play in up there. Since they had attended sailing school the previous summer, it felt like the perfect fit. We also put up photos on a gallery wall from our time together at the cottage.
Do you have a favorite room or nook in your home? Tell us why!
I love to relax in the living room at night. The windows are one of my favorite elements in the home and there are soooo many of them in the living room. I love the design, color, and throwing them open on a warm summer night to listen to the golf carts whizzing home after catching the sunset.
What's next for your renovation?
We hope to tackle the screened-in porch this spring!
Is everywhere a place for the kids to play? Or do you have designated areas for them?
Everywhere is a place for the kids at the cottage! We spend so much time outside while at the cottage that they have limited toys that are easy to quickly clean up. We were anxious to look into purchasing a cottage while the kids were still young and still think we're fairly fun. We hope that they have wonderful memories from their times at the cottage. It is just as much theirs as it is ours!
Every home has its own quirks and challenges – what were yours? How did you overcome them?
Having been built in the 1920s and on top of a dune, nothing is really straight anymore. Our woodworker did a great job measuring and there was a lot of texting back and forth to overcome gaps and odd angles.
Where are your go-to places for big-ticket furniture and decor?
For the cottage, we didn't want anything to feel fussy. We painted a lot of the furniture that was left with the cottage to make it our own. We also quickly determined that a sectional would be the way to go in the living room, and IKEA had just what we needed. We chose a darker color but are also glad that we can remove the slipcovers for fairly easy cleanup if necessary. The quilts in the sleeper attic are Pottery Barn, and were collected over time "in case we are ever lucky enough to own a cottage."
The lighting that we switched out is mainly from West Elm and IKEA. The rugs are almost all from World Market and are jute, which makes for easy sand clean up. We are slowly incorporating local artwork throughout the cabin and added some vintage photos of what our area and beach looked like in the early 1900s. Several items (like our map) came from a local antique shop and have also been incorporated throughout the cottage. We have received quite a few gifts with our cottage name on them or a "lake life" theme, and we love those too! It's so much more meaningful to be reminded of family and friends than to have a generic decor item, ha!
How does the location of the shores of Lake Michigan play into your design and decorating choices, if at all?
We have loved to incorporate a coastal feeling to our design through color, artwork, and decor. It's also fun bring in beach rocks or driftwood that the kids carry up from the beach. We feel our most relaxed when by Lake Michigan, and I think that carries into our design and decorating as well. While we love the form of the design we have chosen, we just as equally appreciate the function. We don't want to worry too much about sandy feet or wet swimsuits, and we have tried to make design choices to keep this relaxed lifestyle in mind.
When it comes to motherhood, what are you most confident in? What are you still insecure about?
This is a tough question! Just when I think I'm confident in an area, my kids tend to switch it up, and then I'm back to being insecure in the exact same area. They definitely keep me humble and on my toes!
What does a day in your life look like?
These days it's always different. This is the first year that both kids are in school. For a while, it was a lot of dropping them at school, going for a quick jog, and then heading to the Beach Cabin to work on the sleeper attic before heading back in time to get the kids from school. After school, we run around to all of their activities, help with homework, make/eat/clean up dinner, and finish with the bedtime routine. I feel fortunate that I am able to go on the kids' field trips, and help organize/participate in their classroom events during the day too.
What are some of your favorite activities to do with your kids or as a family up at the lake?
We have found that our family is our happiest when we are hiking nearby trails. When we catch glimpses of Lake Michigan through the trees, it is magical. Every. Single. Time. We have our favorite trails, but it's fun to discover new places to hike too. Every time I say that hiking is our favorite activity, I sort of laugh because I definitely wouldn't describe Raj or myself as "outdoorsy." (When Raj and I were in Banff, we asked the concierge for the trail with the least amount of wildlife). Our kids love to be outside and have the freedom to run, jump, and climb — and have taught us to enjoy nature too.
How do you and your husband divide parenting roles? How has parenthood changed your marriage?
We have a pretty traditional marriage and parenting roles. Given that I am at home, I naturally am able to do more things related to the kids' everyday routines and activities and be more involved at their school. When Raj's schedule allows, he loves to be able to be involved in the everyday things too, and definitely attends games, etc. on the weekends. Raj and our son just started taking cello lessons together — it's pretty cute!
Parenthood has made us talk about more things (and on a deeper level.) Being responsible for two small human beings is both amazing (the best gift!) and absolutely terrifying. We have learned to compliment each other's strengths and step in for the weaknesses. We have learned to be the most supportive of each other than we have been before, to work together for our kids' best interests, to talk through our differences, and to discover strengths we didn't know we had.
Before
After
How do your kids inspire you, in your career or otherwise?
Our kids are so inspiring! Their sheer love for life is contagious. Their love of laughter, their kindness in everyday events, and their willingness to learn and grow from mistakes all amaze me on a daily basis.
If you have to choose just one, what's been your favorite moment from motherhood so far?
My favorite, favorite moment from motherhood is when we are doing something new around town or on a trip. When the kids are feeling uncertain, they almost always grab each other's hands. I have soooo many photos that I snap of them walking ahead of us, holding hands. I hope that they always go to each other for love and support throughout their lives.
Marta Malviya is the Everymom…
Favorite activity to do at the lake? Beach walks are a definite favorite!
Last book you read? Eleanor Oliphant is Completely Fine
Best way to spend a morning at the cottage? With a cup of coffee and cartoons in the background.
Biggest difference between your children? So many differences that I often attribute to the boy/girl or the oldest/youngest differences, but really I think that they are their own people and were created to be just who they are.
Guilty pleasure? Coffee at 3:30pm!