When you become a mother, you find that many components of your life are subject to change: some expected (your sleep schedule, for instance) and some perhaps, not. For me, I was surprised how much motherhood affected my beauty routine. Since becoming a mom a little over two years ago (I now have a two-year-old and a 4-month old), I've found that not only do I have less time to dedicate to my beauty routine, but I also have different beauty goals. I want skincare products that will leave me feeling refreshed, makeup that will help me look like I slept more than I actually did, and finally, hair products and tools that will be as gentle as possible on my tired, damaged postpartum strands.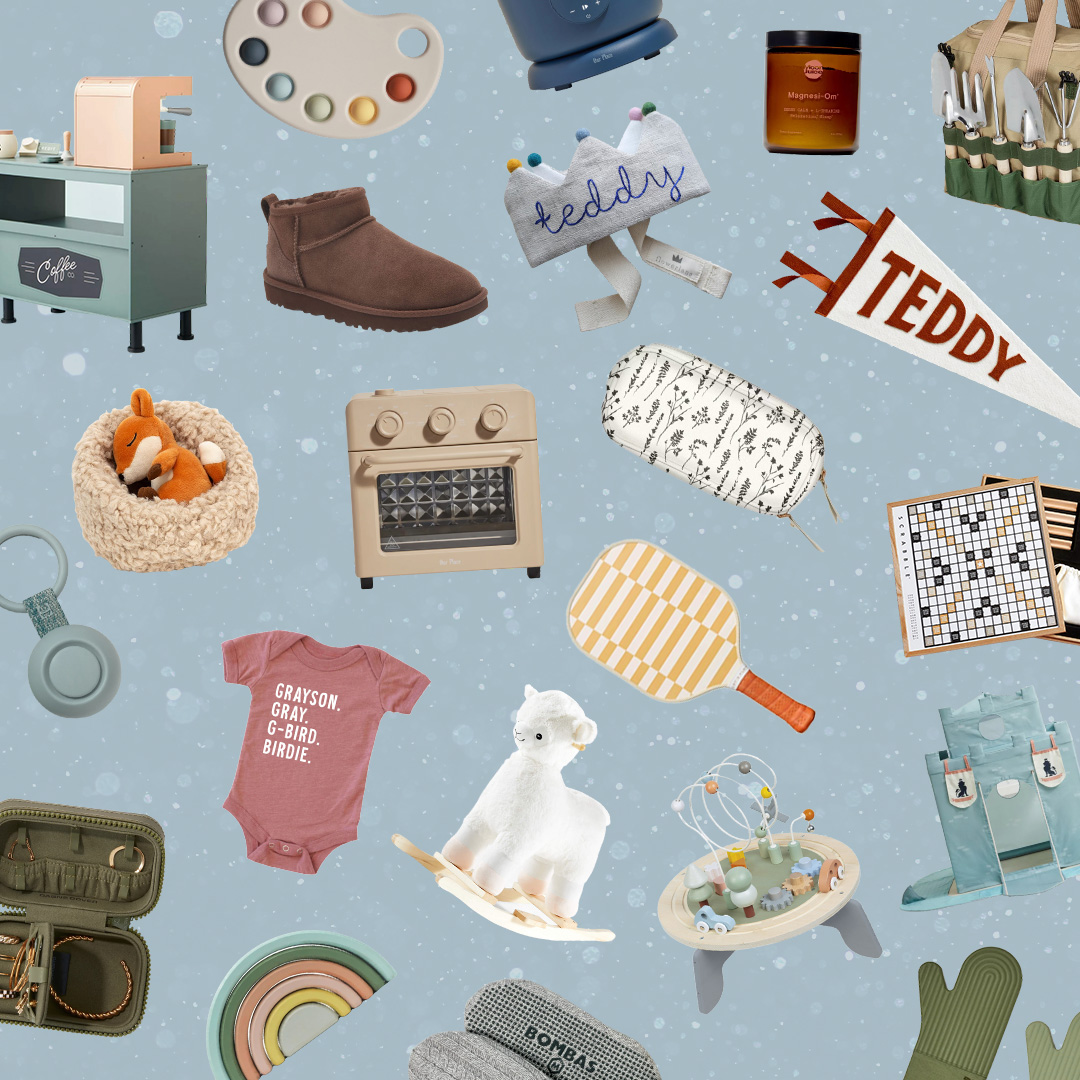 everything you need to ace holiday gifting this year 🎁
Intrigued by the claims thrown out by both Dyson and SharkNinja pertaining to their styling tools and the healthy efficiency made possible by forced air, I decided to try out both the Dyson Supersonic Hair Dryer as well as the Shark FlexStyle in search of a healthier hair-drying solution.
Dyson Supersonic vs Shark Flexstyle Hair Dryer
Before I get into the nitty-gritty comparison details, here's some more information on both products.
About the Dyson Supersonic Hair Dryer
The Dyson Supersonic is a powerhouse hair dryer that dries your hair quickly and well. It's designed for five different hair types and—like all of Dyson's hair tools—promises a healthier hair styling experience by forgoing the use of extreme heat.
You can read my lengthier review of the Dyson Supersonic Hair Dryer here. You can also read about the experiences of two editors from The Everygirl with different hair types—very curly and fine—here.
Dyson
styling concentrator, diffuser, wide-tooth comb, gentle air filter, and flyaway attachments included
Dyson
2 curling barrels, firm smoothing brush, soft smoothing brush, round volumizing brush, and smoothing dryer attachments included
About the Shark Hair Dryer
SharkNinja has a couple different hair drying solutions. If you're strictly looking for a hair dryer, nothing more and nothing less, then you may want to consider the Shark HyperAir Hair Dryer. But if you're interested in a hair dryer that allows for greater styling options, then the Shark FlexStyle is where it's at. For the purpose of this review, I tried the FlexStyle. While it's more than just a hair dryer, drying is one of the tool's main features and the price is only slightly higher than the HyperAir ($280 compared to $230).
For those who are unfamiliar with the FlexStyle, it's very similar to Dyson's viral Airwrap. Like the oh-so-popular Airwrap, the FlexStyle comes with a number of different styling attachments that you can use to achieve different looks. One of the big draws to this tool is that you can (in theory) dry and style your hair simultaneously, saving time all while doing minimal damage to your hair. It's worth noting here that the FlexStyle rings in at $280, which is considerably less than the $600 Airwrap.
Shark
2 auto-wrap curlers, oval brush, paddle brush, and styling concentrator attachments included
Shark
2 auto-wrap curlers, oval brush, styling concentrator, and diffuser attachments included
Comparing the Dyson Supersonic vs. Shark Flexstyle
Before I compare these two styling tools, I feel it's important to note that I'm truly a fan of both. They're each high-quality devices that deliver dry, healthy hair fast. In other words, if you're debating between the two, you really can't lose. But if you'd like to make the most informed decision possible, read on to learn more.
Dry Time and Heat Settings
At the end of the day, both hair dryers work exceptionally quickly. After lightly towel drying my long, medium-thickness hair, the Dyson dried my strands in 3 minutes and 46 seconds. Similarly, the Shark clocked in at 3 minutes and 10 seconds. Technically, the FlexStyle was approximately half a minute quicker, but I'll leave it up to you on whether or not 30 seconds will be the defining factor in your purchasing decision.
I'll note here that in my experience, both dryers left my hair feeling roughly the same. In other words, both tools dried my hair quickly without leaving it feeling dried out. They also both offer similar heat settings: three different levels of heat as well as an option for cold air. Both also have three different airflow settings.
Noise
Something I immediately loved about the Dyson Supersonic was how quiet it is. I can use it while my toddler and baby are napping without waking them up, and I don't think I need to explain how huge that is. When I went to turn on the FlexStyle for the first time, I was curious how its noise level would stack up. While it isn't terribly loud (I've definitely owned louder dryers), the Dyson is noticeably quieter.
Size and Design
When it comes to design, for me, the Shark undoubtedly wins out. The device, particularly if you're just after the hair-drying capabilities, is significantly smaller and offers a sleeker design. While this may not be a deciding factor for everyone, for those who travel frequently and are looking to bring their hair dryer on the road, I'd have to recommend the Shark.
On a related note, Shark doesn't currently offer a case or carrying bag for the FlexStyle. However, TikTokers love this bag for storing their FlexStyle and attachments. Having ordered one myself, I can throw my enthusiastic endorsement into the mix. It's worth noting that both the Dyson Supersonic hair dryer and the Dyson Airwrap do come with storage cases.
Capabilities
Both these tools are well-equipped to dry all hair types. With both of them being accompanied by a handful of attachments, you can feel confident in your purchase knowing you'll be able to cater your drying experience to your specific hair. For example, both come with diffusers for curly hair. Something unique about the FlexStyle is that you can "build" your own, choosing which attachments you'd like included in your purchase.
One feature that puts the FlexStyle ahead of the Dyson Supersonic as a hair dryer is its curling capability. With the auto-wrap curlers, you can curl your hair while drying. If you want this feature from Dyson, you'll have to pony up the $600 for the Airwrap.
Price
A Dyson Supersonic Hair Dryer costs $430, while the Shark FlexStyle clocks in at $300 for either the straight or curly hair option (the build-your-own option costs $280). Obviously, there's a pretty clear winner here when it comes to price. I will mention that I've had my Supersonic for more than two years now and it works just as well as the day it came out of the box. Having only had a FlexStyle for a couple months, I can't speak to its durability or longevity. The Shark may be a better deal, but I also know I'll never regret a Dyson purchase.
Verdict
As I said before, I really enjoy both of these tools. Both are well-made and deliver quality results. They dry my hair quickly without causing unnecessary damage and both are just plain fun to use. However, if I had to pick a winner, I might have to go with the Shark FlexStyle.
Even on days when I'm looking to just strictly dry my hair, I find myself reaching for my Shark over my Dyson. With a lower price point and the ability to easily transform your hair dryer into a curling wand or styling brush, it's a tool not to be ignored. While I was previously a die-hard Dyson fan, I think my loyalties are now officially split.
At the end of the day, no matter which tool you choose, feel confident in knowing you can't lose.
Shop Shark & Dyson Hair Tools