When discussing family planning in normal times, you and your partner would probably talk about things like your age, how many kids you want to have, how far apart in age you want them to be, and how bringing a new baby into the world will impact your career, lifestyle, and finances. Right now, there is another new consideration to family planning; the unknowns surrounding COVID-19.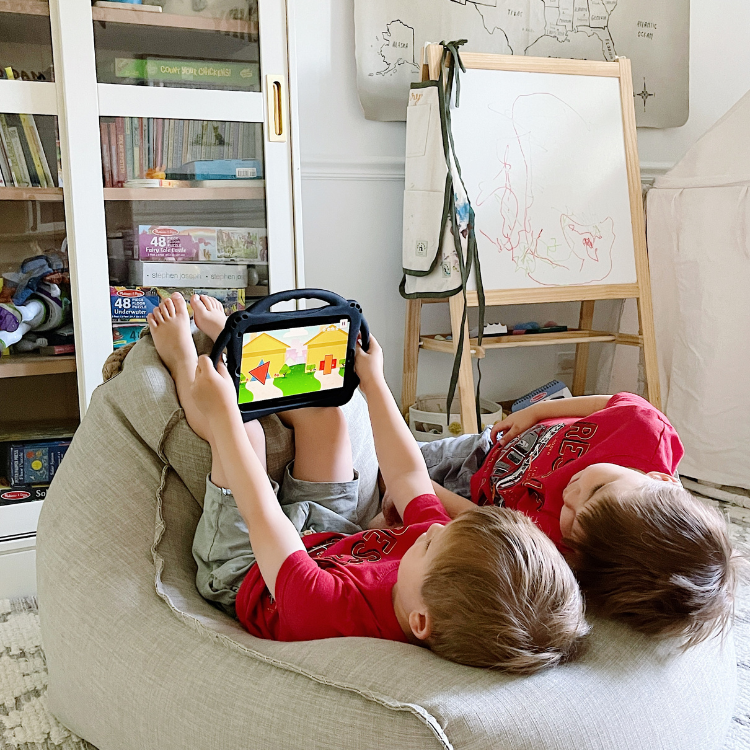 a pediatrician shares what she *really* thinks about LOs and screen time
With so many unanswered questions and concerns right now, it can be stressful to make a big life decision like expanding your family. We don't yet know all of the health implications of the disease (both short-term or long-term), when a vaccine will be ready, or when things will feel safe again. Additionally, hospital rules surrounding labor and delivery are continually shifting.
With so many unanswered questions and concerns right now, it can be stressful to make a big life decision like expanding your family.
Personally, this has all weighed on me too. I'm a 35-year-old woman with one child. As far as age goes, I don't consider 35 to be very old, but if I were to get pregnant now, I'd be labeled a "geriatric pregnancy" or the slightly less offensive "advanced maternal age."  Both terms refer to pregnancy where the mother is 35 and older. If the term "geriatric pregnancy" doesn't make you feel ancient, I don't know what does.
While turning 35 doesn't automatically mean getting pregnant will be harder or that there are instantly massive health complications involved, it is an age where risks do begin to increase. So on top of my age and other factors (like wanting my children to be close in age), the risks and unknowns of COVID-19 have played a part in my family planning as well.
I'm not alone in my concerns about trying to get pregnant right now. To answer some of the big questions, I spoke with Dr. Jenn Conti, MD, MS, MSc, an OBGYN and medical advisor for Modern Fertility, a company that provides women with personal insights into their fertility to help with important family planning decisions. She answered some common questions about trying to get pregnant amidst COVID-19.
Should people pause trying to get pregnant until we know more about COVID-19 or until there is a vaccine?
While there are many unknowns with COVID-19, we do actually know more now than we did earlier this year. "When COVID-19 first became an issue in the U.S., we were initially recommending people pause because we didn't know what was emerging and how it would affect pregnant people," Dr. Conti said.
Fortunately, there is some data we can now turn to, though it's from smaller studies out of New York and China. "We're still in the process of collecting data, but now we know COVID-19 is not more dangerous when you're pregnant, though you are more likely to contract it because you're technically considered immunocompromised. For this reason, it's really important to be very cautious when pregnant," Dr. Conti said.
What factors should be considered when making the decision to get pregnant now or to wait?
There isn't just one factor when deciding if and when to have children. "Age is a big factor when considering whether to delay starting a family, for reasons related to COVID-19 and beyond," Dr. Conti said. While younger people, say around age 25, may decide to wait until there is either a decrease in COVID cases or an available vaccine, someone who is 40 might be more willing to take the risk and try to get pregnant sooner.
If you aren't sure what is best for you, it is recommended that you speak with your physician to discuss concerns and your best next steps.
Is it recommended that someone trying to conceive through IVF wait, or is it safe to move forward with treatment now?
Earlier this year, elective procedures were put on hold, and this included IVF and egg-freezing. Dr. Conti shared that this guidance has evolved. Many clinics have reopened and are resuming these treatments as they are truly essential to many people and their reproductive health. "It's a personal decision whether to hold off on IVF, but I wouldn't say someone should hold off right now specifically because of COVID-19," Dr. Conti said.
What can a pregnant person, or person hoping to become pregnant, do to stay extra safe?
While it may be hard or impossible to stay 100 percent safe against COVID-19, there are certainly some steps you can take to ensure you are doing everything in your power to keep yourself healthy.
In addition to the standard COVID-19 advice to wear a mask, stay at least 6 ft. apart from others, avoid large gatherings, and wash your hands regularly, there are additional considerations for pregnant people or people hoping to become pregnant. "According to [American College of Obstetricians and Gynecologists], it's especially important to get the flu vaccine during pregnancy. The possibility of getting COVID-19 can be stressful for pregnant people, and when symptoms are so similar to the common flu, there can be uncertainty about whether symptoms are actually COVID or something else. By getting the flu shot, you can decrease this stress by markedly decreasing your chance of getting the flu."
And to drive home the point about the flu vaccine, it is recommended that all pregnant people get the flu vaccine (whether COVID is a factor or not) as you are able to pass on immunity to the baby since newborns cannot receive the vaccine for the first six months of life.
For people who do decide to wait to get pregnant, what can they do now to improve their health and fertility for the future?
Unrelated to COVID-19, there are many elements of your life that you can focus on to improve your health and fertility. This includes, but is not limited to, maintaining a healthy weight with a nutritious diet and regular exercise. Dr. Conti also recommended booking a preconception visit with your doctor so you can receive personalized recommendations and guidance.