At any stage of life, eating healthy is hard – whether it's because your options are limited or you just can't kick that cookie craving (that second one is me). Even passionate lover of food Nicole Centeno had a hard time fitting in the latest health trend – that's so often all-or-nothing – into her busy life.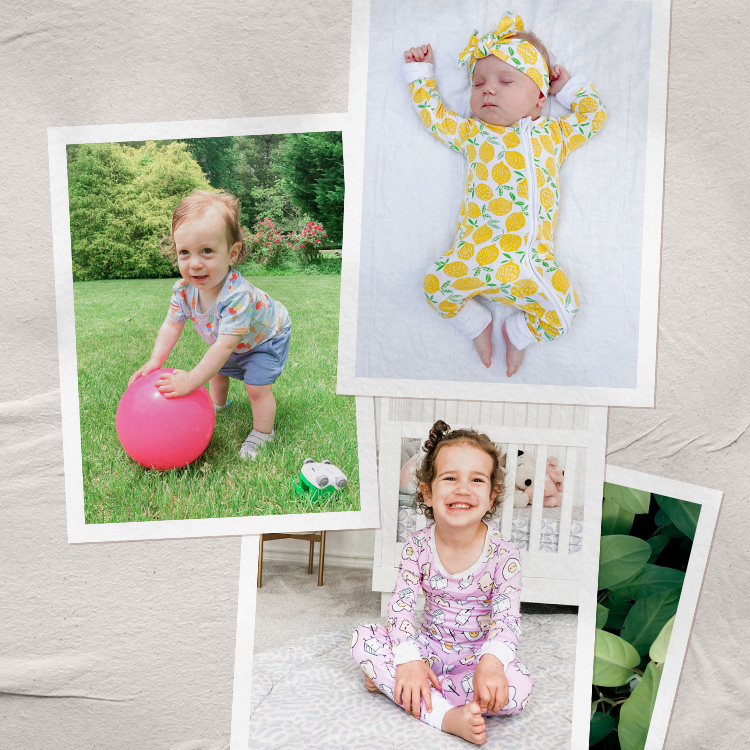 it's more than just their cute PJs... get ready to add to cart! 😍
Since she didn't' see a readily available better way, she made one: enter Splendid Spoon, the so-damn-good-for-you meal service provider that wants to swap out just one of your meals a day to something you know is great for you. Her mentality is all about balance, from what she eats to how she spends time with her family to how she cares for her health. We sat down with Nicole to find out how she transitioned from chef to CEO, how she keeps her creativity up (hint: there's not much sleep involved), and how her kids inspire her to hustle through the personal judgment.
Name: Nicole Centeno
Age: 35
Current Title/Company: CEO, Splendid Spoon
City/State: Brooklyn, NY
Children: Grover, 5 and Caleb, 3
What was your first job and how did you land it?
I worked the cash register at a local grocery store where I grew up. I walked in, filled out an application, and was behind the register within a few days.
You attended the French Culinary Institute — tell us about your experience. What advice do you have for women looking to break into the culinary scene?
Culinary school was the first time I felt really motivated to keep going back to something even though it was hard, tiring work. For women looking to break into the culinary scene, I say jump. It probably won't be easy, but trust that you can figure it out through experience and trial and error.
One of my mantras is: what you pay attention to grows. Meaning, I try to focus on the parts about food and mealtimes that I think are really nourishing instead of telling my kids all the things they shouldn't do.
Nutrition has been a focus of your career for some time now, from studying it in college to the site you operate now. How did you become passionate about that?
I'm a very curious person, and I've always enjoyed investigating how things work. The thing I am most curious about is what makes people feel good. In terms of the things we do every day that have a great impact on how we feel – eating is the most powerful. Food can make us feel amazing, but it can also really hurt us – currently, diet-related illness is the leading cause of death in the U.S. Wouldn't it be amazing if several years from now we said diet-related health improvements are the leading cause of longevity? That's the headline I want to make happen.
What should every mom know about food and nutrition? How can they make it a priority for their families?
One of my mantras is: what you pay attention to grows. Meaning, I try to focus on the parts about food and mealtimes that I think are really nourishing instead of telling my kids all the things they shouldn't do. So I talk a lot about "growing foods" (fresh fruits and vegetables), and I practice setting the table and sitting down with my kids for at least one mealtime a day. I pile my own plate really high with growing foods and I sit down and treat my mealtime with the kids the same way I would if I had my girlfriends over. As grown-ups, if we respect ourselves and our mealtimes our kids will follow.
You've worn lots of different career hats over the last few years — you've been a chef, a teacher, a small business owner, and worked in media strategy. What have you found valuable about working in so many different positions?
In every job, I have learned so much from the people around me. I find different team dynamics to be really fascinating. So, an environment where people are motivated by a creative process (like cooking) is going to be very different than a corporate team that's driven by revenue growth. I've incorporated a whole mix of elements that I loved from past careers to create my own unique ecosystem at Splendid Spoon.
You're the founder and CEO of Splendid Spoon, an e-commerce business that provides holistic wellness solutions. How did you get the idea for Splendid Spoon and how did you make it the thriving business it is today?
I was pregnant with my first son when I came up with Splendid Spoon. My experience with eating was frustrating, as I think it is for anyone trying to be healthy while keeping up with the demands of a busy week. I was especially annoyed that most of the wellness community had a very all-or-nothing mentality with healthy eating – it just wasn't realistic for me to eat vegan all the time or orient my life around superfoods.
I decided to focus on just one healthy meal a day, and let go of the expectation that everything I ate had to be the vision of perfection. Coming from such a genuine place, I think, has helped me to grow the business because I can always put myself in the position of my customers.
You're lovingly called the "big spoon" of your corporation — better known as the founder and CEO. How do you balance being the executive in addition to the creative powerhouse of this company?
My primary responsibilities are setting the strategy, making sure the business is capitalized, and evolving our team to keep up with the demands of our market while attracting the best talent. I think of creativity as energy that touches all of my responsibilities so I'm able to tap into my creative side with just about everything I do. Creativity is especially helpful when we are solving problems – which is often!
Take us through your typical day.
I'll take you through my ideal day, with a big caveat that I only get one ideal day a week, if I'm lucky. Most of the time, this is the structure I'm striving for and I do my best to roll with unknown twists and turns.
5:30 – 6 am: I wake up and meditate, then eat breakfast
7 – 8:15 am: Getting the boys ready for school
8:30 – 9 am: School drop off
9 – 9:30 am: At the office, getting my inbox in order – I use my inbox as a task list and strive for 25 or fewer unread emails.
9:30 am – 1 pm: Around this time, I'm in my execution mode so I'm basically just following the tasks of my calendar and Trello lists – modifying and moving things around due to everyday challenges and changes. I take breaks every hour or so to take a moment to enjoy a piece of fruit.
1 – 2 pm: Take a break to check on personal projects like communications with friends or coordinating something for my kids.
2 – 2:30 pm: Lunch – 90% of the time it's a Splendid Spoon soup, and I really do try to close my laptop and not look at my phone for at least 15 minutes!
3 – 5:30 pm: One last push of focused work (I practice Deep Work) on a project, and I'm starting to do a mental map of the next day's tasks.
6 – 8 pm: Hang time with the kids. Dinner, LEGO projects, homework, bath, and a TV show
8:30 – 9 pm: Read and bedtime
I often wake up once in the middle of the night from about 12-3 am. I either do a visualization or write in my journal or check emails. I realize this is not something people think of as healthy, but since I am not tired during the day and very rarely drink coffee, I've decided hey, this just works for me right now.
What was it like writing and publishing your first cookbook?
Writing the book was a very unique and also intense experience. It was an unexpected opportunity that I seized, and it coincided with two enormous life events – my second son Caleb being born and my separation from my husband. In some ways, it's hard to pull all of those experiences apart and just look at one of them. I'm proud of the book and the content I produced, and feel fortunate that it brought together a group of really talented women who are also my friends!
What's next for you and Splendid Spoon?
This is a big year of product optimization. We are developing some really unique partnerships and community-driven experiences in addition to, of course, evolving our meals.
The biggest shift in my leadership since becoming a mom has been an improved ability to listen.
How has being a mom helped you in your business? Vice versa?
The biggest shift in my leadership since becoming a mom has been an improved ability to listen. With kids and businesses, they will really tell you what's wrong and how to fix it, but you have to be very patient and receptive to listening to hear the signals. On the flip side, growing my team has really helped me to embrace the unique qualities of my children and the various grown-ups in their lives (sitters, instructors, teachers). Everyone has different talents and they will reveal them to you if you provide them with a safe, nurturing space.
When it comes to being a mom, what are you most confident in? What are you still insecure about?
I'm pretty confident in my ability to introduce my kids to interesting experiences and people. I still get insecure about screen time and using it as a tool to create more calm and quiet in the home!
What did childcare look like for you with your first and second child?
First baby – my mom helped quite a bit in the first three months because I did not take any time off from work (I don't necessarily recommend this, but I would also say that it's doable if it's right for you). I would park my car outside of the incubator kitchen, breastfeed Grover, and then leave him and my mom outside while I went to work in the kitchen. Then I had a nanny share, and then a full-time nanny once Caleb was born (he and Grover are 19 months apart).
How has your view of motherhood changed after becoming a mother?
I think there are infinite ways to be a parent. Being a mother gave me the confidence to really find my own definitions for parenting, and part of this has included developing a real village of support around me. I co-parent, I bring my kids to work sometimes, I have a part-time sitter who I lean on quite a bit, and I involve my friends and extended family in all sorts of activities that make parenting a lot more fun than if I were doing it on my own.
How do your kids inspire you, either in your work or otherwise?
Kids are endlessly curious and they have NO fear of judgment. It's pure creativity and expression.
If you had to pick, what's been your favorite moment from motherhood so far?
I'm super fortunate to have had two natural childbirths without complications so really, labor was totally life-changing for me.
Nicole Centeno is the Everymom…
Go-to meal? Splendid Spoon Chana Potato Stew
Best way to end a long day? A walk outside to meet my kids at the playground
Easiest way to make you laugh? Do an impression of me
Kid's book you know by heart? Goodnight Moon
I wish I knew how to… Tap dance
Most embarrassing mom moment? I brought my kids into a bathroom stall at an airport and as I was hovering over the toilet my eldest son exclaimed (in a very loud voice), "Wow I can see the pee coming out of your vagina!" So now that's out there…