Pregnancy is full of major body changes. The changes are beautiful and amazing, but if we're being honest, they don't always feel so beautiful and amazing. As much as many women love their baby bump, it's not uncommon to experience discomfort or feel like your body isn't your own. So when a product line comes out to specifically help women feel their best during pregnancy, you can count us intrigued.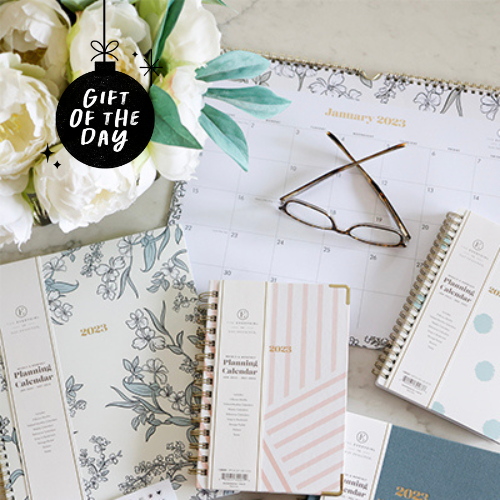 Help a mom stay organized and keep track of important doctor's appointments, playdates, and (hopefully) some scheduled 'me' time with this pretty wall calendar.
A year ago Kim Kardashian West launched SKIMS, an inclusive shapewear brand featuring products in a wide range of sizes and shades. Just a few days ago, SKIMS released their first maternity-wear line, featuring sizes XXS to 4X, available in nine different shades.
Your first thought might be that shapewear is designed to uncomfortably suck you in, not something that sounds particularly enjoyable with a huge belly. These products aren't quite the shapewear you're used to. They are designed specifically for a pregnant woman's body. They are said to provide comfort and support during and after pregnancy and may help to relieve swelling.
I was skeptical at first. I remember how hard it was to put on a pair of maternity leggings at nine months pregnant, so I wondered how on earth one puts on shapewear? SKIMS sent me a couple of products to try, and I was even more skeptical once I opened the package. The items seemed tiny. Once I tried them on though, I could see that they do have the right amount of stretch. While I'm not currently sporting a pregnant belly, I could easily understand the appeal. Sure, they did require some tugging, and I'm not sure how much extra tugging would be required with a watermelon in my belly, but it seems doable. And once you get them on, they feel great.
My favorite items to wear during pregnancy were ones that provided comfortable support and felt like they hugged my body. These seem to do just the trick. The material is thin yet appropriately supportive. The pieces seem well-designed for growing bumps thanks to a non-compressive core—meaning they leave space for your belly but compress and support your surrounding areas. Plus, the thin material would work well under any outfit.
These would be have been perfect when I was obsessed with all-things compression during the fourth trimester. At the time, I did some major online ordering trying to find items that would provide support as I recovered from childbirth and navigated life with my continually changing body.
If you're looking for a supportive option during and after pregnancy, with a range of sizes and colors available, SKIMS is worth checking out.