Ah, Mondays. It's one of the most challenging days of the week, but Mondays can also be viewed as a fresh start and a clean slate.
If thinking about Monday causes anxiety to creep in, consider how you're spending your Sundays. The last day of the week can be a great time to recenter yourself and your family and to head into Monday feeling ready. I personally may not wake up each Monday with a smile on my face, but when I use Sunday productively, I do go into the week with a more positive mindset.
As moms, we have a lot on our plate and those responsibilities don't take a break on the weekends. However, if you can squeeze in a few of these steps (whichever ones resonate with you), you may get yourself into a better brain space come Monday morning. Don't stress about accomplishing everything on Sunday; do what makes sense for you and your family, allowing you to feel lighter and more prepared to tackle whatever comes your way on Monday.
Also, this list isn't just for moms. Be sure to enlist your partner and your kids (where age-appropriate) to help as well. For a brighter Monday, here are nine rituals to add your Sunday routine.
Even though mornings with little ones can be uncertain and full of chaos, you can still create a bedtime ritual that will lead to a more solid start to the day. Having the right products on your nightstand can help. For this we turn to Hatch Restore, which is a combination sound machine, sunrise alarm, smart light, meditation app, and alarm clock all in one.
At first I was apprehensive about Hatch because as the mom of early-rising toddlers I truly have no need for an alarm clock (my 3-year-old is the most reliable alarm around!), but then I learned about all the other features that can help my evening routine (and yes, even my morning routine). I can use Hatch Restore to wind down from the day by listening to curated playlists of soundscapes, music, and mindfulness exercises that allow my mind to relax.
From there, Hatch Restore plays soothing sounds and white noise, leading to deeper sleep. As a mom who awakes to any small noise, this is very helpful for getting a good night's rest so I can be my best self come morning. And for those not awoken by tiny people every morning, Hatch Restore offers a gentle wake-up feature with a gradual sunrise alarm and selection of sounds.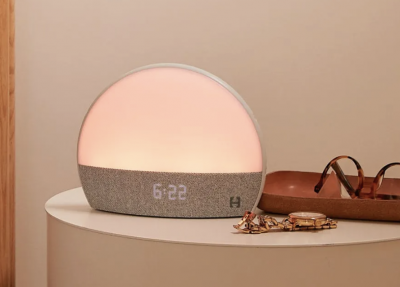 Hatch
The perfect product for creating a relaxing bedtime routine.
Use code EARLY30 to get $30 off your purchase of a Restore now through 11/29!
2. Tidy Up Your Main Space
Some families might spend a chunk of their weekend deep cleaning the entire house. As wonderful as it probably feels to start each Monday with a sparkling clean house, it isn't always realistic. Or perhaps you don't want to spend your weekend cleaning (raises hand). In that case, it might be more ideal to clean just enough to feel good going into Monday.
For me, tidying up the kitchen and living room—the space where I spend the majority of my day—is key. The upstairs might still be a mess, but since I spend most of my day on the main floor, the upstairs is out of sight and out of mind.
With a 1-year-old, the main floor is a disaster by Monday at 10 a.m., but it's nice to know the week had an organized sstart. Tidying up is the perfect task for toddlers to help with too. Make it a game to see how quickly they can put their toys in the toy bin.
3. Put Away Dishes and Laundry
There are two types of people: those who fold and put away their clothes as soon as the dryer is done and those who pull clothes from the dryer when they want to wear them.
It feels really good to empty both the dishwasher and dryer before the week starts. Even if you run the dishwasher and do laundry five more times that week (#momlife, right?), starting with it done and cleared away on Monday feels good. This is a great partner task and shouldn't fall solely on your shoulders. You tackle one, they tackle the other.
4. Look in Your Fridge
Not everyone meal plans and preps, but taking a mini-tour of your fridge can help you take inventory of the fresh fruits and vegetables you have and when they might go bad. Take a minute to brainstorm how you might use your fresh produce early in the week. This is a fun activity for older kids. Have them scavenge through the fridge and come up with creative meals they'll enjoy.
5. Review Your Calendar
Paper planners may be outdated, but I still love using them. I usually spend a few minutes on Sunday making sure my calendar is set for the week ahead to give myself a reminder of our itinerary. Remember to think through your kids' activities as well as your partner's schedule in addition to your own.
This is an ideal time to have a chat with your partner or connect with your co-parent about who will be the lead on certain kid-related tasks. Don't forget to schedule some alone time too.
6. Write Your Weekly To-Do List
Once I know what's on my agenda, I make my to-do list. Everyone has their to-do list style of choice, and I've been playing around with what works best for me. Currently, I write down every single item I hope to accomplish for the week. If something has a specific day it needs to be done, I note the day next to it. For items that can be done any time, I leave it blank, giving myself the freedom to get around to it when I'm in the mood. I also note "necessary" versus "nice-to-do" tasks.
It can be overwhelming trying to cross things off your to-do list while juggling work and kids. Having a physical list can help you to prioritize the most necessary tasks while not getting weighed down by ones that aren't so essential.
7. Schedule Your Workouts
If working out is an important part of your routine, make it a set part of your schedule. Each Sunday, look at your calendar and pencil in your workout time. This can be specific, like "run three miles on Tuesday at 10 a.m.," or it could be something vague like "work out for 30 mins at some point on Thursday." Do what works for you.
Write these workouts in your calendar and view them as equally important as an unskippable meeting with your boss. Because, really, you're the boss, and it's always important to look after your health and wellness and hold yourself accountable. Of course, things come up and schedules shift. If you need to move things around, you can do so, but having it written in your calendar shows it's an important part of your week.
8. Take a Moment for Mindfulness
Sundays as a mom aren't quite the same as when you had fewer responsibilities and spent the afternoon casually brunching with friends. In some cases, every day can feel the same. Make Sunday feel different by taking a moment for mindfulness. This might be writing in a gratitude journal, meditating, taking a virtual yoga class, or simply stretching for 10 minutes. You can make this a family affair with family yoga or by setting intentions for the week with your kids.
9. Fill Your Water Bottle
Yes, this should be an everyday task. But take a minute to fill a water bottle before heading off to bed Sunday night so that when you wake up on Monday morning, it's sitting there ready for you. By pouring it the night before, it will be an ideal room temperature for your first glass of the day. While water isn't the cure for everything, it is the simplest way to start your day (and your week) off well.
This post was in partnership with Hatch, but all of the opinions within are those of The Everymom editorial board. We only recommend brands we genuinely love.