This may be an unpopular opinion, but I didn't want to leave the hospital after giving birth. Even with the subpar food and sleeping arrangements, I loved the doting nurses who helped take care of me and my baby, not to mention the lactation consultant who helped me with breastfeeding challenges and even the hospital robe, gown, and cozy socks I didn't take off for the duration of my stay. Leaving the hospital meant I had to handle a new baby—and care for my healing body—without as much help.
Since you can't bring the wonderful nurses home with you, we pulled together some of the next best things to help when you come home from the hospital with your new baby. These may be the items you didn't register for but suddenly realize you need with great urgency. From products to help with breastfeeding to caring for your most delicate parts (read: nipple cream and padsicles), here are five things you'll want to have ASAP after baby. And because we know you're limited on time and will want easy one-stop shopping, nearly all of these items can be purchased at Buy Buy Baby.
Extra Breastfeeding Supplies
BuyBuyBaby | Earth Mama
Editor- and reader-favorite Earth Mama Nipple Butter is non-GMO, lanolin-free, and made without petroleum or parabens—so you don't have to wash it off before feeding your baby.
BuyBuyBaby | Medela
It's true that not everyone will need to use a nipple shield, but they can be a life saver for sore nipples, inverted nipples, or babies who have difficulty latching.
BuyBuyBaby | Medela
Put breast-pump parts, bottles, pacifiers, and more in these super-convenient sterilizer bags you can put in the microwave.
Postpartum Care for You
BuyBuyBaby | FridaMom
The care package your healing body needs includes FridaMom's Disposable Postpartum Underwear, Instant Ice Maxi Pads, Perineal Cooling Pad Liners, and Healing Foam.
Hatch
If there was ever a time you deserved a comfy pair of undies, it's now. The full-coverage panty includes all-day support with light sculpting compression.
multiple colors available
BuyBuyBaby | Unspring
And for the moms healing from C-sections, grab a pair that also includes built-in, medical-grade silicone.
multiple colors available
Somewhere Safe to Place Baby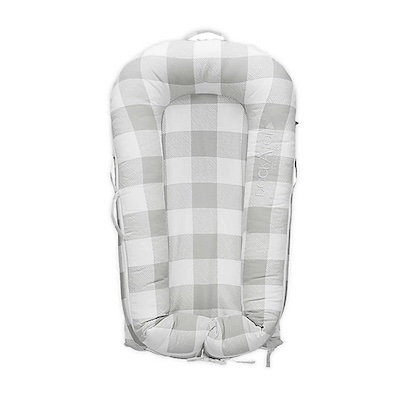 BuyBuyBaby | Dock A Tot
An endless array of on-trend patterns and a cult Instagram following make this baby lounger from DockATot a classic. We love the handles for easy portability and the zip-off covers because, well, babies.
*for supervised activities, not for sleep
multiple colors and patterns available
BuyBuyBaby | Baby Delight
A lower-priced dupe for the popular BabyBjörn bouncer, the neutral-designed Baby Delight is suitable for children from birth to 6 months old.
more colors available
More Swaddles, Sleepsacks & Burp Clothes Than You Thought
BuyBuyBaby | HALO
Sleep sacks and swaddles were likely on your registry, but what happens when breastmilk, spit-up, and diaper changes gone awry soil them in the middle of the night? You need some extras on hand, like this budget-friendly, highly rated, and hospital-approved sleep sack.
more colors and patterns available
BuyBuyBaby | Burt's Bees Baby
You'll want burp cloths accessible in every room, so grabbing an extra pack of super-soft, organic cotton ones like these from Burt's Bees can help ensure one is always within reach.
more colors and patterns available
Hydration and Snacks
Daily Harvet
As a new mom, it's easy to forget to eat during a time when it's incredibly important to be nourishing your body. Daily Harvest delivers delicious food and smoothies made with whole fruits and vegetables.
Target
Like the beloved giant cups of ice water they give you at the hospital, make sure you have your own at home like this 40-ounce tumbler, which includes a convenient straw to sip through.
multiple colors available
BuyBuyBaby | Boobie Bar
Delicious Boobie Bars are filled with nutrients and herbs to help boost your milk supply. Plus, you can set up a subscription so you always have some on hand.
This post was in partnership with buybuyBaby but all of the opinions within are those of The Everymom editorial board. We only recommend products we genuinely love.