When my baby was born, there were a ton of big and small decisions to make. It felt very overwhelming, especially when trying to sift through all the expert advice and product recommendations friends and family were sending my way. One of the seemingly small decisions that actually impacted a lot of daily life with a new baby was deciding on the right diaper brand for our family. After much research, we chose Seventh Generation diapers.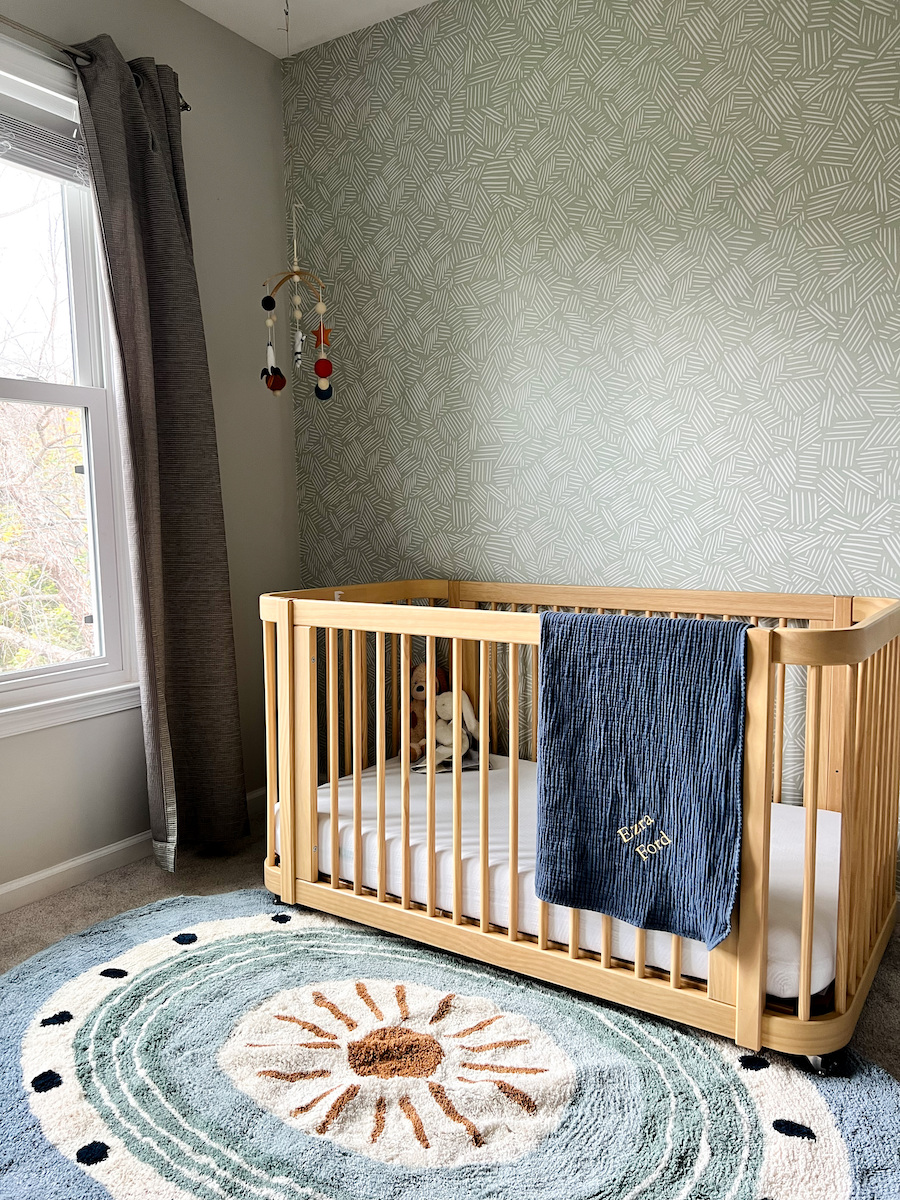 editor-favorite crib brand Nestig just released gorgeous new wallpapers that will easily transform any space 😍
Yes, of course, finding a diaper that prevented blowouts was a major part, but really thinking about the number of diapers a baby will use in their first years, the fact that babies wear them against their skin almost 24/7, and the potential impact on the environment, there's actually so much more that goes into choosing a brand to support. Seventh Generation diapers do what a good diaper needs to do (i.e. containing blowouts) and have a company mission I support—they believe in giving the best care to our babies and the next seven generations of babies.
Plus, their designs and packaging with phrases like "future wildlife protector," "future plant lover," "future change-maker" offer small reminders why my work as a mom is so important. My daughter may only speak a few words right now, but I want to help her form a strong and unshakable voice that will help her to achieve her dreams and change the world. The way we live our lives and the brands and companies we choose to support matters. And I'm happy to support a brand that focuses on the future for our children and our children's children.
If you're overwhelmed trying to choose a diaper brand, here are six things to consider: 
1. A diaper brand that can grow with your child
It's exciting to watch my daughter grow, but also can we please slow down time? Babies grow fast (too fast!), and when I found a diaper brand I loved, I wanted it to stick around for a while. This is why Seventh Generation is the perfect choice for our family, with sizes available from newborn up to size 6. I love knowing I can count on Seventh Generation to be the perfect fit for my little one from the newborn stage through crawling, walking, and potty learning.
2. A diaper brand with a mission you believe in
Seventh Generation is helping parents to raise future world changers and their diapers offer the protection and peace of mind to help ensure baby has no limits from the start. Seventh Generation's redesigned Sensitive Protection Diapers feature packaging that showcases its mission to not only provide the best diaper for your baby, but also care for the health of the next seven generations. As parents, we buy a lot of products, and it makes me feel good that my money and support is going to a brand that I believe in.
3. A diaper that's super absorbent
Remember those blowouts I mentioned? As a new mom, I quickly realized that I'd want to do anything I could to minimize that issue. And as your child grows, leak protection will continue to be an important diaper feature. We definitely had our fair share of leaks in the early days, which led me to try several diaper brands in search of the magical one that would offer the absorbency babies need. Seventh Generation's diapers include an ultra-absorbent core that helps prevent leaks for 12 hours.
4. A diaper (and wipes!) made for your baby's bottom
Babies have the softest and sweetest skin that you'll want to cuddle up to and that also means that they can have extremely sensitive skin. You've heard of (or have experienced) diaper rash, and it's not fun for anyone. It may be impossible to fully prevent it, but there are steps you can take to help minimize it. It's key to find a diaper that works for babies' gentle skin.
In addition to changing to sensitive laundry detergent, it was also important to me to choose diapers and wipes that wouldn't bother my daughter's skin. Seventh Generation Sensitive Protection Diapers and Free & Clear Baby Wipes are hypoallergenic and fragrance-free to ensure they're gentle on baby's sensitive skin. When changing my baby's diaper, I didn't have to worry about fragrances potentially causing irritation.
5. A diaper brand that goes above and beyond
If you're already a mom, you know the number of diapers that a baby goes through is actually pretty impressive. How does this tiny being create so many dirty diapers? I have no idea, but it did make me give me enough pause to choose a brand that was considering their impact, for the health of the next generations.
I want to teach my daughter to be environmentally-conscious, and this can start early. Seventh Generation diapers have an ultra-absorbent core made with sustainably-sourced fluff and 0 percent chlorine bleaching. Though there's no way to avoid the seemingly excessive amount of diapers needed just to get through the day, it's relieving to know you're supporting a company that goes above and beyond sustainable sourcing, and advocates for real change to ensure an equitable place for our future generations.
6. A diaper that's easy to buy when you need them
As parents, we have a lot on our to-do lists, and running out of diapers is a stressor that no one needs. Have you had the experience of realizing you are about to use the very last diaper in your house? It's basically a parent's worst nightmare. Using Seventh Generation means that I know I can always get my hands on more when I need them—they are available at our most frequented retailers, including Amazon. This has cut down on our diaper-related dramas because I know my family will never miss them when we need them most.
This post was in partnership with Seventh Generation but all of the opinions within are those of The Everymom editorial board.