When my daughter was 18 months old, her nanny took her to an art class. That evening, my husband and I came home from work and were gifted with her first hand-crafted piece of "art." It was a clay sculpture that looked like a plate with a burrito someone had eaten, then thrown up. I wanted to put it in a box deep in the dark of the closet, but my husband, not usually the sentimentalist, wanted to keep it on display. The "regurgitated burrito" piece ended up on his nightstand for way, way too long.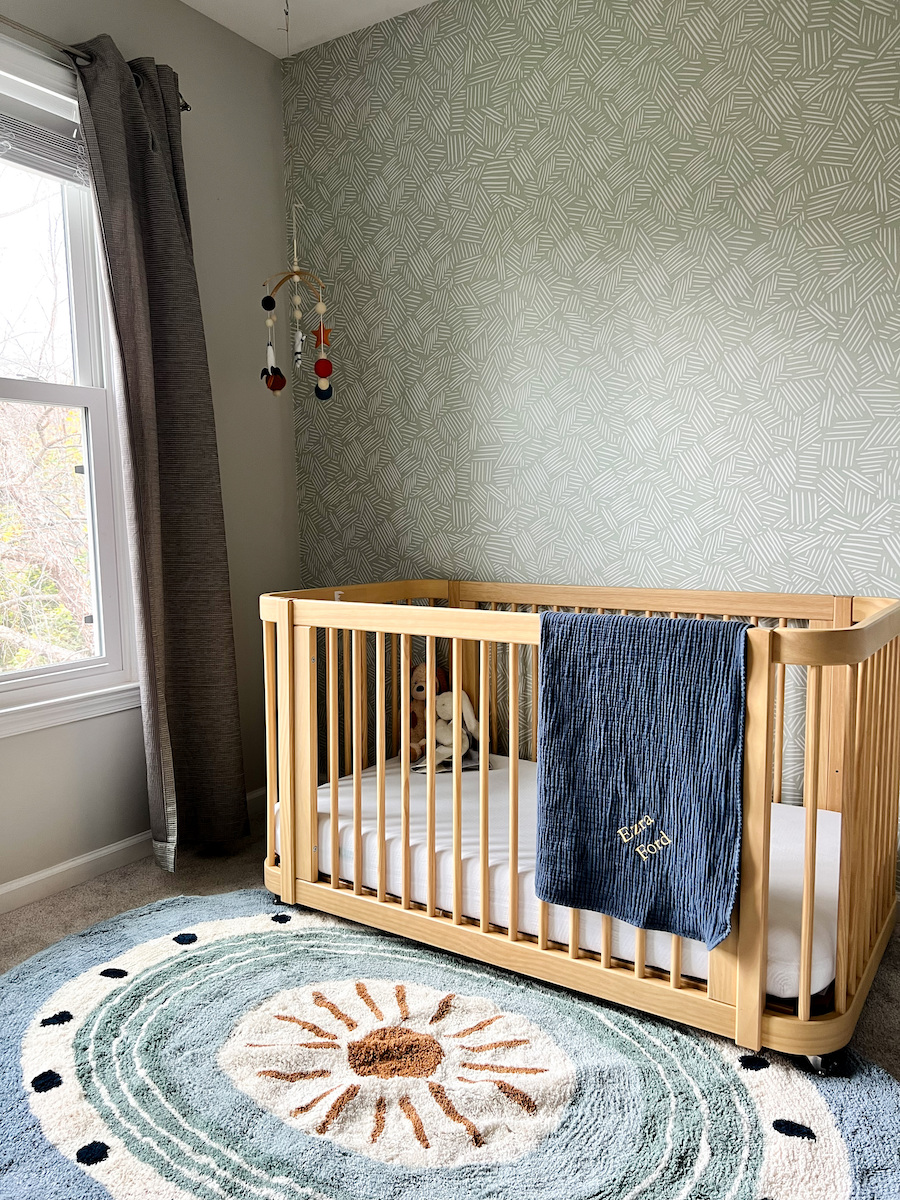 editor-favorite crib brand Nestig just released gorgeous new wallpapers that will easily transform any space 😍
Now, my kids are in preschool and first grade, and the art projects, drawings, and short stories roll into our house in fearsome quantities. The quality has increased as well, and I do love a lot of it, but without much space to store it, the papers and crafts on display crowd our refrigerator and pile up on our countertops.
I believe it was one of my mom-idols, Kristen Bell, who asked the serious question, "What are you supposed to do with all the beautiful garbage that your kids give you?" She articulated this parenting problem perfectly. And while I haven't figured out the perfect solution, here are a few kid artwork preservations ideas I've either tried, read about, or watched friends successfully execute.
1. Create a digital art archive
As items come home from school, snap a picture of each piece on its way to the recycling bin. You can create an album on your phone or your photo storage app for each year to help keep the artwork organized by age and by child. And if there's anything you love, you can always turn it into wall art or another tangible piece with companies like Art to Remember.
I believe it was one of my mom-idols, Kristen Bell, who asked the serious question, 'What are you supposed to do with all the beautiful garbage that your kids give you?'
2. Photobook it
This could be a phase #2 to your artwork albums saved to your phone. Use your albums to make a photo book at the end of each school year.
If you're not as disciplined to photograph it right away (like me), companies like Artkive make it possible to mail your pile of kid artwork away to a company to photograph and create a keepsake book of kids' artwork for you. I've wanted to try this option, but it comes with the heftiest price tag and you still need to find a storage space for the pile in the meantime, so for now, I still have my piles in a box in the closet and a half-created album on my phone. But as the pile grows, I'm beginning to think perhaps the price is worth it.
3. Box it up
My initial artwork storage solution began as a three-ring binder where I'd three-hole-punch my daughter's preschool artwork. Her artwork quickly outgrew the binder. Boxes and file folders were my own mother's storage solution and are what I've adopted. Now, you can find so many cute and practical storage options for artwork. Consider adding file folders to separate the artwork by age or grade-level.
4. Be ruthless with recycling
I'm a sucker for any artwork with little hand or footprints, "What I want to be when I grow up" answers, or short stories, and they're hard for me to throw away. So, how do you determine what you or your kids are going to want in the future?
Recently, while visiting my parent's house over the holidays, my mom dragged out our art files so my brothers and I could do our own purging. The treasures we saved were Mother's Day cards with adorable kid-written descriptions like, "I love my mom because she is a regular size" and future predictions, like my 8-year-old wishes for "a sister, a ten-speed, and a million dollars." Some of the actual artwork I remembered creating in elementary school was fun to look at one more time in adulthood, but then I unsentimentally recycled most of it.
So when the piles get too high, ask your child which one piece in the pile is their favorite or which one they'd like to keep. If they can't choose, do it yourself — but maybe after they're asleep.