Feeding toddlers is not for the faint of heart. While my oldest is technically just getting into the preschooler stage while my youngest is wholly in the toddler phase, there's only one thing I can be sure of when it comes to feeding them: I can't be sure of anything.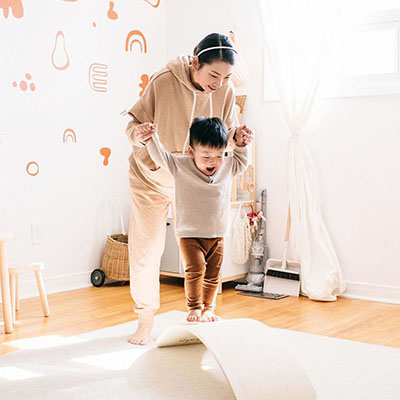 If your kid is turning 2, get ready for hilarious conversations, much more involved play, and lots of sweet, sloppy kid hugs and kisses. As for what you'll need? Leave that to us.
On some days, they'll happily gobble up whatever I put on the plate in front of them. On others, they'll stare disgustedly at their once beloved foods like they've never seen them before. It's a frustrating rollercoaster for sure, especially as a mom who doesn't love to cook.
To make feeding my 1.5-year-old and 3.5-year-old just a little bit easier, I stick to a few tried-and-true hacks. Read on for the three things I do to make feeding my kids easier.
1. Double Up and Freeze Recipes
I don't love to cook, nor do I have time to prepare a new meal every night. Instead, I double the recipe on the few nights that I do cook and store the extras for a quick freezer meal for the coming weeks/months. This helps keep a solid rotation of different meals on hand so that my kids don't get sick of eating the same thing over and over again and also helps me in a pinch when cooking just isn't happening that night.
2. Have Breakfast-for-Dinner Once a Week
Mondays are usually rough days in our house. The kids are slower to get ready for preschool/daycare in the morning, and by evening, we're all tired. That's why I usually go for a trusty breakfast-for-dinner recipe on Monday nights. It's easy and requires very little thought. Scrambled eggs and toast? Great. A bagel topped with an egg? Perfect. Peanut butter pancakes? A sure hit. Even if I'm not as stocked up on groceries as I'd like to be, there's always something I can whip up for breakfast for dinner.
3. Have Healthy, Premade Meals on Hand
Despite my best efforts, we tend to end up in meal ruts where we rotate between the same three to five things regularly. My kids get sick of it, and I can't say I blame them. To mix it up, I supplement our mealtimes with healthy, premade meals from meal-delivery services like Nurture Life, Little Spoon, Yumi, and Yumble.
These baby/toddler/kid meal-delivery services are truly one of the easiest ways to change up what you're serving and make sure your kids are getting fresh, healthy foods in their diet. Everything is made with real, high-quality ingredients—free of preservatives, GMOs, additives, added sugar and fillers—and subscriptions can be paused, canceled, or changed at any time.