Ah, Trader Joe's — you know it, you love it, you've meal prepped it, you've memorized shopping hacks for it, and you save a whole lot of $$$ from it. Maybe you even stumbled upon your new favorite beauty products during a routine grocery trip (or on an emergency run for more Cookie Butter, I've been there) — it's like the America's Sweetheart of grocery stores. We at The Everymom cannot get enough of TJ's. It's not just because the food is delicious, or because the prices are so good you don't think twice about getting a jar of cold brew coffee (usually $$$ anywhere else!). It's also because Trader Joe's makes healthy eating really easy and delicious, and nutritionists notice. Below are the healthy products you can score at Trader Joe's that nutritionists swear by. Accomplish your health goals, cook your own delicious meals, and maybe splurge on a dark chocolate PB cup every now and then.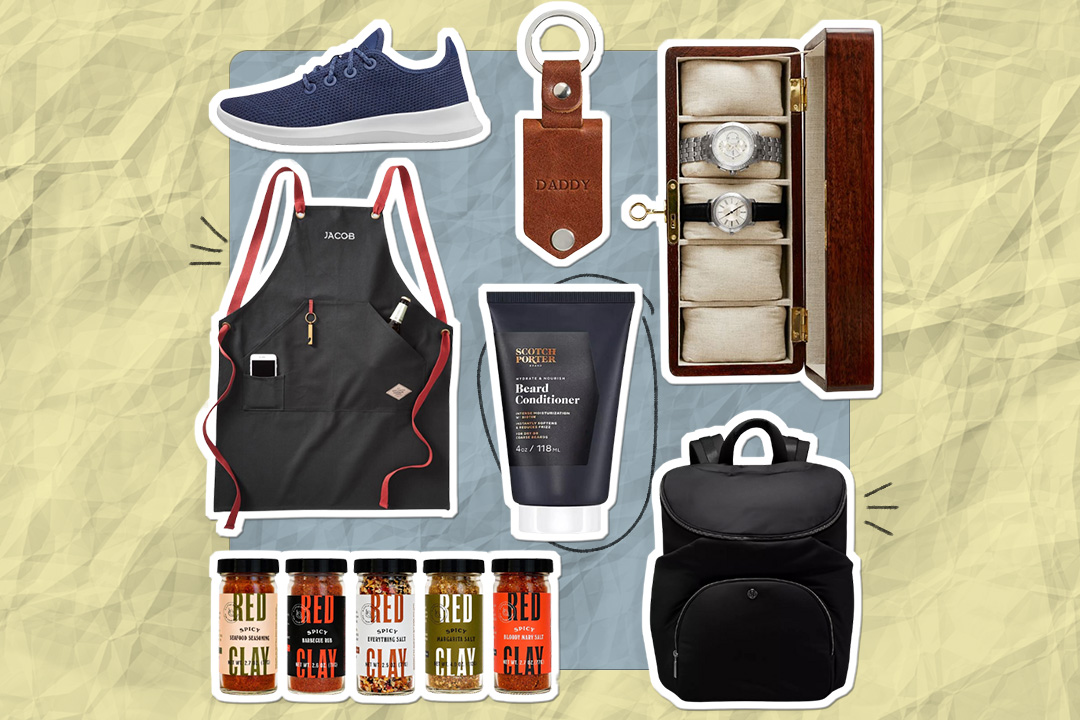 june 18 is coming up fast — have you started shopping yet? 😎
Brown Rice & Quinoa Fusilli Pasta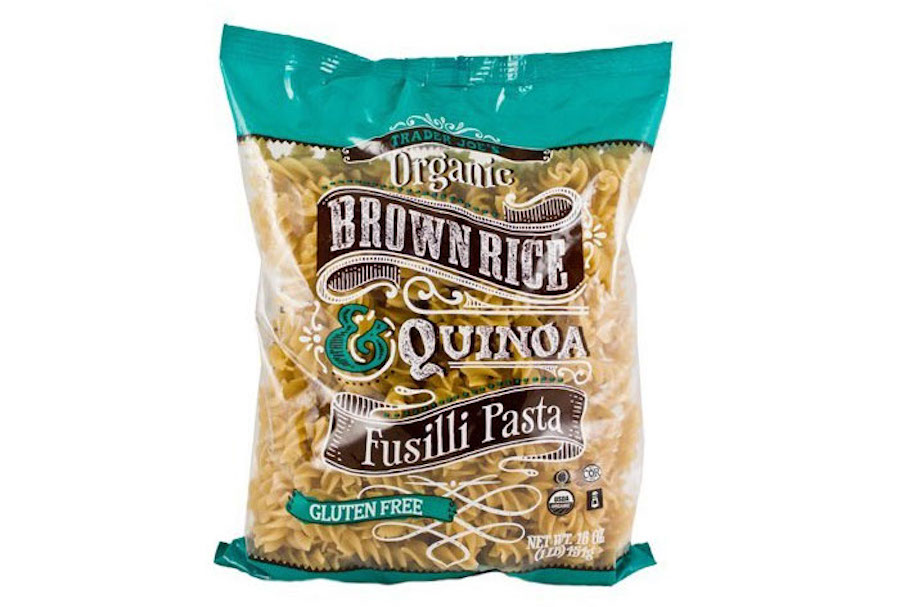 Next time you're craving mac n' cheese or pasta alfredo, don't deprive yourself! Just make a healthier version with this gluten-free pasta made with brown rice and quinoa. Not only is it void of the starchy, white carbs of regular pasta, but it's replaced with protein and fiber-packed ingredients that will give you long, lasting energy for hours. Order online here.
Organic Coconut Aminos Seasoning Sauce
This nutritionist favorite is a much healthier version of traditional soy sauce, being a wheat-, gluten-, and soy-free alternative. It also has one-third the sodium content of traditional soy sauce, making it the perfect guilt-free topper for all your stir fries and sushi rolls. On top of the health benefits, it's much cheaper than other coconut aminos sauces on the market. Order online here.
Spinach and Kale Greek Yogurt Dip
It's like all the deliciousness of your favorite creamy dips with double the protein and half the bad-for-you fat and calories. It's the perfect guilt-free appetizer when you're entertaining, or you can save it just for yourself as a snack with veggies or your favorite healthy cracker (trust me, after you try it, you're going to want to keep it to yourself). You'll never believe it's as good for you as it is.
Organic Sprouted Tricolor Quinoa
Quinoa has long been known for its superfood status. It's high in complete protein, fiber, magnesium, iron, and vitamins B1, B3, and vitamin E. They're also loaded with plant antioxidants (called quercetin and kaempferol) and have a low glycemic index, which is good for blood sugar levels. A tricolor blend ensures you're getting the most nutrients possible. Order online here.
Cauliflower Pizza Crust
Perhaps one of the most beloved Trader Joe's products of all time, the cauliflower pizza crust revolutionizes "fast food," replacing greasy and fattening crusts with nutrient-dense cauliflower and gluten-free corn flour. Spread on your favorite sauce and toppings for an easy meal that everyone (including picky kids!) will love.
Vegan Kale, Cashew, and Basil Pesto
Delicious pesto gets an upgrade with this vegan-friendly version that boasts more nutrients than the traditional version by adding kale (antioxidants and vitamins) and cashew (iron, magnesium, and healthy fats). Magically, it even tastes creamier than the traditional kind while typically being lower in calories. Top bruschetta or pasta with this guilt-free alternative.
Unsweetened Açai Puree Packets
Ever wanted to DIY your own Instagram-worthy breakfast? Now you can with the help of Trader Joe's. While many açai bowls you can get at smoothie shops or restaurants are loaded with sugar, you know there's no sugar added since these packets are unsweetened. The superfood berry helps fight inflammation and contributes to heart health, plus tastes really delicious. Add to your usual smoothies or make your own açai bowl and top with fruit.
Everything But the Bagel Seasoning
This cult classic is transforming the way you eat your basics, and satisfying carb cravings everywhere. The iconic seasoning can be added to dips, scrambled eggs, and marinades for a delicious salty taste that makes any food delicious. Trust me, you'll love Everything so much, you won't even miss the bagel. Order online here.
Veggie Spirals
Whether you're into zucchini, spaghetti squash, or carrot noodles, Trader Joe's has got you covered. These pre-made frozen packages are one of the best things to have on hand, because I know you are not about to zoodle your own zucchini noodles during the middle of a busy Tuesday. Prevent picking unhealthy choices by keeping these healthy and nutrient-dense packages on hand to be easily reheated into a mock pasta dish that's as satisfying as it is healthy.
Just Beets
Got a major salty tooth that only a bag of potato chips can fix? Beat the unhealthy habit by reaching for this chip alternative for an afternoon snack. They're literally just beets (name makes sense, doesn't it?), so you know they're not loaded with sodium, and beets pack more good-for-you nutrients than starchy potatoes. Plus they're dehydrated instead of fried, so no unhealthy fats or oils. Order online here.
Nut Butter with Flax & Chia Seeds
It's the same nut butter you love for PB&Js or to eat with celery, except with no added sugar (like other major brands), and with the healthy addition of chia and flax seeds, which are full of omega-3 fatty acids and bloat-busting fiber. Peanut butter just got more interesting. Order online here.
Riced Cauliflower Stir Fry
Another cult favorite that we like to keep on hand for quick and easy meals to make in a pinch, the stir fry (made with cauliflower rice and other veggies) is basically a meal ready to go. Plus, there's no added sodium or sugar like other stir fries — what you see is exactly what you get. Reheat over a skillet and add egg, tofu, or chicken for a nutrient-dense meal under 10 minutes.
Broccoli and Kale Slaw Salad
Most prepared produce comes with a steep price at other grocery stores. But Trader Joe's knows that price is as important as convenience — they offer a wide variety of prepared produce that's not only fresh, delicious, and easy to cook with, but will not add up to take your whole paycheck, even if you want everything on the shelf (and you will!). Try the Broccoli & Kale Slaw for a fresh and nutritious mix to add into stir fries or toss into a salad.
Organic Ginger Turmeric Herbal Tea
Every health nut needs a ginger turmeric tea — the combo of superfood ingredients busts bloat, beats indigestion, and reduces inflammation. Use it to get rid of nausea or as a daily drink to replace your second cup of coffee with an added nutritious boost. Order online here.
This article originally appeared on The Everygirl on July 21, 2019.