We all love getting gifts (we do, right?), but there's a special feeling you get when giving a gift that you know the recipient is going to love. This might even be more exciting than getting a gift yourself. Spoken like a true parent, don't you think?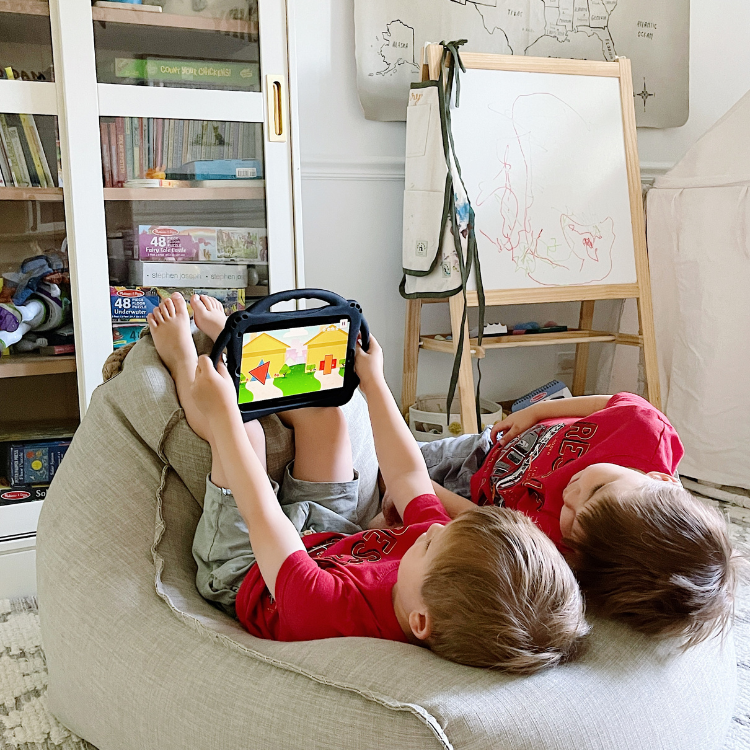 a pediatrician shares what she *really* thinks about LOs and screen time
As you're brainstorming holiday gifts for the upcoming season, it's a great opportunity to think outside the (gift) box. Especially after we've all spent more time at home, people are looking for new hobbies, and certain experiential gifts are (sadly!) off the table, so it's the perfect time to give a unique gift.
Not feeling particularly creative? Don't worry, we've got you. We're sharing 11 unique gift ideas that you may not have thought of and are sure to be loved by everyone on your list.
1. A Meal Delivery Kit
You and you friends might be feeling cooking fatigue and are tired of the same old recipe week after week. Give the gift of a meal-delivery kit, like Blue Apron,  allowing the recipient to make home-cooked yet out-of-the-ordinary meals. Typically, these meals can be made in under 30 minutes and are great for busy families.
2. New Cookware
And if you'd like to stick with a home-cooking theme, new cookware is a great option. New pots and pans, like nontoxic ones from Caraway or Our Place, can making cooking at home a more enjoyable experience. Plus, they are available in fun colors to liven up your kitchen.
3. A Crafting Kit (For Adults)
Anyone else on the hunt for new hobbies? Staying at home combined with winter weather is the perfect recipe for some crafting. Check out The Crafter's Box, where you can sign up for workshops that come with a curated kit of all tools and materials needed to complete the craft. Workshops include quilting, stained glass, weaving, tapestry, pillow making, and more. You can purchase a gift card so your recipient can choose the workshop of their choice.
4. A Wine Subscription/Membership
If you can't get to the vineyards, you can bring the vineyards to you (or your friend) with a wine subscription or membership. There are lots of options like Winc, Wine of the Month Club, Harry & David Wine & Cheese Pairing Club, Naked Wines, and beyond. To make this even more fun, give this as a gift to your bestie and sign yourself up as well. If you're not able to get together with friends or family, coordinate your wine orders and have a virtual BYOB wine tasting get together.
5. Disney+ or Other Streaming Service
We might all already have Netflix (or at least we have our best friend's sister's cousin's login), but if you have a friend or family member that needs more variety, considering gifting a few months of a streaming service like Disney+. It's not just for kids, parents will love the shows and movies as well.
6. A Movie Night Kit
Along with a streaming subscription, put together an at-home movie viewing kit. Think things like popcorn with fun toppings, movie-theater candy favorites, cozy blankets, and fuzzy socks. All the makings for a cuddly night at home with the kids.
7. A Book Subscription
If your friends have been talking about their new year's resolution to read more, give them a boost with Book of the Month Club. With this subscription, they can select monthly books to be delivered to their door.
8. A Night of Babysitting
Nothing is quite as priceless as the gift of babysitting. Swap with friends or family as a great (free!) gift to offer.
9. Food Delivery Gift Card
As much as I stand behind the idea above to gift a meal-delivery kit, it would also be pretty nice to skip the cooking and have food delivered. Who wouldn't love getting a gift certificate to a favorite restaurant or a food delivery service like Doordash?
10. Coffee Monthly Delivery
We're moms, and we're tired. Coffee helps. Gift a fellow exhausted mom a coffee delivery subscription, like one from MistoBox, Blue Bottle, or Clevr Blends. Each month, they'll get a special delivery of fresh coffee beans, ready to wake up the sleepiest of parents.
11. Craft Kits for Kids
If there are curious and creative kids on your list, check out craft kits like the ones from Kiwi Co. You can shop by age, ranging from newborn up to 104 (kids of all ages!). The various crates will inspire young minds and are a great way for parents and kids to bond over experiments and science.