There's just something about a slight chill in the air that makes family movie nights seem like the greatest thing in the entire world. Whether your little ones are into animated films (hello Disney+) or funny movies or even if they prefer a great TV show, snuggling up together with a good snack and zoning out in front of the television is some of the best family bonding there is.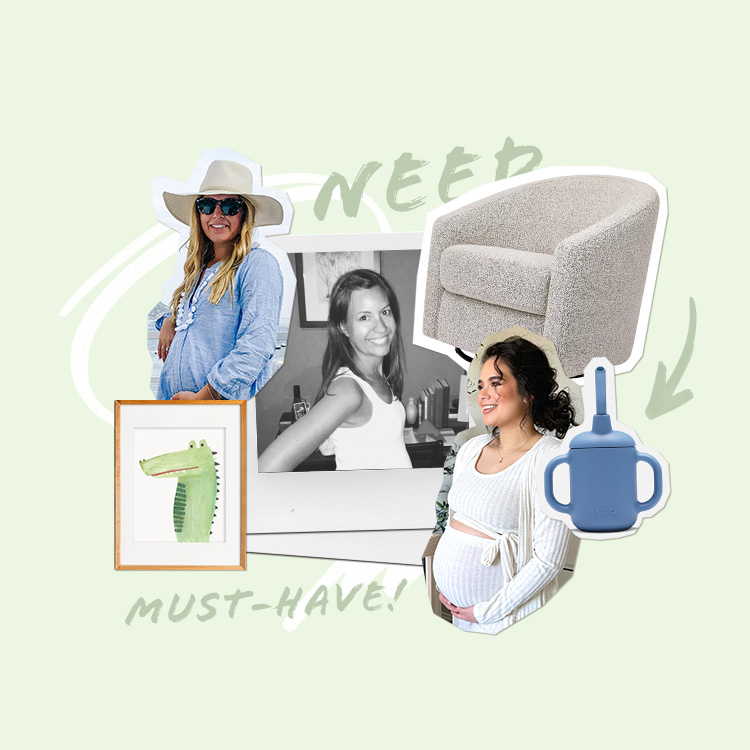 babylist has everything you need—and more! 💕
In spite of my love for movie night, I do recognize that there is one not-so-fun part of the ritual: deciding what in the world to watch. Siblings have different preferences, parents have a list of do-not-watch films, and everyone is tired. In order to eliminate the stress of decision-making on movie night, we've rounded up eight different pairings of pajamas, movies, and snacks that will make the perfect film-watching experience. Plus, you never know: Maybe with these combos, they'll be so cozy that they'll doze off early.
Movie Combo 1
Movie: The BFG
Orphan Sophie is naturally scared the first time she meets the BFG (Big Friendly Giant), but she soon learns her new friend isn't like other human-eating giants. Together, Sophie and the BFG must convince the queen to help them get rid of the bad giants once and for all.
Where to watch: Netflix
Rating: PG
Snack: Ants on a Log
Combining celery, peanut butter, and raisins to look like little ants sitting on a log is the most creative sneaky way to get greens into your kid's diet. It's perfect for all ages on movie night but especially fun so your little ones can feel like giants themselves when munching on this snack.
Pajamas: Quirky Polka Dot PJs
How cute are these subtle dot pajamas from H&M? They're amazing for wearing while watching a quirky movie based on a Roald Dahl book.
Movie Combo 2
Movie: Fantastic Mr. Fox

This is another movie based on the book by Roald Dahl. Three thefts by the Fantastic Mr. Fox (voiced by George Clooney) leads to his family and community being hunted by local farmers. The film was nominated for an Academy Award in 2009.
Where to watch: Disney+
Rating: PG
Are pumpkin cookies the healthiest movie night snack in the world? Probably not. Are they easy and fun for pairing with an autumnal Wes Anderson kids movie? Definitely. Try this recipe by Erin Clarke of Well Plated.
Pajamas: Fox PJs
These organic cotton long johns from Hanna Andersson are super cozy on the inside and on theme for watching Fantastic Mr. Fox.
Movie Combo 3
Movie: Charlotte's Web
The unlikely friendship between a pig and a spider comes to life in this heartwarming tale based on the beloved book by E.B. White.
Where to watch: Watch on Hulu and Disney+, rent on Amazon Prime
Rating: G
Snack: County Fair Inspired Food
Think homemade funnel cakes, popcorn, mini corn dogs, or cotton candy to help you enjoy this classic story of unexpected friendship. Try this butter toffee popcorn recipe from Brown Sugar for a sweet and salty treat.
Pajamas: Farm-Themed PJs
All the farm animals come together in this super soft and super cute bamboo PJ set, which includes pigs, of course.
Movie Combo 4
Movie: Hugo
Set in 1930s Paris, the movie follows main character Hugo, an orphan living in a train station on a quest to uncover a mystery left behind by his late father.
Where to watch: Netflix
Rating: PG
Snack: Hot Chocolate
Hugo is an amazing cold weather movie, and hot chocolate is a natural choice for any chilly movie night. Just like the film, it will be a hit with kids and adults alike.
Pajamas: Classic Button-Shirt Pajamas
Sometimes kids like to have pretty PJ sets, too! These navy pajamas from Maisonette give off major Hugo energy.
Movie Combo 5
Movie: Paw Patrol: The Movie
Released to the delight of toddlers and preschoolers everywhere in 2021, the Paw Patrol:The Movie follows all your kid's favorite pups on another adventure, this time with some jokes the grown-ups will enjoy too!
Where to watch: Watch on Paramount+, rent on Amazon Prime
Rating: G
Snack: Scooby Snacks
Scooby Snacks look like dog treats but are really cinnamon flavored cookies your kids will love to power up with while they watch this new release again and again.
Pajamas: Official Paw Patrol Character Pajamas
All your little one's favorite characters come together on these super cute organic pajamas. It's also a great gift for the toddler or preschooler on your list this year.
Movie Combo 6
Movie: Luca
Disney Pixar's latest film is a coming of age story set in the Italian Riviera. All viewers will enjoy the colorful animated seaside town as we follow Luca and his friend Alberto on their summer adventures. The plot twist is that the friends are actually sea monsters secretly spending the summer looking like humans on land.
Where to watch: Disney+
Rating: PG
Snack: Goldfish Crackers
If you have had the pleasure of seeing Luca, then you know that Pepperidge Farm Goldfish crackers are the perfect snack to munch on while watching this on land and underwater Pixar hit. A close second snack option? Swedish Fish. And third, if you're feeling really ambitious, try making homemade Goldfish Crackers with this recipe from Half Baked Harvest.
Pajamas: A Brightly Colored Pair of PJs
Is your kid not into long pajamas? No problem. These short john pajamas come in fun and bright prints, just like the backdrop of the Italian seaside village in Luca.
Movie Combo 7
Movie: Over the Moon
Fei Fei is young when her mother passes away, but she has always loved the story of the Moon Goddess, Chang-e, based on Chinese folklore. As her father begins to open his life back up to the possibility of love, Fei Fei worries that her mother will be left out and decides she must build a rocket to save her family unit.
Where to watch: Netflix
Rating: PG
Cut up bananas, melon, strawberries, and marshmallows for a rocket-shaped, healthy treat, like this recipe by Mama Cheaps, while you watch Fei Fei build a rocket to prove the moon goddess her mother told her about is real.
Pajamas: Out of This World PJs
This set of two organic cotton pajamas is perfect for little ones with their sites set on outer space.
Movie Combo 8
Movie: Frozen
Some movies need no introduction, but for those who haven't watched Frozen, Frozen 2, or the many accompanying Frozen shorts, here's the brief overview. The movie follows two sisters, Elsa, who has magical ice powers, and Anna, who does not, on adventures where they find love, friendship, family, and an incredibly likable snowman named Olaf.
Where to watch: Disney+
Rating: PG
Snack: Trader Joe's Hold the Cone Ice Creams
It's a classic cold snack for a classic kids movie. Let's be honest: If you're going to make it through watching Frozen for the millionth time, you're going to want some tasty ice cream. And if you can tempt your kids for a new Frozen-inspired Disney short, check out the new Olaf Presents stories on Disney+.
Pajamas: That Feel Like a Warm Hug
Grab a pair of PJs with everyone's favorite snowman, made with organic cotton.