The first decade of the 2000s was an incredible time for kids movies. Those were the years that brought us Harry Potter, the first installment of the Marvel Cinematic Universe, and the first Black Disney Princess. Leaps in technology heralded a golden age for Pixar animated classics. We met Lighting McQueen for the first time and wept real tears when we saw the love of an elderly couple in UP. And don't forget cult classics like Napoleon Dynamite and Elf that appeared on the scene in the 2000s and are still beloved today.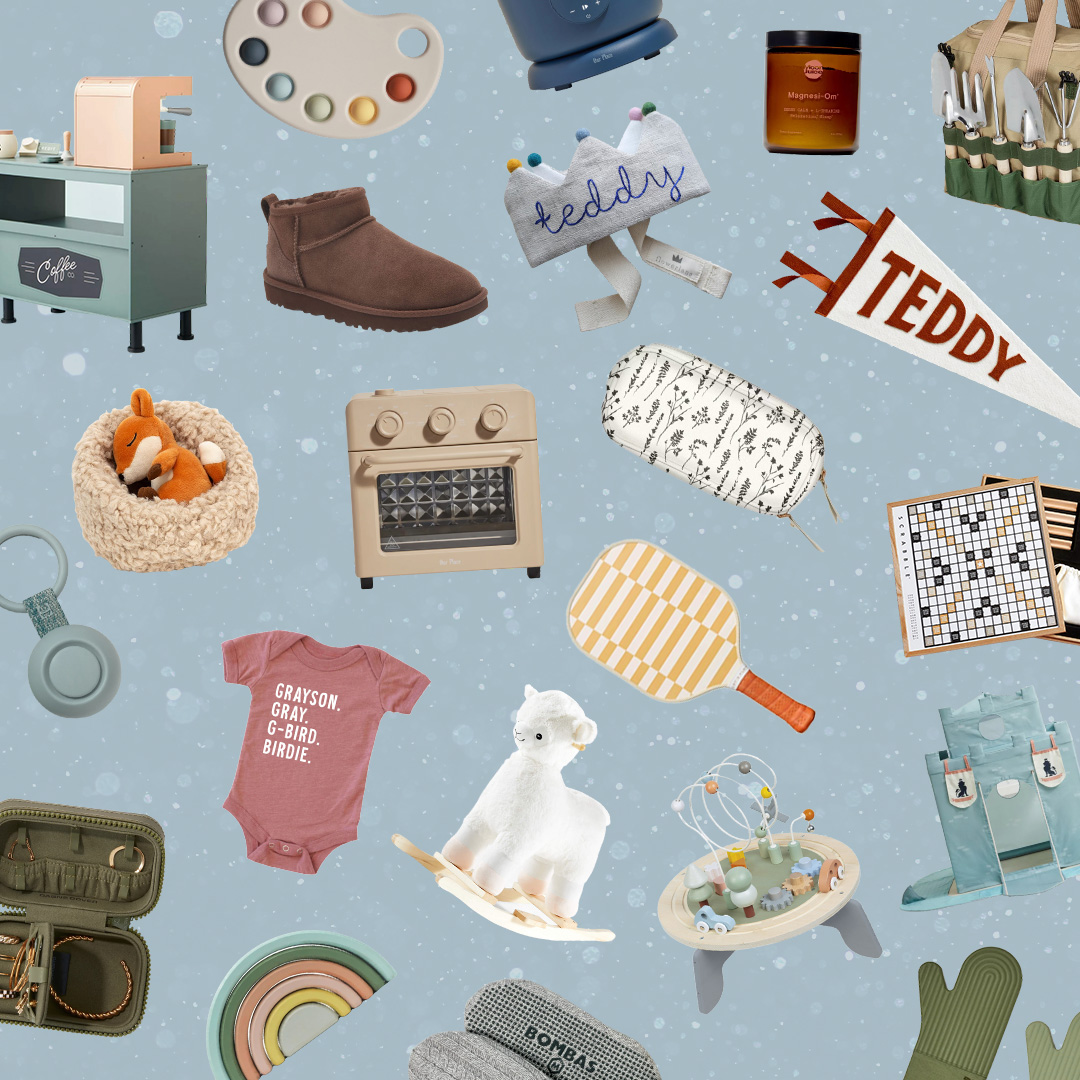 everything you need to ace holiday gifting this year 🎁
So many movies from this era have stood the test of time and don't get old even after watching them on repeat. Although several movies from the 2000s have since spawned sequels and remakes, nothing is quite like the original.
The 2000s was the last decade before media consumption as we know it changed forever. Movies weren't available to stream at the touch of a button. Going to the movie theatre still felt like an event and filmmakers consistently made wow-worthy movies for the big screen. Here are over 35 of the best movies from the early 2000s to watch with kids of all ages:
The Best Kids Movies from the 2000s
Best Animated Early 2000s Movies
The Princess and the Frog (2009)
Where to Stream: Disney+ | Rating: G
Tiana made history as Disney's first Black princess in this groundbreaking animated movie. Tiana dreams of opening the finest restaurant in New Orleans but in a twist on a classic move, a frog kisses her and she turns into an amphibian. The two hop around in the bayous of Louisiana searching for a voodoo priestess who can return them to their human form. Without Tiana, we may never have had Halle Bailey as The Little Mermaid today.
Bolt (2008)
Where to Stream: Disney+ | Rating: G
Bolt, voiced by John Travolta, is the coolest action hero on earth and the star of his own television show. However, Bolt is completely oblivious to the fact that the show is scripted and that he doesn't really have superpowers. When his human co-star Penny, voiced by Miley Cyrus, is captured by the evil Dr. Calico, Bolt is accidentally catapulted into the real world. He is perplexed because his superpowers no longer work.
The Incredibles (2004)
Where to Stream: Disney+ | Rating: PG
Mr. Incredible and his wife Elastigirl lived a life of daring and excitement as two of the world's greatest superheroes. Then, they moved to the suburbs and had three kids. Even though their children have superpowers of their own, life was pretty boring for the has-been heroes. When they get a mysterious call pressing Mr. Incredible back into service, he can't resist. Soon, the couple is back to fighting bad guys with just the right costumes and their incredible kids.
Shrek (2001)
Where to Stream: Prime Video | Rating: PG
When banished fairytale creatures take over Shrek's home, the big green ogre sets out to rescue Princess Fiona in order to regain control of his swamp. Along the way, he has plenty of adventures with his sidekick, Donkey, and finds true love with the princess who (spoiler!) we discover is an ogre herself.
Cloudy with a Chance of Meatballs (2009)
Where to Stream: Prime Video | Rating: PG
This movie is based on the beloved children's book of the same name. A zany inventor discovers how to make it rain food. At first, the town is delighted, but joy quickly turns to fear as a spaghetti tornado and other storms threaten the town's very survival. Laughs are guaranteed to ensue.
Wall-E (2008)
Where to Stream: Disney+ | Rating: G
In a dystopian future, the robot Wall-E is the only thing left roaming Earth. Wall-E is condemned to spend his days cleaning up garbage alone. When a sleek, new robot named EVE arrives to scout the planet for signs of life, Wall-E immediately falls in love.
UP (2009)
Where to Stream: Disney+ | Rating: PG
This sweet movie features an unlikely pair of heroes—cranky octogenarian Carl Fredricksen and his young neighbor Russell. The two go on a harrowing adventure to see Paradise Falls in South America and meet more unlikely friends along the way. This is a must-watch, with one of the most heartwarming and tear-jerking opening sequences in movie history.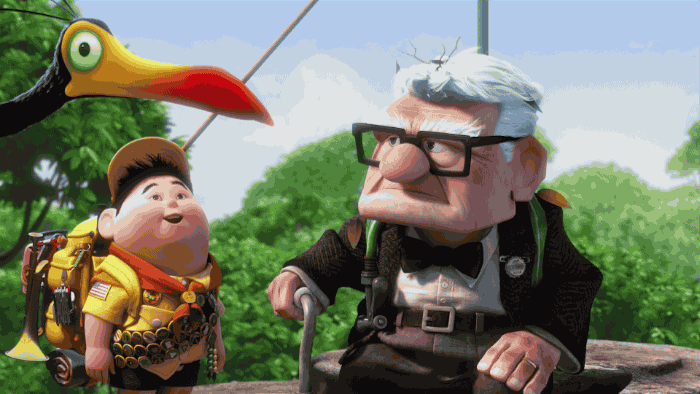 Monsters, Inc. (2001)
Where to Stream: Disney+ | Rating: G
The city of Monstropolis relies on the screams of children for power. Every night, monsters scare sleeping children to keep their city running. Chaos ensues when a human girl crosses over into the world of monsters. Knowing she is in danger, some friendly monsters keep her safe and devise a plan to smuggle her back to her bedroom. Soon, the monsters discover that children's laughter is ten times more powerful than their screams. The monsters change course and devote themselves to making children happy. Monsters have never been more lovable.
Coraline (2009)
Where to Stream: HBO Max | Rating: PG
When a young girl moves to a new apartment she discovers a hidden door that leads to a parallel world. There, everyone has button eyes. Unlike the real world where her workaholic parents often don't have time for her, the Mom and Dad in the alternate world dotes on Coraline. Coraline is invited to stay in this other world but learns something that makes her want to flee.
Note to parents: This is a children's movie, but it contains dark themes that some children may find upsetting.
More Animated Family Movies from the Early 2000s
Like Shrek, The Incredibles, and Monsters Inc., these original animated family films debuted in the early 2000s only to spawn sequels and franchises.
Best Kids Live-Action Movies from the Early 2000s
The Princess Diaries (2001)
Where to Stream: Disney+ | Rating: G
A shy high school girl's world is turned upside down when she learns that she is a real, live princess and heir to the throne of a small European country. Soon the queen, a grandmother the girl has never met, shows up to give her "princess lessons." She must decide quickly if she wants to rule a country she has never even visited or renounce her title permanently.
Harry Potter and the Sorcerer's Stone (2001)
Where to Stream: HBO Max | Rating: PG
Harry Potter made his screen debut in the early 2000s and Potterheads haven't been the same since. For those not already in the know, Harry gets a letter from an owl telling him he has been admitted to the Hogwarts School of Witchcraft and Wizardry. There, he meets his best friends, learns about his magical family, casts spells, and begins a seven-year journey of fighting "he who must not be named." Over the next ten years, six other Harry Potter movies were made.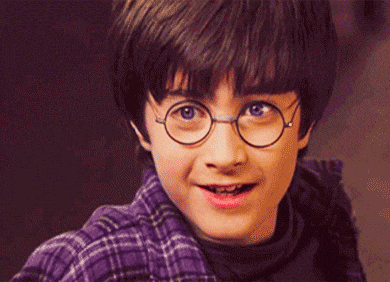 Napoleon Dynamite (2004)
Where to Stream: HBO Max | Rating: PG
Break out your "Vote for Pedro" shirt and fire up this cult classic. The misfit star helps a new kid run for class president in their small-town high school. Full of classic one-liners and dance moves, this quirky movie is a can't-miss. Rewatching this sleeper hit is even more fun with your kids (even though you may have to have a conversation about Uncle Rico's bust-enhancing pamphlets).
Princess Protection Program (2009)
Where to Stream: Disney+ | Rating: G
When a small South American country is invaded, its princess is whisked to safety by the Princess Protection Program. The princess, Rosie, must then learn how to act like a typical small-town American teenager. That's harder than it sounds. Rosie, along with a friend who knows her secret, devises a plan to oust the newly installed dictator and return the princess to her rightful place on the throne.
Freaky Friday (2003)
Where to Stream: Disney+ | Rating: PG
A teenage girl and her mother can't agree on anything. They are thrown for a loop when they switch bodies and are forced to live each other's lives. Eventually, they learn to better understand one another, just in time to switch back. The storyline is so good that the movie keeps getting remade. There are three versions to date, but the 2003 release remains a classic.
13 Going on 30 (2004)
Where to Stream: Hoopla | Rating: PG
Like most teens, Jenna wants to grow up fast. After a humiliating experience at her 13th birthday party, she wishes that she were 30. Learning that you should be careful what you wish for, Jenna wakes up the next morning as a full-fledged adult with no memory of anything that happened after her 13th birthday. Being 30 seems like a dream come true, but grown-up life turns out to be a lot more complicated than she bargained for.
Charlie and the Chocolate Factory (2005)
Where to Stream: Prime Video | Rating: PG
Tim Burton's quirky retelling of this classic story includes singing Oompa Loompas, the very spoiled Veruca Salt, a glutenous Augustus Gloop, the know-it-all Violet Beauregarde, and the earnest Charlie Bucket—with Johnny Depp as Willy Wonka. While the other kids suffer a series of misfortunes, including being taken away by squirrels and getting turned into a blueberry, Charlie is the last kid left standing.
A Cinderella Story (2004)
Where to Stream: Prime Video | Rating: PG
When her father dies in an earthquake, Sam's wicked stepmother and her twin daughters torment her endlessly. In a plot that will sound familiar, Sam (played by Hilary Duff) longs to go to a ball to meet the boy she has a crush on but she is forced to work instead. Sam's co-workers slip her a gown and mask so she can go to the ball. There, she falls in love before rushing back to work without revealing her true identity. As its name suggests, this is a decidedly 2000s movie version of Cinderella's story.
High School Musical (2007)
Where to Stream: Disney+ | Rating: G
When a star athlete and a brainy student are cast as the leads in their high school musical, sparks fly and a rift between cliques ensues. This made-for-TV Disney Channel original movie was so popular it spawned an entire franchise, including sequels and a tv-show. Multiple songs from the movie made the Billboard 200. This is a must-see with kids!
Bridge to Terabithia (2007)
Where to Stream: Disney+ | Rating: PG
Two misfit friends create an imaginary world called Terabithia in an abandoned tree house deep in the woods. To get there, they use an old rope to swing across a creek. In Terabithia, the friends are happy and forget their worries. Tragedy strikes when one of the children falls off the swinging rope and hits their head. The surviving friend keeps Terabithia alive and builds a bridge across the creek so the new ruler of the kingdom can get there safely. Zooey Deschanel, in her pre-superstar days, plays a minor role.
The Chronicles of Narnia: The Lion, the Witch, and the Wardrobe (2005)
Where to Stream: Disney+ | Rating: PG
Four children fleeing wartime London discover a wardrobe that transports them to the magical land of Narnia. There, they encounter the evil White Witch and a wise, majestic lion. The siblings must choose sides in the battle for control of Narnia. This movie was the first in a series based on the books by C.S. Lewis. It's a classic story and all kids need to see this movie at least once.
Pirates of the Caribbean: The Curse of the Black Pearl (2003)
Where to Stream: Disney+ | Rating: PG-13
This movie introduced Johnny Depp's now iconic character, Captain Jack Sparrow. Marooned after a mutiny by his first mate, Sparrow is on a quest to reclaim his ship The Black Pearl, now crewed by skeleton pirates. The first Pirates of the Caribbean movie—inspired by the original Disney theme park ride—has since inspired several sequels.
Iron Man (2008)
Where to Stream: Disney+ | Rating: PG-13
Iron Man is objectively a good movie, but it's most notable for being the first movie in Marvel Cinematic Universe and launching a series of legendary 2000s films, including 2019's Endgame. Iron Man tells the origin story of Tony Stark, a wealthy industrialist who builds a suit of armor that gives him superpowers. Later, Stark uses his suit to defeat a bad guy and the press calls him Iron Man. Marvel hasn't stopped making superhero movies since Iron Man flew onto the big screen.
Elf (2003)
Where to Stream: Prime Video | Rating: PG
A human baby named Buddy (played by comedian Will Ferrell) stows away in Santa's satchel and hitches a ride to the North Pole. There, he is raised as an ordinary elf and continues to believe he is one even as he grows into a full-sized human. Eventually, he learns he is a person and travels to New York City to meet his father. Worlds collide as the two get to know one another in this memorable holiday movie.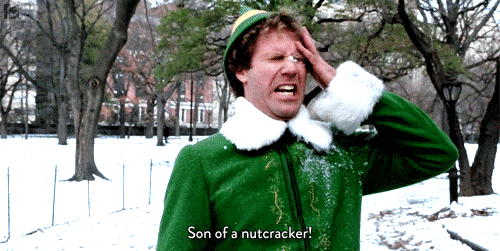 Spy Kids (2001)
Where to Stream: Prime Video | Rating: PG
When their parents are kidnapped, two siblings set out to find them and bring them home. Along the way, the kids discover that their parents were spies and enlist the help of an army of robots, a gadget inventor, and a TV show host for a daring rescue.
Remember the Titans (2000)
Where to Stream: Disney+ | Rating: PG
Based on a true story, this movie shows how a Black football coach brought the first integrated team at a Virginia High School to victory. It's thought to be one of the best football movies of all time, although some Titans say some key moments in the movie aren't accurate.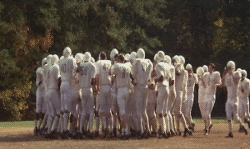 The Sisterhood of the Traveling Pants (2005)
Where to Stream: HBO Max | Rating: PG
Best friends—played by America Ferrara, Blake Lively, Alexis Bledel, and Amber Tamblyn—are forced to separate for the summer when they spread out around the world. They buy a pair of pants to help them stay close, despite the miles that separate them. The girls mail the pants to one another throughout the summer and find that they magically fit all of them perfectly, despite their different body types.
More Live-Action Kids Movies from the Early 2000s
Some early 2000s movie darlings included Hilary Duff, Anne Hathaway, and America Ferrera. You'll find them in a few of these additional live-action kids movies from the early 2000s available to stream on various platforms.