I was one of those fortunate kids who had present and doting parents in each phase of my life growing up. And even though my parents divorced when I was in elementary school, they always went above and beyond to co-parent peacefully and ensure I felt loved and valued after the transition. There are a million different ways they successfully did this, like listening to my problems, establishing regular one-on-one bonding time, and creating traditions I always looked forward to. While no parent is perfect, they always tried their best—and that's truly more than enough.
OK, I didn't mean for this to become a love letter to my parents, but every time V-Day comes around, I'm reminded of my dad's Valentine's gift tradition. He celebrated with me every year, and it was never anything crazy–usually a card and stuffed animal or my fave chocolate bar—but it meant the world to little me. Valentine's Day has a special place in my heart because of him, and it's a tradition I always knew I'd continue with my own kids. However, my LO's are in the baby and toddler stages, and since they can't read or eat a full chocolate bar, I've had to come up with some age-appropriate ways to partake in Valentine's festivities.
Without further ado, here are five fun ways to celebrate the day of love with your littlest love!
1. Give some sweets to your sweetie
Treats are probably my favorite part of V-Day, but unless I want my 9-month-old and 2.5-year-old to start running up the walls, I don't offer them candy. However, we've discovered the tastiest new smoothie concoction from Little Spoon that has both a creamy chocolate flavor and all-organic ingredients like Muraski sweet potatoes! And it comes with a delish treat from L.A.-based chocolate brand Compartés for us parents too 😉
Little Spoon
Little Spoon's newest collab with chocolate brand Compartés is the perfect way to treat you and your baby or toddler on Valentine's Day! Their limited edition chocolate-covered strawberry smoothie is delicious while still filled with superfoods and hidden veggies.
Order two or more V-Day smoothies to receive a free strawberry-studded dark chocolate chocolate-covered strawberry Compartés Bar in your order while supplies last.
Use code EVERY35MOM for 35% off your first order!
2. Share the love through reading
Valentine's Day can get a lot of flak for its focus on showering loved ones with presents just one day a year, but we can also use this day as an opportunity to show our kids the importance of expressing emotions.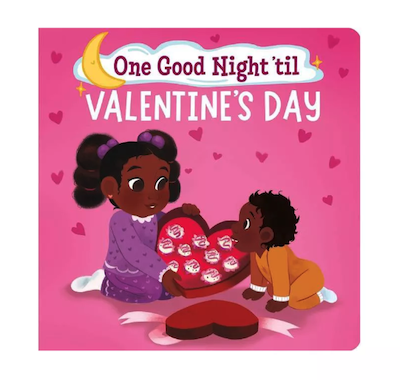 Target
Learn about familial traditions and get into the holiday spirit with this adorable board book by Frank J. Berrios.
Amazon
One of my 2.5-year-old's fave reads by author Jo Witek and illustrator Christine Roussey, and a great way to discuss feelings. We read it all year long, not just on Valentine's Day.
3. Wear your heart on your sleeves
There's just something extra sweet about waking up on a holiday morning in matching jammies.
Little Sleepies
This Little Sleepies pajama top is available in sizes XS-3XL.
Little Sleepies
Available in sizes 12-18 months to 16.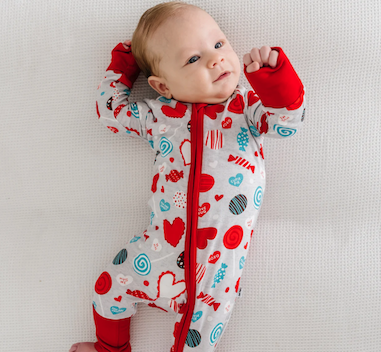 Little Sleepies
Available in sizes preemie to 3T.
4. Show your love through gift-giving
Babies and toddlers are easy to please when it comes to presents, so here are a couple ideas if that's how you prefer to celebrate!
Etsy | lePeda
Customizable with baby's name, this is such a cute way to celebrate your tiny love's first Valentine's Day.
Etsy | OHMYDOUGH
Sensory kits are a great way to promote fine motor development while having fun! This custom Valentine's dino-themed activity kit will wow your toddler.
5. Write (or scribble) love letters
Your toddler doesn't need perfect writing skills to enjoy this activity. Scribbling their sentiments to an abuela or auntie is a special way to promote the holiday and encourage them share their love with others from a young age.
Target | Sadie & Sam
A cheeky junk food-inspired Valentine's card set that'll give any toddler the giggles.
Target
Paw Patrol-obsessed littles will freak over these! Even if they're not in daycare or preschool yet, you could still talk about which friends they'd like to give a Valentine to.
This post was in partnership with Little Spoon but all of the opinions within are those of The Everymom editorial board. We only recommend products we genuinely love.