If raising free-spirited kids with wild imaginations is on your parenting priority list, consider methods steeped in the Waldorf education philosophy. Visit a Waldorf classroom on any given day, and you'll find students captivated by stories, learning through free play, and experimenting with music or art. If Montessori is all about practical life skills, Waldorf is built upon the belief that our children learn, grow, and develop best through productive, imaginative play.
Here at The Everymom, we believe there's a little bit of good in just about everything—and there's no reason your home can't combine the best practices from different educational philosophies.
Here are five ways to foster your little one's growing imagination by embracing the Waldorf philosophy at home.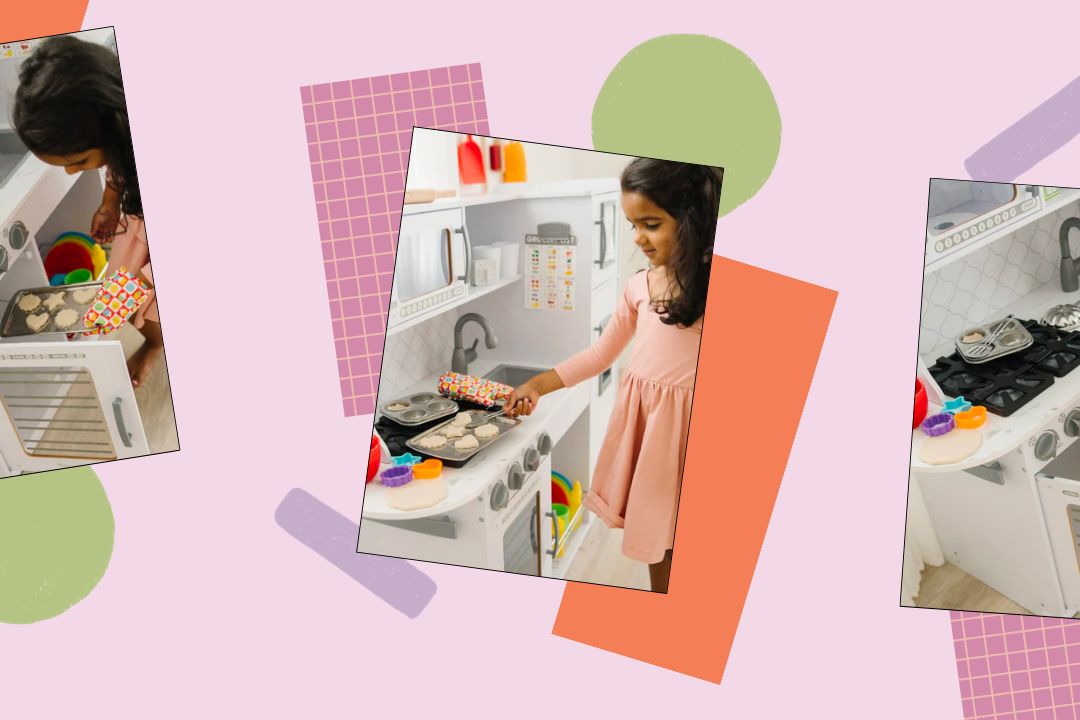 1. Lean on Free Play
The Waldorf method really emphasizes unstructured playtime as a way for children to flex their imaginations and practice creative thinking. Try providing open-ended toys, helping your little one explore the many ways in which they can use them for play. Then, stand back and let your child's imagination lead them off on a wild adventure or great discovery.
A Waldorf-approved toy is one with a myriad of uses. It is intentionally simple to allow a child to truly dictate how they'd like to play. And while there are plenty of Waldorf-inspired items worth purchasing, you can do just as well with things you likely already have on-hand. For example, I love the beautiful silk scarves from Sarah's Silks, and if you want to buy them, that's great. But your child can have access to the same inspired, creative play with a thin baby blanket grabbed from the nursery at zero additional cost.
2. Enjoy Nature
"Neither snow nor rain nor heat nor gloom of night" may be the start of the postal worker's motto—but it could very well be the credo of Waldorf children too. With the right gear, these kids are always outside, no matter the weather or time of year. The Waldorf philosophy places a strong emphasis on connecting kids to nature and encouraging them to explore the majesty of the great outdoors.
There are plenty of simple ways to incorporate more nature time into your little one's day. Take a walk, have a picnic, or take part in some backyard exploring, flipping over rocks to see what might be squirming underneath.
3. Be a Storyteller
In Waldorf schools, young children learn best through storytelling. Teachers and caregivers can whisk kids off on a whimsical adventure, teach them about big concepts like friendship and sharing, introduce subjects like science and math, and help kids understand the world around them—all through the allure of the spoken word.
Waldorf educators are not as big on books as they are on stories they have committed to memory. The thought here is that, while listening to a story—without access to illustrations—a child can learn to see events unfold in their mind's eye. Call it a creative practice.
Instead of turning pages with students, teachers will tell stories by heart and connect with kids while they speak. Try memorizing a children's book and relaying the story to your child. You might even find yourself naturally gravitating toward gesture, play, and emotions you wouldn't normally access through reading.
4. Cultivate Their Inner Artist
If there is a singular mission to the Waldorf philosophy, it's this: to tickle a child's natural curiosity and allow their creative spirits space to flourish. You can do just that by encouraging your child to explore and discover through art. Stock an art box with watercolors, finger paints, and play dough to get their wheels turning.
5. Be Mindful About Screen Time
Before you groan and click away, hear me out: the Waldorf method's big aim is to stoke your child's imagination. And most movies and television shows are prescriptive—by which I mean that there's very little room to be creative while passively consuming them. What's more, you can imagine if Waldorf has a problem with picture books dictating what fictional worlds should look like, it's the same story for anything crossing a screen.
However, let's get real: parents need downtime, and kids, like everyone else, need a few minutes to zone out. It's all about balance and being conscious of what your kids are taking in by way of screens.