You're moving and want to create a playroom for your kids. You're pregnant and working on the perfect nursery for baby. Or your toddler suddenly climbed out of his crib (worst.day.ever.) and you're in the market for a big kid bed. It's always fun looking for inspiration to create a thoughtfully designed space for your children, but image after image you find on Pinterest, Instagram, and in magazines can end up being more aspirational rather than attainable.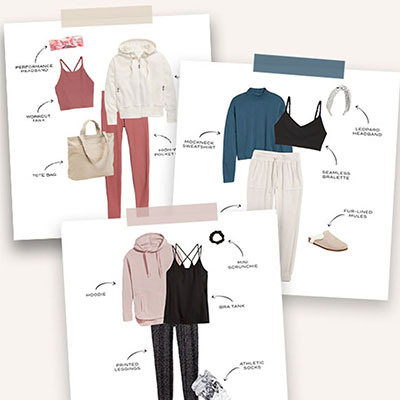 Shop 6 of Our Favorite Loungewear Outfits From Old Navy
Need to spruce up your at-home wardrobe? We've put together six cute, comfy, and budget-friendly loungewear looks from Old Navy.
This way to shop! —>
The prices on such tiny pieces of furniture can be truly shocking. We've all been there. We, too, shed more than one tear over the sleek rocker and teepee that would complete the space but break the bank.
But there is hope! Walmart's new collection of elevated furniture and decor pieces is made with your kid's play and your love for style in mind. We found perfect matches for our favorite kid's room trends that make both our design-lovin' hearts and our budget-friendly wallets happy.
Trend 1: Moroccan Rugs
We just want something that's eye-catching, neutral, soft but also kid-friendly… is that too much to ask? Not with this trend. These cozy rugs are the perfect base for any nursery or playroom, as they're super stylish but easy to layer over with furniture pieces of other colors and patterns. Plus we love that this rug won't be shedding, so one less thing to worry about our kids putting in their mouths.
Trend 2: Neon
Honestly, we'd like this for our own office or living room. Kids will think that pop of bright (literally) color is the coolest, and it adds some whimsy and edge to their space. We like that this one is a constant reminder to our kids to dream big. We found a few other neons signs from Walmart that are guaranteed to brighten up any kids space.
Trend 3: Teepee Forts
Play tents are all over the place these days! Their simplicity gives kids the freedom to imagine all sorts of fun play adventures, and they are so easy to pack up and hide away when you need the extra space. Your child will love filling it with their blankets and pillows and imaginary friends.
Trend 4: Fun, Unique Lighting
We're all for an architectural element to take a room to the next level, even in a kid's space. This lamp from Walmart has unique angles and mixed materials that make it a quirky and whimsical addition to your child's nursery. It's perfect for low lighting during late-night feedings or to light up a workspace in your kid's playroom.
Trend 5: Kid Furniture that Doesn't Look Kiddy
Sleek, functional, stylistic pieces that we'd gladly put in any room in the house – it's just pint-sized for your littles! We love – and so will your kids – this rocking chair and other petite furniture pieces. They'll stand the test of time and fit into your grown-up decor style well.
Trend 6: Travel Memorabilia
Ah, the wanderlust that we experience we're definitely passing down to our kids. Whether or not you can take them far and away, giving them a window to the world with this map is a great way to help them start dreaming big and planning their own trips for some day. You'll be fueling their imagination and also giving them a tool to track their own travel progress.
Shop the Post
This post was in partnership with Walmart, but all of the opinions within are those of The Everymom editorial board.